Most Useful Customer Reviews
20th December 2010
GOOD product!
The Jawbone Jambox Bluetooth Speaker IS expensive, but you get the QUALITY that goes with that price! I had it working AND paired to my android mobile in Under a minute after unpacking it! IF you want true Quality buy this, its size belies its quality and decibels, it packs one hell of a punch; in fact it is quite able to vibrate itself off of a table, so be careful LOL. For something that you can fit into your pocket that produces this much sound and Quality is quite amazing, in fact I would go so far as to say that this has to be THE mobile accessory to buy for sound!
---
17th April 2014
Jambox by Jawbone
I gave 5 star rating not 4!
---
20th January 2011
BOX OF DELIGHT TICKS ALL THE RIGHT BOXES !
Every once in a while it happens, the perfect product gets invented, and usually has the apple logo on it somewhere,well this is the exception,no apple logo but it ticks all the right boxes. And is a lovingly put together box of delight, the attention to details goes far beyond the speaker, the perspex box it arrives in opens cannily with clasps, all accessories are carefully packed in compartments,individuality separates this from its competitors , industrial grade rubber blends seamlessly with a sculptured grill, it even talks when the battery needs charging, the sound belies it's small size, and extends the pleasure of iphone tunes, the price of course may make some head for the inferior alternatives, but long after they have been discarded, this will still be providing the owner with satisfaction , this could become a design classic in years to come, well done JB you nailed it with this speaker.
Read 16 customer reviews
|
Write a review
---
Why Buy?
Output capactiy of 85 decibels

Download apps, upgrades and features

No cords, docks or hassle - completely wireless

Crisp and clean phone calls
---
Why not View a video about this product?
Description
Biggest sound, smallest package
JAMBOX delivers stunning hi-fi audio in a portable wireless speaker so compact you won't believe it when you hear it. It's loud. With an output capacity of 85 decibels, JAMBOX fills even the largest rooms. Unlike other portable speakers, JAMBOX is powered by a pair of proprietary, highly sophisticated acoustic drivers, unmatched in their ability to produce extreme high (tweeter) and low (woofer) frequencies from a single, ultra-small dome speaker.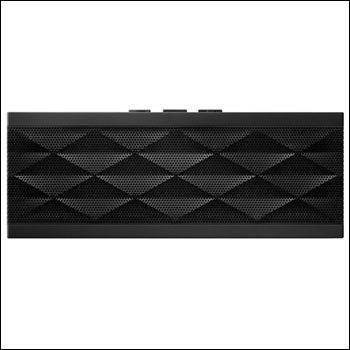 They work in concert with an innovative moving-wall passive bass radiator and airtight enclosure to deliver shimmering highs and thumping lows that you can literally feel - the richest sound all in the palm of your hand.
It only gets better with time
JAMBOX is the only speaker in the world that gets smarter every time you plug it in. Just sync it with Jawbone's industry-first MyTALK online platform and JAMBOX downloads apps, software upgrades, and the latest features. Its integrated intelligence allows you to personalize JAMBOX to your specific preferences. No other speaker on the planet is intelligent and updateable - but then again, nothing else is quite like JAMBOX.
Go anywhere, go wireless
JAMBOX gives you the freedom to bring pristine wireless audio to whatever you are doing, wherever you want. Carry it from room to room or just throw it in your bag - it's always ready to go. No more cords, docks or hassles. With JAMBOX, you can also enjoy streaming music, podcasts and sporting events while using your phone to do other things like email, post to Facebook or browse the web.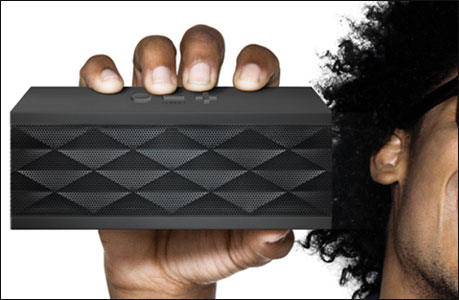 Amp up your music, movies and games
Don't let tiny computer speakers sap your sound. All your media deserves great audio, no matter what device it's played from. With JAMBOX, you'll feel the thump of every kick drum, the vroom of every car chase and crowd with every buzzer-beater - bringing all your mobile media vibrantly to life. And with about ten hours of continuous play, you can blast away all day long with plenty of charge to spare for whatever comes next.
Conference on the go
With a powerful, built-in microphone, JAMBOX frees you to share crisp, clean-sounding conference calls anywhere - in the office, car, at home, alone or with a group. No more garbled, hard-to-hear chatter through your mobile phone or computer, no more being tied down by phone lines. Just crisp, clean wireless conference calls from your phone or computer. It's also perfect for sharing video chats via iChat®, Skype®, Google Talk™ and more.
Its all in the details
Part technical wonder, part modernist artwork, JAMBOX looks and feels as striking as it sounds. Whether placed on a desk, coffee table, or shelf, JAMBOX not only declutters jumbles of wires and clumsy computer speakers, but adds a distinct touch of style. With its stainless steel construction and industrial-weight molded rubber casing, this is not just a pretty package - JAMBOX is a sturdy, portable, and meticulously crafted machine that's built to blast.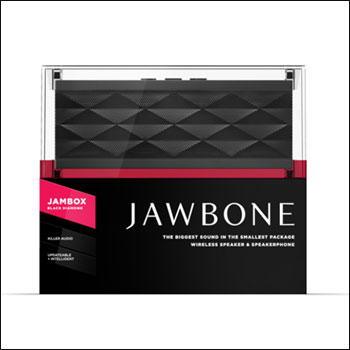 Yet another example of Jawbone's obsession with delivering breakthrough audio innovations, exceptional functionality, and beautifully designed products for today's mobile lifestyle.
Don't just take our word for it...

"We weren't expecting this bedside speaker-box to muster decent, let alone kick-ass sound...We can't help but reiterate just how thrilling it can be when a device, quite literally, out-performs expectation." - Steve Leckart, Wired

"... this is one of the best-sounding (and loudest, at 85 dB) battery-powered compact speakers we've ever heard (seriously: this thing has surprising juice behind it)." - Seth Porges, Popular Mechanics

"At full volume, you can feel the bass on the palm of your hand from almost two feet away." - Fast Company, Cliff Kuang

"... it pumps out a terribly impressive amount of clear, room-filling sound for its size." - Sean Hollister, Engadget

"Portability is key and I found the Jambox very easy to carry around." - Chris Nuttall, Financial Times

"Because of its small size, light weight and sturdy build, you can throw Jambox in a bag and easily schlep it to an office, hotel room or vacation home." - Ed Baig, USA Today

"...it is a palm-sized package of sonic fun." - Rich Jaroslovsky, Bloomberg
---
What's In the Box?
Jambox
3.5mm Cable
AC Adaptor
User Manual