Most Useful Customer Reviews
3rd February 2012
jawbone era
I had the original jawbone for 4 years and decided that it was finally due to be replaced so I decided to go the whole hog and get the new Era. It is a lot smaller and comes with a myriad of earbuds that will fit anything from a gnome to an elephant so there is plenty of choice. Only thing with that is it may take you a bit of time to finally get the fit just right. Pairing is an absolute doddle and if you want to change the voice you hear when using it then the jawbone website is easy to use and as there are plenty to choose from. Only bad thing at the moment is there isnt any apps for win phone 7 yet but I hope the bods at Alphi will work on that in the future.....all in all its a great headset well worth the money.
---
23rd July 2011
Brilliant
Yes, it's pricey, but, it's comfortable, easy to pair, easy to use and set up! Really clear to hear and other end say it's really clear! Never going to be used in a really loud environment, but it is really good using it today. No complaints!
Read 4 customer reviews
|
Write a review
---
Why Buy?
Small and stylish design

Full HD audio performance

Military-grade NoiseAssasin 3.0 noise and wind cancelling technology

Built-in accelerometer with MotionX

Multi-processor architecture and serial flash for innovative application downloads

Includes 8 different earbuds and optional binaural earloop
---
Why not View a video about this product?
Description
Small and stylish design
The Jawbone ERA continues the company's tradition of creating desirable headsets that look good but are light and portable. Measuring just 51.3 x 24.1 x 14.5mm and weighing just 10.2g, the Jawbone ERA is comfortable enough to use all day, and carry with you wherever you go so it's always close at hand. Jawbone ERA's beauty is more than skin-deep. With its layered, architectural surface exterior and faceted body, Jawbone ERA's sophisticated form reflects the advanced technology within.
Full HD audio performance
Music, video and calls never sounded better. With its 10mm wideband speaker — our biggest, most powerful speaker yet (25% larger than previous models) — podcasts, Pandora® tunes, YouTube videos, driving directions and more come vibrantly to life in full-spectrum, HD-quality sound. Jawbone ERA is also the most convenient way to enjoy all your mobile media and calls in one place. No more clunky headphones, no more tangled cords. You'll be totally hands-free and never miss a beat.
Military-grade NoiseAssasin 3.0 noise and wind cancelling technology
Jawbone ERA is the only Bluetooth headset equipped with military-grade NoiseAssasin 3.0, the latest version of Jawbone's industry-first noise and wind canceling technology. Originally developed for use by tank commanders and helicopter pilots, NoiseAssassin 3.0 eliminates background noise better than any other headset. It also auto-adjusts inbound call volume and intelligibility to your environment. Whether you're at a noisy ball game or on the road, you'll always hear and be heard.
Built-in accelerometer with MotionX
Jawbone ERA is the first headset with a built-in accelerometer and patented MotionX technology. Out of the box, you can ShakeShake Jawbone ERA into pairing mode or TapTap to answer phone calls. And because Jawbone ERA is completely integrated with the online MyTALK platform, it will continue to gain functionality as we develop new motion applications. ShakeShake and TapTap is just the beginning.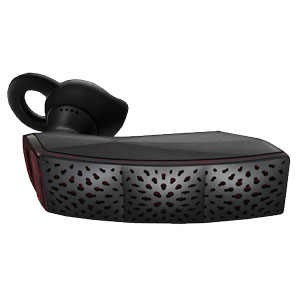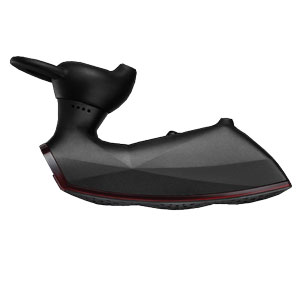 Multi-processor architecture and serial flash for innovative application downloads
The Jawbone ERA headset is a tiny computer on the ear, complete with multi-processor architecture and serial flash, paving the way for innovative applications on the headset down the road. Today, users can take advantage of several new apps, including Caller ID that will identify callers by name in a friendly, non-robotic voice. As with all Jawbone products, the ERA can be updated via the MyTALK platform, ensuring that it will get richer over time.
Includes 8 different earbuds and optional binaural earloop
Every Jawbone ERA comes with eight earbuds and an optional binaural earloop, ensuring the perfect fit in either ear, no matter what your size. It's so light and comfortable, you'll probably forget you're even wearing it. Jawbone ERA also includes Jawbone's innovative Spout earbud, a breakthrough design that channels audio directly into your ear, providing the clearest sound.
Specifications:
Audio

NoiseAssassin 3.0 with wind reduction
10mm wideband speaker (HD audio)
Automatic volume control
Voice announcements

Technology

Built-in accelerometer (motion sensor)
MotionX technology
Dual micro-processors
Serial flash

Power and battery

Up to 5.5 hours talk time
Up to 10 days standby time
Built-in rechargeable Li-ion polymer battery
Jawbone battery meter automatically displays on iPhone (Blackberry and others available at MyTALK)
On/off switch
Micro USB connector interface (charging and MyTALK)

Size and weight

Length: 2.02" (51.3mm)
Width: 0.57" (14.5mm)
Height: 0.95" (24.1mm)
Weight: 10.2g

Bluetooth

Bluetooth v2.1 compliant
Range up to 33ft (10m)
Support Enhanced Date Rate (EDR)
Profiles Supported: A2DP 1.2, HFP 1.5, HSP 1.1
Supports simultaneous Multipoint (two live audio connections)
---
Key Details
Bluetooth: Yes
Multipoint: Yes
---
What's In the Box?
Jawbone ERA headset
Spout earbuds (4)
Round earbuds (4)
Binaural earloop (optional)
Micro USB cable
A/C wall adapter
Carrying case
User guide