Most Useful Customer Reviews
17th July 2013
Feather lite!
I recently upgraded to my HTC One. The main reason I went for the HTC One was the uni-body design. So naturally I wanted a cae that kept the phone safe from edge drops and scuff marks I know brushed aluminium is prone to, but I still did not want to forget the profile of the unibody case (which I find with a lot of cases, you loose the hours and hours worth of design behind a bulky, yet protective case) After a lot of looking I settled for the Incipio Feather Case. I had a look at thier other cases to gauge the type of quality I was getting and I was pleasently suprised to find the case was exactly what it said. "Feather". The case clips on tight and takes a bit of flex to come off. Perfect. Texture reminds me of the brushed surface while, the curve of the body still exists so sits nice in the hand. Overall I am extremely happy with the case. Can't fault it. Only thing to note, the item does not come with a screen protector or cleaning cloth. Neither of which bothered me as I wouldn't have fitted it over the Gorilla glass, which proved many a time on my SGS2 how good of a product it is.
---
Read 10 customer reviews
|
Write a review
---
Why Buy?
Ultra light, ultra strong polymer

Less than 1mm thin - for superior protection without adding bulk

Soft touch matte finish

Light as a feather, form-fitting durable protection
---
Description
The Feather is less than 1mm thin which makes it ideal for the HTC One M7 user seeking inconspicuous, first-class protection.
Ultra light, ultra strong polymer
The Feather is made of an ultra light, ultra strong polymer for light as a feather, form-fitting durable protection without the added bulk. This means that you can protect your HTC One M7 in style and with ease.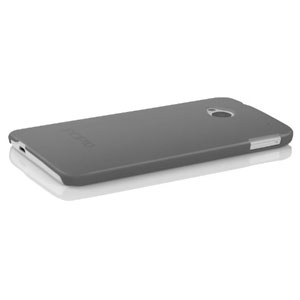 Less than 1mm thin
The Feather is designed to be less than 1mm thick, so it provides great protection which adding the minimum amount of bulk to your handset. The case wraps around the back and sides of your HTC One M7, protecting the back sides and corners from minor impacts, scratches and dirt.
Superior protection in a durable form-factor
Whilst providing superior protection in a durable form-factor, the Feather case still manages to allow for full access to your HTC One M7's headphone jack and charging port. This allows you to listen to your favourite songs and sync and charge your handset without having to remove it from the case.
---
Key Details
Colour: Grey
Part No: HT-349
---
What's In the Box?
1 x Incipio Feather Case - Iridescent Grey