Why Buy?
Bring your Camera Roll to life

For iOS and Android devices

Easy and quick to use

Get creative

Free accompanying app

Forget about pixels
---
Why not View a video about this product?
Description
Bring your Camera Roll to life
Some images are just too good to be buried somewhere on your smartphone. The Impossible Instant Photo Lab lets you bring these photos to life in the form of a one-of-a-kind analog instant photo. Transform any digital image into a real life photo via your iPhone or android device.
To begin this process simply select a picture, place your device on the Instant Lab and within seconds it ejects your instant photo, ready to develop in the palm of your hand. The Impossible Instant Photo Lab is so clever that it can print both photographs taken from your phone, screenshots from websites and even images created in photo editing software. In fact, the Photo Lab can develop any image displayed on your device.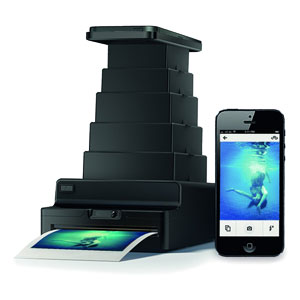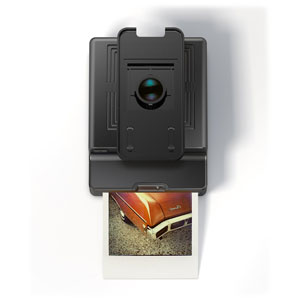 Easy and quick to use
Extremely easy and quick to use, the Instant Photo Lab can be used within seconds. Designed for easy operation the Photo Lab has no complicated and unnecessary dials, buttons or controls for a pleasant and straightforward experience. To use, simply place your iPhone or iPod on the cradle, pull the shutter slide out, then back in and press the eject button - that's it! The Impossible Project app guides you through the whole process and helps you get the best results possible.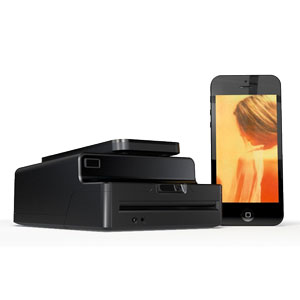 Get creative
Use your Instant Photo Lab with colour, black and white, gold / silver frame and colour framed Polaroid film to create one of a kind tangible photographs - that will stand out from the crowd and bring a new dimension to your subject.
Free accompanying app
The easy-to-use free iOS and Android applications (Impossible Project) are not only designed to control the Instant Photo Lab, it also features an innovative photo scanner that lets you re-scan your photos, to share your creations with the world.
Forget about pixels
Unlike traditional printers, the Instant Photo Lab doesn't spray ink onto paper. Instead it bridges the gap between the worlds of digital and analog. Being a real camera, it uses a special four element coated glass lens to take a photo from your smartphone's display and lets it develop inside the layers of the integral film. It's a purely photochemical process that results in a unique analog photo that is completely different from the output of a traditional printer.
---