The iKit NuCharge is a rechargeable external battery case with interchangeable Snap-On-covers in a single device, and one of the first battery cases certified by Apple. You can virtually double the time listening to music, making phone calls, surfing the internet and sending messages.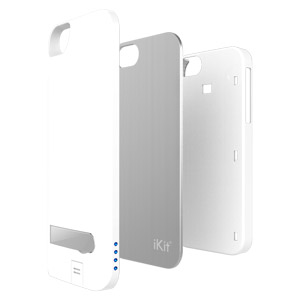 Interchangeable Covers for optimum personalisation
The most unique aspect of the design of the NuCharge for iPhone 5S / 5 is that you can choose for yourself whether you'd like the battery pack connected to your phone, or a slimmer, unique snap-on case for optimum personalisation.
Slim-Lined Design
This external battery pack case combines a fitting form with complete, cutting-edge style. It is slim-lined at only 7mm thin, so will easily slot into your pocket or bag compartment. What's more, with individual snap-on covers, you can style your iPhone to suit your preferences, and show off your style to those around you. Unlike most other battery cases on the market, this one is designed with optimum projection, in that all ports and features are accessible when using the case, so you can minimise the amounts of times you remove the case, extending its lifetime. What's more, most battery cases are comparatively bulky and extend the length of the handset. The NuCharge for iPhone 5S / 5 has a clever, unique design, where the connectors are within the case itself, and so there is no length extension of the handset, keeping at close to its original appearance as possible.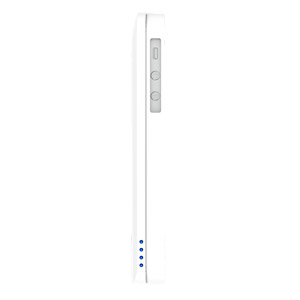 Smart Battery Technology

The Smart Battery Technology of this Nucharge case means that your iPhone is always charged first, with the battery pack itself coming second, if you were to charge both gadgets at the same time.
4 LED Indicators to show remaining battery
The NuCharge has a display status with 4 LEDs on its side, so you can always be sure to be well-informed about how much battery is left in your battery case, to make sure you can always power your iPhone 5S / 5.
Protects your iPhone 5S / 5 from scratches and damage
This unique case, despite offering an emergency battery solution, will still give excellent protection to your iPhone 5S / 5, ensuring that it remains looking as good as new even after the unfortunate event of a knock, scrape or drop.
Includes integrated kickstand for viewing of media
A unique feature about this case also is a stylish, sturdy kick-stand which pops out and can be used to prop up your iPhone 5S / 5, giving you a comfortable viewing angle if you're browsing the internet, playing games or watching films.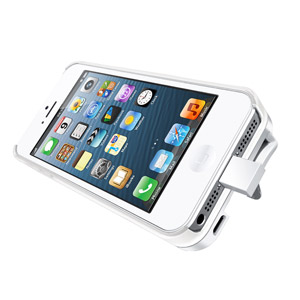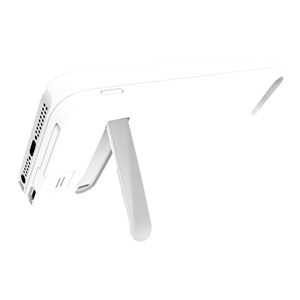 Designed specifically for the iPhone 5S / 5
Designed specifically with your iPhone 5S / 5 in mind, there are cut-outs for all of the ports on your iPhone 5S / 5, and you are still able to access everything you need on the phone with the case on at all times, extending its lifetime dramatically.
Interchangeable Switch between charging and standby mode
The NuCharge is equipped with a switch which easily allows you to change between charging and standby mode. Therefore, if your normal battery runs out whilst you're not able to reach a mains charging station, you will still be able to power your phone.

Compatible Products
Technical Specifications
Dimensions (Case): 10.9 (T) x 61 (W) x 125.6 (L) mm
Dimensions (Power): 16.7 (T) x 61 (W) x 125.6 (L) mm
Power Pack Thickness: 6.7mm
Snap-On Smart Cover Thickness: 1.3mm
Weight: 50 g
Colour: Black
Capacity: 1900 mAh
Standby time: up to 225 hours
Talk Time: up to 8 hours
3G Surfing Time: up to 8 hours
Audio Play Time: up to 40 hours
Video Play Time: up to 10 hours