Most Useful Customer Reviews
25th January 2011
No2
2nd unit as first so handy, charger for all situations
---
5th November 2010
Idapt I4 Universal Desktop Charger - Black.
Very good product, easy to use and gets rid of so much clutter. Highly recommended.
Read 7 customer reviews
|
Write a review
---
Description
IDAPT - The only charge you need
No free plugs at home? Cant find your charger? Is your office a jumple of wires and cables? Fed up of bending down to charge devices? Solve your problems with this charger for all your portable devices!
Why Buy:
Charge up to 4 devices at the same time
Future-proof and compatible with more than 3500 current devices
Safe and ecological to use
No more messy charger wires!
Doubles up as a phone holder when devices are not in use
A New Charging Concept
The IDAPT I4 station can charge up to 4 electronic portable devices at the same time using one one unique power cable for all your devices. The IDAPT 4 has capability to easily replace all of your current and future chargers in your home. It is compatible with over 3500 electronic devices including the latest models of all major brands including Apple, Nokia, Samsung, Sony Ericsson, Garmin, TomTom, Archos, LG, Blackberry, HTC, Nintendo and the Sony PSP. The new IDAPT 4 also features a USB port for those devices that can charge through USB. The IDAPT 4 has been ergonomically designed to be a space saving and practical solution to the everyday task of charging your electronic devices.

Easily Interchangeable Tips
The interchangeable tip system makes it possible to charge the above mentioned devices, just by choosing the correct tip, removing the old tip by pressing the release tip, removing the old tip and replacing it with the desired tip.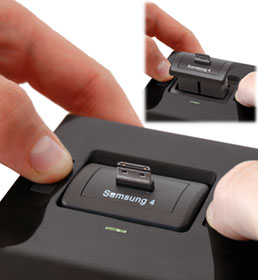 Safe and ecological
The IDAPT will leave parents relieved to know that there are not a multitude of wires around the home for their children to possibly trip over. The IDAPT can also be turned off completely to save power, money and the environment. An LED light will you know whether your device is fully charged or not.
Whats in the Box
Idapt 4 charging unit
Power Cord
User Guide
6 Tips (Apple, Mini USB, Micro USB, Nokia, Sony Ericsson, Samsung)