Most Useful Customer Reviews
Justine Peroni
Cornwall
Huawei Ws320 Wireless repeater and range extender
8th May 2017
Neat little gadget!
Having read the reviews on this made me realize that this was what was needed! And it really does do what it says on the tin! You would be surprised but it works in our caravan, and all being well it should extend to the bedroom area which is a box on wheels! So am very pleased with this, and would highly recommend to others!
---
Andy Castle
Sussex
Huawei WS320 Wireless Repeater and Wi-Fi Range Exterder
8th May 2017
Great little device
I wanted something to extend our Wi-Fi coverage to a summer house/conservatory which is not connected to our main house. This little unit works a treat and is really simple to set up despite the off putting leaflet which makes it seem more complicated than it is. You just need a bit of patience while the lights change colour as it connects to the main router/hub. The Wi-Fi strength indicator is at it's maximum, so happy days!
Read 148 customer reviews
|
Write a review
---
Why Buy?
Wi-Fi repeater and range extender

Increase the range of your wireless network

Helps to cover signal 'dead zones'

Can be 'daisy-chained' for use over distance

Ideal for home use

Great low cost solution for business use
---
Description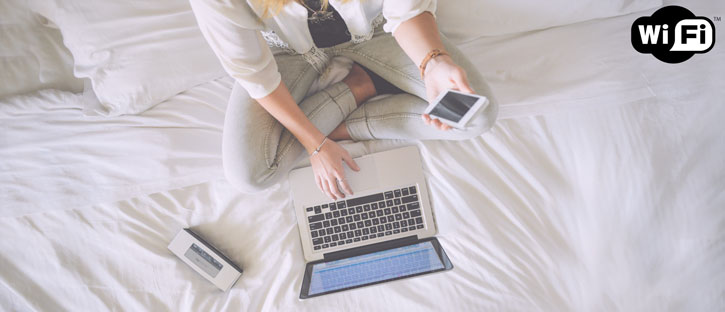 Wi-Fi repeater and range extender
Suffering from a poor or non-existent Wi-Fi signal in certain rooms or areas? Expand the range of your Wi-Fi network with the Huawei WS320 repeater and extender so you are not without an internet connection in your home or office. Ensure your smartphone, tablet, computer and other devices don't lose connection to your Wi-Fi signal, while also enjoying improved speeds.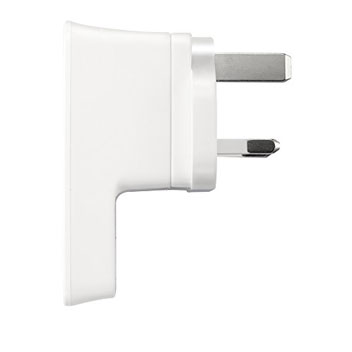 Increase the range of your wireless network
The Huawei WS320 extends the reach of existing wireless networks by receiving the wireless signal from your router, amplifying it and sending it on to your devices. All that is required is a spare mains power socket and you are ready to extend your network for improved speed, range and stability.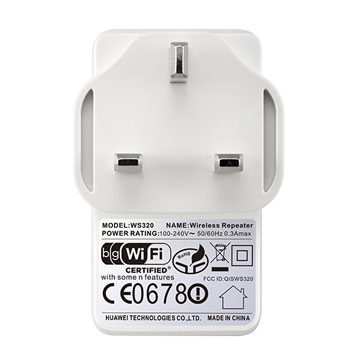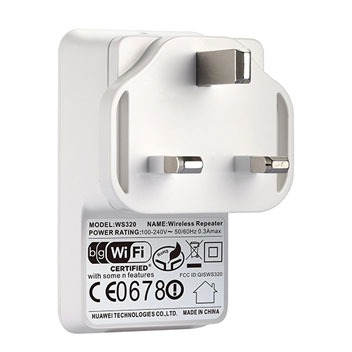 Helps to cover signal 'dead zones'
The wireless signals of the WS320 can cover certain dead zones - including problematic areas such as those near partition walls or partition floors of bedrooms and lofts or gardens - effectively extending the wireless signal coverage and easily implementing various wireless applications.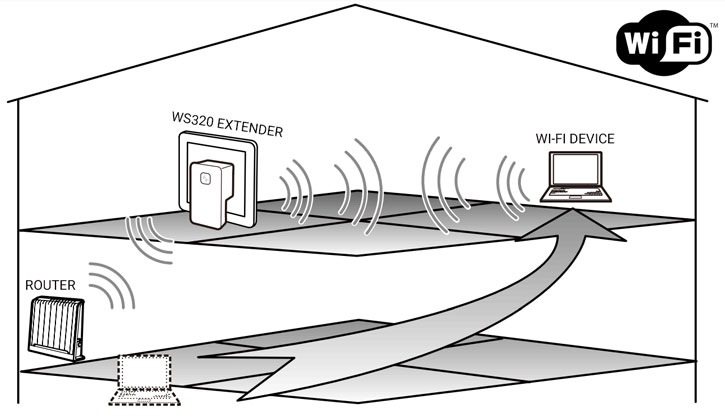 Can be 'daisy-chained' for use over distance
Multiple Huawei repeaters can be used in conjunction with each other to increase the range and strength of your WiFi signal. This is exceptionally useful in large office buildings and places where walls may typically interfere with your WiFi signal.
Ideal for home use
The number of consumer electronic products which utilise Wi-Fi connectivity continues to grow, creating a natural demand for wider Wi-Fi coverage around the home including using games consoles, televisions, printers, smartphones, tablets and many more besides.
Domestic Wi-Fi routers tend to be positioned in a location that is not the most effective for distributing a signal throughout the entire building. The Huawei WS320 can be sited at any point where there is a spare mains socket in the home to provide a strong signal and minimise black spots.
Great low cost solution for business use
Additionally, the Huawei WS320 provides an easy solution for business users to extend a Wi-Fi network for employee or customer use at minimal cost. These can be used as a simple extension to an office network, help signal strength at restaurants, hotels, cafes and many other places of interest. The Huawei WS320 avoids the need for expensive cabling or additional routers.
How to setup
Plug the 'Huawei WS320 Wi-Fi Repeater' into a power socket
Press the 'pairing' button (WPS) on the existing Wi-Fi router
Press the 'pairing' button on the Huawei WS320
Wait a few seconds, the status light on the WS320 will turn green
The Huawei device will begin to relay the existing Wi-Fi signal using the same network name (SSID) and password (encryption)
Devices can be seamlessly connected to the Wi-Fi network as normal
WPS is supported by most recent Wi-Fi routers (e.g. BT Home Hub), however if WPS is not available then a web-based setup administration console will guide the user through the steps required to configure the device.
Link to the manual - http://www.mobilefun.co.uk/blog/wp-content/uploads/2016/07/WS320_User_Guide.pdf
Technical Specifications:
Working modes: Wi-Fi Repeater
WPS Pairing - Easy push button configuration
Wireless security: WEP, TKIP and AES encryption
Expands any existing Wi-Fi network up to 150m