Most Useful Customer Reviews
Dennis Oates
London
Apple iPhone 6 plus
6th April 2017
Excellent product
excellent product delivered extremely swiftly
---
Sarb
Bristol
Griffin Survivor iPhone 6 All-Terrain Case - Black
3rd October 2014
The one case to rule them all!
I am huge fan of the Griffin Survivor case in all my previous iterations of the iPhone. So when I ordered my iPhone 6 and even before I received it, I knew that I needed to get this case. Then we got to hear about the news about Bendgate and I knew I made the correct decision. The iPhone 6 is amazingly thin and some might say why would you want to hide it in a bulky case. Well, as the phone id thinner - it means the case is thinner and even sleeker. It still has the same protection as previous cases. I really like how the phone is enclosed and the screen cover design clips on easily end efficiently. You can remove the front cover in case you need to clean it and the rest of the phone stays in the case. However you probably won't even need to as the dust cover flaps for the usb power cable and headphone socket are a snug and streamlined fit. I was a bit dubious about the strength of the fingerprint id protector but only time will tell as I use this case. Overall I am confident that this case will keep my iPhone in pristine condition with the added bonus of being rugged enough to survive accidental drops, odd rain splashes. It has excellent "grip-ability" so hopefully minimise drops etc. I never have used the supplied belt holder and have a collection built up now.. Don't really think it is needed and also who would want to advertise their phones by holstering it on their belt.. I would want to hide it away when not in use if you know what I mean.
Read 28 customer reviews
|
Write a review
---
Why Buy?
The most protective case Griffin have ever made

Made to U.S and U.K military standards

Protects your phone even in the most extreme conditions

Protects 100% of your iPhone 6S / 6

Comes with a heavy duty carrying clip
---
Why not View a video about this product?
Description
Made to U.S and U.K military standards
The Griffin Survivor is one of the most protective cases built for the Apple iPhone 6S / 6. Tested and certified to meet or exceed US Department of Defence Standard 810F and UK Department of Defence Standard 00-35, Griffin's Survivor Case is designed from the inside out to protect your iPhone 6S / 6 from extreme conditions... Dirt, sand, rain, shock, vibration and a host of other environmental factors.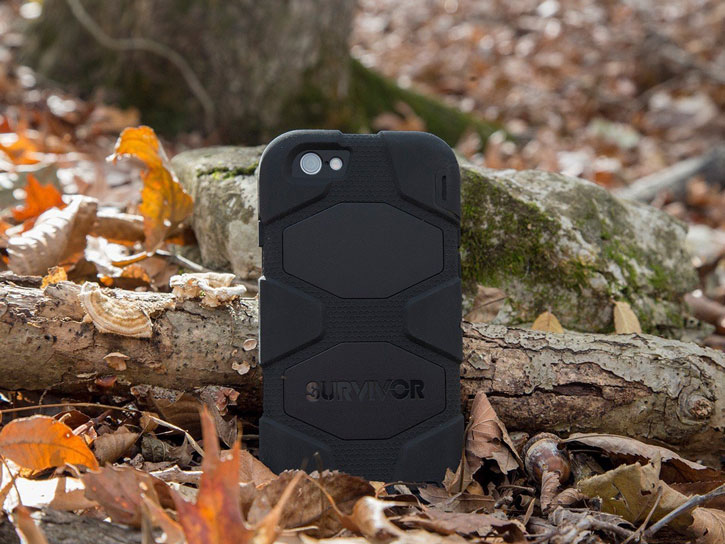 Rigid internal frame protects against shocks and drops
Survivor is built on a shatter-resistant polycarbonate frame clad in rugged, shock absorbing silicone. The Survivor has been tested to protect a iPhone 6S / 6 from a drop on a flat concrete surface from a 1.8m height. Additionally, sealed ports prevent dust and sand damage typically caused to the dock connector, headphone port, hold switch and volume controls.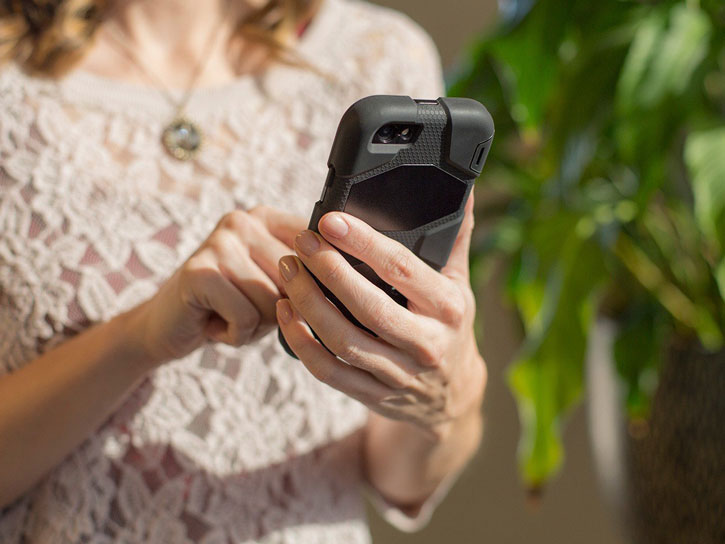 Includes a heavy-duty detachable belt clip
The Griffin detachable heavy-duty clip can be securely fitted over the Survivor case to hold your iPhone 6 to a belt or bag strap.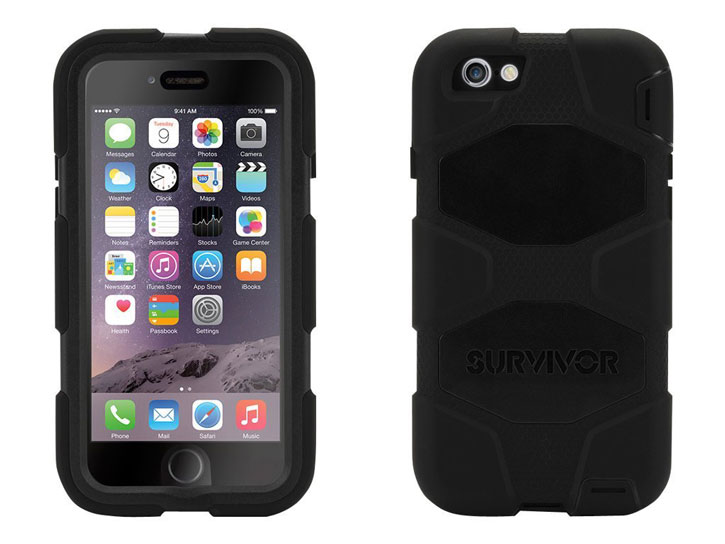 Integral display shield deflects wind and rain
A built-in screen protector seals your multi-touch display from the outside environment and exceeds in protecting against rain damage (200mm for 1 hour).
Internal silicone cladding adds extra shock absorbency
The internal silicone layer to the Griffin Survivor not only protects your phone from impacts, but it also prevents damage caused by vibration, tested at 20 to 2000Hz for 18 hours. This means it is exceptionally great for use within industrial environments.
---
Key Details
Colour: Black
Part No: GB38903