Most Useful Customer Reviews
Dr Andrew Taylor
Saddleworth
iPhone 5s
27th May 2015
A good case for adventure
The name says it - "Survivor". If there is a need for protection of an iPhone then something that looks like this is a good idea. Griffin stuff is always well made, and this case clearly matches up to all the claims. It is about as robust as you can get and still have all the iPhone features available, and with a tough, rotating belt clip, it ticks all the boxes. Screen tactile function is a little degraded, more so at the edges, but you soon learn to live with that. The belt clip optionally clicks closed and is frighteningly difficult to open again - but is obviously tough enough to survive the force needed - ensuring a very secure clip. The best I have come across for a demanding environment (Mountain Rescue).
---
8th November 2012
Simpy 100% Spot On!
I will keep this brief and to the point as I am not a 'professional' reviewer of products; I will start with the simplicity of the transaction with MobileFun - I ordered the case at 2pm over the phone with an extremely helpful advisor, it took 4 minutes max from start to finish - ding dong 10am the following morning the case was delivered to my door!! Onto the product itself, very simple and quick to fit, extremely robust which of course is its main selling point! My 2 children have managed to drop my new pride and joy gadget twice in the week since I put it into the case...which fortunately no doubt saved the phone from a trip back to Apple or worse. I initially received one slight negative comment from a friend that in his opinion the case made the phone look too big - for me personally it actually makes the phone far easier to hold and handle compared to the case that my previous iPhone4 was housed in. Nothing more to say, 100% happy with the service provided and 100% happy with the product received.
Read 30 customer reviews
|
Write a review
---
Why Buy?
The most protective case Griffin have ever made

Made to U.S and U.K military standards

Protects your phone even in the most extreme conditions

Protects 100% of your iPhone 5S / 5

Comes with a heavy duty carrying clip
---
Why not View a video about this product?
Description
Made to U.S and U.K military standards
The Griffin Survivor is one of the most protective case built for the iPhone 5S / 5. Tested and certified to meet or exceed US Department of Defense Standard 810F and UK Department of Defense Standard 00-35, Griffin's Survivor Extreme-Duty Case is designed from the inside out to protect your iPhone 5S / 5 from extreme conditions ... dirt, sand, rain, shock, vibration and a host of other environmental factors.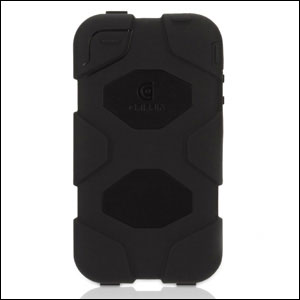 Rigid internal frame protects against shocks and drops
Survivor is built on a shatter-resistant polycarbonate frame clad in rugged, shock absorbing silicone. The survivor has been tested to protect an iPhone 5S / 5 from a drop on flat concrete surface from a 1.8 m height. Additionally, sealed ports prevent dust and sand damage caused typically caused to the dock connector, headphone port, hold switch and volume controls.
A detachable heavy-duty clip secures your iPhone to a belt or bag strap and can be used as a kickstand for viewing movies and playing music through the iPhone.
Integral display shield deflects wind and rain
A built-in screen protector seals your multi-touch display from the outside environment and exceeds in protecting against rain damage (200 mm for 1 hour)
Internal silicone cladding adds extra shock absorbency
The internal silicone layer to the Griffin Survivor not only protects your phone from impacts but it also prevents damage caused by vibration, tested at 20 to 2000 Hz for 18 hours. This means it is exceptionally great for use within industrial environments.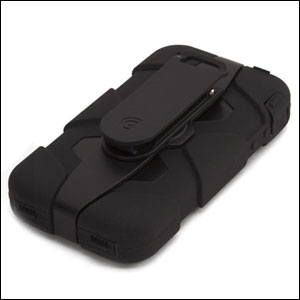 *Please Note: To fully protect your iPhone 5S or 5 the Griffin Survivor Case need to fully encase your iPhone in order to make sure it is completely protected. This may affect the Touch ID feature in the iPhone 5S.
Don't just take our word for it - Watch the video!
---
Key Details
Colour: Black
Part No: GRIGB397322