Most Useful Customer Reviews
Russ Harrison
Yorkshire, UK
iPhone 4
16th April 2015
One tough cookie (well, phone case)
This is a great piece of kit! Having donated an old iPhone 4 to my son as he's now in secondary school and sometimes needs to get in touch with us and him bringing it home on the second day with a smashed screen, something needed to be done and quickly! Where to go? Why MobileFun of course. I know they have stock of most things and with the phone being old, getting cases is becoming increasingly difficult. However, I knew that if anyone had stock, MobileFun would. On to the case. After reading the reviews and then looking at the video, I knew this was the case for me. Ordering and delivery were simple and quick as per usual and it arrived the next day. So with a replacement screen fitted, I squeezed the phone into the snug case and proceeded to do what anyone would do with an (almost) indestructible case. We put it to the test! Standing on it - No problem Throwing it around the garden - No problem Spraying it with the hose - No problem using it as a makeshift tennis racquet - No problem Dropping it from a decent height (about 10 ft) - No problem Trying to get the dog to play with it - Dog wasn't interested All in all. A top piece of kit!
---
29th July 2011
Best case ever
I get so many people asking what case is that so I hit them with it in the knowledge that my iPhone is safe. In fact if frodo was going to take his iPhone to mordor, I have no doubt it would be in this case
Read 96 customer reviews
|
Write a review
---
Why Buy?
The most protective case Griffin have ever made

Made to U.S and U.K military standards

Protects your phone even in the most extreme conditions

Protects 100% of your iPhone 4S / 4

Comes with a heavy duty carrying clip
---
Why not View a video about this product?
Description
Ridiculously over-engineered? Or the perfect case for your iPhone 4S / 4 no matter where you're headed?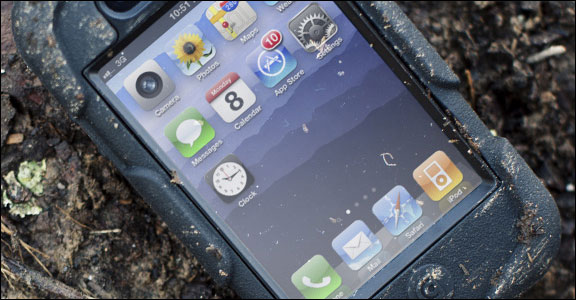 Simply put, the Griffin Survivor Case is the most protective case Griffin have ever built.

Tested and certified to meet or exceed US Department of Defense Standard 810F and UK Department of Defense Standard 00-35, Griffin's Survivor Extreme-Duty Case is designed from the inside out to protect your iPhone 4S / 4 from extreme conditions ... dirt, sand, rain, shock, vibration and a host of other environmental factors.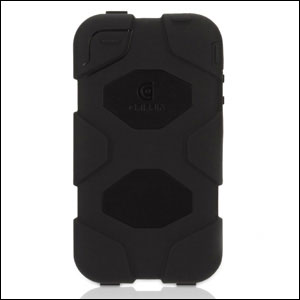 Survivor is built on a shatter-resistant polycarbonate frame clad in rugged, shock absorbing silicone. A built-in screen protector seals your Multi-Touch display from the outside environment, while hinged plugs seal the dock connector, headphone port, hold switch and volume controls. A detachable heavy-duty clip secures your iPhone to a belt or bag strap.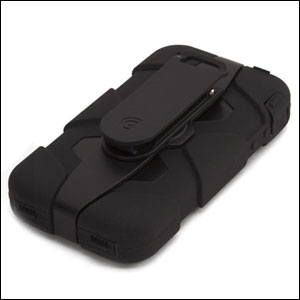 Survivor is independently tested and verified to meet or exceed environmental testing standards for blown rain, blown dust & grit, vibration, shock, temperature and humidity.
Don't just take our word for it - Watch the video!
---
Key Details
Colour: Black
Part No: GB35095