Most Useful Customer Reviews
Simon Jones
North East
Griffin Surviproducts
2nd July 2012
Brilliant product
Purchased to protect my new iPad 3 for work. I needed a case able to protect it in quite a harsh environment - on site in all weathers. Having 'tested' it cannot fault it.
---
L Cruz Calderon
London
Ipad 2
27th June 2012
Perfect accessorie
Extremely happy with the case, offers the uttermost protection and practicality which is what I needed.
Read 14 customer reviews
|
Write a review
---
Why Buy?
4 layers to provide maximum protection for your iPad 2

Comes with a desk stand which attaches to the case for secure and comfortable viewing of your iPad 2

Each port and feature is easily accessible with tough silicone flaps to protect them when not in use

The most protective case Griffin have ever made

Made to U.S and U.K military standards

Protects your iPad 2 even in the most extreme conditions

Protects 100% of your iPad 2
---
Why not View a video about this product?
Description
Ridiculously over-engineered? Or the perfect case for your iPad 2 no matter where you're headed?
Simply put, the Griffin Survivor Case is the most protective case Griffin have ever built.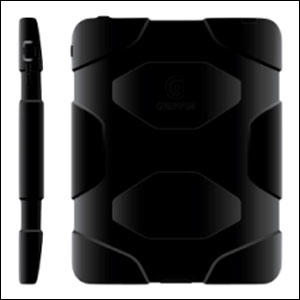 Tested and certified to meet or exceed US Department of Defense Standard 810F and UK Department of Defense Standard 00-35, Griffin's Survivor Extreme-Duty Case is designed from the inside out to protect your iPad 2 from extreme conditions ... dirt, sand, rain, shock, vibration and a host of other environmental factors.
The Griffin Survivor case for the iPad 2 comes in 4 separate parts which are designed to offer maximum protection to your iPad 2 from whatever life throws at it.
Toughened skeleton
The first part is the tough skeleton which is designed to offer maximum protection for your iPad 2 from accidental drops and also scratches, dirt and anything else which could damage your iPad 2. The skeleton provides a front and a back cover for your iPad 2 and both parts are made from a solid, shatter-resistant polycarbonate which add's little bulk to your iPad 2.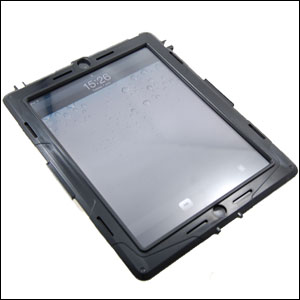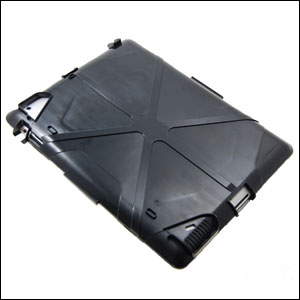 The back features cut outs around the case which allow you to access the features so you don't need to consistently remove your iPad 2 from the case everytime you want to use it. Inside the shell there is a soft material which cushions your iPad 2 whilst its in the case to ensure that it doesn't pick up any scratches or unwanted damage whilst its inside the case.
The front cover features a screen guard which still allows you to access the touch screen functions of the iPad 2 but it provides an invisible layer or protection to the screen so it doesn't get damaged or pick up any scratches whilst in the case. The screen guard also protects the front facing camera and there is still access to the home button.
Tough shock absorbing Silicone case
The third layer of protection comes from a tough, thick silicone case which uses shock absorbing technology to take the damage which would be felt by your iPad 2, keeping your iPad 2 well protected whilst its in the case. It also provides a better grip and feel for your iPad 2 so you can carry it around in comfort but also knowing that the chances of you dropping your iPad 2 are significantly reduced.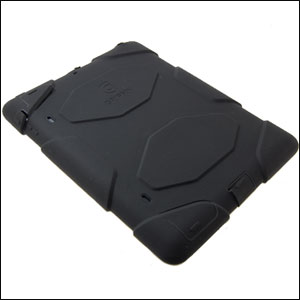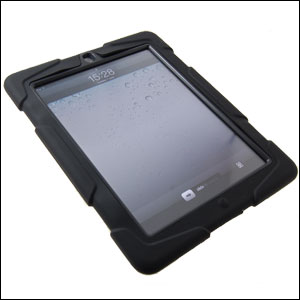 The silicone case features cut outs for all the ports and features but provides secure flaps which cover each port when they are not in use making sure that every part of your iPad 2 is fully covered and protected.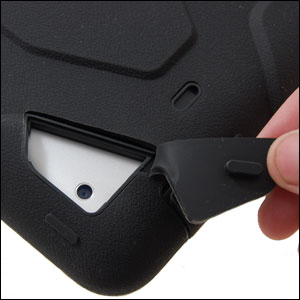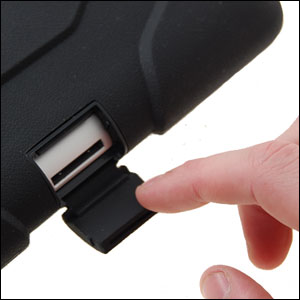 iPad 2 desk stand
The final layer is the desk stand. The solid polycarbonate stand fits around your case making it extremely portable and allows you to carry it around with you at all times. The stand opens out to provide a desk stand which provides secure and comfortable viewing of your iPad 2. Making it perfect if you are browsing the internet, playing games or using FaceTime.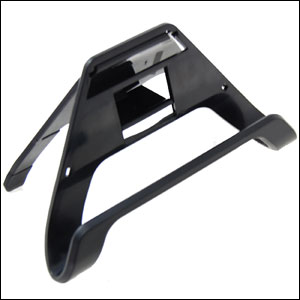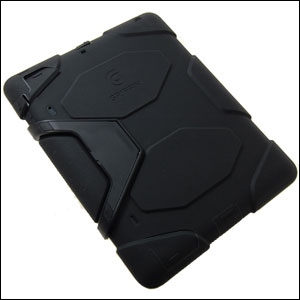 When you've finished you can simple close the desk stand and leave it on the case so its always ready for when you need it.
Survivor is independently tested and verified to meet or exceed environmental testing standards for blown rain, blown dust & grit, vibration, shock, temperature and humidity.
---
Key Details
Colour: Black
Part No: GB35108