Why Buy?
Designed for the iPhone 5S / 5

One-piece polycarbonate shell with ultra-thin rubber edging

Open ports for easy access to connectors and controls

Super-slim shell adds just 1.6 mm in thickness to your iPhone 5S / 5
---
Description
Reveal's sleek, one-piece design lets the beauty of your iPhone 5S / 5 shine through, even as it shields it from the indignities of the outside world. The thin shell protects as only polycarbonate can, yet adds only a little over a millimeter in thickness, with slim rubber edges that cushion and grip your iPhone 5S / 5 tight.
Ultra-thin hard-shell case

Reveal brings together rubber edges with a clear polycarbonate backplate. It is particularly well suited for the colourful plastic shells found on Apple's iPhone 5S / 5. The two materials fit together well, and you have no need to worry about them coming apart. Through the rubber, the buttons click well, and the silent switch is readily accessible. Griffin went with some of the largest openings to expose the camera and flash, speaker, lightning port, microphone, and headphone port.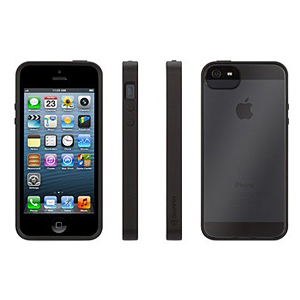 Features
One-piece polycarbonate shell with ultra-thin rubber edging
Super-slim shell adds just 1.6 mm in thickness to your iPhone 5c
Allows access to touchscreen, camera, controls, and ports
---
Key Details
Colour: Black, Clear
Part No: GB35589