Most Useful Customer Reviews
Lee
Bedfordshire
Nexus 2012 Tablet
15th June 2014
So much easier
Makes charging so much easier than trying to connect the cable to the tablet. Used to take me ages trying to figure out the right way up. Now I can just put my tablet into the cradle and switch the power on the wall...perfect!
---
Mike Paterson
Unknown
Nexus 7
14th October 2012
Nexus 7 Compatible Desktop Sync & Charge Cradle
Whenever possible I always look out to purchase several suitable accessories for all my equipment and a cradle is no exception to this rule. When I first heard MobileFun would be selling a Compatible Desktop Sync & Charge Cradle when it next came back into stock I placed my name with MobileFun to notify me the soonest the Cradle was available. True to MobileFun's word within a few days I received said email whereupon an order was immediately placed. That day I later received a text message from MobileFun informing me the cradle was now on it's way directly to me. The following day the package arrived and as always it was great to once again find all packaging was thorough. As always MobileFun you provide an excellent service throughout. So, moving on to the review of the cradle..... The cradle was packaged in a very strong and I do mean strong plain brown box (so strong it was that when standing on the empty box to place in my recycle bin I could not initially flatten it). Removing the cradle from the box the only other item were the supplied USB to Micro USB cable to be used to connect at the rear of the cradle. Placing the cradle on a surface it is comforting to know that on the underside of the cradle there are four conveniently placed rubber inserts which hold the cradle firmly to whatever surface you apply the cradle. Within a matter of a minute I had the cradle connected to the USB cable and it in turn to the mains plug (mains plug not supplied) that came with the Nexus 7. Prior to placing the Nexus 7 in the cradle a neat feature is the docking port which has an insert that can be removed should you use a case to protect your Nexus 7. This insert is very easy to remove should you need to do so. In my case I was not using any case so I left the insert in the docking port and placed the Nexus 7 in it's housing. Now this cradle may be a no-name compatible but what I can tell you is the Nexus 7 slides both in and out of the docking port with extreme ease, yet it fits so absolutely perfectly. When in the cradle the Nexus 7 is held firmly but gently. Both charging and syncing are effortless. There is absolutely nothing negative with this cradle. The cradle is truly worth every penny of it's costs.
---
Read 24 customer reviews
|
Write a review
---
Why Buy?
Syncs and charges your Google Nexus 7

Stands your Nexus 7 stylishly on any flat surface

'Case-compatible' design even works with your Nexus 7 in a case
---
Description
Syncs and charges your Google Nexus 7

As well as charging your Google Nexus 7 from any USB port, you are able to sync it with the computer to easily transfer files in between your two devices.
Stands your Nexus 7 stylishly on any flat surface

Complementing your Google Nexus 7, this stylish dock will look great in all environments.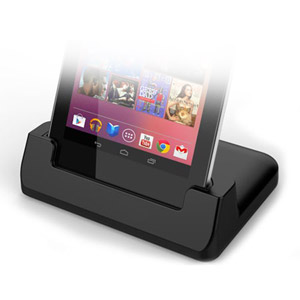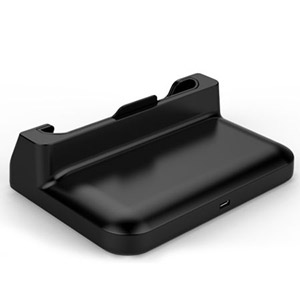 'Case-compatible' design even works with your Nexus 7 in a case

This well designed dock even works when you have a case on your Nexus 7, just remove the small insert from the dock and you will be able to charge and sync it as normal!