Most Useful Customer Reviews
Rob
Unknown
Samsung Galaxy S3
30th September 2013
Fits well, Protects well, Looks good...
I bought this case a few months ago and have found it to be exactly what I was looking for. What I like: > Does not add bulk to the sleek S3 design > Transparent and thin so it is hard to notice it's even there on a white S3 > Fits snug > The case protrudes very slightly above the edge of the screen providing protection to sides and also some protection to the screen itself if dropped > Has saved my phone on a couple of occasions when dropped from and almost-certain cracked screen situation > Reasonable price What I don't like: > Can lose shape - due to the soft material, if the case is not on the phone and it is somehow twisted or squashed, it can lose its tight fit. Was happy that is comes with 2 cases as I just replaced it with the 2nd one
---
Stuart
United Kingdom
Samsung Galaxy S3
15th August 2012
Slim and unobtrusive - Great case(s) for the price!
I don;t usually bother to leave reviews unless something is very good or very bad. On this occasion I can whole heartedly recommend these cases. There are two in the pack (I went with the clear ones). They fit the phone perfectly with no loose corners or edges. They cover the back and the sides including the corners. Unlike a previous case I used to own for another phone, these are not 'sticky' when removing from a pocket. The smooth, easy to handle case slides in and out of any pocket or storage area. What I like best about these is that they add very very little extra bulk to the phone. In fact you hardly notice them at all. Somebody commented elsewhere that they do not protrude from the front of the phone and so don't allow a a fractional space under the screen if placed face down. This doesn't matter to me as I either leave it face up, or at night put it on a clean flat surface anyway. If in doubt, just get them and you won't be disappointed for the price. If you want a full cover or pouch then go for it but these will do a great job of protecting the outer surfaces of your phone and preserve re-sale value in a couple of years.
---
Read 49 customer reviews
|
Write a review
---
Why Buy?
Amazingly Thin S3 Cases

Unique plastic injection process retains strength and reinforcement

Made specifically for the Samsung Galaxy S3

Official Samsung product
---
Why not View a video about this product?
Description
Amazingly thin S3 cases

Using a revolutionary and unique manufacture process, these cases are easily one of the thinnest and lightest for the Samsung Galaxy S3, you'll actually hardly realise this case is on your phone. The matte coating improves grip, so your Galaxy S3 feels better in the hand without feeling noticeably bulkier.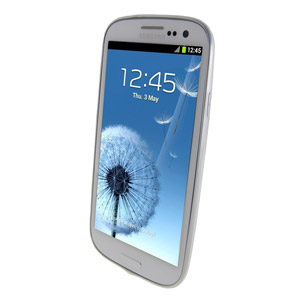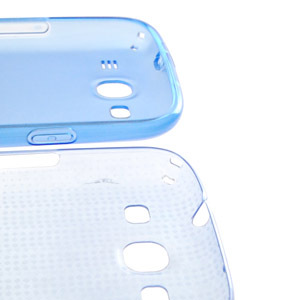 Unique plastic injection process retains strength and reinforcement
The plastic injection technology used to create this case is unique in that it is able to make such a thin case without sacrificing structural integrity or material strength. Your S3 will be just as well protected in this case as it is in a standard cover, meaning your phone will stay protected against scratches and scrapes.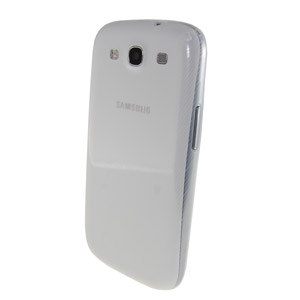 Tranluscent design with micro pattern

These genuine Samsung cases are partially transparent and allow the details and fine design of the Samsung Galaxy S3 to be seen through the case. Additionally, the each case features a micro pattern (1 x Soft Breeze & 1 x Dot) which not only adds an aesthetic quality but also helps improve gripping of the polished S3.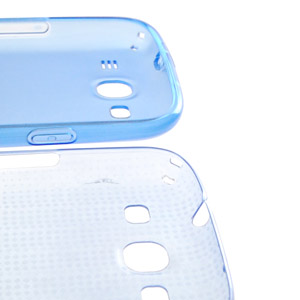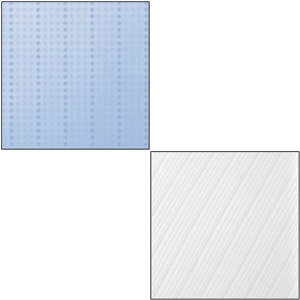 Please Note: The images above detail only the patterns (Dot: Top Left and Soft Breeze: Bottom Right) Both cases are white
Official Samsung Product

This is an official Samsung product, so is made to the highest standards with the best quality materials. It is designed specifically for use with the Samsung Galaxy S3, so offers a perfect fit, and does not impede the use of any of the functions such as the power and volume buttons, headphone and charging ports, or front and rear cameras.
---
Key Details
Colour: White
Part No: EFC-1G6SWEC
---
What's In the Box?
2 White Cases (1 Dot and 1 Soft Breeze)