Genuine Samsung Galaxy UK Mains Charger with USB Cable - 2 Amp - Black

Product Reference: 39164
"charger"
"Don't go cheap on chargers"
Most Useful Customer Reviews
15th July 2015
charger
That it was compatable with my phone it was just what I was looking for. Next day delivery brilliant.
---
joe
bedfordshire
Samsung S4 i9505
21st April 2015
Don't go cheap on chargers
I have gone through countless chargers and cables, trying to figure out why they don't charge properly. I've even replaced batteries (currently have 2 anker 7800mAh extended batteries). So, once again, i was looking online for a Samsung original charger after my old one decided it won't fully charge, even though it's 2amps. i landed on this item, sighed when i saw the price but felt relieved after seeing nothing but positive reviews. So i bought it. My 2 humongous batteries charged in less than 4 hours (usually it takes a total of 16 hours to charge them both). Don't go for chargers on popular auction sites. They're all crap. This is the real deal and i'm satisfied with the purchase. Go for it. You will not be disappointed!
Read 18 customer reviews
|
Write a review
---
Why Buy?
Genuine Samsung product

High 2 amp output

Compact design allows you to take it on your travels

Genuine Samsung product for the Galaxy smartphone range
---
Description
Genuine Samsung product
The Samsung Galaxy charger is an official Samsung product made from the highest quality materials and to the strictest standards. This is ideal as a spare or replacement for your existing Galaxy charger.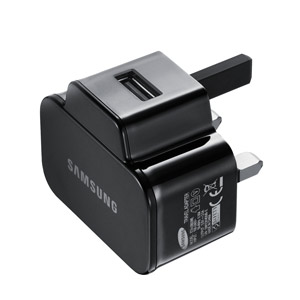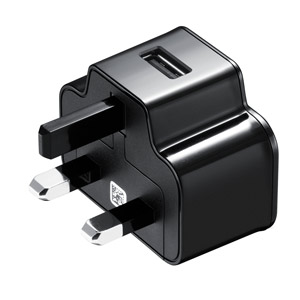 High 2 amp output
This charger has a high 2 amp output so it will charge your galaxy phone as quickly as possible
Compact design allows you to take it on your travels
The charger itself is very compact which makes it highly portable. Ideal for taking with you on holidays or short trips.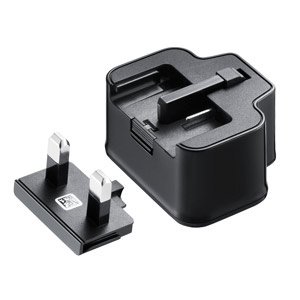 Easy to store and carry around with you
The genuine Samsung Galaxy mains charger comes in 2 separate parts which easily clip together for quick and convenient charging
Acer: beTouch E120, beTouch E130, Iconia, Liquid Metal, Stream
Alcatel: OT 665, OT 710, OT 799
Amazon: Kindle Fire HD 8 9, Kindle, Kindle DX, Kindle Fire, Kindle Fire HD 2012, Kindle International , Kindle Keyboard, Kindle Touch
BlackBerry: 8520 Curve, 8900 Curve, 9320 Curve, Bold 9700, Bold 9780, Bold 9790, Bold 9900, Curve 3G 9300, Curve 9360, Curve 9380, Pearl 3G, Storm, Storm2, Torch 9800, Torch 9810, Torch 9860
Blackberry: Playbook
Google: Nexus 4, Nexus 7 2012, Nexus 7 2013, Nexus One, Nexus S
HP: TouchPad
HTC: 7 Pro, ChaCha, Desire, Desire HD, Desire S, Desire Z, EVO 3D, Explorer, Google Nexus One, Gratia, HD mini, HD2, HD7, HD7S, Incredible S, Legend, Mozart, One S, One V, One X, Radar, Rhyme, Salsa, Sensation, Sensation XE, Sensation XL, TITAN, Trophy, Wildfire, Wildfire S
Huawei: Blaze, G7002, G7010, U8800 Ideos X5, Vision
iNQ: Cloud Touch
JCB: Pro Talk TP851, Sitemaster TP802, Tradesman TP121
Kobo: Vox
LG: BL20 Chocolate, BL40 Chocolate, Cookie Fresh GS290, Cookie Gig KM570, Cookie Lite T300, Cookie Plus GS500, GD510 Pop, GD880 Mini, GM205, GM750, GT350, GT400 Viewty Smile, GT540 Optimus, GW620, GW910, InTouch Max, Jil Sander, Optimus 2X, Optimus 3D, Optimus 3D Max, Optimus 4X HD, Optimus 7, Optimus 7Q, Optimus Black, Optimus Chat C550, Optimus Chic, Optimus L3, Optimus 5L, Optimus L7, Optimus Me, Optimus Net, Optimus One, Optimus Pad, Optimus Pro, Prada 3.0, Swift, Town GT350, Viewty Snap GM360, Wink 3G
Motorola: Atrix, Backflip, DEFY, DEFY Mini, DEFY Plus, DEFY Plus JCB Edition, DEXT, ES400, FIRE, FIRE XT, Flipout, Gleam, Gleam Plus, Milestone, Milestone 2, MOTOLUXE, PRO, PRO PLUS, Q9, Quench, RAZR, RAZR2 V8, RAZR2 V9, ROKR E8, Wilder, XT316, XT720
Nokia: 5630 Xpress Music, 6500 Classic, 7900 Prism, 808 PureView, 8600 Luna, 8800 Arte, 8800 Diamond Arte, Asha 201, Asha 202, Asha 203, Asha 300, Asha 302, Asha 303, C1 01, C1 02, C2, C3, C5 03, C6 01, C7, E5, E52, E55, E7, Lumia 610, Lumia 800, Lumia 900, N85, N86 8MP, N900, N97, N97 mini, Oro, X2, X3 02 Touch And Type, X5 01
Orange: Amsterdam, Atlanta, Barcelona, Boston, Lisbon, Rio, Rio II, San Francisco, San Francisco II, Sydney
Samsung: B3310, B3410, B5310 Corby PRO, B5722, B7620 Giorgio Armani , B7722, Beam I8520, Beat DISC, Blade, Blue Earth, C3300 Libre, C3350 Solid X Cover, C3630, C5510, C6112, Chat 222, Chat 322, Chat 335, Chat B3410W, Diva Diamond, E1050, E1080, E2100, E2330, E2370, Flutter, G810, Galaxy , Galaxy 3 I5800, Galaxy 550, Galaxy 551, Galaxy A3, Galaxy A5, Galaxy A7, Galaxy Ace 2, Galaxy Ace Plus, Galaxy Ace, Galaxy Apollo i5801, Galaxy Beam, Galaxy Europa I5500, Galaxy Extreme, Galaxy Fit S5670, Galaxy Gio S5660, Galaxy Lite, Galaxy M Pro, Galaxy Mini 2, Galaxy Mini S5570, Galaxy Nexus, Galaxy Note, Galaxy Note 10.1 2014, Galaxy Note 2, Galaxy Note 3, Galaxy Pocket, Galaxy Portal, Galaxy Pro, Galaxy R, Galaxy S Advance, Galaxy S I9000, Galaxy S Plus I9001, Galaxy S2, Galaxy S3, Galaxy S3 Mini, Galaxy S4, Galaxy S4 Mini, Galaxy S5, Galaxy Tab 3 10.1, Galaxy Tab 3 10.1, Galaxy Tab 3 7.0, Galaxy Tab 3 8.0, Galaxy Teos, Galaxy Xcover, Galaxy Y, Galaxy Y Pro, Genio PRO, Genio Qwerty, Genio Slide, Glamour S5150, Glamour S7070, Google Nexus S, H1, i5500 Corby, i5500 Galaxy 5, i5700 Galaxy Portal, i8510 INNOV8, I8520 Halo, I9003 Galaxy SL, I9010 Galaxy S Giorgio Armani, Jet S8000, Jet Ultra Edition, Knox, Lindy M5650, Lucido, M2310, M2510, M3310, M7500 Emporio Armani, M7600 Beat DJ, Miss Player, Monte Bar C3200, Monte S5620, Naos, Omnia 7, Omnia HD i8910, Omnia II I8000, Omnia Lite, Omnia PRO 4 B7350, Omnia Pro B7330, Omnia Pro B7610, Omnia W, Pixon12, Player 5, Player Mini, Player Star, Player Star 2, Preston, S3370, S5150 Diva Folder, S5260 Star II, S5530, S5560, S5600, S5750, S6700, S7070 Diva, S7230, S7350 Ultra Slide, S8300 Ultra Touch, Shark 3 S3550, Shark S5350 , Solid Immerse, Teos, Tocco Icon, Tocco Ultra Edition, Wave 2 Pro S5330, Wave 2 S5250, Wave 3, Wave 525, Wave 533, Wave 575, Wave 723, Wave II S8530, Wave M, Wave S8500, Wave Y
Sonim: XP2 Spirit
Sony: Xperia ion, Xperia P, Xperia S, Xperia SL, Xperia U
Sony Ericsson: Aspen, Cedar, Hazel, Mix Walkman, Spiro, txt, Txt Pro, Vivaz, Vivaz Pro, W8, X10, Xperia Active, XPERIA Arc, Xperia arc S, XPERIA Kyno, XPERIA Mini, XPERIA Mini Pro, XPERIA Neo, Xperia neo V, Xperia Play, XPERIA Pro, Xperia Ray, XPERIA X10 Mini, XPERIA X10 Mini Pro, Xperia X2, XPERIA X8, Yendo
T Mobile: myTouch 3G Slide, Pulse, Pulse Mini, Vairy Text, Vairy Touch II
TMobile: Affinity
Vodafone: 345, 351, 360 H1, 360 M1, 455, 550, 553, 845, 945, M1, Smart 858
Galaxy A7 Mains Chargers
,
Galaxy A7 Chargers
,
Galaxy A5 Mains Chargers
,
Galaxy A5 Chargers
,
Galaxy A3 Mains Chargers
,
Galaxy A3 Chargers
,
USB Power Sockets
,
Galaxy S5 Mains Chargers
,
Galaxy Note 101 2014 Mains Chargers
,
Galaxy Note 101 2014 Chargers
,
Galaxy Note 3 Mains Chargers
,
Galaxy Note 3 Chargers
,
Nexus 7 2013 Mains Chargers
,
Galaxy Tab 3 101 Mains Chargers
,
Galaxy Tab 3 101 Chargers
,
Galaxy Tab 3 80 Mains Chargers
,
Galaxy Tab 3 80 Chargers
,
Galaxy Tab 3 70 Mains Chargers
,
Galaxy Tab 3 70 Chargers
,
Galaxy S4 Mini Mains Chargers
,
Official Samsung S4 Accessories
,
Galaxy S4 Mains Chargers
,
Galaxy S4 Chargers
,
Nexus 4 Mains Chargers
,
Nexus 4 Chargers
,
Galaxy S3 Mini Chargers
,
Kindle Fire HD 8 9 Mains Chargers
,
Kindle Fire HD 8 9 Chargers
,
Kindle Fire HD 2012 Chargers
,
Galaxy Note 2 Mains Chargers
,
Galaxy Note 2 Chargers
,
Xperia SL Chargers
,
Nexus 7 Mains Chargers
,
Nexus 7 2012 Chargers
,
Nexus 7 2012 Car Chargers
,
Galaxy Pocket Chargers
,
9320 Curve Chargers
,
Galaxy S3 Mains Chargers
,
Optimus 4X HD Chargers
,
Galaxy Beam Chargers
,
Xperia U Car Chargers
,
808 PureView Covers
,
808 PureView Chargers
,
Xperia P Car Chargers
,
Asha 202 Mains Chargers
,
Asha 202 Chargers
,
Asha 203 Mains Chargers
,
Asha 203 Chargers
,
Optimus 3D Max Chargers
,
Asha 302 Chargers
Questions and answers: