Most Useful Customer Reviews
Anonymous
Unknown
Samsung Galaxy S3
6th January 2014
Ideal charger for Sat-Nav
Great item. The extra long lead means I'm not restricted in where I mount my phone when using it as a Sat-Nav. This is ideal as I prefer to have it positioned by my wing mirror and NOT in the centre of the dash.
---
Marco Freire
Portugal, Cascais
Samsung Galaxy S4
20th July 2013
Good but flawed
Very solid, robust and powerful car charger but flawed. It has no connection light. There is no visual connection information of any kind. You need to literally check your phone constantly to confirm that it is connected and charging. That's a big BAD in my opinion. Another thing i noticed. The top shinny polished plastic, where the USB connects, is a fingerprint magnet. Not that i care much, but someone might. :S Overall a good charger. Going to keep it since it is a very powerful Samsung original accessory. I don't trust any other, into my brand new Galaxy S4.
Read 8 customer reviews
|
Write a review
---
Why Buy?
Charge your Micro USB device on the move

Rapid 2A charging for quick power-ups

Detachable USB to Micro USB cable
---
Description
Charge your Micro USB device on the move
With this genuine Samsung Micro USB car charger you will never be without charge again. Just simply plug the charger into your cigarette lighter and you can instantly charge your Smartphone.
Rapid 2A charging for quick power-ups
The Samsung Car Charger plugs into a 12V cigarette lighter and will charge your Smartphone while in the car so you never miss any important calls. Samsung's 2A output result in quick charging technology which means you can have fully charged device in no time.
Detachable USB to Micro USB cable
The Samsung Car Charger also comes with a detachable USB to Micro USB cable, which allows you to charge your phone from the USB port on your computer or other USB power source if you aren't near a 12V outlet. You can also sync and transfer files between your computer and Galaxy smartphone or other phone using the Micro USB cable. Keep one in each of your vehicles and one in your bag to make sure that your phone is always ready to go when you are.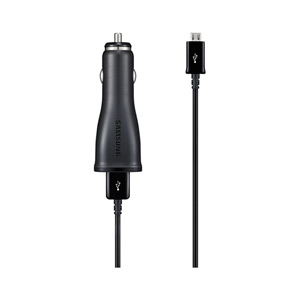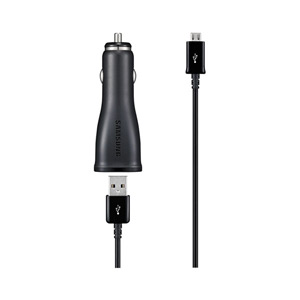 Technical Specifications:
---
Key Details
Charger Type: Car Charger
Part No: ECA-U21CBEBXAR
3: INQ Chat 3G, INQ Mini 3G, INQ1, Skypephone, Skypephone S2, Skypephone S2x, ZTE F102, ZTE F107
Acer: Acer Liquid Z3, Allegro, beTouch E120, beTouch E130, Iconia, Liquid E1, Liquid E2, Liquid Metal, Liquid S2, Stream
Alcatel: OT 282, OT 355, OT 665, OT 710, OT 799, OT 990
Amazon: Kindle Fire HD 8 9, Kindle, Kindle DX, Kindle Fire, Kindle Fire HD 2012, Kindle Fire HDX, Kindle Fire HDX 8.9, Kindle International , Kindle Keyboard, Kindle Paperwhite, Kindle Touch
Apple: iPhone 2007, iPhone 3G, iPhone 3GS, iPhone 4, iPhone 4S, iPod 3G, iPod 4G, iPod Classic, iPod Color, iPod Mini, iPod Nano, iPod Nano 2G, iPod Nano 3G, iPod Nano 4G, iPod Photo, iPod Touch, iPod Touch 2G, iPod Video
BlackBerry: 8220 Pearl, 8520 Curve, 8900 Curve, 9320 Curve, 9720, Bold 9700, Bold 9780, Bold 9790, Bold 9900, Curve 3G 9300, Curve 9360, Curve 9380, Pearl 3G, Q10, Q5, Storm, Storm2, Torch 9800, Torch 9810, Torch 9860, Z10, Z30
Blackberry: Playbook
Google: G1 Android, Ion, Nexus 4, Nexus 5, Nexus 7 2012, Nexus 7 2013, Nexus One, Nexus S
HP: hx2100, rw6815, rx5915, Slate 7, TouchPad
HTC: 7 Pro, 8S, 8X, Advantage, Butterfly, ChaCha, Desire, Desire 200, Desire 300, Desire 500, Desire 501, Desire 601, Desire C, Desire HD, Desire S, Desire X, Desire Z, Droid DNA, EVO 3D, Evo 4G LTE, Explorer, First, Google Nexus One, Gratia, HD mini, HD2, HD7, HD7S, Hero, Incredible S, Inspire, Legend, Magic, Mozart, MTeoR, One 2014, One Dual SIM, One M7, One M8, One Max, One Mini, One S, One SV, One V, One X, One X Plus, One XL, P3300, P3350, P3400, P3470, P3600, P4350, P6300, P6500, Radar, Rezound, Rhyme, S310, S620, S710, S730, S740, Salsa, Sensation, Sensation XE, Sensation XL, Smart, Snap, Tattoo, Thunderbolt, TITAN, Touch 3G, Touch Cruise, Touch Diamond, Touch Diamond2, Touch Dual, Touch HD, Touch phone, Touch Pro, Touch Pro2, Touch Viva, Touch2, Trophy, TyTN, TyTN II, Wildfire, Wildfire S
Huawei: Ascend D Quad, Ascend D Quad XL, Ascend D1, Ascend G300, Ascend G330, Ascend G510, Ascend G600, Ascend Mate, Ascend P1, Ascend P6, Ascend W1, Ascend Y100, Blaze, G7002, G7010, Honor, U7510, U8800 Ideos X5, Vision, Ascend Y300
i-mate: JAM, JAMin, JASJAM, JASJAR, K-JAM, SP3, SP3i, SP5, SP5m, SPL
iNQ: Cloud Touch
JCB: Pro Talk TP851, Sitemaster TP802, TOUGHPHONE, Tradesman TP121
Land Rover: S1
Lenovo: K900
LG: A 225, A100, A140, Arena, BL20 Chocolate, BL40 Chocolate, Cookie Fresh GS290, Cookie Gig KM570, Cookie Lite T300, Cookie Plus GS500, Cookie Style, F2250, G Flex, G Pad 8.3, G2, G3, GB102, GB220, GC900 Viewty Smart, GD510 Pop, GD880 Mini, GD900 Crystal, GD910, GM205, GM730, GM750, GS101, GT350, GT400 Viewty Smile, GT500 Puccini, GT505, GT540 Optimus, GU230, GW300, GW550, GW620, GW910, InTouch Max, Jil Sander, KB770, KC550 Orsay, KC560, KC780 Reina, KC910 Renoir, KE800 Chocolate Platinum, KE820, Prada, KE970 Shine, KF300, KF310, KF350, KF600 Venus, KF750 Secret, KF757 Secret, Kf900 Prada II, KG320, KG800 Chocolate, KG810, KP100, KP130, KP170, KP235, KP500 Cookie, KP501 Cookie, KS20, KS360, KS365, KS500, KT520, KT770, KU990 Viewty, KU990i, Optimus 2X, Optimus 3D, Optimus 3D Max, Optimus 4X HD, Optimus 7, Optimus 7Q, Optimus Black, Optimus Chat C550, Optimus Chic, Optimus G, Optimus G Pro, Optimus L3, Optimus 5L, Optimus L7, Optimus L9, Optimus Me, Optimus Net, Optimus One, Optimus Pad, Optimus Pro, Prada 3.0, Rumor Reflex, Swift, T310 Wink Style, Town C300, Town GT350, Viewty GT, Viewty Lite, Viewty Snap GM360, Wink 3G
MDA: Basic
Motorola: A780, A910, Atrix, Atrix HD, Backflip, DEFY, DEFY Mini, DEFY Plus, DEFY Plus JCB Edition, DEXT, Droid RAZR, Droid RAZR Maxx, Droid Ultra, DVX, E1070, E770v, EM330, ES400, FIRE, FIRE XT, Flipout, Gleam, Gleam Plus, KRZR K1, KRZR K3, L2, L6, Milestone, Milestone 2, Moto G 1st Gen , Moto G 2nd Gen, Moto X 2nd Gen, MOTO Z10, MOTOLUXE, MotoSmart, PEBL U6, Photon Q 4G, PRO, PRO PLUS, Q9, Quench, RAZR, RAZR HD, RAZR i XT890, RAZR maxx, RAZR V3, RAZR V3xx, RAZR2 V8, RAZR2 V9, RIZR, RIZR Z8, ROKR E8, ROKR Z6, SLVR 7, V230, V360, V3i, V3x, W231, W375, W377, Wilder, XOOM, XT316, XT720, Z6w
Nokia: 100, 101, 110, 112, 1200, 1208, 1209, 1616, 1650, 1680 Classic, 1800, 2220, 2323 Classic, 2330 Classic, 2600 Classic, 2630, 2680 Slide, 2690, 2700 Classic, 2710 Navigation Edition, 2720 Fold, 2730 Classic, 2760, 3109 Classic, 3110 Classic, 3110 Evolve, 3120 Classic, 3250, 3500 Classic, 3600 Slide, 3610 Fold, 3710 Fold, 3720 Classic, 500, 5000, 5030, 5070, 5130 XpressMusic, 5200, 5220, 5228, 5230, 5235 , 5250, 5300, 5310, 5320, 5330 XpressMusic, 5500, 5530 XpressMusic, 5610, 5630 Xpress Music, 5700, 5800 Xpress Music, 600, 6070, 6080, 6085, 6086, 6101, 6103, 6110 Navigator, 6111, 6120 Classic, 6124, 6125, 6131, 6136, 6151, 6210 Navigator, 6212 Classic, 6216 Classic, 6220 Classic, 6233, 6234, 6260 Slide, 6267, 6270, 6280, 6288, 6290, 6300, 6300i, 6301, 6303 Classic, 6303i Classic, 6500 Classic, 6500 Slide, 6555, 6600 Fold, 6600 Slide, 6600i Slide, 6650 Flip, 6700 Classic, 6700 Slide, 6710 Navigator, 6730 Classic, 6760 Slide, 700, 701, 7020, 7070 Prism, 7100 Supernova, 7210 Supernova, 7230 Slide, 7310 Supernova, 7360, 7370, 7373, 7390, 7500 Prism, 7510 Supernova, 7610 Supernova, 7900 Prism, 808 PureView, 8600 Luna, 8800 Arte, 8800 Diamond Arte, 8800 Sirocco, Asha 201, Asha 202, Asha 203, Asha 300, Asha 302, Asha 303, Asha 306, C1 00, C1 01, C1 02, C2, C2 01, C2 02, C2 03, C2 05, C3, C3 01 Touch and Type, C3 01.5, C5, C5 03, C6, C6 01, C7, E5, E50, E51, E51 ( No Camera ), E52, E55, E6, E61, E61i, E63, E65, E66, E7, E71, E72, E75, E90, Lumia 1020, Lumia 1320, Lumia 1520, Lumia 510, Lumia 520, Lumia 525, Lumia 530, Lumia 610, Lumia 620, Lumia 625, Lumia 710, Lumia 720, Lumia 800, Lumia 810, Lumia 820, Lumia 822, Lumia 900, Lumia 920, Lumia 925, N70, N71, N72, N73, N76, N78, N79, N8, N80, N81, N82, N85, N86 8MP, N9, N90, N900, N91, N92, N93, N93i, N95, N95 8GB, N96, N97, N97 mini, Oro, PT-6, X1 00, X1 01, X2, X2 01, X3, X3 02 Touch And Type, X5 01, X6, X7
Nook: HD Plus
O2: XDA Argon, XDA Atmos, XDA Diamond, XDA Exec, XDA Graphite, XDA Ignito, XDA IQ, XDA Mini S, XDA Orbit, XDA Orbit 2, XDA SP, XDA Stellar, XDA Trion, XDA Zinc
O2 : XDA Stealth
Oppo: Find 5
Orange: Amsterdam, Atlanta, Barcelona, Boston, SPV C550, Dallas, Lisbon, M3000, SPV M3100, M500, SPV M5000, M700, Rio, Rio II, San Diego, San Francisco, San Francisco II, SPV C600, SPV C700, SPV E650, SPV M600, Sydney
Palm: Pixi, Pixi Plus, Pre, Pre 2, Pre 3, Pre Plus, Treo 500v
Panasonic: Eluga, Eluga Power
Qtek: 8010, 8100, 8300, 8310, 8600, 9000, 9100, 9600, S100, S110, S200
Samsung: Ativ S, B210, B2100 Solid Extreme, B2700, B300, B3210 Corby TXT, B3310, B3410, B5310 Corby PRO, B5722, B7620 Giorgio Armani , B7722, Beam I8520, Beat DISC, Blade, Blue Earth, C170, C3050, C3300 Libre, C3350 Solid X Cover, C3510, C3630, C5212, C5510, C6112, C6625, Chat 222, Chat 322, Chat 335, Chat B3410W, D520, D800, D820, D830, D840, D880 DuoS, D900, D900i, D980 DuoS, Diva Diamond, E1120, E1150i, E1170, E2100, E2120, E2120B, E2121, E2121B, E2330, E2370, E250, E250i, E2600, E390, E420 Lily, E570, E590, E740, E780, E840, E870, E900, F110 MiCoach, F200, F210, F250, F300, F400, F480 Player Style, F480 Tocco, F700, Flutter, G600, G800, G810, Galaxy , Galaxy 3 I5800, Galaxy 550, Galaxy 551, Galaxy Ace 2, Galaxy Ace 3 3G, Galaxy Ace Duos S6802, Galaxy Ace Plus, Galaxy Ace, Galaxy Apollo i5801, Galaxy Beam, Galaxy Core, Galaxy Core Advance, Galaxy Europa I5500, Galaxy Express, Galaxy Extreme, Galaxy Fame, Galaxy Fit S5670, Galaxy Gio S5660, Galaxy Grand, Galaxy Lite, Galaxy M Pro, Galaxy Mega 5.8, Galaxy Mega 6.3, Galaxy Mini 2, Galaxy Mini S5570, Galaxy Next Turbo, Galaxy Nexus, Galaxy Note, Galaxy Note 10.1 2014, Galaxy Note 2, Galaxy Note 3, Galaxy Note 8.0, Galaxy Pocket, Galaxy Portal, Galaxy Pro, Galaxy R, Galaxy S Advance, Galaxy S Duos, Galaxy S I9000, Galaxy S Plus I9001, Galaxy S2, Galaxy S2 Skyrocket, Galaxy S3, Galaxy S3 LTE, Galaxy S3 Mini, Galaxy S4, Galaxy S4 Active, Galaxy S4 Mini, Galaxy S4 Zoom, Galaxy Tab 3 10.1, Galaxy Tab 3 7.0, Galaxy Tab 3 7.0, Galaxy Tab 3 8.0, Galaxy Teos, Galaxy Xcover, Galaxy Xcover 2, Galaxy Y, Galaxy Y Pro, Galaxy Young, Genio PRO, Genio Qwerty, Genio Slide, Genio Touch, Glamour S5150, Glamour S7070, Google Nexus S, H1, i200, i5500 Corby, i5500 Galaxy 5, i5700 Galaxy Portal, i600, i620, i640, i8510 INNOV8, I8520 Halo, i900 Omnia, I9003 Galaxy SL, I9010 Galaxy S Giorgio Armani, J600i, J700, Jet S8000, Jet Ultra Edition, Knox, L760, L770, Lindy M5650, Lucido, M110 Solid, M150, M200, M2310, M2510, M300, M310, M3310, M7500 Emporio Armani, M7600 Beat DJ, Mega 6.3, Miss Player, Monte Bar C3200, Monte S5620, Monte Slider E2550, Naos, Omnia 7, Omnia HD i8910, Omnia II I8000, Omnia Lite, Omnia M , Omnia PRO 4 B7350, Omnia Pro B7320, Omnia Pro B7330, Omnia Pro B7610, Omnia W, P260, P300, P310, P520 Armani, Pixon12, Player 5, Player Light, Player Mini, Player Star, Player Star 2, Preston, Qbowl, Rocky E1130, S2 Plus, S3100, S3370, S3650 Corby, S5150 Diva Folder, S5260 Star II, S5530, S5560, S5600, S5750, S6700, S7070 Diva, S7230, S7330, S7350 Ultra Slide, S8300 Ultra Touch, S9110, U300, Shark 2 S5550 , Shark 3 S3550, Shark S5350 , Solid Immerse, Teos, Tocco Icon, Tocco Lite 2, Tocco Quick Tap, Tocco Ultra Edition, U100, U600, U700, U800 b, Wave 2 Pro S5330, Wave 2 S5250, Wave 3, Wave 525, Wave 533, Wave 575, Wave 723, Wave II S8530, Wave M, Wave S8500, Wave Y, X530, X820, X830, Z400, Z510, Z540, Z560, Z720, ZV40
Sonim: XP1, XP2 Spirit
Sony: acro S, Xperia E, Xperia go, Xperia i1, Xperia ion, Xperia J, Xperia L, Xperia M, Xperia Miro, Xperia P, Xperia S, Xperia SL, Xperia Sola, Xperia SP, Xperia T, Xperia Tipo, Xperia tipo dual, Xperia TX, Xperia U, Xperia V, Xperia XL, Xperia Z, Xperia Z Tablet, Xperia Z Ultra, Xperia Z1, Xperia Z1S, Xperia Z2, Xperia ZL, Xperia ZR
Sony Ericsson: Aino, Aspen, C510, C702i, C901, C902, C903, C905, Cedar, D750i, Elm, F305, G502, G700, G705, G900, Hazel, J100i, J110i, J120i, J220i, J230i, Jalou, K200i, K220i, K310i, K320i, K330, K510i, K530i, K550i, K610i, K630i, K660i, K750i, K770i, K790i, K800i, K810i, K850i, M600i, Mix Walkman, Naite, P1i, P990i, R300, R306, S302, Satio, S500i, Z320i, Spiro, T250i, T270i, T280i, T303, T650i, T700, T707, T715, txt, Txt Pro, V630, V640i, Vivaz, Vivaz Pro, W200i, W205, W300i, W302, W350i, W380i, W395, W508, W550i, W580i, W595, W610i, W660i, W700i, W705, W710i, W715, W760i, W8, W800i, W810i, W850i, W880i, W890i, W900i, W902, W910i, W950i, W960i, W980i, W995, X10, Xperia Active, XPERIA Arc, Xperia arc S, XPERIA Kyno, XPERIA Mini, XPERIA Mini Pro, XPERIA Neo, Xperia neo V, Xperia Play, XPERIA Pro, Xperia Pureness, Xperia Ray, XPERIA X10 Mini, XPERIA X10 Mini Pro, Xperia X2, XPERIA X8, Yari, Yendo, Z250i, Z310i, Z520i, Z530i, Z550i, Z555i, Z558i, Z610i, Z710i, Z750i, Z770i, Z780i, Zylo
T Mobile: Ameo, Dash 3G, G1, G2 Touch, MDA Compact, MDA Compact II, MDA Compact III, MDA Compact IV, MDA Mail, MDA Pro, MDA Touch, MDA Vario, MDA Vario III, MDA Vario IV, MDA Vario V, myTouch 3G, myTouch 3G Slide, Pulse, Pulse Mini, SDA, SDA II, SDA Music, Touch Plus, Vairy Text, Vairy Touch, Vairy Touch II
T-Mobile: MDA Vario II
Tesco: Hudl
TMobile: Affinity, Beat, Energy, Groove, Unity, Vivacity
Vodafone: 345, 351, 360 H1, 360 M1, 455, 550, 553, 845, 945, M1, Smart 858, v1605, v1615, v1640, VPA Compact
Wiko: Cink Five, Cink Peax 2, Cink Slim, Darkmoon, Darkside, Stairway
ZTE: Grand S, Grand X, Libra, Open, Racer, Skate, Tania, Tureis