Ge-Force Car Dash Cam 720p Dashboard Camera Pack
Product Reference: 53590
"Great bit of kit"
"A little cost for a peice of mind and a good saving"
Most Useful Customer Reviews
29th December 2016
Great bit of kit
Value for money and works well in the car and window for a cctv brilliant buy thanks to all at funmobile
---
leanne
Northampton
Ge-Force Car Dash Cam 720p Dashboard Camera Pack
16th February 2016
A little cost for a peice of mind and a good saving
A simple to use video & audio camera. It has three modes, video with/without audio (depending on your settings), camera (snap shot) and audio (dictaphone type use) I have no use for the latter two personally. Includes a strong windscreen mount; take other's advice on where mounted, i.e. out of the way of the driver and within the sweep of the windscreen wipers. The camera can hang back off the mount a wee bit so play around until you are happy (Passenger side of the rear view mirror or bottom right corner on the driver's side suited me). There is also a cigar charger (micro USB) that has about 3.5 metres of cable, so you can work it around the dash & windscreen. The instructions are okay, but a few minutes playing around and you'll work it all out. Simple on/off button and a record/stop button on the back edge. On the LCD panel are Mode switches from video (default at start up) to picture to dictaphone to playback screen. Each mode (less dictaphone) has its own menu / settings (using Menu, Up and Down and record/stop as the "OK"). Like I said, play around to get used to it. I put a 32GB Class 10 SD card into mine. The class of SD card is important, Class 4 for example is no good for quality video writing, (and this may be where other reviewers have gone wrong - stating they were not satisfied with quality) (I also notice a class 4 is offered by Amazon as part of a bundle!!!!) Class 10 has good read / write speed for video use, so choose your SD card with care. I have mine set to 1280x720 [HD], which provides 6.5 hours of continuous video with audio recording on a 32GB card. On play back, both on the inbuilt LCD and home PC, I was pleased with the quality offered by this camera (for the price that I paid for it).
Read 58 customer reviews
|
Write a review
---
Why Buy?
Record your journeys in 720p high definition

6 IR sensors for night recording

Crisp, 2.5 inch TFT display

120 degree wide angle lens

Super slim and lightweight

SD card slot - supports cards up to 32GB

Removable rechargeable battery
---
Why not View a video about this product?
Description

Record your journeys in 720p high definition
The Ge-Force 720p Dashboard Camera can be securely mounted on either the windscreen or dashboard, allowing you to get the perfect angle and the clearest view possible. Extremely easy to use and set up, the Ge-Force can be mounted and recording within seconds. Recording HD video, audio, the date and the time - the Ge-Force provides the perfect witness for any incident, no matter how big or small.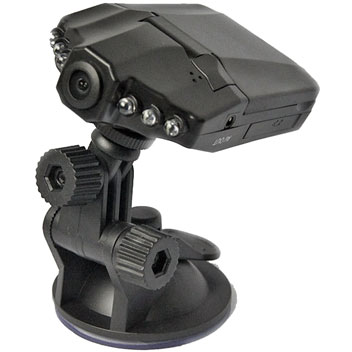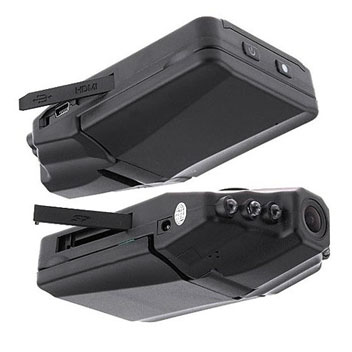 6 IR sensors for night recording
The Ge-Force Dash Camera comes complete with 6 Infrared sensors, 3 either side of the camera lens. This enhances night recording, which is handy as you may need footage as well as daytime footage.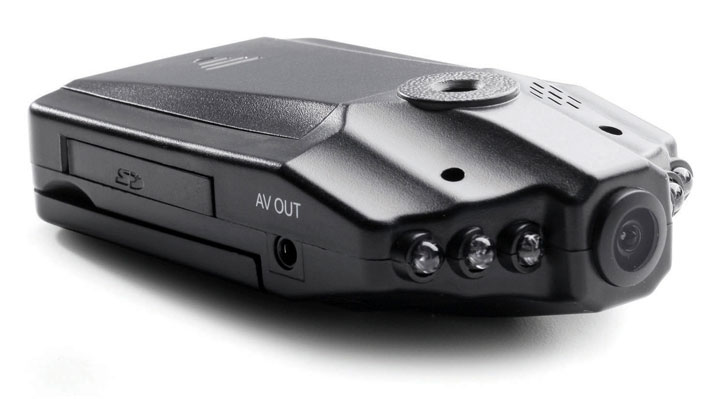 This means that even when there is little or no street lighting, you will still have reliable footage.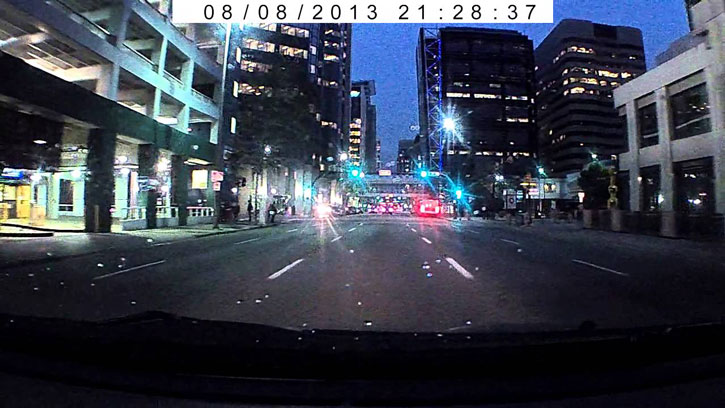 Crisp, 2.5 TFT inch display
Watch back your recorded data in perfect clarity with the Ge-Force Dash Cam's handy 2.5 inch TFT display. Just flip down the screen and you can watch and re-watch any saved clips easily and navigate through menus effortlessly so you can find particular clips to play or delete when required. Then when you're done, just flip the screen back into place, giving you a better view of the road when driving.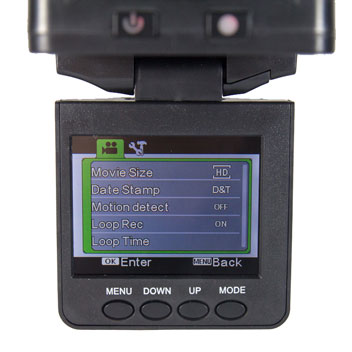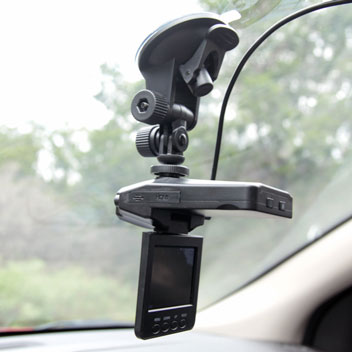 120 degree wide angle lens
Capture the whole scene with the Ge-Force Dash Cam. Recording in 720p HD and featuring an impressive wide angle lens, this stylish dashboard camera is sure to capture everything in detail.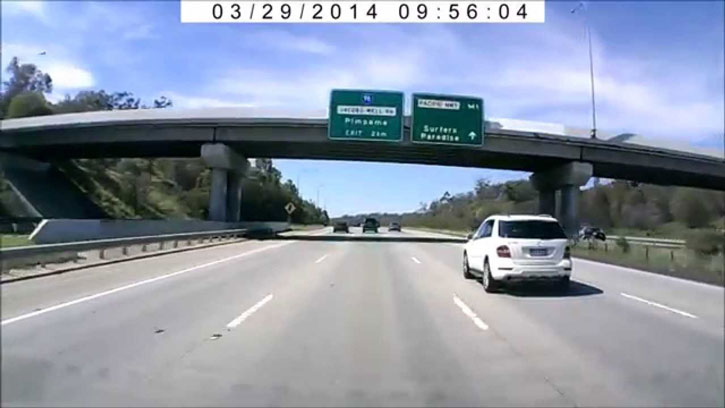 Super slim and lightweight
Extremely thin and bulk-free, the Ge-Force is extremely unobtrusive so you won't have to worry about any extra weight. It's easy to dismount and carry when you need to, and light enough that the suction cup mounting will easily hold the camera in place, even over poor quality road surfaces.
SD card slot - supports cards up to 32GB
The Ge-Force Dash Camera requires an SD card up to 32GB (not included). With this card you can be sure to capture every part of your journey and even swap between cards when needed. SD cards are great as they can be removed and plugged straight into a memory card reader, which many laptops and smart devices now come with. They can also be replaced with a spare on the go if they run out of memory.
Please note: This camera takes SD cards, not Micro SD, although you may use a Micro SD card with an SD card adapter. Cards up to 32GB only.
No SD card is included with this kit, but we do sell SD cards and Micro SD cards with SD adapters.
Removable rechargeable battery
The included battery will keep the camera in action for hours. Just plug the camera into the provided Mini USB car charger to charge while in use or when not. You can also replace the battery with a new one (BL-4C) for instant power replenishment.
A car charger with Mini USB charging cable is included so you can power your camera on the move too.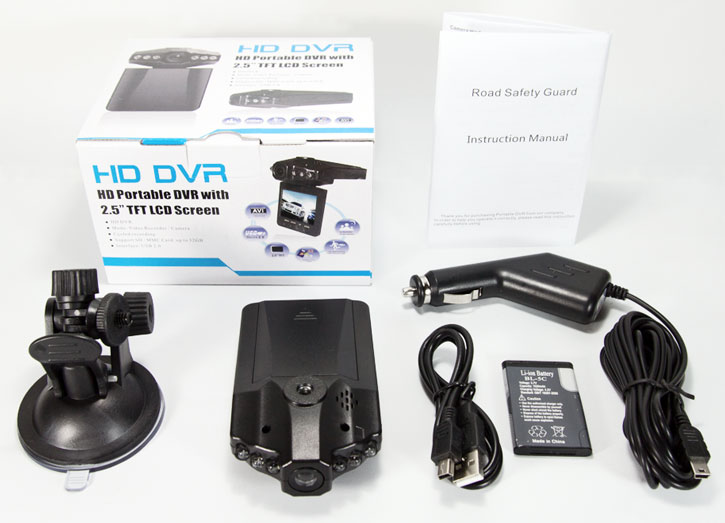 Specifications
Resolution of 1280×720p
2.5″ TFT display
1/4" CMOS Sensor
120 degrees angle of view
Working temp: 32 – 104 degrees Fahrenheit
Time and date feature on video
Supports up to 32GB SD cards (not Micro SD, unless used with an SD card adapter)
Automatic on/off
Includes USB 2.0 Interfaces
---
Key Details
Colour: Black
Part No: PNGD1
---
What's In the Box?
Ge-Force 720p Dash Cam
Windscreen/Dashboard Mount
Car Charger with cable
Mini USB cable
Battery
Instructions
Acer: Acer Liquid Z3, Iconia A1-830, Iconia B1-720, Liquid E1, Liquid E2, Liquid E3, Liquid Jade, Liquid Jade Primo, Liquid Jade Z, Liquid M220, Liquid Metal, Liquid S1, Liquid S2, Liquid X1, Liquid X2, Liquid Z200, Liquid Z4, Liquid Z5, Liquid Zest, Liquid Zest Plus
Alcatel: A3, A5 LED, Fierce XL, Idol 4, Idol 4S, Idol Alpha, Touch Idol X 6040D, One Touch Evo 7, One Touch Hero 2C, One Touch T10, OneTouch Hero 2, OneTouch Idol, OneTouch Idol 3 4.7 inch, OneTouch Idol 3 5.5 inch, OneTouch Idol X+ 6043D, OneTouch Pop C3, OneTouch Pop C7, OneTouch SPop, OT 990, OT 991, OT-292, Pixi 4 5, PLUS 12, Pop 4, Pop 4 Plus, Pop 4S, POP S3, POP S9, U3
Amazon: Fire, Fire 7, Fire 7 2017, Fire HD 10, Fire HD 8, Fire HD 8 2017, Fire Kids Edition, Fire Phone, Kindle 6 Inch 2015, Kindle 6th Gen, Kindle Fire 7, Kindle Fire HD 6, Kindle Fire HD 7, Kindle Oasis, Kindle Voyage
Apple: iPad Mini, iPad Mini 2, iPad Mini 3, iPad Mini 4, iPad Pro 12.9 2015, iPad Pro 12.9 2017, iPad Pro 12.9 inch, iPhone, iPhone 3G, iPhone 3GS, iPhone 4, iPhone 4S, iPhone 5, iPhone 5C, iPhone 5S, iPhone 6, iPhone 6 Plus, iPhone 6S, iPhone 6S Plus, iPhone 7, iPhone 7 Plus, iPhone 7S, iPhone 7S Plus, iPhone 8, iPhone SE, iPod Touch 2G, iPod Touch 3G, iPod Touch 4G, iPod Touch 6G, MacBook Pro 13 with Touch Bar, MacBook Pro 15 with Touch Bar
Archos: 40 Power, 45 Helium 4G, 50 Diamond, 50 Oxygen, 50 Platinum, 50c Oxygen, 55 Helium, 55 Helium 4 Seasons, 55 Helium Ultra, 80 Helium 4G, Diamond 2 Plus
Asus: Live, Memo Pad 10, MEMO Pad 8, PadFone E, PadFone Mini, PadFone X, Transformer Book Duet, Zenfone 2, Zenfone 2 Deluxe, Zenfone 3, Zenfone 3 Deluxe, Zenfone 3 Ultra, Zenfone 3 Zoom, ZenFone 4, ZenFone 5, ZenFone 6, Zenfone AR, Zenfone Max, ZenFone Zoom, ZenPad 7.0 Z370CG, ZenPad C 7.0, ZenPad C 7.0 Z170MG, ZenPad S 8.0 Z580C, ZenPad S 8.0 Z580CA
Barnes & Noble: Nook 7
BlackBerry: Aurora, Classic, DTEK50, DTEK60, KEYone, Leap, Passport, Passport Silver Edition, Priv, Q10, Q5, Vienna, Z10, Z20, Z3, Z30
BLU: Vivo 6
BQ: Aquaris 5 HD, Aquaris 5.7, Aquaris E10, Aquaris E4, Aquaris E4.5, Aquaris E5, Aquaris E5 4G, Aquaris E6, Aquaris M10, Aquaris X5, Curie 2, Curie 2 Quad Core, Edison 2, Edison 2 Quad Core
Bush: Eluma
Coolpad: Torino S
Coship: Moly X1
Dell: Streak, Streak 7, Venue 8 7000, Venue 8 Pro
Doro: Liberto 810, Liberto 820, Liberto 820 Mini, Liberto 825
EE: Eagle, Harrier, Harrier Mini, Harrier Tab, Kestrel, Rook
Essential: Phone
Google: Android One, Nexus 5 2013, Nexus 5X, Nexus 6, Nexus 6P, Nexus 9, Nexus One, Pixel, Pixel C, Pixel XL
HP: 8 1401, Elite X3, Slate 7, Slate6 VoiceTab, Slate7 VoiceTab, Steam 7
HTC: 10, 10 evo, 8S, 8X, Bolt, Butterfly, Butterfly 2, Butterfly 3, Desire, Desire 10, Desire 10 Lifestyle, Desire 10 Pro, Desire 200, Desire 210, Desire 300, Desire 310, Desire 320, Desire 500, Desire 501, Desire 510, Desire 516, Desire 526, Desire 530, Desire 601, Desire 610, Desire 612, Desire 616, Desire 620, Desire 626, Desire 628, Desire 630, Desire 650, Desire 700 Dual SIM, Desire 709d, Desire 728, Desire 816, Desire 820, Desire 825, Desire 826, Desire 828, Desire 830, Desire C, Desire Eye, Desire HD, Desire S, Desire VC, Desire X, Desire Z, EVO 3D, Evo 4G LTE, Explorer, First, Gratia, HD mini, Incredible S, Inspire, Legend, M8 Ace, One A9, One A9s, One Dual SIM, One E8, One E9, One E9 Plus, One M7, One M8, One M8 Ace, One M8 Dual SIM, One M8 Eye, One M8s, One M9, One M9 Plus, One Max, One ME, One Mini, One Mini 2, One Remix, One S, One S9, One SV, One V, One X, One X Plus, One X10, One X9, One XL, Radar, Rezound, Rhyme, Sensation, Sensation XE, Sensation XL, Thunderbolt, TITAN, U Play, U Ultra, U11, Wildfire, Wildfire S
Huawei: Ascend D Quad, Ascend D Quad XL, Ascend D1, Ascend G300, Ascend G330, Ascend G510, Ascend G526, Ascend G6, Ascend G6 4G, Ascend G600, Ascend G610, Ascend G7, Ascend G730, Ascend Mate, Ascend Mate 2, Ascend Mate 3, Ascend Mate 7, Ascend P1, Ascend P6, Ascend P7, Ascend P7 Mini, Ascend W1, Ascend Y100, Ascend Y210D, Ascend Y530, Blaze, C199, G8, G9 Plus, Honor, Honor 3, Honor 3C, Honor 4X, Honor 5C, Honor 5X, Honor 6, Honor 6 Plus, Honor 6C, Honor 6S, Honor 6X, Honor 7, Honor 7 Premium, Honor 8, Honor 8 Pro, Honor 9, Honor Holly, Honor Magic, Honor V8, Honor V8 Max, Mate 8, Mate 9, Mate 9 Lite, Huawei Mate 9 Porsche Design, Mate 9 Pro, Mate S, MediaPad M1, MediaPad T1 8.0, MediaPad X2, Nova, Nova 2, Nova 2 Plus, Nova Plus, P10, P10 Lite, P10 Plus, P8, P8 Lite, P8 Lite 2017, P8 Max, P9, P9 Lite, P9 Plus, Raven LTE, Union LTE, Vision, Y3, Ascend Y300, Y5, Y5II, Y6, Y6 II, Y600, Y635
Intex: Aqua i5 Mini, Aqua i7, Aqua Superb
Karbonn: A30, A9 Plus, K450, S5 Titanium, Sparkle V, Titanium Hexa, Titanium Octane
Kazam: Thunder2 4.5L, Thunder2 5.0, Tornado2 5.0, Trooper 240, Trooper2 5.0
Konka: Expose 960, Expose 970
Kyocera: DuraForce PRO, Hydro AIR, Hydro VIEW
Lava: Iris 351, Iris 454, Iris 502
Lenovo: A10, A526, A7000, Golden Warrior A8, IdeaTab A2107, K4 Note, K80, K900, Lemon 3, Miix 300, P2, P90, Phab 2 Pro, S660, S850, S860, Tab 2 A10, Tab 2 A8, Tab S8, ThinkPad 8, Vibe k5, Vibe Shot, Vibe X2, Vibe Z2, Vibe Z2 Pro, X2 Pro, Yoga Tablet 10, ZUK Edge, ZUK Z1
LG: A 225, Class, Enact, Escape, Escape 2, Escape 3, Exalt 2, F60, G Flex, G Flex 2, G Pad 10.1, G Pad 7.0, G Pad 8.0, G Pad 8.3, G Pad II 10.1, G Pro 2, G Stylo, G Vista, G Vista 2, G2, G2 Mini, G3, G3 Beat, G3 S, G3 Stylus, G4, G4 Stylus, G4c, G5, G5 SE, G6, G6 Plus, Intuition, Joy, K10, K10 2017, K3 2017, K4, K5, K7, K8, K8 2017, L Bello, L Fino, L35, L40, L70, L80 Dual, L90, L90 Dual, Lancet, Leon, Lucid 3, Magna, Optimus 2X, Optimus 3D, Optimus 3D Max, Optimus 4X HD, Optimus Chic, Optimus F3Q, Optimus F6, Optimus G Pro, Optimus Hub, Optimus L7 II, Optimus L9, Optimus True HD, Prada 3.0, Ray, Rumor Reflex, Spectrum VS920, Spirit, Spirit 4G, Spree, Stylo 2, Stylo 2 Plus, Stylus 2, Stylus 3, Tribute 2, Tribute 5, Tribute HD, V10, V20, V30, Volt, X Cam, X Power, X Screen, X Venture, Zero
Meizu: M3 Max, MX3, MX4, MX4 Pro, Pro 5, Pro 6, Pro 7, U10, U20
Microsoft: Lumia 1330, Lumia 430, Lumia 435, Lumia 532, Lumia 535, Lumia 540, Lumia 550, Lumia 640, Lumia 640 XL, Lumia 650, Lumia 850, Lumia 950, Lumia 950 XL, Surface 2, Surface 3, Surface Pro, Surface Pro 4
Motorola: Atrix HD, DEFY Mini, DEFY Plus, DEFY Plus JCB Edition, Droid Maxx 2, Droid Mini, Droid Razr HD, Droid Razr Maxx HD, DROID Turbo, Droid Turbo 2, Droid Ultra, DVX, Flipout, Milestone, Milestone 2, Moto C, Moto C Plus, Moto E 1st Gen, Moto E 2nd Gen, Moto E 3rd Gen, Moto E3, Moto E4, Moto E4 Plus, Moto G 1st Gen , Moto G 2nd Gen, Moto G 3rd Gen, Moto G 4G 2015, Moto G 4G LTE, Moto G Forte, Moto G Turbo Edition, Moto G4, Moto G4 Play, Moto G4 Plus, Moto G5, Moto G5 Plus, Moto X 1st Gen, Moto X 2nd Gen, Moto X Force, Moto X Play, Moto X Pure Edition, Moto X Style, Moto Z, Moto Z Force, Moto Z Play, MOTOLUXE, MotoSmart, Photon 4G, Photon Q 4G, RAZR, RAZR HD, XT316, XT720
Nextbit: Robin
Nokia: 106, 110, 112, 130, 208, 215, 220, 230, 301, 6, Asha 210, Asha 230, Asha 306, Asha 502, Lumia 1020, Lumia 1320, Lumia 1520, Lumia 510, Lumia 520, Lumia 521, Lumia 525, Lumia 530, Lumia 620, Lumia 625, Lumia 630, Lumia 635, Lumia 636, Lumia 638, Lumia 720, Lumia 730, Lumia 735, Lumia 810, Lumia 820, Lumia 822, Lumia 830, Lumia 925, Lumia 929, Lumia 930, Lumia Icon, N1, Nokia 3, Nokia 5, X Plus, XL
Oppo: Find 5, Find 7, Find 7a, R3, R5, R7, R7 Plus
Orange: Dallas, Gova, San Diego, San Francisco II
Panasonic: Eluga, Eluga Power, Lumix CM1
Samsung: Ativ S, ATIV SE, Champ Deluxe Duos, Core LTE, E2600, Exhilarate i577, G9098, Galaxy A3, Galaxy A3 2015, Galaxy A3 2016, Galaxy A3 2017, Galaxy A5, Galaxy A5 2015, Galaxy A5 2016, Galaxy A5 2017, Galaxy A7, Galaxy A7 2015, Galaxy A7 2017, Galaxy A8, Galaxy A9, Galaxy Ace 3 4G, Galaxy Ace 4, Galaxy Ace Duos S6802, Galaxy Ace Style, Galaxy Alpha, Galaxy Amp 2, Galaxy Amp Prime, Galaxy Avant, Galaxy Axiom, Galaxy Beam 2, Galaxy Book 10.6, Galaxy Book 12.0, Galaxy Chat B5330, Galaxy Core, Galaxy Core 4G, Galaxy Core Advance, Galaxy Core II, Galaxy Core Prime, Galaxy E5, Galaxy E7, Galaxy Europa I5500, Galaxy Express 2, Galaxy Express Prime, Galaxy Extreme, Galaxy F, Galaxy Fame, Galaxy Folder 2, Galaxy Grand, Galaxy Grand 2, Galaxy Grand Prime, Galaxy Grand Z, Galaxy J Max, Galaxy J1, Galaxy J1 2015, Galaxy J1 Ace 4G, Galaxy J1 Mini, Galaxy J2, Galaxy J2 2015, Galaxy J3, Galaxy J3 2017, Galaxy J3 Pro, Galaxy J3 V, Galaxy J5, Galaxy J5 2015, Galaxy J5 2016, Galaxy J5 2017, Galaxy J5 Prime, Galaxy J7, Galaxy J7 2015, Galaxy J7 2017, Galaxy J7 Prime, Galaxy K Zoom, Galaxy M Pro, Galaxy Mega 2, Galaxy Mega 5.8, Galaxy Mega 6.3, Galaxy Next Turbo, Galaxy Note, Galaxy Note 2, Galaxy Note 3, Galaxy Note 3 Neo, Galaxy Note 4, Galaxy Note 5, Galaxy Note 7, Galaxy Note 8, Galaxy Note Edge, Galaxy Note Pro, Galaxy On5, Galaxy On7, Galaxy Pocket, Galaxy R, Galaxy Round, Galaxy S Advance, Galaxy S Duos, Galaxy S I9000, Galaxy S Plus I9001, Galaxy S2, Galaxy S2 LTE, Galaxy S2 Skyrocket, Galaxy S3, Galaxy S3 LTE, Galaxy S3 Mini, Galaxy S4, Galaxy S4 Active, Galaxy S4 Mini, Galaxy S4 Zoom, Galaxy S5, Galaxy S5 Active, Galaxy S5 Mini, Galaxy S5 Neo, Galaxy S5 Prime, Galaxy S5 Sport, Galaxy S6, Galaxy S6 Active, Galaxy S6 Edge, Galaxy S6 Edge Plus, Galaxy S7, Galaxy S7 Active, Galaxy S7 Edge, Galaxy S8, Galaxy S8 Active, Galaxy S8 Plus, Galaxy Star 2, Galaxy Stellar, Galaxy Tab 3 Lite , Galaxy Tab 4 10.1, Galaxy Tab 4 7.0, Galaxy Tab 4 8.0, Galaxy Tab A 10.1 2016, Galaxy Tab A 7.0, Galaxy Tab A 8.0, Galaxy Tab A 9.7, Galaxy Tab E 9.6, Galaxy Tab Pro 10.1, Galaxy Tab Pro 12.2, Galaxy Tab Pro 8.4, Galaxy Tab S 10.5, Galaxy Tab S 8.4, Galaxy Tab S2 8.0, Galaxy Tab S2 9.7, Galaxy Tab S3, Galaxy TabPro S, Galaxy Trend Plus, Galaxy Victory 4G, Galaxy View, Galaxy W, Galaxy Xcover, Galaxy Xcover 2, Galaxy Xcover 3, Galaxy Xcover 4, Galaxy Y, Galaxy Y Pro, Galaxy Young, Galaxy Young 2, Galaxy Grand Neo, i5500 Corby, I9003 Galaxy SL, I9010 Galaxy S Giorgio Armani, Omnia M , Rex 60, Rex 70, Rex 80, Rex 90, S2 Plus, Tocco Lite 2, Tocco Quick Tap, Z, Z1
Sharp: Aquos Crystal, Aquos Crystal 2, Aquos Xx 302Sh
Smartisan: T1
Sony: acro S, Xperia E5, Xperia A2, Xperia A4, Xperia C, Xperia C3, Xperia C4, Xperia C5 Ultra, Xperia E, Xperia E1, Xperia E3, Xperia E4, Xperia E4g, Xperia go, Xperia J, Xperia L, Xperia L1, Xperia M, Xperia M Dual, Xperia M2, Xperia M2 Aqua, Xperia M4 Aqua, Xperia M5, Xperia Miro, Xperia SL, Xperia SP, Xperia T, Xperia T2 Ultra, Xperia T2 Ultra Dual, Xperia T3, Xperia Tipo, Xperia tipo dual, Xperia TX, Xperia V, Xperia X, Xperia X Compact, Xperia X Performance, Xperia XA, Xperia XA Ultra, Xperia XA1, Xperia XA1 Ultra, Xperia XL, Xperia XZ, Xperia XZ Premium, Xperia XZs, Xperia Z, Xperia Z Ultra, Xperia Z1, Xperia Z1 Compact, Xperia Z1f, Xperia Z1S, Xperia Z2, Xperia Z3, Xperia Z3 Compact, Xperia Z3 Tablet Compact, Xperia Z3+, Xperia Z4, Xperia Z4 Tablet, Xperia Z4 Ultra, Xperia Z5, Xperia Z5 Compact, Xperia Z5 Premium, Xperia ZL, Xperia ZL2, Xperia ZR, Z2a Compact
Sony Ericsson: XPERIA Mini, XPERIA Mini Pro, XPERIA X10 Mini, XPERIA X10 Mini Pro
Spice: Dream Uno, Stellar Mi-520, Stellar Mi-526
Tesco: Hudl 2
TMobile: Beat, Energy, Groove, Vivacity
Toshiba: Encore 2 10, Encore 2 8, Excite Go
VAIO: Phone Biz
Vodafone: Smart 4 Mini, Smart 4 Turbo, Smart 4G, Smart first 6, Smart Mini, Smart N8, Smart Platinum 7, Smart Prime 6, Smart Prime 7, Smart Speed 6, Smart Tab II 10, Smart Ultra 6, Smart Ultra 7, Tab prime 6
Wiko: Barry, Birdy 4G, Bloom, Bloom 2, Cink Five, Cink Peax 2, Cink Slim 2, Darkmoon, Darknight, Darkside, Fever 4G, Fever SE, Fizz, Freddy, Getaway, Goa, Highway, Highway 4G, Highway Pure 4G, Highway Signs, highway Star 4G, Jerry, Jimmy, Kite 4G, Lenny, Lenny 2, Lenny 3, Mazing, Night Fever, Pulp 4G, Pulp Fab 4G, Rainbow, Rainbow 4G, Rainbow Jam, Rainbow Jam 4G, Rainbow Lite, Rainbow Lite 4G, Rainbow UP, Rainbow UP 4G, Ridge 4G, Ridge Fab 4G, Robby, Selfy 4G, Silde 2, Slide, Stairway, Sunny, Sunset, Sunset 2, Tommy, U Feel, U Feel Lite, Wax
Wileyfox: Spark, Spark Plus, Spark X, Storm, Swift, Swift 2, Swift 2 Plus, Swift 2 X
Xiaomi: Mi 3, Mi 4, Mi 4i, Mi 5, Mi 5s, Mi 5s Plus, Mi Mix, Mi Note, Mi Note 2, Mi Pad 7.9, RedMi, RedMi 2, Redmi 3, Redmi 3S, RedMi Note, Redmi Note 2, Redmi Note 3, Redmi Note Prime
Xolo: A500, A500s, Play, Q1000, Q1000s, Q1100, Q2000, Q3000, Q700, Q800, X1000
YU: Yutopia
ZTE: Avid Plus, Axon 7, Axon 7 Mini, Axon Lux, Axon Pro, Blade 2, Blade A430, Blade D6, Blade L2, Blade S6, Blade S6 Plus, Blade S7, Blade V7, Blade V7 Lite, Blade V8 Lite, Blade V8 Mini, Blade V8 Pro, Blade Vec 3G, Blade Vec 4G, Grand Memo II LTE, Grand S, Grand X Max+, Grand X2, Grand X3, Grand X4, Kis 3, Kis 3 Max, KPN Smart 200, Martin II, Nubia Prague S, Nubia X6, Nubia Z11, Nubia Z9, Obsidian, Open, Salem, Sonata 3, Tania, Warp 7, Zmax 2, Zmax Pro, ZTE Blade Q Mini
Related Products:
Questions and answers: