Most Useful Customer Reviews
Davinia
Buckinghamshire
Samsung S5
30th August 2014
Bluetooth Keyboard... :)
The wireless keyboard is excellent for me as I really miss not having the keys on a mobile as Samsung S5 is touchscreen. The keyboard is easy to install, instructions simple and the case fits well and after getting used to the keys I can finally type texts and emails using my bluetooth keyboard.
Read 1 customer review
|
Write a review
---
Why Buy?
Physical keyboard with backlit keys

Fast and efficient typing

Magnetic and removable keyboard

Make better use of your screen

Protective case

Adjustable stand

Long-lasting battery

Reduce the annoying fingerprints

Specifically designed for the S5
---
Description
Although typing on a smartphone using the screen has become easier and more intuitive since the first touchscreen phones, it still has its limitations and not everybody can honestly say it is a particularly enjoyable experience. So why not boost your typing speed and accuracy with the Magnetic Bluetooth QWERTY Keyboard Case for the Samsung Galaxy S5.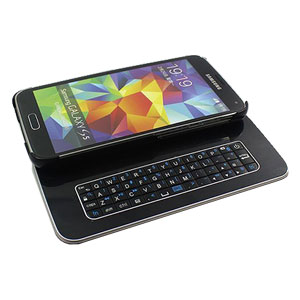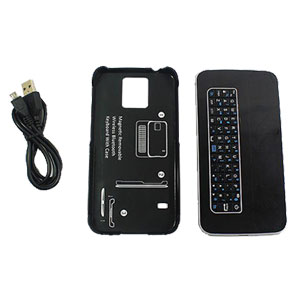 Physical keyboard with backlit keys
This magnetic QWERTY Bluetooth keyboard is the perfect typing solution, with physical keys you can actually feel and remember the positions of the individual buttons. Ultimately, this is much more intuitive and it brings back the days when people could text or make notes without even glancing at the screen.
With its backlit keys, you can even view the characters, numbers and symbols on the screen when you are sat in the dark or with low illumination.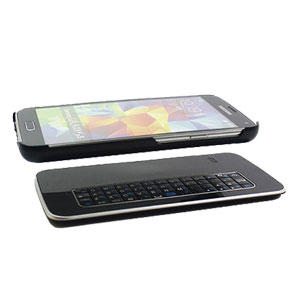 Fast and efficient typing
This robustly built keyboard allows you to type on your S5 much quicker than you would just by using your touchscreen. The keyboard also incorporates function buttons, which are designed to let you make use of your phone's features even quicker.
Magnetic and removable keyboard
Simply attach and remove the keyboard to the included case using the internal magnets. This ensures you can use the keyboard however you wish, whether part of the case or as a completely separate unit.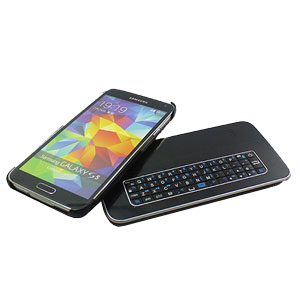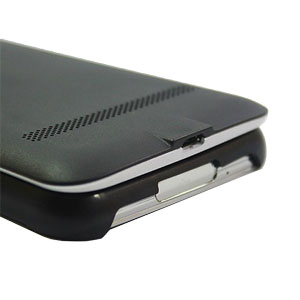 Make better use of your screen
You no longer have to endure the virtual keyboard of your S5 taking up more than half your screen in landscape mode. With the keyboard attached, this is no longer a problem as the virtual keyboard is hidden in this mode - leaving you with extra screen space for emailing, creating documents, using social networks and many other areas that require typing input.
Protective case
With this product you not only ensure more intuitive typing, you are also providing excellent protection for your phone as it doubles up as a detachable case.
Long-lasting battery
With the built-in long-lasting battery, you don't need to worry about the charge dying in the middle of typing an important document. Once it eventually does, you can easily charge it with the Micro USB cable that is included or with the S5's charger.
Reduce the annoying fingerprints
Typing using your touchscreen is one of the main reasons that fingerprints keep reappearing on your display and by using an external keyboard, you are effectively reducing the amount that will eventually turn your gorgeous display into a sweaty smudge mess.
Specifically designed for the S5
This slide-out keyboard case is made specifically for the S5 - matching the smartphone's style, ensuring full compatibility as well as a snug fit.
---
Key Details
Bluetooth: Yes
Colour: Black