Most Useful Customer Reviews
Julian
Dorset
iPhone 6 Plus
1st December 2014
An FM Transmitter that is genuinely good
I have had many of these devices over the years. Some are battery powered using regular batteries and are of poor quality. Others are of high quality but have leads seemingly stretching out from everywhere and eat up your one and only 12v car supply. This FreSound transmitter on the other hand is rechargeable, so no extra leads to have around whilst in use. It comes with a car charger with a built in USB port so you can charge this device and your phone at the same time if needed. Any micro USB lead will charge it so even the car charger is not essential. The battery seems to last a nice length of time but I have not fully tested that yet. Construction is good quality and back LEDs show charging status in red with a blue backlight in use. Overall an excellent balance. Would recommend highly.
---
Barry White
Berkshire
Sony Xperia Z1 Compact
3rd June 2014
Goog buy
I blindly opted for this as there were no reviews available, but I am pleased with my purchase. Relatively easy to set up, and the charger cable even charges my phone, that I had been without. But being a wire free device makes it easy to place or pass to my passengers to select some music, and use Spotify much of the time.
Read 9 customer reviews
|
Write a review
---
Why Buy?
Portable FM Transmitter

Tune into any available FM frequencies

Perfectly sized

Rechargeable battery and car charger
---
Description
Portable FM Transmitter
Transform your smartphone or tablet into an FM Transmitter, so you can enjoy a wide range of great music through your car stereo. The FreSOUND transmitter connects simply and easily to your device via the 3.5mm headphone jack, which can then be wirelessly connected to your car stereo system for when you're on the move or act as your radio at home.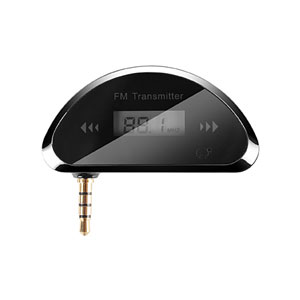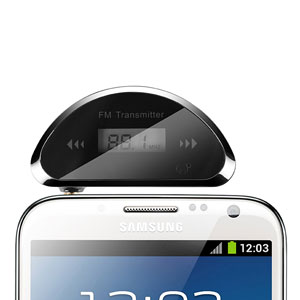 Tune into any available FM frequencies
The FreSOUND allows you to tune into any available FM frequency, giving you the freedom to choose frequencies that give you the best sound quality, meaning you can have a full plethora of music at your fingertips and experience it all in superb music clarity.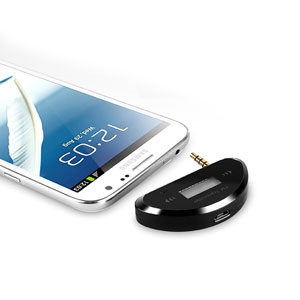 Perfectly sized
The FreSOUND Car Audio FM Transmitter has been designed to be the perfect travel accessory. Its highly portable and stylish design makes the FreSOUND the ideal FM transmitter for use within the car, at home or out and about.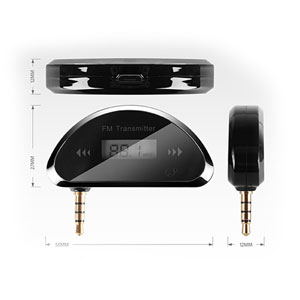 The portable wire-free design allows you to use the FreSOUND to transmit your music without getting in the way of your driving. Once connected the FreSOUND and your phone / tablet can be positioned anywhere within the car, giving you the freedom to use your device or simply keep it out of sight whilst still enjoying your music while you drive.
Rechargeable battery and car charger
Featuring a rechargeable battery, the FreSOUND FM Transmitter can be operated totally wire-free, creating a simple and effective way of listening to your music in the car. Included is a Micro USB car charger, which can be used to fast charge the FreSOUND or your Micro USB smartphone / tablet.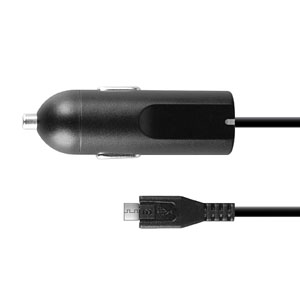 ---
Key Details
Charger Type: Car Charger
Colour: Black
Multipoint: No
Micro USB Charging: Yes
Part No: SFMTR001300
Acer: Acer Liquid Z3, Iconia A1-830, Iconia B1-720, Liquid E2, Liquid E3, Liquid S2, Liquid Z4, Liquid Z5
Alcatel: OneTouch Idol X+ 6043D, OT 991, OT-292, POP S3, POP S7, POP S9
Apple: iPhone, iPhone 5, iPhone 5C, iPhone 5S, iPhone 6, iPhone 6 Plus, iPod
Archos: 50 Oxygen, 50c Oxygen
Asus: Memo Pad 10, PadFone E, PadFone Mini, Transformer Book Duet, VivoTab Note 8, ZenFone 4, ZenFone 5, ZenFone 6
BlackBerry: 9720, Q5, Torch 9800, Torch 9810, Z3, Z30
BQ: Aquaris 5 HD, Aquaris 5.7
Dell: Venue 8 Pro
EE: Kestrel
GoClever: Terra 70 L
HP: Slate6 VoiceTab, Slate7 VoiceTab
HTC: Desire 200, Desire 300, Desire 310, Desire 500, Desire 501, Desire 610, Desire 616, Desire 816, Desire VC, M8 Ace, One 2014, One Dual SIM, One Max, One Mini, One Mini 2
Huawei: Ascend G510, Ascend G6, Ascend G730, Ascend Mate, Ascend Mate 2, Ascend P6, Ascend P7 Mini, Ascend Y210D, Honor 3, Y300, Y600
Intex: Aqua Superb
Karbonn: A30, A9 Plus, K450, S5 Titanium
Kazam: Thunder2 4.5L
Konka: Expose 960, Expose 970
Lava: Iris 351, Iris 454, Iris 502
Lenovo: ThinkPad 8
LG: Escape, G Flex, G Pro 2, G2, G2 Mini, GW910, Intuition, L40, L70, L80 Dual, L90, Optimus F3Q, Optimus G Pro, Optimus Hub, Optimus True HD, Spectrum VS920, Spirit 4G
Maxtouuch: 7 Inch Android Tablet
Meizu: MX3
Micromax: A116 Canvas HD
Microsoft: Surface 2, Surface Pro 2
Motorola: Droid Razr HD, Droid Razr Maxx HD, Droid Ultra, DVX, Moto G 2nd Gen, Moto G 4G LTE, Moto G Forte, Moto X 1st Gen, Moto X 2nd Gen, Photon 4G
Nokia: 220, Asha 210, Asha 230, Asha 502, Lumia 1020, Lumia 1320, Lumia 1520, Lumia 521, Lumia 525, Lumia 625, Lumia 630, Lumia 635, Lumia 925, Lumia 929, Lumia 930, Lumia Icon, X, X Plus, X3 02 Touch And Type, XL
OnePlus: One
Orange: Gova
Prestigio: MultiPhone 5300 DUO, MultiPhone 5500 DUO
Samsung: ATIV SE, Champ Deluxe Duos, Core LTE, Exhilarate i577, Galaxy Ace 3 3G, Galaxy Ace Style, Galaxy Apollo i5801, Galaxy Beam 2, Galaxy Chat B5330, Galaxy Core, Galaxy Core Advance, Galaxy Grand 2, Galaxy Grand Neo, Galaxy Grand Z, Galaxy K Zoom, Galaxy Mega 6.3, Galaxy Note 3 Neo, Galaxy Note Pro, Galaxy Round, Galaxy S4 Active, Galaxy S4 Mini, Galaxy S4 Zoom, Galaxy S5, Galaxy S5 Mini, Galaxy S5 Neo, Galaxy S5 Prime, Galaxy Stellar, Galaxy Tab 3 Lite , Galaxy Tab Pro 10.1, Galaxy Tab Pro 12.2, Galaxy Tab Pro 8.4, Galaxy Victory 4G, Galaxy Young, Naos, Rex 60, Rex 70, Rex 80, Rex 90
Sharp: Aquos Xx 302Sh
Sony: Xperia C, Xperia E1, Xperia i1, Xperia M, Xperia M Dual, Xperia M2, Xperia T2 Ultra, Xperia T2 Ultra Dual, Xperia Z Ultra, Xperia Z1, Xperia Z1 Compact, Xperia Z1f, Xperia Z1S, Xperia Z2, Xperia ZL, Xperia ZR, Z1
Swipe: Fablet F2, Fablet F3, MTV Volt 1000
Videocon: A 27
Wiko: Barry, Cink Five, Cink Peax 2, Cink Slim, Darknight, Highway, Mazing, Rainbow, Stairway, Wax
Xiaomi: RedMi Note
Xolo: A500, A500s, Play, Q1000, Q1000s, Q2000, Q3000, Q700, Q800, X1000
Yarvik: Luna 7 101
Zen: Ultrafone 502
ZTE: Blade 2, Grand Memo II LTE, KPN Smart 200, Nubia X6, Open