Most Useful Customer Reviews
Martin blaker
Sussex
Foneranger Rugged 128 Tough Sim Free
17th May 2017
Amazing Phone
I brought this phone to use at work, I work for an emergency service dealing with water rescue and flood rescue incidents and this phone has given me the ability to stay in contact even when operating in some of the most challenging environments, whilst saving life's.
---
Philip O'Flaherty
Peterborough
SIM Free Fonerange Rugged 128 Mobile Phone
5th October 2015
Excellent Phone
Wanted to know it was a good sturdy phone, & a good loud ring so I can hear my phone ring over any noise on the building site.It has exceed expectations.
Read 26 customer reviews
|
Write a review
---
Why Buy?
Water and dust-resistant design

Shock proof and incredibly durable against impact damage

Impressively long battery life

Dual SIM Feature

Built-in LED torch light

A multitude of features for your enjoyment and convenience

1.3MP camera to record your experiences

Incorporated FM Radio Receiver
---
Why not View a video about this product?
Description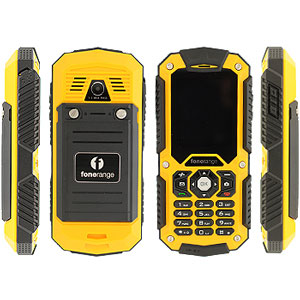 This Rugged Phone by Fonerange is packed with a multitude of features, which ensure that you can stay in touch even in the most challenging of environments. Rugged by name, and Rugged by nature, this mobile will deal with all that life has to throw at it, so it will not let you down when you need it most.
Water and dust-resistant design
A testament to the phone's protection against the elements is its certified status with IP67 waterproof standards. An IP rating is a measure of the 'Ingress Protection', composed of two numbers, the first referring to the protection against solid objects and the second against liquids. The higher the number, the better the protection. The ratings of 6 and 7 respectively are the highest and second highest scores possible, which should reassure you that this mobile is completely self-protected against the effect of immersion in water up to a depth of 1m (3.3 ft) for up to 30 minutes.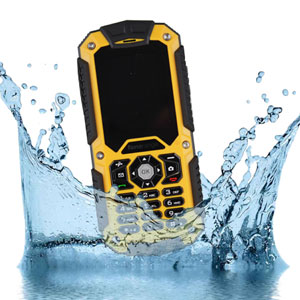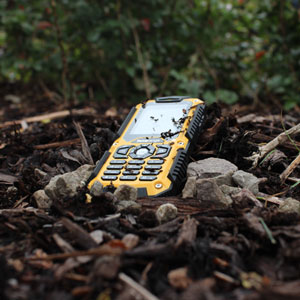 Shock proof and incredibly durable against impact damage
Designed with an industrial strength casing, the Rugged 128 Phone can withstand impacts when dropped from up to 2m in height. During this drop, the phone will be fully dust and shock-proof, making it ideal for anyone in the construction industry or for those who lead an outdoor life that takes their mobile phone through an extreme existence.
Impressively long battery life
Boasting an impressively long, somewhat Herculean battery life, you can stay talking and texting with the Rugged 128 phone for longer. With a talktime of up to 720 minutes, you can use the phone for a long time before needing to charge it up again.
Dual SIM Feature
Dual SIM holders increase coverage, use and convenience. Multiple services with one phone enable you to use a single device for both business and personal use. With both SIMs in standby mode, you can receive a call to either SIM card on the one phone, reducing the number of items to carry around with you. Another benefit of the Dual SIM is you can have a SIM card for a different country within the smartphone, so you can contact people abroad for the correct costs, using the same phone as you use at home!
Built-in LED torch light
The phone has a built-in LED torch light, world clock and calendar - so you shouldn't get lost in the dark at the wrong time.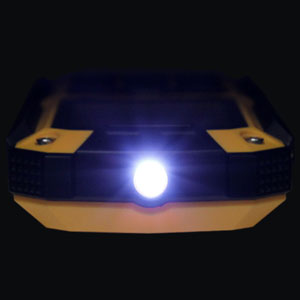 A multitude of features for your enjoyment and convenience
The Rugged 128 Phone boasts a large selection of important and useful features, which help you to make the most of your handset at all times - whatever your requirements at the time may be. These special features prove that you don't have to lead a crazy lifestyle to reap benefits from this handset - there really is something for everyone!
1.3MP camera to record your experiences
With its 1.3MP camera, you can record your incredible travel experiences on video or still files - so you never miss a moment.
Incorporated FM Radio Receiver

With an on-board FM Radio Receiver, you can relax at the end of a tough day, with your Rugged 128 Phone.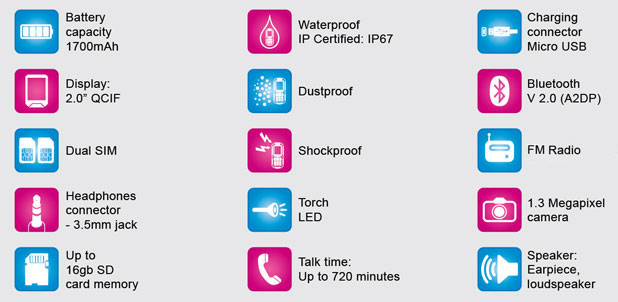 Technical Specifications:
Dimensions: 135 x x60 x 22 mm
Connectivity: Bluetooth 2.0
GSM: 850, 900, 1800, 1900 MHZ (Quad Band)
MicroUSB: Yes v 2.0
Battery Capacity: 1700 mAh
External Memory: 16GB (Micro SD Card)
Camera: 1.3MP
3.5mm Jack: Yes
Display: 2.0inches QCIF
Waterproof: IP Certified (IP67)
Micro SD Card Support: up to 16GB
TalkTime: Up to 720 minutes
LED Light: Yes
Shockproof
Dustproof
Radio: Stereo FM Receiver
Full SMS Support
Dual SIM
Warranty Information
This handset is covered by a full 12 month manufacturer's warranty.
Important SIM Free Information

This SIM free handset is unlocked and compatible with any 2G/GSM network and 3G SIM card. Some network & 3G specific services may be unavailable with this handset.
Product images are for illustrative purposes only, specific colour variants cannot be guaranteed unless otherwise specifically stated on the page.
---
Key Details
Colour: Black, Yellow
Part No: FRRUGGED128
---
What's In the Box?
1 x rugged mobile
1 x rugged charger
1 x rugged stereo headphones with call mic
1 x rugged user manual
1 x rugged warranty card