Why Buy?
Stylish sustainable harvested wooden body

Surface pressure for accurate lines and strokes

Erase any mistakes quickly and easily

Blend and smudge

Palm rejection technology

Long lasting power

Kiss to pair

Paper app compatible
---
Why not View a video about this product?
Description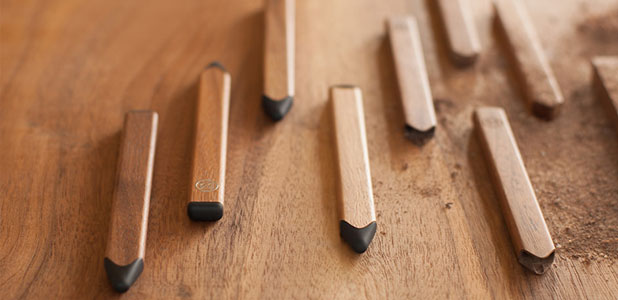 Stylish sustainable harvested wooden body
The Pencil Stylus in walnut features a real wooden body from sustainable harvested woods. This sleek wooden styling brings a touch of familiarity to your drawing experience, allowing you to express yourself as you did when you were a child with a pencil. The wooden body combines beautifully with the elegant technological core, with every detail in the FiftyThree Pencil Stylus being meticulously crafted and engineered for your drawing pleasure.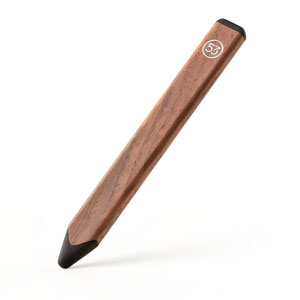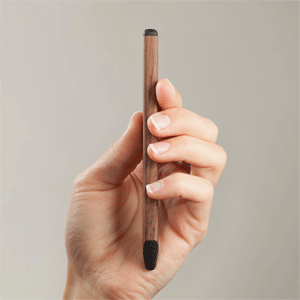 Surface pressure for accurate lines and strokes
Pencil's unique tip allows for expressive free-flowing lines of all sizes without having to adjust any settings. Use the point for fine details and finishing touches, then use the angled edge for big broad strokes.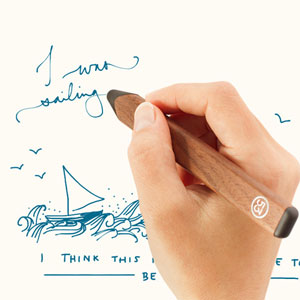 Erase any mistakes quickly and easily
Be bold and go for it. With the Pencil Stylus from FiftyThree you no longer have to worry about making mistakes thanks to the unique and intelligent built-in eraser at the opposite end of the stylus. The eraser allows you to precisely cut out anything that doesn't belong, so you can draw with total confidence at all times. When you want to erase any strokes you have made, simply flip the stylus and erase, just as you would with a normal pencil, no more constant switching between tools every time you want to get rid of a fine detail.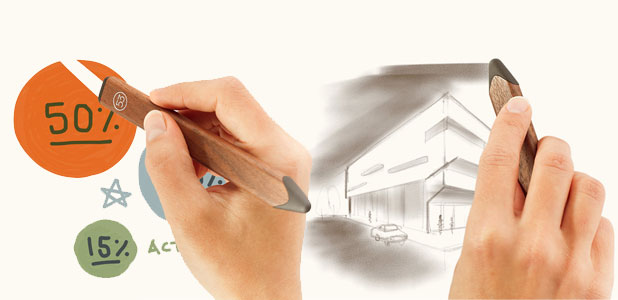 Blend and smudge
Get stuck into your artwork. The Pencil Stylus from FiftyThree lets you take care of the lines, so you can use your finger to smooth edges and blend colours directly without having to switch between tools. This allows you to create perfect landscapes, beautiful skies and deep shadows.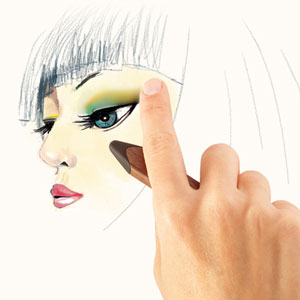 Palm rejection technology
Adaptive palm rejection instantly knows the difference between your hand and the Pencil - so you can rest your hand on the screen and write from any angle with no need for any calibration or set up. The palm rejection is so good that you'll believe your writing on actual paper.
Long lasting Power
Pencil's battery can be charged via a computer, laptop or USB mains adapter in under 90 minutes, which will deliver up to a month of normal use.
Kiss to pair
The Pencil Stylus features Bluetooth pairing, no troublesome settings and waiting around while it pairs, simply press the Pencil's tip against your screen and your good to go.
Paper App compatible
Designed to work seamlessly with Apple's App of the Year 'Paper'. The Paper application and the Pencil Stylus combine to create the most pleasurable tablet based drawing experience available today, through its intuitively designed interface and full Pencil compatibility.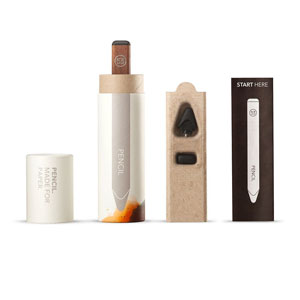 Please Note: Surface Pressure will be released for the iOS 8 update. Pencil's expressive features Palm Rejection, Erase, and Blend require an iPad with Retina display, this includes iPad generation 3 or 4, iPad Air and both iPad Mini models.
Technical Specifications:
Dimensions: 160mm x 38mm x 38mm
Weight: 32g
---
Key Details
Colour: Brown
Part No: 53PW06