Most Useful Customer Reviews
JP
Cheshire
Samsung Galaxy Tab 3, 7"
21st June 2015
Exogear ExoMount Tablet S CD for 5.5" to 8" Devices - Black
I bought this so I could mount my tablet for Sat Nav and to keep my little lad entertained too, given the previous reviews, decided this was the better product to go for. It's lower down, not restricting view out of the window or on top of the dash. Very easy installation, slot the device into the CD player and tighten the screw to fit. Then, just a case of adjusting the sizers to fit. It comes with a rubber filler piece, for those that do not fit the device. The sizers slide down to about a 9/10" tablet and the rubber stopper piece holds any others firm, making up the extra space. Not much wobble really and the only thing I'd mention, is that if you have a CD player on the dash which is located lower down and close to the gear stick, the tablet won't be far away from it (doesn't affect driving, but the two are close together), so you might need to be careful with that. Overall though, very happy with it and would recommend to anyone needing this sort of solution in the car.
---
Anonymous
Unknown
iPad mini retina
12th April 2014
Really works
My car has a CD radio but to be honest, I can't remember the last time I bought a CD. I occasionally burn stuff to a CD but, it is such a hassle when my music is already there, ready and waiting on my iPad. Also, I have tended to use Waze as my sat nav / traffic congestion avoidance in place of my TomTom. You see the pattern here? Everything I want to do is on my iPad, but it hasn't been readily to hand. That all changed with this Exmount. It fits easily into the car's CD slot and a couple of turns of the screw locks it tightly into place with no fear of it falling out. Also it seems very non-invasive, if you know what I mean; this is not going to cause any damage to the equipment. The tablet is in one of Apple's leather cases with integral covers. The design of the mount allows for the case to stay in place without a problem. It grips the iPad firmly simply by pushing the base part up towards the top. Soft pads at the top and bottom stop any possible damage, or vibration or movement. I can touch the screen and work the tablet without fear of it moving about. My car is a VW Eos and the radio is in the same place as most of the VW family of cars, which is quite high up, but beneath some air vents. The design of the Exomount is such that I can slide it up or down relative to the CD locking bracket to get it just where I like it. Also, I can tilt it towards me, away from me, have it flat and in line with the dash, or indeed tilted up or down. In fact, this can be positioned in anyway you can imagine or possibly need. Finally, once adjusted, the thing stays in place, so no constant adjustments. As you might have guessed, I am extremely impressed with the performance of the Exomount and it has enabled me to get far more use out if my iPad on the move. I use this with an in-car charger, when necessary. As my iPad sits 'sideways' the charging point is to the right, but I see it has a 'hole' in the bottom part of the bracket for other devices. I honestly have nothing bad to say about this bracket. As Apple might say, 'it just works'.
Read 26 customer reviews
|
Write a review
---
Why Buy?
Mount your 5.5" to 8" device safely in your car

Incredibly stylish with access to all ports and features

Can be positioned at multiple angles for a clearer view

Easy 3 step installation

Attach and remove your phone with one hand
---
Why not View a video about this product?
Description
Mount your 5.5" to 8" device safely in your car
The Exogear ExoMount Tablet S CD allows you to safely position your Tablet or Smartphone. Allowing you to use your tablet or smartphone as a sat nav, play a video for the kids or just mount it in a comfortable position which keeps your tablet or smartphone in view without blocking your view of the road. The Tablet S CD mounts through an intuatively designed expanding wing which slots effortlessly into your CD player, providing a secure fit.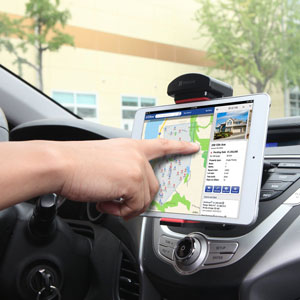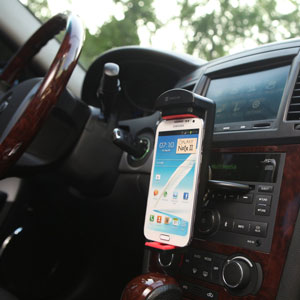 Incredibly stylish with access to all ports and features
The ExoMount Tablet S CD car holder whilst looking incredibly stylish also allows full access to charging ports, buttons and your devices screen so you don't have to constantly remove the device from the holder to access it or charge it. There is also access for the front and rear facing cameras so that you can make recordings whilst you're driving, perfect for recording something on the road or in the back of your car.
Can be positioned at multiple angles for a clearer view
The ball and socket joint rotates through a complete 360°, making it easy to find a comfortable angle horizontally or vertically whilst driving. This makes the ExoMount perfect for using your tablet or smartphone to take calls hands-free, use as a sat nav or even set up a video for the kids to keep them entertained on long journeys.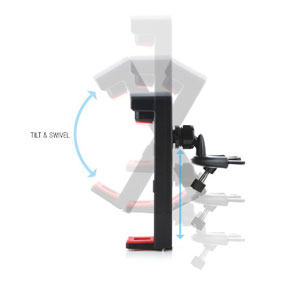 Easy 3 step installation
With 3 easy steps your ExoMount will be installed and ready to go. Just slide your device in, lock and touch. Gone is the need for unreliable suction cups falling off the windscreen or big bulky car holders coming out of your cigerette lighter anymore with the ExoMount Tablet S CD car holder.

Attach and remove your phone with one hand
The simple easy one touch design makes attaching your tablet or smartphone simple as well. It's designed so that, with one hand, you can easily insert and remove your phone from the holder so within seconds you can be ready to drive or get out of your car.
---