Most Useful Customer Reviews
Martin B
Newark
iPhone 5S
24th September 2016
Endlessly cuuute
A really high quality, pedigree companion for my daughter. Shiney coat, solid bone structure and obeys commands to deliver extra power for her phone surprisingly quickly. Sits patiently at the bottom of her bed on charge at night, with a cool looking glow from the ears making a pattern on the wall. Good boy Samo. The attention to detail in the accessories and packaging from the breeder is very impressive.
Karen gibson
Warrington
Emie Samo dog portable charger
20th July 2016
Excellent
Absolutely fell in love with this portable charger. He is so cute there's even a little jacket to put on Samo to protect him. I have an I-phone Se which constantly needs charging, now I have Samo I can charge my mobile wherever I am so will never be without power to my phone which is really important as I'm a single female with a disability so this device literally is a life saver. As long as ur device has a USB connection this device is perfect for you I promise u won't be disappointed I have only had Samo for not even 24hrs and I've received endless comments. Everybody wants to know where I got my cute Samo dog charger from so of course I told them. The customer service is excellent and you even know exactly when your parcel is going to be delivered. If the delivery time is not convenient just click on the link and you can select a safe place or specific neighbour. I can't rate this device or company enough order your device now you will be glad u did.
Read 2 customer reviews
|
Write a review
---
Why Buy?
Unique design

Portable charging when you need it most

5,200mAh rechargeable lithium-ion polymer battery

Up to 2.1 Amp fast-charging system for quick power

Compact and portable

Universal USB charger

LED status indicator

Dock included

Organise your desk
---
Description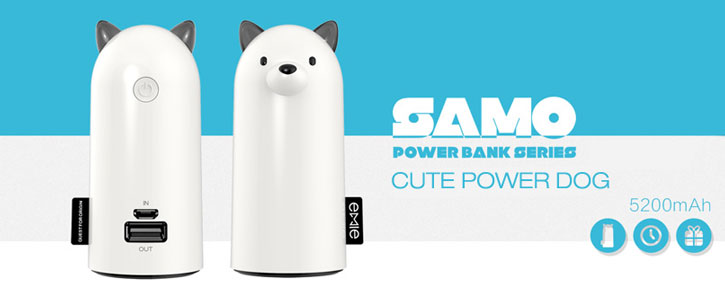 Unique design
The Emie Samo Power Bank features a unique and innovative design inspired by the cheerful Siberian Samo dog. This eye-catching Samo Power Bank makes for an ideal electronic gift.
Portable charging when you need it most
Ensure your smartphone or tablet has enough power to make it through the day with the Emie Samo Power Bank. This trusty portable power bank will provide peace of mind when you are out and about, ensuring you have enough juice to make that important phone call, send a text message, take a photo, play a game or for simply finding your way around using the phone's built-in GPS.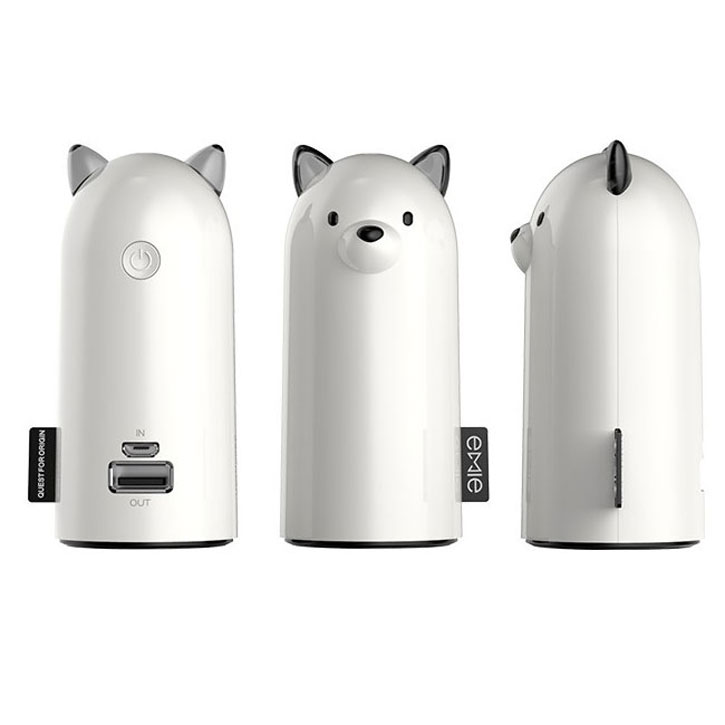 5,200mAh rechargeable lithium-ion polymer battery
With 5,200mAh capacity, the Emie Samo Power Dog will ensure your devices will last much longer than their own battery power. Simply plug in your USB powered devices with your own Lighting cable or the provided Micro USB cable and your device's power will replenish quickly and easily.
Impressive 2.1Amp fast-charging system for quick power
With an impressive 2.1A output, the Samo Power Bank will charge your smartphone or tablet quickly - often quicker than the mains charger your device came with. The Emie Samo Power Bank can even fully charge an iPad Mini in 120 minutes.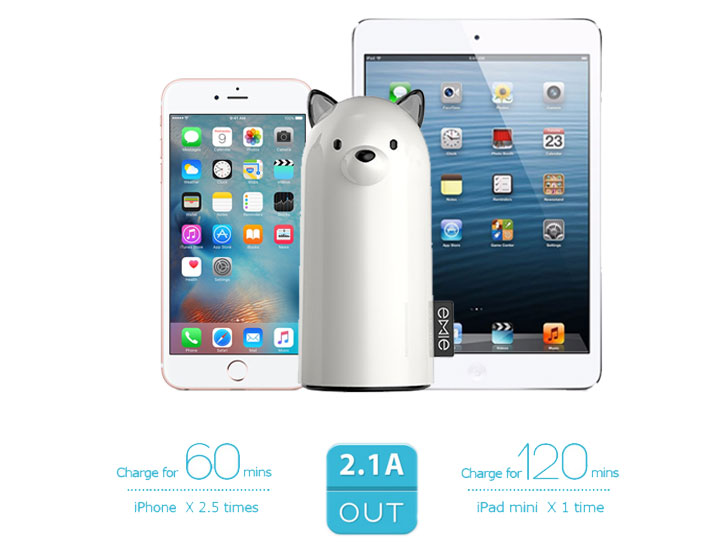 Compact and portable
With its compact design, the Emie Samo Power Bank can easily be carried in a backpack, briefcase, or hand bag until it's needed. Perfect for those always on the go!
Universal USB charger
One of the many advantages of this Samo Power Bank is that it can charge almost any USB device in the world due to the built-in USB charging port, including iPhones, tablets and digital cameras.
Unique LED status indicator
The Emie Samo Dog Power Bank features a unique LED status indicator, which light up the ears on the power bank.
The LED ears will light up in three different colours, dependent on the range of the power left.
Green: 0-30%
Blue: 30-70%
Red: 70-100%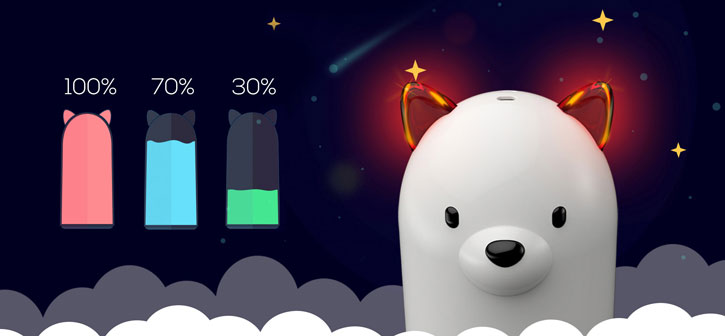 Please note: Images are for demonstration purposes only.
Dock included
Included with the power bank is a dock, perfect to place and hold your Samo Dog Power Bank in while charging.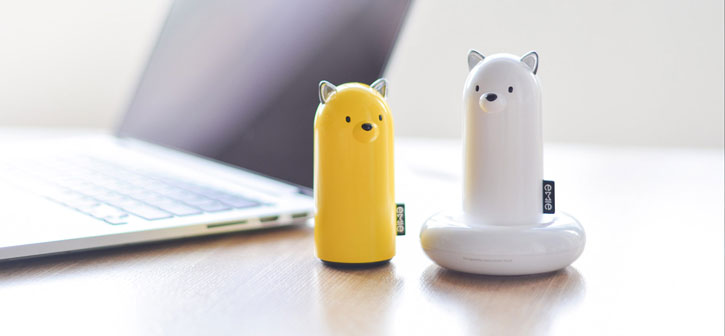 Organise your desk
The packaging of the Emie Samo Dog Power Bank, can easily be re-used and transformed into a docking station. Perfect for keeping your charging cables from tangling and storing any cards, as well as the Samo Power Bank.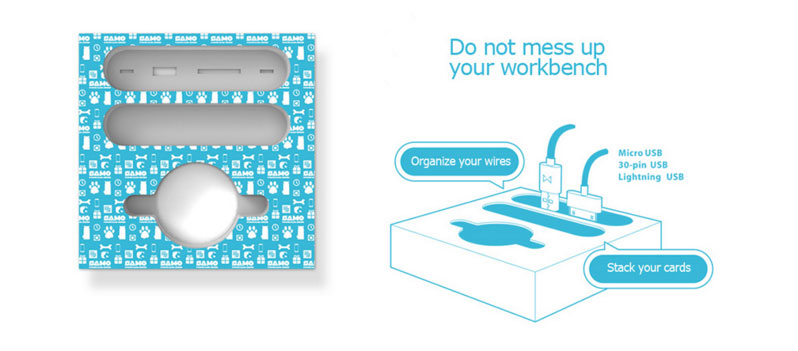 Specification
Dimensions: 40 x 40 x 90mm
Weight: 130g
Input: Micro USB port, DC 5V/1.5A Max
Output: USB port, DC 5V/2.1A Max
Battery: Rechargeable Li-ion battery
---
Key Details
Charger Type: Emergency Charger, USB Charger
Colour: White
Part No: D100-FD