Most Useful Customer Reviews
1st August 2013
Compact, quick adapter, good app
This is a very small TV adapter. It comes with a tiny hinged and extendable aerial (for use in good reception areas), additional hinged aerial with a decently long lead and sucker pad, and also an adapter for using a normal aerial lead. App works well, sets itself up very quickly and features pause, rewind and record live TV, subtitles, TV guide all presented well. No option to remove unwanted channels from the viewing list or create custom lists but I can overlook that! I'm very happy with this, in spite of the somewhat steep price. Swift delivery from Mobile Fun.
Read 1 customer review
|
Write a review
---
Why Buy?
Watch TV on your iPad 2 or iPad 3

Super small and light weight design and easily fits in your iPad 2's / 3's dock connector

Wireless connectivity for neatness

Free app which allows you to watch TV and record your programs to watch later

Watch TV without having to use your internet to get a signal
---
Description
If you've been waiting for live television on your iPad 2 / 3 then this is the perfect product for you.
Wireless Entertainment
The Elgato EyeTV Mobile Tuner for iPad 2 / 3 is a small, lightweight dongle which takes advantage of your iPads 30 pin dock connector and features a retractable antenna which is designed to pick up local broadcast television signals to give you TV on your iPad 2 / 3.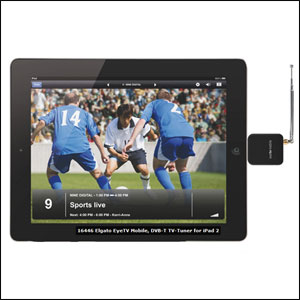 Classic Design
The Elgato is designed to be small and lightweight so you can easily plug it into your iPad 2 / 3 without it causing any obstruction. The retractable antenna makes it easy to find a good reception but also means that when you've finished it can easily be stored away or transported around with you.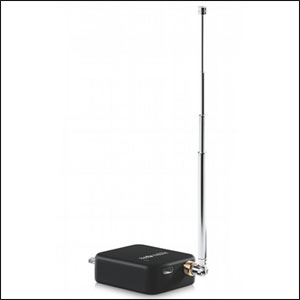 Easy to use
Elgato provides you with a free app which you can download from the App Store on your iPad 2 / 3. This allows you to control the device and which TV station you are watching. It also allows you to record your live programs so you can watch them on your iPad later. The best part of the Elgato is that you don't need to use an internet connection to get a TV signal.
Advanced technology
Elgato also uses the latest TV tuner technology, DVB-T freeview, this supports broadcasts in DVB (Digital Video Broadcast) transmissions, which is a global standard on all TV signals in most first and second world countries.