Most Useful Customer Reviews
21st January 2013
Very good
Nice accessories for my iPhone. I am very happy. I have 2 card for my phone :)
---
James Mitchell
Cranleigh, Surrey
30th December 2011
Almost perfect ..
This is a very clever and well designed bit of kit. I am using it with a Three Sim (on the One Plan)for business and a GiffGaff Sim (which uses the O2 Network) for private calls. The case is very nice indeed and the adapter fits well inside it. It is a bit of a squeeze getting the adapter plus ribbon cable into the slot, but I managed it eventually. As others have pointed out, the adapter works fine without the need to jailbreak. My iPhone 4S has the latest firmware and as soon as I had installed the device, the option to switch numbers appeared in the Phone settings. I have had two minor problems. The first is that although the numbers switch OK, I can't get a full signal without re-booting the iPhone. For some reason, I only get one bar until I switch off the iPhone and restart it. The other problem (which isn't a problem with the adapter, but a problem with GiffGaff) is that the APN settings for GiffGaff have to be manually reset each time the switch is made. All in all, however, this is a brilliant product and well worth the money.
Read 30 customer reviews
|
Write a review
---
Description
Why Buy:

Use two SIM cards on one iPhone
Comes with back case
Use two SIM cards on one iPhone
The dual SIM card adapter is the perfect choice for business people and those who make a lot of international calls, or even couples who share the same phone. By plugging straight into the iPhone 4 SIM tray, with no wiring or soldering work needed, this adapter couldn't be simpler to use. The iPhone 4 even recognises the presence of both cards, and provides a menu option for switching between the two. Now you can handle all your calls on the same phone.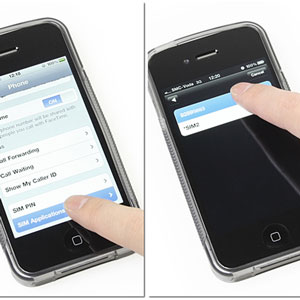 Comes with back case
In order to keep the second SIM card safe and secure, the adapter comes with a specially moulded back case with a raised area that houses the second card without pressing it against the glass back of your phone. This prevents any potential abrasion issues, which could potentially scratch the phone.