Most Useful Customer Reviews
21st January 2013
Very good
Nice accessories for my iPhone. I am very happy. I have 2 card for my phone :)
---
Nick M
London/Spain
iPhone 4S
23rd April 2012
Works just as expected
I was a bit skeptical about this product - would it work, was the case going to be naff, would it screw up my iPhone, etc.... I needn't have worried as this little bit of kit works brilliantly, is well built and looks rather elegant as well. I can also still fit the phone into my Logitech speaker cradle for charging. If you travel a lot (I live in Spain and work in London) you can have one sim for each country. When I am away from home, I switch networks once a day, check messages, etc. Although not a true "dual sim" phone, it works perfectly for what I need.
Read 30 customer reviews
|
Write a review
---
Description
Why Buy:

Use two SIM cards on one iPhone
Comes with back case
Use two SIM cards on one iPhone
The dual SIM card adapter is the perfect choice for business people and those who make a lot of international calls, or even couples who share the same phone. By plugging straight into the iPhone 4 SIM tray, with no wiring or soldering work needed, this adapter couldn't be simpler to use. The iPhone 4 even recognises the presence of both cards, and provides a menu option for switching between the two. Now you can handle all your calls on the same phone.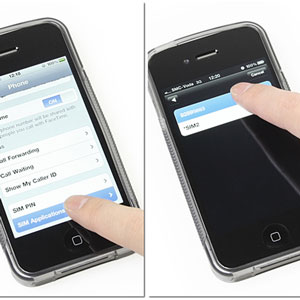 Comes with back case
In order to keep the second SIM card safe and secure, the adapter comes with a specially moulded back case with a raised area that houses the second card without pressing it against the glass back of your phone. This prevents any potential abrasion issues, which could potentially scratch the phone.