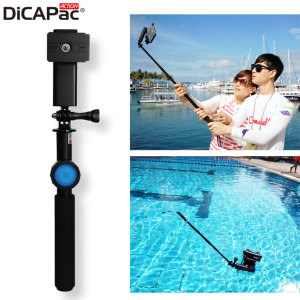 DiCAPac Action Floating Selfie Stick with Waterproof Bluetooth Remote

Product Reference: 52517
"Good Product"
"Well made selfie stick"
Also available:
Most Useful Customer Reviews
Ognyan Nikolov
London
Galaxy S7 Edge
17th October 2016
Good Product
Great product,I recommend very good quality,not just cheap plastic proper,not bend and does not change colour,is work perfect with my phone,Bluetooth button connect with my device without any problem.Very good response,perfect selfy stick.
Andy Stobbie
Stockport
LG G4
17th March 2016
Well made selfie stick
Most selfie sticks appear to be no better than a car aerial with a holder on the end. This one is very well made and sturdy. And it is waterproof- or has no bits that will rust. It also integrates to the waterproof phone case to take pictures underwater. I haven't seen another product like it. One drawback the waterproof remote shutter release did not work with my LG G4, Mobile Fun very good replacing it, but the second one shows the same hiccup. So I bought a cheap remote release which worked instantly, and I can put it in a plastic bag.
Read 18 customer reviews
|
Write a review
---
Why Buy?
Capture the perfect selfie

Bluetooth 4.0 remote control to capture an image

It floats!

360 Degree rotation

Compatible with Android 4.3, iOS 4.0 or later

Mount a compact or action camera
---
Description
Capture the perfect selfie
Taking the perfect selfie isn't as easy as it would seem, even less so when you're doing outdoor activities and water sports. Our arms are only so long, which means you can miss out on not just the surroundings, but even the people you wish to feature. Thankfully, we now have a method of capturing the perfect selfie, ensuring 'everything' and more importantly 'everyone' is within the photo for all of you to enjoy that special once in a lifetime moment.
No need to strain when stretching your arms, simply secure your phone in the DiCAPac Action Waterproof case (sold separately) and expand the Selfie Stick to suit. With your shot positioned exactly how you want it, you are ready to take advantage of the Selfie Stick's next feature...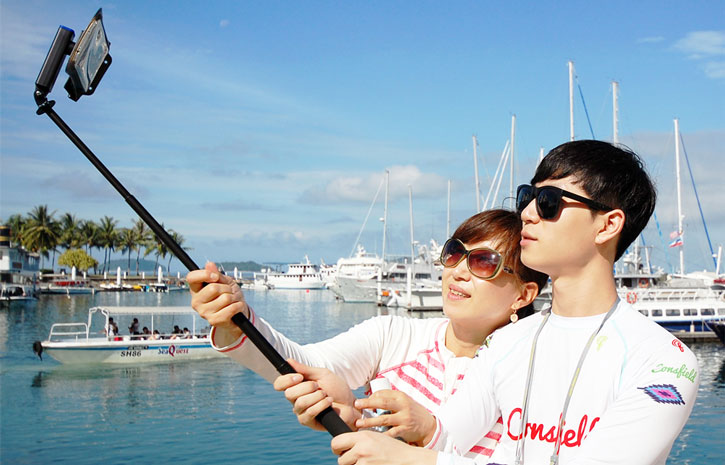 Bluetooth 4.0 remote control to capture an image
With your phone positioned further away, you need a straightforward method of telling the software to take the image without having to stretch needlessly into the distance to reach your device's screen. The DiCAPac Selfie Stick features Bluetooth technology, allowing you to do just that, so you can press the built-in button positioned on snap-on remote control to capture the photo.
You can also use the button to capture video as well!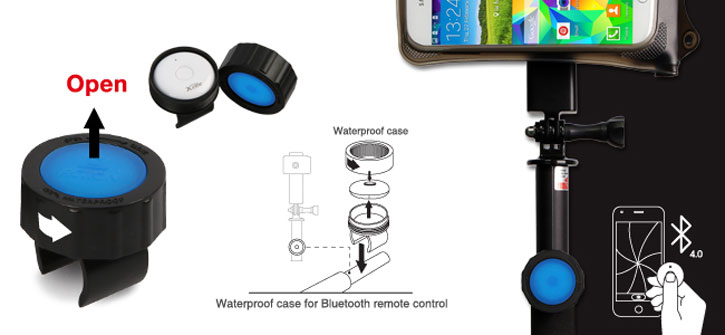 Retractable pole for portability
You can't carry a pole around with you all day... or can you? Well actually, yes you can thanks to the Selfie Stick's retractable design. Extend or retract the pole to suit, making it the perfect accessory to carry around with you for when the perfect selfie opportunity arises.
The Selfie Stick extends to 835mm for capturing photos and retracts to 235mm for easy portability.
It floats!
If you happen to lose hold of your Selfie Stick in the water? No problem, it floats! Thanks to the super lightweight construction, the stick is buoyant. And so will you be when you see it floating on the water instead of plunging to the depths. So go ahead and snap away with confidence while snorkeling or swimming.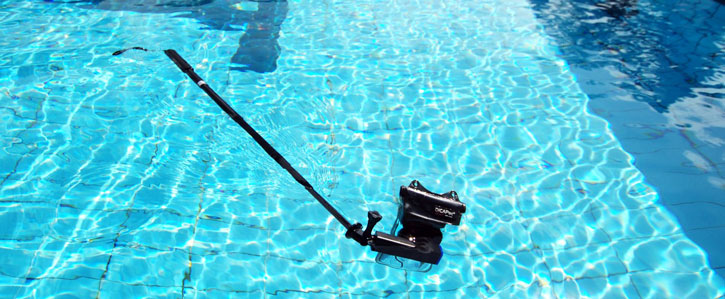 360 Degree rotation
For ease of use and convenience, you can rotate the mounting in 360 degrees.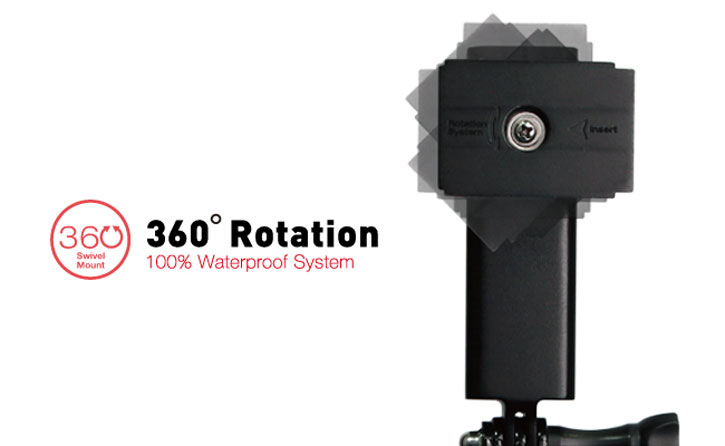 Compatible with Android and iOS
Compatible with both Android and Apple devices, the Selfie Smart Pole is the ideal companion for your selfie photography needs. As long as you have Android 4.3 / iOS 4.0 or later installed on your smartphone, you can use the shutter button to trigger the capture of photos and video.
Please Note: Requires an App to use. Make sure your smartphone has bluetooth selected on. If you use Android 4.3 on your smartphone, the app 'Xelfie' or 'XSC100′ is recommended by the manufacturer.
Mount a compact or action camera
You can even mount a compact or action camera too using the included universal camera mount. Just be sure not to overload the stick as it is designed to hold a load of 2Kgs maximum.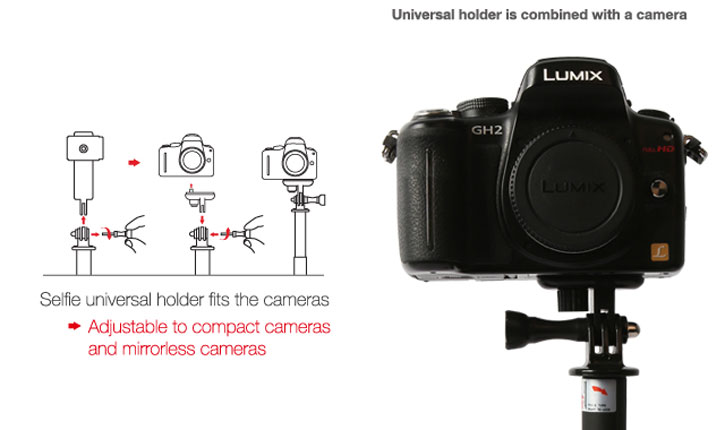 Specifications
Max load capacity: 2000g (2kg)
Length of extension: 235-835mm
Main material: Aluminium Alloy, Foam and ABS
Net weight: 100g (0.1kg)
---
Key Details
Bluetooth: Yes
Colour: Black
Part No: DP-1S
---
What's In the Box?
Selfie Stick
Camera Mount
Action Mount
Bluetooth Remote control
Acer: Liquid E1, Liquid Metal, Liquid S2, Liquid Zest, Liquid Zest Plus
Alcatel: A3, A5 LED, Idol 4, Idol 4S, OT 990, Pixi 4 5, Pop 4, Pop 4 Plus, Pop 4S, U3
Apple: iPhone 4, iPhone 4S, iPhone 5, iPhone 5C, iPhone 5S, iPhone 6, iPhone 6 Plus, iPhone 6S, iPhone 6S Plus, iPhone 7, iPhone 7 Plus, iPhone 8, iPhone SE, iPod Touch 5G
Archos: 40 Power, 55 Helium, 55 Helium 4 Seasons, 55 Helium Ultra, Diamond 2 Plus
Asus: Zenfone 3, Zenfone 3 Deluxe, Zenfone 3 Ultra, Zenfone 3 Zoom, ZenFone 4, ZenFone 5, ZenFone 6, Zenfone AR
BlackBerry: Aurora, DTEK50, DTEK60, KEYone
BLU: Vivo 6
Coolpad: Torino S
Essential: Phone
Google: Nexus 4, Nexus 5X, Nexus One, Pixel, Pixel XL
HP: Slate 7
HTC: 10, 10 evo, 8S, 8X, Bolt, Butterfly, Desire, Desire 10, Desire 10 Lifestyle, Desire 10 Pro, Desire 200, Desire 300, Desire 500, Desire 601, Desire 610, Desire 628, Desire 650, Desire 816, Desire 830, Desire C, Desire HD, Desire S, Desire X, Desire Z, EVO 3D, Evo 4G LTE, Explorer, First, Google Nexus One, Gratia, HD mini, Incredible S, Inspire, Legend, One A9s, One M7, One M8, One Max, One Mini, One Mini 2, One S, One S9, One SV, One V, One X, One X Plus, One X10, One XL, Radar, Rezound, Rhyme, Sensation, Sensation XE, Sensation XL, Thunderbolt, TITAN, U Play, U Ultra, U11, Ville, Wildfire, Wildfire S
Huawei: Ascend D Quad, Ascend D Quad XL, Ascend D1, Ascend G300, Ascend G330, Ascend G510, Ascend G6, Ascend G600, Ascend G730, Ascend P1, Ascend P6, Ascend P7, Ascend P7 Mini, Ascend W1, Ascend Y100, Ascend Y530, G9 Plus, Honor, Honor 6C, Honor 6S, Honor 6X, Honor 7 Premium, Honor 8, Honor 8 Pro, Honor 9, Honor Magic, Honor V8 Max, Mate 9, Mate 9 Lite, Huawei Mate 9 Porsche Design, Mate 9 Pro, Nova, Nova 2, Nova 2 Plus, Nova Plus, P10, P10 Lite, P10 Plus, P8 Lite 2017, Vision, Ascend Y300, Y5II, Y6 II
Kyocera: DuraForce PRO, Hydro AIR, Hydro VIEW
Lenovo: K900, P2, Phab 2 Pro, ZUK Edge
LG: A 225, Escape 3, G Pro 2, G2, G2 Mini, G3, G3 Beat, G3 S, G3 Stylus, G5, G5 SE, G6, G6 Plus, K10 2017, K3 2017, K8 2017, L70, L80 Dual, L90, Optimus 2X, Optimus 3D, Optimus 3D Max, Optimus 4X HD, Optimus Chic, Optimus G Pro, Optimus L9, Rumor Reflex, Stylo 2, Stylo 2 Plus, Stylus 3, Tribute HD, V20, X Power, X Venture
Meizu: M3 Max, Pro 5, Pro 6, Pro 7, U10, U20
Motorola: Atrix HD, Droid Ultra, Milestone, Milestone 2, Moto C, Moto C Plus, Moto E 1st Gen, Moto E 3rd Gen, Moto E3, Moto E4, Moto E4 Plus, Moto G 1st Gen , Moto G 2nd Gen, Moto G 4G 2015, Moto G 4G LTE, Moto G5, Moto G5 Plus, Moto X 1st Gen, Moto X 2nd Gen, Moto Z, Moto Z Force, Moto Z Play, MOTOLUXE, MotoSmart, Photon Q 4G, RAZR, RAZR HD, XT316, XT720
Nextbit: Robin
Orange: San Diego, San Francisco II
Samsung: Ativ S, E2600, Galaxy A3 2016, Galaxy A3 2017, Galaxy A5 2016, Galaxy A5 2017, Galaxy A7 2017, Galaxy Ace Style, Galaxy Alpha, Galaxy Europa I5500, Galaxy Extreme, Galaxy Fame, Galaxy Folder 2, Galaxy Grand, Galaxy Grand 2, Galaxy J Max, Galaxy J2, Galaxy J3 2017, Galaxy J3 Pro, Galaxy J5 2017, Galaxy J5 Prime, Galaxy J7 2017, Galaxy J7 Prime, Galaxy K Zoom, Galaxy M Pro, Galaxy Mega 5.8, Galaxy Mega 6.3, Galaxy Next Turbo, Galaxy Nexus, Galaxy Note, Galaxy Note 10.1, Galaxy Note 2, Galaxy Note 3, Galaxy Note 3 Neo, Galaxy Note 4, Galaxy Note 5, Galaxy Note 7, Galaxy Note 8, Galaxy Pocket, Galaxy R, Galaxy S Advance, Galaxy S2, Galaxy S2 Skyrocket, Galaxy S3, Galaxy S3 LTE, Galaxy S3 Mini, Galaxy S4, Galaxy S4 Active, Galaxy S4 Mini, Galaxy S4 Zoom, Galaxy S5, Galaxy S5 Mini, Galaxy S6, Galaxy S6 Edge, Galaxy S7, Galaxy S7 Active, Galaxy S7 Edge, Galaxy S8, Galaxy S8 Active, Galaxy S8 Plus, Galaxy Tab 4 8.0, Galaxy Xcover, Galaxy Xcover 2, Galaxy Xcover 4, Galaxy Young, i5500 Corby, I9003 Galaxy SL, Omnia M , S2 Plus, Tocco Lite 2, Tocco Quick Tap
Sony: Xperia E5, Xperia E, Xperia E1, Xperia go, Xperia J, Xperia L, Xperia L1, Xperia M, Xperia M Dual, Xperia M2, Xperia Miro, Xperia P, Xperia S, Xperia SL, Xperia SP, Xperia T, Xperia T2 Ultra, Xperia T2 Ultra Dual, Xperia Tipo, Xperia tipo dual, Xperia TX, Xperia V, Xperia X Compact, Xperia XA1, Xperia XA1 Ultra, Xperia XL, Xperia XZ, Xperia XZ Premium, Xperia XZs, Xperia Z, Xperia Z1, Xperia Z1 Compact, Xperia Z1S, Xperia Z2, Xperia Z3, Xperia Z3 Compact, Xperia ZL, Xperia ZR
Sony Ericsson: Xperia Active, Xperia arc S, XPERIA Kyno, XPERIA Mini, XPERIA Mini Pro, Xperia neo V, Xperia Ray, XPERIA X10 Mini, XPERIA X10 Mini Pro
TMobile: Groove
Vodafone: Smart N8, Smart Platinum 7, Smart Ultra 7
Wiko: Fever SE, Freddy, Jerry, Lenny 3, Robby, Sunny, Tommy, U Feel, U Feel Lite
Wileyfox: Spark, Spark Plus, Spark X, Swift 2, Swift 2 Plus, Swift 2 X
Xiaomi: Mi 5s, Mi 5s Plus, Mi Mix, Mi Note 2, Redmi 3S
ZTE: Axon 7, Axon 7 Mini, Blade V8 Lite, Blade V8 Mini, Blade V8 Pro, Grand S, Grand X2, Grand X4, Nubia X6, Nubia Z11, Open, Sonata 3, Warp 7, Zmax Pro
Moto C Plus Photography Accessories
,
Honor 9 Photography Accessories
,
Moto E4 Plus Photography Accessories
,
Moto E4 Photography Accessories
,
Galaxy S8 Active Photography Accessories
,
Samsung Galaxy Note 8 Photography Accessories
,
Smart N8 Photography Accessories
,
G6 Plus Photography Accessories
,
iPhone 8 Photography Accessories
,
iPhone 8 Novelty and Fun
,
X Venture Photography Accessories
,
One X10 Photography Accessories
,
Nova 2 Plus Photography Accessories
,
K8 2017 Photography Accessories
,
5 Photography Accessories
,
Phone Photography Accessories
,
Galaxy J5 2017 Photography Accessories
,
Nova 2 Photography Accessories
,
Nokia 3 Photography Accessories
,
HTC U11 Photography Accessories
,
Galaxy Xcover 4 Photography Accessories
,
Moto C Photography Accessories
,
K3 2017 Photography Accessories
,
P8 Lite 2017 Photography Accessories
,
Stylus 3 Photography Accessories
,
Honor 8 Pro Photography Accessories
,
Honor 6C Photography Accessories
,
Galaxy A5 2016 Photography Accessories
,
Galaxy A3 2016 Photography Accessories
,
U3 Photography Accessories
,
A3 Photography Accessories
,
Blade V8 Mini Photography Accessories
,
Blade V8 Lite Photography Accessories
,
Xperia L1 Photography Accessories
,
6 Photography Accessories
,
Nokia 5 Photography Accessories
,
K10 2017 Photography Accessories
,
P10 Lite Photography Accessories
,
Galaxy J7 2017 Photography Accessories
,
Aurora Photography Accessories
,
A5 LED Photography Accessories
,
Xperia XA1 Ultra Photography Accessories
,
KEYone Photography Accessories
,
P10 Plus Photography Accessories
,
Xperia XA1 Photography Accessories
,
P10 Photography Accessories
,
Xperia XZs Photography Accessories
,
Xperia XZ Premium Photography Accessories
,
Moto G5 Plus Photography Accessories
,
Moto G5 Photography Accessories
Related Products:
Questions and answers: