Most Useful Customer Reviews
25th June 2011
Was this suitable for an extended trip as a back u
We are a small group walking across ireland west to east and then north to south over 6 weeks. I purchased this to provide a back up as we were travelling on foot and needed it to provide extra battery power for my iphone 4. As it rained for the first week little charge was available from the solar source, however I was able to charge it from the mains on a number of nights. I would be skeptical if it is suitable as a back up in a situation where there is little to no sunlight for extended periods, saying that on the next part we hope to have more sun it is june/july after all!! all said as my battery in the phone ran out after half a day it was able to provide a 90% charge and for this I would certainly recommend it.
Read 1 customer review
|
Write a review
---
Description
Why Buy:
Foldable, portable and rechargeable battery pack
Folds back to become a stand for your phone
Includes charge and sync cable
Made for iPhone
Foldable, portable and rechargeable battery pack
The Dexim P-Flip is the perfect way to extend the battery life of your iPhone. When not in use, it folds flat to be not much bigger than your phone itself. Once you need to recharge your device, simply unfold it to plug your phone in. The dock has a 2000mAh lithium polymer battery, which is good for up to 8 hours of talk time, 15 hours of video, or 60 hours of music. You can recharged the P-Flip either with the suns rays or with the included cable.
Folds back to become a stand for your phone
When open and charging your device, the P-Flip acts as a stand for allowing hands-free viewing in either portrait or landscape orientation. Using the P-Flip as a stand does not hamper it's ability to charge using the solar panels, so if you want to use your iPhone as a portable audio device in the summer, you can squeeze even more power out of the dock.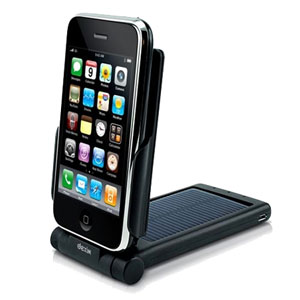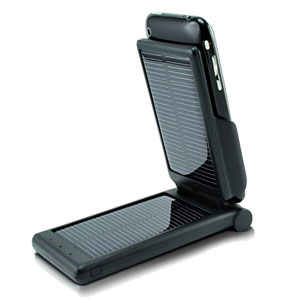 Includes charge and sync cable
If you want to use the P-Fip as a desktop stand, you don't have to worry about the dock connector being in use. The P-Flip uses a microUSB cable to allow pass-through synchronisation and charging when connected to a PC, and comes with a suitable cable.
Made for iPhone
The Dexim P-Flip has Made For iPhone certification, so you can be sure it will work perfectly with your device. It is also designed specifically to hold your phone perfectly whether you have an iPhone 3G, 3GS or 4.
Specifications:
Capacity: 2000mAh lithium polymer battery
Battery output power: 5V DC, 500mA
Input power: 5V 1000mA
Reviews:

The P-Flip might not appeal to everyone, but for those who spend a lot of time outdoors or in the wild, it could prove a valuable way to stay connected in case of emergency or during extended trips away from any power outlets.

It comes with an special connector that allows the iPhone to sync while still in the pack, and its battery can be recharged by both USB or solar power. The battery pack also doubles as a stand for viewing your iPhone, either in portrait or landscape modes.

Shakespeare's Richard III cried "A horse! A horse! My kingdom for a horse!" At CES, the commodity most in demand was power, followed closely by Wi-Fi, 3G, and SD cards! Journalists and attendees "jacked in" like The Matrix, wherever possible, and many people came up to the iPhone Life booth asking if they could charge their iPhones!

The very concept of keeping an iPhone fully charged? Laughable. But using the sun as a power source? That's positively preposterous.
Apparently crazy is on the menu over at Dexim HQ. Their new solar-powered P-Flip promises to juice an iPhone's talk time up to eight hours.