Most Useful Customer Reviews
Ben Brown
Reading
iPhone 6Splus
25th October 2015
Very easy to use screen protector.
If you've been put off by air pockets on your screen. This will make you think again. If you're not using a case then even better. But if you have a case that you also want to use for extra protection, then you may find it a little time consuming. You can re-attach it a few times, if not in the right position.
---
Adrian Jenkins
South Wales
iPhone 6 plus
13th December 2014
Tempered glass with curved edges for iPhone 6 plus, the way to go!
There were no reviews on this product before I bought it, and a video of the install process would have been great, however installing it was a breeze as long as in a low dust environment, ie. clean kitchen table/work top. The instructions state to clean the iPhone screen glass with the supplied microfibre cloth before attaching the screen protector, fine if you've already unpacked your phone and used the bare screen. I left Apples flexible plastic transit film on the phone and removed it seconds before I put in place the screen protector, which also has upper and lower pre installation flexible plastic films that need to be removed in separate parts of the process. The protector was held in the position that would be the final fixing to avoid any airborne dust landing on the mating face then both of the films removed and placed on the iPhone screen negating the need to clean it as there were no fingerprints, dust or grease. The instructions then state to press in the middle of the screen and the protector clings to the iPhone and seals from the centre, there is no adhesive and it really clings to the screen. This is a precise piece of engineering, the outside film can be removed. I noticed a tiny speck of dust under one corner of the screen which was trapping air, but removing it was no problem with the dust removal tape also supplied, I gently lifted the corner and slid the tape in to grab the dust off the screen and turned it over to make sure it was also off the screen protector. The protector had a lovely smooth finish and is barely noticeable The package is delivered in a strong plastic box and contains the protector, sachet of alcohol wipe, dust removal tape, installation guide and a microfibre cloth which is great for cleaning the installed screen. I would never use a flexible screen protector again as on previous mobiles I've owned, this tempered glass screen is so easy to install and line up particularly as it has curved edges which seem to assist in centralising the protector. There is no loss of sensitivity on the touch screen and the phone worked just as expected.
Read 61 customer reviews
|
Write a review
---
Why Buy?
High-tension tempered glass construction for enhanced shock protection

Complete protection for your iPhone 6S Plus / 6 Plus's screen

Easy clean coating

Easy installation with no risk of bubbles

Made for iPhone 6S Plus / 6 Plus
---
Why not View a video about this product?
Description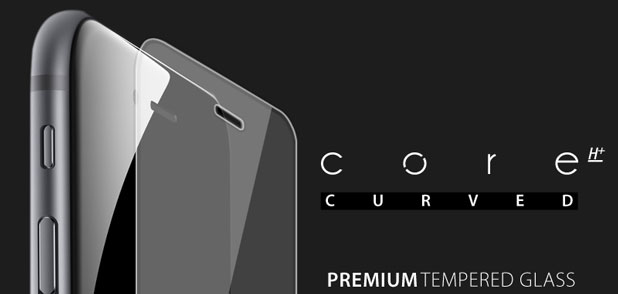 Protect your iPhone 6S Plus / 6 Plus' stunning curved display, with a chemically strengthening glass screen protector that covers all of the surface of the screen for complete peace of mind and a beautifully perfect fit...
High-tension tempered glass construction for enhanced shock protection
The CORE screen protector is made from a reinforced tempered glass, maintaining perfect image clarity while protecting your phone's screen from scratches and external shock. Using high quality ASAHI glass, the CORE screen protector with its impressive 9H surface hardness rating is ready for your daily routine - taking care of your phone's display and maintaining its superb visual qualities.

Complete protection for your iPhone 6S Plus / 6 Plus's screen
This ingenious solution to protecting your iPhone 6S Plus / 6 Plus's screen involves a tempered glass protector that covers even the edges of the curved screen. The underside of the screen protector sits flat on the iPhone's screen and tapers at the edges and features a Polyethylene terephthalate guide rail around the outside, which joins the area where the curved screen and metal frame of the iPhone 6S Plus / 6 Plus meet. This covers the entire screen and offers complete protection. No more compromising by leaving the curved edges exposed and as the PET guide rail ensures no dirt will get in - no more "halo effect".

Easy clean coating
The outer surface of this tempered glass curved screen protector features an anti-stain and anti-fingerprint coating, so can enjoy full visibility at all times with no discolouration.
Easy installation with no risk of bubbles
As this is a high quality glass screen protector and not a film, it does not bubble at all on application.
Made for iPhone 6S Plus / 6 Plus
Designed specifically for the iPhone 6S Plus / 6 Plus, the CORE tempered curved glass screen protector offers a perfect fit for your device.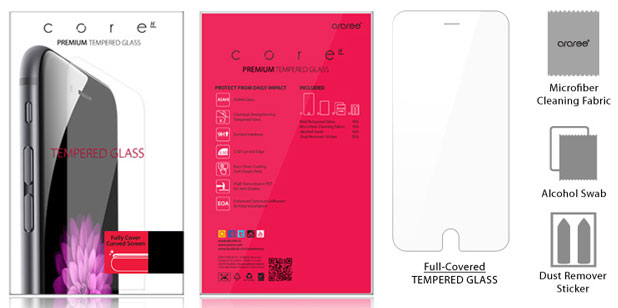 ---
What's In the Box?
Real Tempered Glass
Microfibre Cleaning Fabric
Alcohol Swab
Dust Remover Tape