Most Useful Customer Reviews
8th September 2010
Soler charger
The solar charger is great I really like It because if you are out side with no power source you can just plug it in and face the sun and it starts to charge I think you should buy one if you have the chance
---
16th September 2010
Works well on IPhone 4 and comes with a free stan
Nice piece of kit. Works well enough and as it is a universal Iphone connector does the job. Only gripes I have with this are the following: - Solar charging takes an age, and as of yet hasn't fully charged the battery. - Have to be careful when you plug this into the Iphone as it just pushes in under the phone and if you decide to grip the charger itself when picking the phone up can easily come out. Apart from that a very handed piece of kit for keeping the battery charged or for extra power whilst playing those addictive games or playing a video or surfing the web.
Read 2 customer reviews
|
Write a review
---
Why Buy?
Uses solar energy to charge your iDevice

Built in Dock connector so you can charge your device when its not sunny

Sync and charge your device at the same time (using the Dock connector and USB cable)
---
Description
The iPhone 3G Emergency Charger charges iPhone and iPod anywhere, any time and without the need for chargers and sockets! When charging, your iPhone or iPod can be used normally.
Uses solar power to charge your device
This cleverly designed emergency charger uses solar power to charge your Apple device meaning that you don't need to keep plugging it in to recharge it or your Apple device.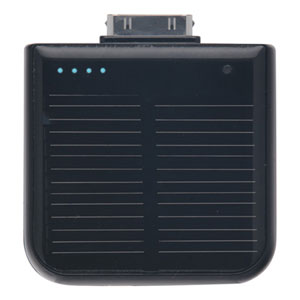 Can sync and charge at the same time
The solar charger is also compatible with the Apple Dock cable, so you can plug the Dock cable into the charger, and then plug the charger into your iDevice. This allows you to not only charge your iDevice but you can also sync if with your computer at the same time.
LED status indicator
The solar charger also features an LED status indicator, which lets you know the battery level of the charger, so you know when it needs a recharge. Once the battery runs low, simply place it in direct sunlight and let the sun recharge it for you.
Features
Accumulates energy from the solar panel or from the DOCK connector to be able to charge even when it is not sunny.
Synchronises the iPhone or iPod while charging from the PC.
Compatible with the Dock cable* supplied with iPhone and iPod.
*Dock Connector to USB Cable, not included in the package.