Most Useful Customer Reviews
Thomas Halliday
Wirral
Garmin sat nav
16th January 2015
Cd slot mount
Thanks for a great product. This is the second mount that I've bought and I couldn't be any more pleased with the product or the service . I would have no hesitation in recommending this item to all my family and friends. Once again thanks for a great product and speedy service.
---
Mark
Plymouth
Iphone 4S, just about anything
20th June 2014
Excellent very sticky shelf for your general needs
Basically this device is the sticky pad version of a cup holder. Where it turns your non descript CD slot into a bracket to hold the sticky shelf. You simply slide the cut out thin sliver of the shelf into your CD slot and the tongue like shelf sticks out. My only advise is that if like in my van your CD player is near to the Gear stick just be careful as it might limit access. If your CD player is high in the dashboard then no worries. Ideal for resting the phone with an in-car charger while it sat navs or just charges. In hot weather my phone in its rubber case and the sticky shelf basically mate and need a strong peel to separate them.
Read 69 customer reviews
|
Write a review
---
Why Buy?
Winner of the British Invention of the Year award

Innovative clean non-sticky surface pad technology

Ensures safer driving

No technical installation required

You can still play your CDs

Designed and manufactured in the U.K
---
Why not View a video about this product?
Description
Winner of the British Invention of the Year award
The CD Slot Mount Universal Car Holder beat hundreds of popular UK inventions to win the coveted 'British Invention of the Year' award and was featured on BBC One's 'The One Show'. The CD Slot Mount is a universally compatible car dash mount, that slots into your vehicle's existing CD player - providing a safe and useful place to hold your sat nav, smartphone, keys, coins and other items while driving.
Innovative clean non-sticky surface pad technology
The CD Slot Mount uses an innovative clean non-sticky surface pad technology, that even allows coins to be placed securely while in motion. This is the first to overcome the challenge of creating a multi-use, portable dash mount while passing the highway code's safety criteria and has a full granted patent. The solution involved the designer painstakingly researching different scenarios of driver usage.
Even if it eventually loses grip at some point in the future, it's not a problem. Just wipe it down with cold water and you're good to go again - good as new!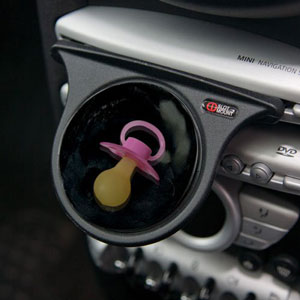 Ensures safer driving
According to expert safety studies, the issue with window mounts is the glare from the sun on the object, which is particularly a problem when the object to be mounted is a portable satellite navigation unit or a smartphone with satellite navigation capabilities. Such devices need their screens to be clearly visible during use in the vehicle so that the directions they are providing are clearly visible by the driver, which is not the case when the screens are being obscured by the glare of the sun.
There is also an unresolved final issue with window suction mounts that police forces are endeavouring to combat. The window suction mount often leaves visible rings on the windscreen, advertising to potential criminals that a valuable portable satellite navigation unit or other device may be present in the vehicle. Not so with this product as not only does it leave your driving view unrestricted, it also leaves it cleaner and hides the fact you may have something valuable in the car from would-be thieves.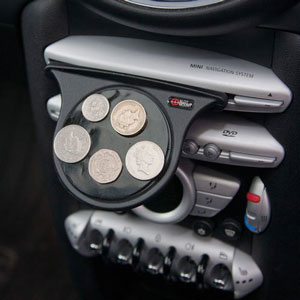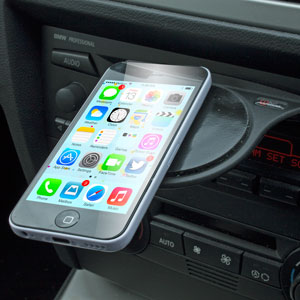 No technical installation required
The beauty of this product is that you don't have to spend your valuable time (and patience) installing it. It couldn't be easier as all you need to do is just place the CD Slot Mount into your vehicle's CD slot and you're good to go. It will hold your mobile devices, cash, keys or anything similar with ease.
How often have you been driving and need to reach something important at short notice? Maybe your phone or a child's dummy? Maybe some change for the toll gate? As is the case with all the best inventions, the CD Slot Mount Universal Car Holder solves this issue with satisfying simplicity.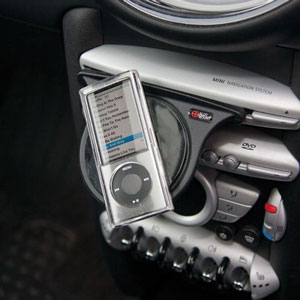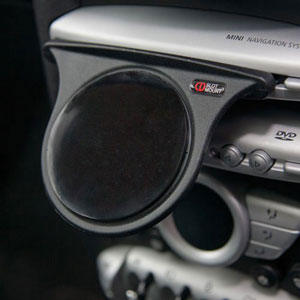 You can still play your CDs
Don't be frightened that it will hinder playing your CDs or damage your CD player. It doesn't interfere with it at all.
FAQ
How do the CD Slot Mounts work?
This fully protected and patented device has been developed to grip into the CD slot by using friction & gravity. No adjustment or moving parts are required. This unique device provides the instant hold between the CD Player and the front mount-platform. This platform is used with, or without, a specially designed sticking pad which is able to firmly hold your items. There is no magnetic force and no need for any clamp or mechanism.

Can I still use my CD player to play discs?
Yes, the CD Slot Mount has been designed to allow playback of your discs while inserted. Caution: we do not recommend trying to eject your disc while the CD Slot Mount is inserted.

The sticky pad isn't sticky anymore how do I fix this?
Simply remove your CD Slot Mount from your vehicle, leaving the sticky pad still attached. Hold the Slot Mount under a water tap to rinse the top of the pad. After allowing to dry, simply begin using your CD Slot Mount as normal, as the stickiness fully returns after gentle washing.
Can I use it in a Multi-disc CD Player?
No. Mutli-disc & auto-changer CD or DVD sat nav players are not compatible. Please do not attempt use of the CD Slot Mount in any player other than a standard in-car single CD disc type.

How can I change my CD with the device attached?
You cannot. We believe that the simplicity of removing and re-fitting of the device makes this task irrelevant. Just remove the CD Slot Mount, eject your disc, insert the replacement CD, then re-fit the CD Slot Mount device.

Why do you have a caution that says: "..do not eject a CD while the Slot Mount is fitted.." Would this break my CD Player, then?
CD Player manufacturers generally design their products to withstand errors, such as, disc ejecting and hitting against a temporary blockage. We have tested a huge range of players beyond normal use, through months of development, without any problem. However, we simply do not recommend that you attempt CD ejecting while the slot is blocked. We cannot accept responsibility for CD Player manufacturing design. Attempt to eject a CD while blocking the disc exit would be abnormal use of the Slot Mount, which has been designed for easy removal to allow disc ejecting. We do not accept liability should any player develop a mechanism fault from this miss-use.
---