Most Useful Customer Reviews
Lee Radford
South
iPhone 6+
29th August 2015
Does exactly what it says
Such a good design, simplicity. Everyone should have one.
---
Sue North
Leics
I Phone 6+
13th June 2015
PERFECT
Having an iphone 6+ I thought I would never get a hopder strong enough to take it, especially one that fits into a cd slot in the car. (And I have wasted a lot of money on other so called holders in the past months..!) But how wrong was I, the CD Slot mount 360 is just perfect and holds it really steadfast without damaging the CD player. It has solved our problem and can now use my phone easily to take calls and most importantly use it as a SatNav. Thank you
Read 82 customer reviews
|
Write a review
---
Why Buy?
Ensures safer driving

No technical installation required

Adjustable jaws with 3 mountable locations

Use additional C grips

You can still play your CDs
---
Why not View a video about this product?
Description
Designed by the winner of the British Invention of the Year Award
From the same designers who brought us the CD Slot Mount that won the British Invention of the Year Award, now present the CD Slot Mount 360° Phone Holder with C Grip. Yet another ingenious way to hold your phone within the car safely and securely, just by simply inserting the CD Slot Mount 360° into your car's CD slot.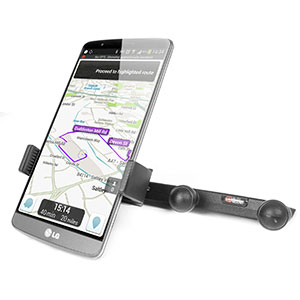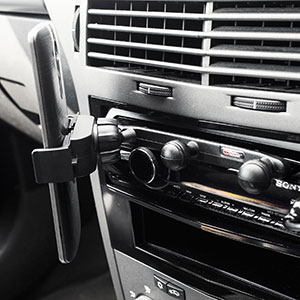 Ensures safer driving
According to expert safety studies, the issue with window mounts is the glare from the sun on the object, which is particularly a problem when the object to be mounted is a smartphone. Such devices need their screens to be clearly visible during use in the vehicle so that the directions they are providing are clearly visible by the driver, which is not the case when the screens are being obscured by the glare of the sun.
There is also an unresolved final issue with window suction mounts that police forces are endeavouring to combat. The traditional window suction mount often leaves visible rings on the windscreen, advertising to potential criminals that a valuable portable satellite navigation unit or other device may be present in the vehicle. Not so with this product as not only does it leave your driving view unrestricted, it also leaves it cleaner and hides the fact you may have something valuable in the car from would-be thieves.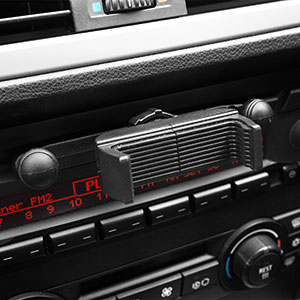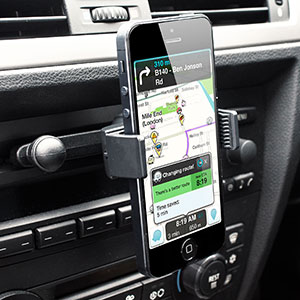 No technical installation required
The beauty of this product is that you don't have to spend your valuable time (and patience) installing it. It couldn't be easier as all you need to do is just place the CD Slot Mount Phone Holder into your vehicle's CD slot and you're good to go. It will hold your mobile devices with ease.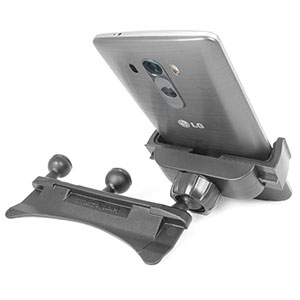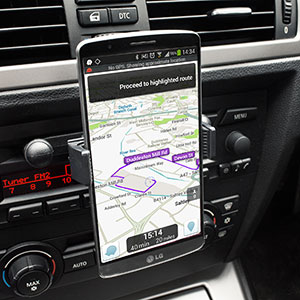 Adjustable jaws with 3 mountable locations
The CD Slot Mount 360° Phone Holder features adjustable jaws on the included C grip, allowing you to securely hold phones with dimensions between 55mm – 85mm (width). It also has a moveable joint, allowing you to adjust your device in the holder for the perfect viewing angle.
Even better, with three ball mounts you can position your device to the left, right or centre of the CD Slot Mount for the best viewing angle or to position the phone for a passenger.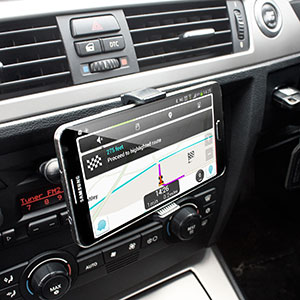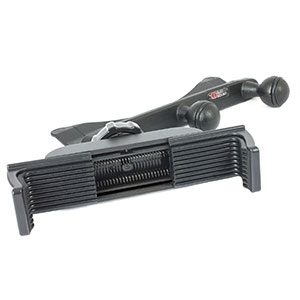 Use additional C grips
Included with the product is a single C grip to use with one of the three possible positions among the CD Slot Mount 360° Phone Holder. You can however add a second C grip, so you can hold two devices at the same time.
Using a standard C grip fitting, you can use your own C grip or purchase additional grips separately to add extra devices to this product.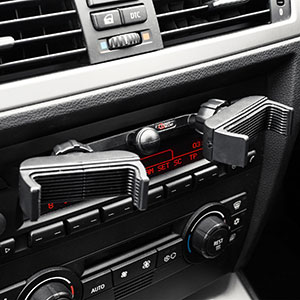 You can still play your CDs
Don't be frightened that it will hinder you playing your CDs or damage your CD player. It doesn't interfere with it at all.
F.A.Q.
How do the CD Slot Mounts work?

This fully protected and patented device has been developed to grip into the CD slot by using friction & gravity. No adjustment or moving parts are required. This unique device provides the instant hold between the CD Player and the front mount-platform. There is no magnetic force and no need for any clamp or mechanism.

Can I still use my CD player to play discs?

Yes, the CD Slot Mount has been designed to allow playback of your discs while inserted. Caution: we do not recommend trying to eject your disc while the CD Slot Mount is inserted.

Can I use it in a Multi-disc CD Player?

No. Multi-disc & auto-changer CD or DVD Players are not compatible. Please do not attempt use of the CD Slot Mount in any player other than a standard in-car single CD disc type.

How can I change my CD's with the device attached?

You cannot. We believe that the simplicity of removing and re-fitting of the device makes this task irrelevant. Just remove the CD Slot Mount, eject your disc, insert the replacement CD, then re-fit the CD Slot Mount device.

Why do you have a caution that says: "..do not eject a CD while the Slot Mount is fitted.." Would this break my CD Player, then?

CD Player manufacturers generally design their products to withstand errors, such as, disc ejecting and hitting against a temporary blockage. We have tested a huge range of players beyond normal use, through months of development, without any problem. However, we simply do not recommend that you attempt CD ejecting while the slot is blocked. We cannot accept responsibility for CD Player manufacturing design. Attempt to eject a CD while blocking the disc exit would be abnormal use of the Slot Mount, which has been designed for easy removal to allow disc ejecting. We do not accept liability should any player develop a mechanism fault from this miss-use.

---