Most Useful Customer Reviews
John O.
London
Samsung Galaxy Note 7
21st September 2016
More than a good look
I am one of those who hate buying cases that bulk up phones, detract from the great design you have already purchased and well, don't do justice. But after getting my hands on my Note 7, the slippery glass back screamed for a case or new skin. I went for my first option and ordered a lovely set of skins from DBrand online but that was going to take two weeks for shipping. My phone wouldn't last that long without a drop or slip. So I was forced to also buy a case to tie me over till then. After scouring the MobileFun (why go anywhere else) I finally settled on the black and gold caseology wavelength series. First off the colour contrast really looks nice on screen. Being a guy (and not a gangster) I have never owned anything gold except my watch, which coincidentally has a black leather strap. Out the box the case looks even better than on screen which isn't always the case with items brought at such a great price. The detail around the camera is also a nice touch and mean there is no disturbance with taking photos. The case comes in two parts. Main part black and the gold band which wraps around. Both are a strong yet flexible rubber which makes it feel comfortable in the hand and you don't panic about dropping it. The buttons actually get improved by the case, which never happened in the past. The case gives the volume and power button more rigidity while still allowing for that necessary give so that it doesn't get tiring to press. The phone size aspect is also very comfortable in the hand. Because the Note 7 is the slimmer of the family you don't want to feel like your holding a brick. And you don't. The case not only improves the grip with the cool groves etched in, but it makes the phone more pleasing to hold when playing games or watching tv shows on the train to work. Emailing and typing are also comfortable and of course you can always customise your keyboard to suit your needs. The only thing that would possibly improve this case would be a concealed stand, but who needs more weight in your pocket right? My verdict? I got the skin, but I am going to enjoy the case for a few more weeks.
Read 2 customer reviews
|
Write a review
---
Why Buy?
Tough, rugged protection

Stylish wave grip design

Extremely thin and lightweight

Tactile buttons

Easily access all ports, controls & connectors
---
Description
Tough, rugged protection
The Wavelength Series from Caseology delivers exceptional protection in a stylish slimline package. Made from a flexible TPU inner core, the Wavelength has been designed with phone safety in mind with a design that absorbs shocks and impacts, keeping your Galaxy Note 7 safe and secure at all times. The outer edges are purposefully deeper than the screen, providing some screen protection when placed face down or if it should fall face first.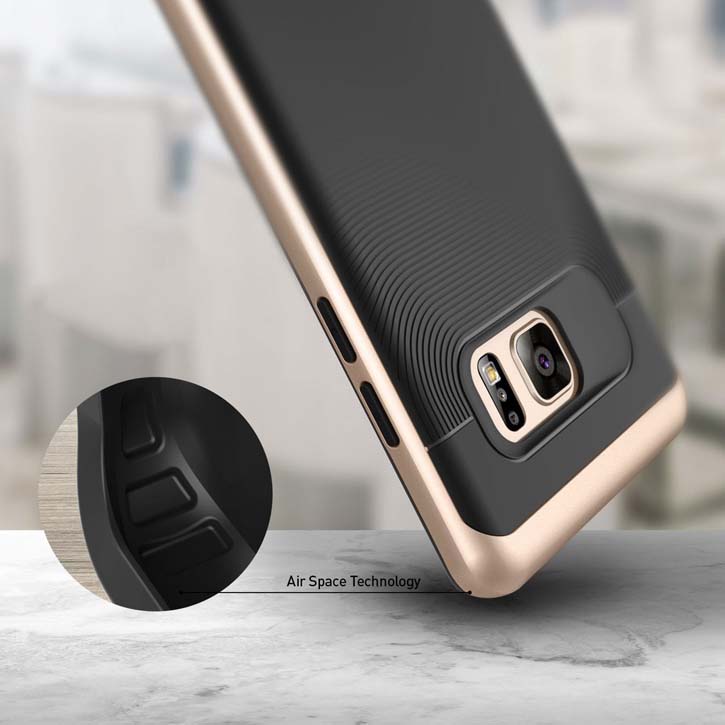 Stylish wave grip design
Built to last and to look good, the Wavelength features a series of textured waves that accentuate the beautiful design of your Galaxy Note 7. Looking good is one thing but the main functional benefit is grip. This textured method offers a more secure grip, meaning it will stand up to a beating from every day wear and tear, but if you have a better grip, you're far less likely to drop your phone. This is a great first line of defence, often overlooked.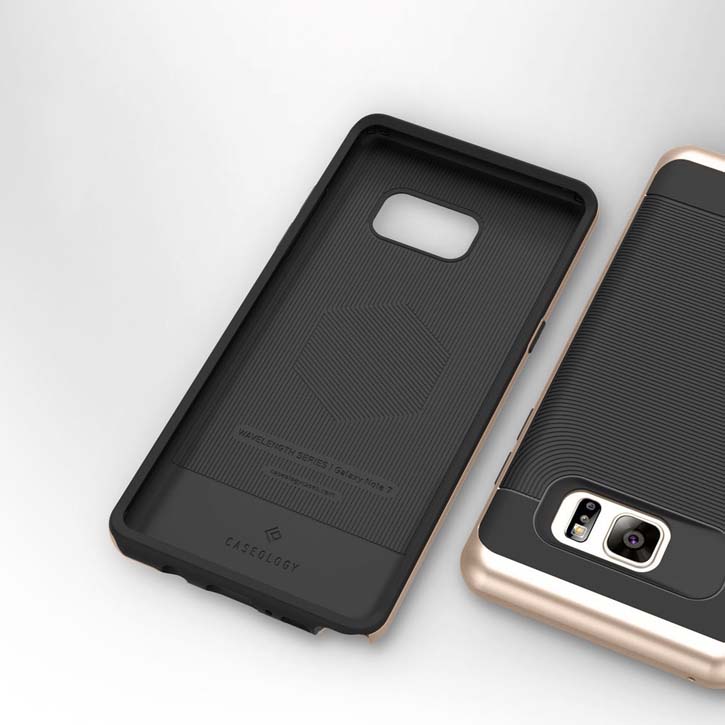 Extremely thin and lightweight
Made from a precision cut single layered piece of TPU, the Wavelength case fits precisely around your Galaxy Note 7 for a smooth, contoured fit. Both lightweight and slim, this case from Caseology is sure to keep your Note 7 bulk-free whilst well protected. The Wavelength compliments your Note 7 perfectly, while providing sufficient protection for the Note 7's vulnerable camera. The outer edges are reinforced with a hard Polycarbonate bumper with a smooth finish. This provides a nice contrast to the textured inner core giving a classy overall look.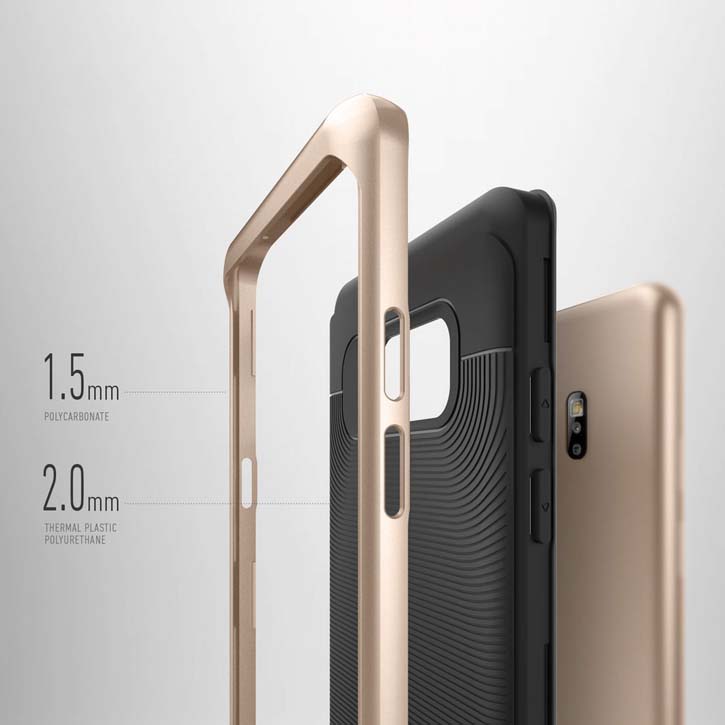 Tactile buttons
With fluid press buttons included in the design of this case, you can be sure to have a case that will protect your new device perfectly, without interrupting it's every day use. These tactile button covers work perfectly and protect your vulnerable side buttons from damage.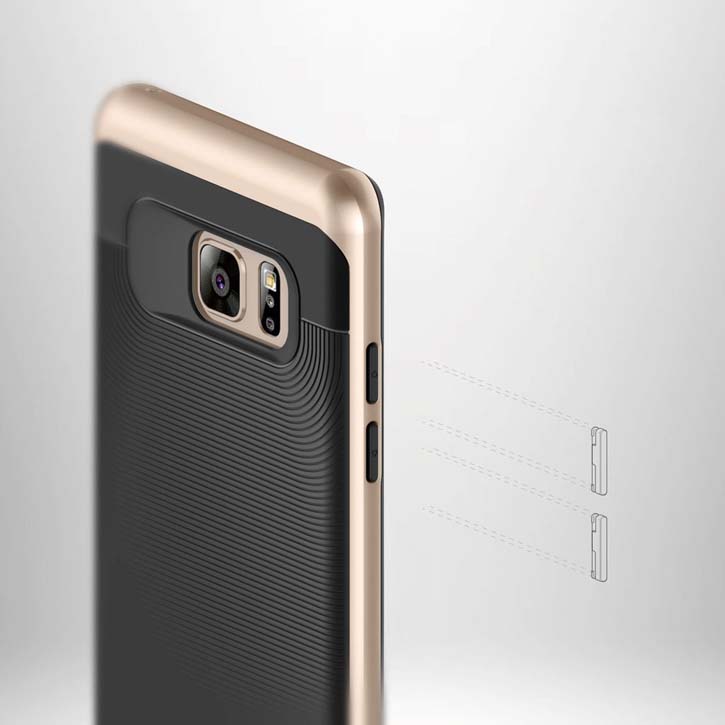 Easily access all ports, controls & connectors
The case also features cut-outs for the ports and features of the Galaxy Note 7, including the dock connector, fingerprint sensor and cameras.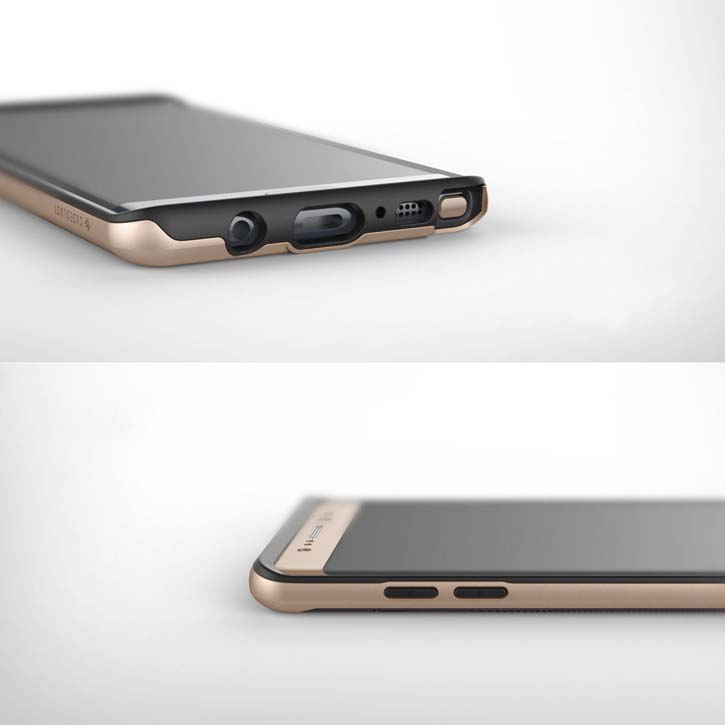 ---
Key Details
Colour: Black, Gold
Part No: CO-NT7-GRL-BKGD