Description
Protect your Nokia N97's screen from scratches and dirt whilst also making sure that no one can view your screen whilst you're using your phone.
The Capdase Privacy Guard offers a 35° viewing angle to your mobile phones screen so that prying eyes won't be able to see what you're doing on your mobile phone. The Privacy Guard also protects your screen from dirt and scratches, keeping your mobile phone looking newer for longer.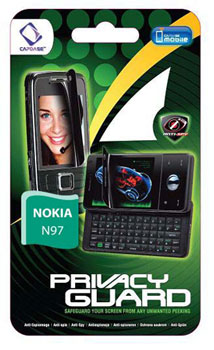 What makes the Capdase Privacy Guard so unique?
Capdase Privacy Guard gives the user crystal clear viewing of the phone screen
Prying eyes see a fuzzy haze
Protects your screen from dirt and scratches
simple and easy to install