Most Useful Customer Reviews
12th April 2015
Great Product
The capdase dual USB in car charger is a superb product and highly recommended. 10 out of 10.
---
Paul Dawe
Essex
Sony Z2 and Samsung S5
18th July 2014
Brilliant and unique piece of kit!!
Bought this as we are going away to France for a few weeks and driving around so we wanted to charge our phones. After seeing this little gem for a great price I bought one and have been testing it out on two of my phones to see how well it charges them. Well the charging rate is great and the phones hold their charge afterwards unlike some cheaper other brands' the LED battery charge rate is brilliant for me in two ways 1) I can test my Alternator with this with out forking out garage fees everytime there is a problem and 2) I can see if I need to charge the battery off my car or replace it. The LEDs are bright but not distracting. I honestly cannot recommend a better twin USB charger than this and i've had a few. Oh and i've also charged a Samsung tablet off of this thing and had the sat nav on whilst it was charging. Incredibly superior and worth the money!!
Read 37 customer reviews
|
Write a review
---
Why Buy?
Dual USB car charger

Impressive 3.4 Amps at 17W for charging tablets and smartphones simultaneously

Car battery power indicator

Overload Auto-off Protection

90º adjustable joint
---
Why not View a video about this product?
Description
Dual USB car charger with an impressive 3.4 Amps at 17W
The Monitor T2 is a dual USB car charger with an impressive power output of 3.4 Amps at 17W.
With 2 USB ports, one designated especially for charging more power demanding products including the Apple iPad or other tablets. The second USB port is able to charge the Apple iPad mini, iPhone, other smartphones and Sat Nav (Satellite Navigation) systems.
The dual USB ports allow you to charge two devices at the same time.
Also features Optimal Charging Detection, changing the charge setting automatically deciding how best to power the various plugged in devices.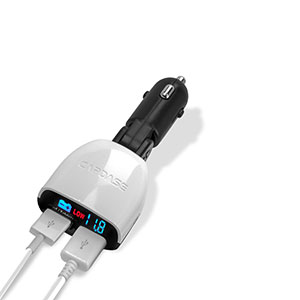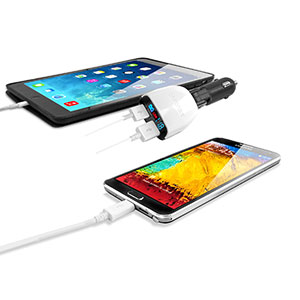 Car battery power indicator
When plugged into your in-car electrical outlet, the Monitor T2 displays the voltage of the car battery. This allows you to take prompt action if the car battery is depleted and will also warn you when it is running low (when 11.8V or below is displayed).
If the total current exceeds the maximum 3.4 Amps - the Overload Auto-off Protection feature will kick in, switching off automatically until the total current of the plugged in devices falls back to normal levels - protecting your devices and the charger itself.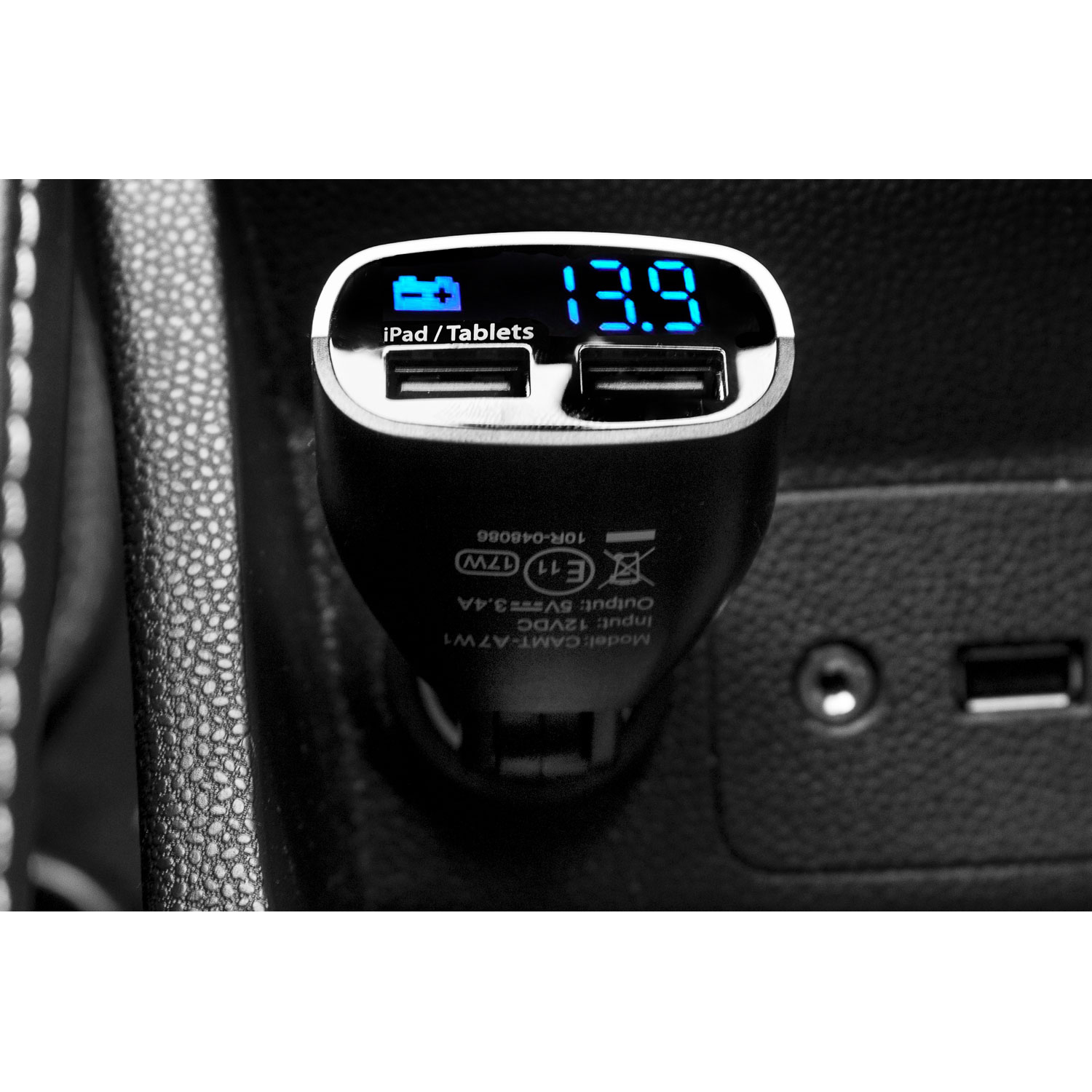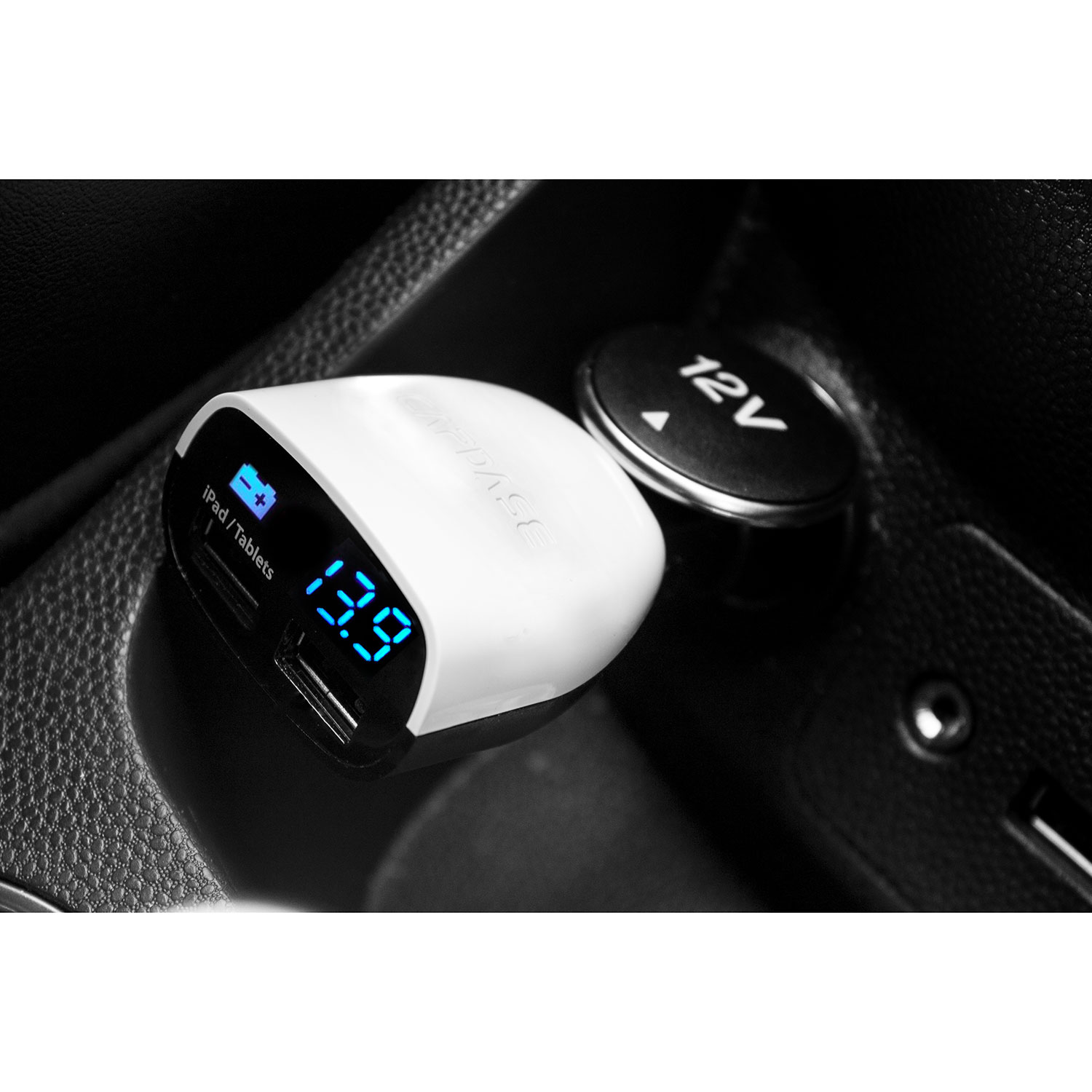 90º adjustable joint
The 90 degree adjustable joint enables it to fit in your in-car electrical outlet at various angles. This provides easy access to the USB ports and for reading the included power indicator display.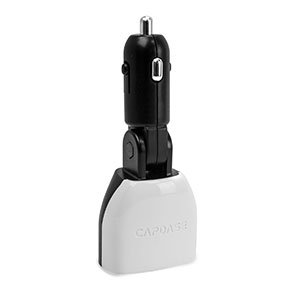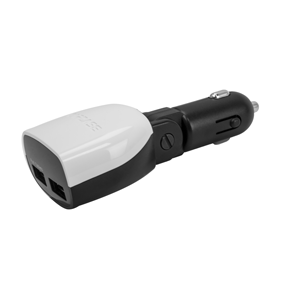 Specifications
Dimension: 45 mm(W) X 27mm(H) X 100mm (D)
Input: 12VDC
Output: Voltage:5VDC Ampere:3.4Amp Wattage: 17W
---
Key Details
Charger Type: Car Charger
Colour: Black, White
Part No: CA00-MT02