Most Useful Customer Reviews
David Hancock
Reading
Apple iPhone 6
4th November 2015
Really works with big phone cases
I have a heave duty spigen case for my iPhone 6 and it is difficult for all but standard Lightning cables to charge it. It has previously been impossible for docks to work with it, but this little adapter works fantastically and I can dock my phone on it without having to remove the case.
EJC
Southend
cablejive-dockstubz-case-compatible-lightning-dock-adapter
20th July 2015
Excellent bit of kit
Looked at other cheaper gadgets that claimed to to the same thing. They all had dodgy reviews. Although the this said unsupported device the first time I plugged it in it works perfectly and does exactly what I need it to do (save me from taking the case off my iPhone every night). I use my phone as an alarm clock so was pretty lost when in didn't fit in its dock once I put a case on it. This is the perfect solution. A bit pricey but the only one that I found that really works.
Read 5 customer reviews
|
Write a review
---
Why Buy?
Case adapter for Lightning devices

Fully case compatible

Supports simultaneous charging / syncing as well as music playback

Secure, firm connection even with a case
---
Description
Case adapter for lightning devices
There's nothing worse than investing in a great protective case for your valuable smartphone that you constantly have to take off every time you want to use it with accessories such as docks and charging stations. Well this is no longer a problem, thanks to the dockStubz from CableJive that allows you to leave your case on no matter where you dock your Lightning device.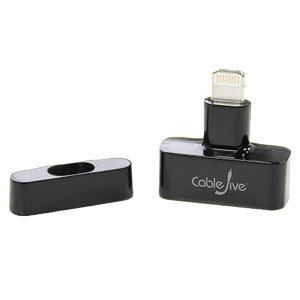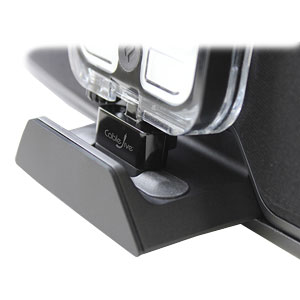 Fully case compatible
Now designed with an extra long neck to reach inside protective cases, the CableJive dockStubz is fully compatible with thousands of cases. A height adjuster is also included in the pack for use with slimmer, bumper style cases, so if you switch between cases your dockStubz will be ready.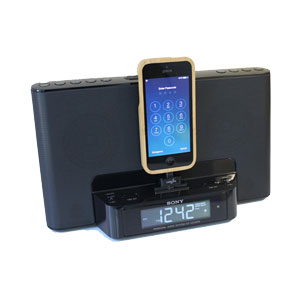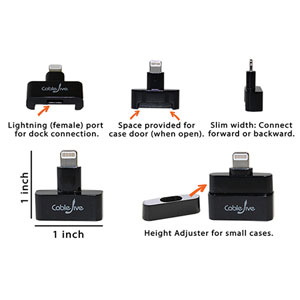 Supports simultaneous charging / syncing as well as music playback
The dockStubz allows for effortless charging, syncing and music playback, so no matter what you're connecting to, the CableJive dockStubz will work just as the accessory was intended too.
Secure, firm connection even with a case
Providing a secure and snug fit every time, the dockStubz is the ideal case compatible docking solution for your Apple Lightning device. Robustly engineered and discretely designed, the dockStubz will withstand day to day use and won't impact the sleek aesthetics of your smartphone and docking station.
---
Key Details
Colour: Black
Part No: LDOCK-STB