Most Useful Customer Reviews
Iain MacKenzie
Wemyss Bay, Scotland
iPhone 6
2nd June 2017
A great well-made product
Having considered many options for a phone mount and excluding the BMW OEM in glove box cradle on price and accessibility I decided to go for a Brodit. I had used a Brodit solution in my 911 however stupidly sold that forgetting that the Brodit Car holder with tilt and swivel was universal, 1st doh! I eagerly awaited delivery and was pleased when the parts turned up ahead of expectations. My plan was to mount the phone in the centre of the dash to the left of the Sat Nave Screen. I proceeded to read the instructions to mount the ProClip and noticed "NOT for models with factory navigation", second doh! I quickly saw the reason why, the top of the ProClip has nowhere to latch on to. So, I changed tack and tried a few other locations and finally mounted it in front of the driver side, side air vent. This, in my opinion, is a better location for your phone. Close enough even to use without having to take your hands of the wheel. This is a great well-made product which I used this in conjunction with the Brodit Car Holder, see my review on that product.
Read 1 customer review
|
Write a review
---
Why Buy?
Provides a mount for your car that won't damage or mark

Easy to install and remove

Made from high quality ABS plastic
---
Description
The Brodit ProClip is a custom designed mounting bracket, created specifically for each vehicle's dashboard. Ideal for attaching Brodit holders or any other holder for your mobile phone or PDA or a hands free kit etc.
The ProClip is designed to be car specific and easy to install. Brodit analyse each vehicle's dashboard carefully to find convenient areas where there gaps in the dashboard. These gaps can then be used for placing the ProClip.Using the provided tool, the ProClip can be installed into a convenient location on your dashboard. The installation is quick, no dismantling of the dashboard is required and it will not damage the interior of your vehicle.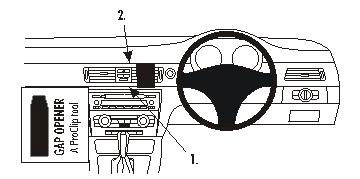 The ProClip is a blank panel allowing you to attach your holder using the screws or sticky pad provided with your phone holder. Images shown are for illustrative purposes only.
Features:
Made of black ABS heat resistant plastic.
Includes detailed car specific instructions.
Compatible with the following vehicle(s):
BMW 318-330/E90/E91/E92 05-09
Click here to see our full range of Brodit ProClips. If your vehicle is not listed please contact us and request the ProClip for your vehicle.