Most Useful Customer Reviews
Richard R
Bristol
Nokia Lumia 920
27th October 2013
Simple, clean cover with a smooth aftertaste
I've used these kinds of protectors before, but this one seemed to be a clear step up in quality. Everything I could need to apply the protectors were included. I used the gel method to apply and there was plenty to spare. I now have a phone which has complete protection from scratches and scrapes... that you can't even see. Just what I wanted to show off my nice new Lumia 920.
---
Tim Wayne
All over the place
Nokia Lumia 920
3rd June 2013
If you've got it; flaunt it !
A coloured phone that is. Why have a spanking new bright yellow super-duppa phone and then hide it away in a black case; NOT so cool. With this system, you really do get full protection and get to see all the phone you really have. Fairly easy to apply, but do watch the You-Tube video first just to be sure; and use the liquid not the dry application. Yeah I know it takes longer to set, but the end result is much more fantastic. The screen looks even better than without the protector and the whole phone is so easy to keep clean. I recommend rubbing it against your clothed stomach :-D And to top it all, you get another set as a spare in the pack. Don't even ponder; just get it !
---
Read 5 customer reviews
|
Write a review
---
Why Buy?
Provides full body protection to the front, back and sides

Prevents screen scratching and other damage

Easy to apply

Crystal clarity provides invisible protection

Includes application card and screen cleaning cloth
---
Description
Provides full body protection to the front, back and sides
This isn't just an ordinary screen protector, it is a full body protector meaning you get a film for the rear and sides of your Nokia Lumia 920 too. This allows you to provide all-over scratch protection, invisibly!
Prevents screen scratching and other damage
The BodyGuardz range of screen protectors are made from the same material used to shield the front of vehicles from rock chips and provides your iPhone with unmatched scratch protection from outside elements. By creating a tough barrier between your screen and the world, any damage will be done to the screen protector and not the phone, keeping your device looking good as new.
Easy to apply
BodyGuardz screen protectors are easy to apply, as they are custom cut for each device. Simply clean the screen with the included microfibre cloth, line up the screen protector with your phone and use the application card to smooth out any bubbles. Once on, the screen protector is practically invisible.
Crystal clarity provides invisible protection
While it's important to protect your screen, it's also vital that the screen protector does not hinder your smartphone use by clouding the screen or decreasing the sensitivity of the touchscreen.
BodyGuardz screen protectors are specially made to provide optimal clarity, while also being thin enough to keep your touchscreen in perfect working order. Once on, you wont even notice the BodyGuardz screen protector is there.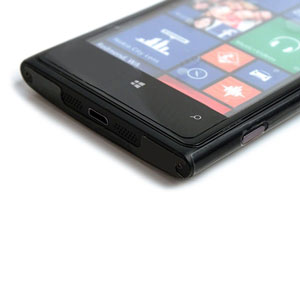 ---
Key Details
Colour: Clear
Part No: BZ-UN92-0912
---
What's In the Box?
2 x BodyGuardz Nokia Lumia 920 Front Protector
2 x BodyGuardz Nokia Lumia 920 Rear Protector
2 x BodyGuardz iPhone 5 Top Protector