Most Useful Customer Reviews
Abdulla
Canterbury
iPhone 5
28th May 2013
Intellectual look & Extravagent style
With the iPhone 5 being a caliber phone on the market, people are literally craving for this mint technology. Since there are a lot of people getting their iPhone5s, there's little to show off and become 'distinctive' with your device. This is where this extremely ravishing skin cover comes in to make you just about to 'stand out of the crowd' and give your friends something to complement about for a LONG time. Applying the cover is easy when you let it be, so do NOT let the adhesive touch waver your confidence. I would really recommend you NOT using the application gel, as that would take literally 3 days to dry, which means you won't be able to take your phone with you in your outtings... That is prespostiously rediculous. Thus, have someone hold the phone for you, as you carefully apply the product. Do not waver or shake your hands... Trust yourself and just simply aim to fit the openings. Whatever you do though, do NOT try to tamper with the carbon fibre after you apply it. That's the only downside of not using the gel. Meaning, just be steady and take your time.. No rush. Good luck. Definitely a MUST have. Finally, don't worry about light drops... The carbon fibre is built to resist minor scratches and tears. As for heavy drops, I don't think you'll be sky diving anytime soon.. So don't worry about dropping it from a high vertical height.
---
Read 7 customer reviews
|
Write a review
---
Why Buy?
Super thin PVC based film covers your entire iPhone 5S / 5

Textured carbon fibre design

Custom designed for the iPhone 5S / 5
---
Description
Super thin PVC based film covers your entire iPhone 5S / 5
Measuring under 1mm in thickness, BodyGuardz covers are the perfect choice for customising your iPhone 5S / 5 without adding any bulk. When paired with the included screen protector, this provides you with 100% coverage against scratches and UV damage without adding any visible bulk to the device.
Textured carbon fibre design
The BodyGuardz film has a textures carbon fibre design which has been designed to look like the product found on the worlds most expensive cars and boats. This film is smooth to the touch yet looks exactly like the real deal.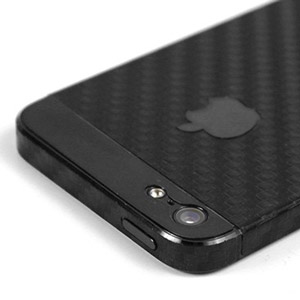 Custom designed for the iPhone 5S / 5
The film has been custom designed for the iPhone 5S / 5, as a result it has cutouts for all the ports and features of the iPhone 5S / 5 such as the speaker and dock connector on the bottom. Should you choose to remove the sticker, the BodyGuardz skin will not leave any sticky residue.
Includes a BodyGuardz screen protector
The BodyGuardz range of screen protectors are made from the same material used to shield the front of vehicles from rock chips and provides your iPhone with unmatched scratch protection from outside elements. By creating a tough barrier between your screen and the world, any damage will be done to the screen protector and not the phone, keeping your device looking good as new.