Tuesday, September 4th, 2012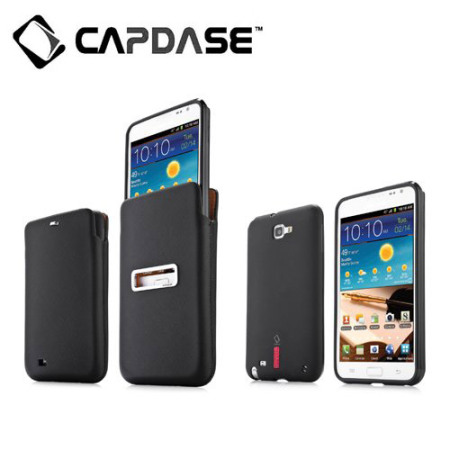 Today we've got something special for you Galaxy S III and Galaxy Note owners from one of our favourite vendors, Capdase.
It's a case pack that offers both quality and value, with four items included: An Xpose soft jacket for tough, slim fitting protection; a Luxe XL case for superb impact protection without impeding the phone's functions; a screen protector and a foldable desk stand.
The idea is that the Xpose soft jacket can be kept on at all times, and then you can slide on the Luxe case for additional protection when the phone isn't in use.
The soft jacket is made of a tough gel material that's flexible like silicone but much more durable. They're ultra-slim too, and are open-fronted cases to allow easy access to your phone's touch screen. The gel is also quite easy to hold, so you won't ever lose your grip on your mobile. Finally, the Xpose soft jacket is resistant to scuffs, dust and fingerprints – this case will stay looking pristine for a long time.
The Luxe XL case provides a little bit of extra protection when you need it, with a unique window that reveals the identities of incoming callers. With the Luxe XL case on, you'll be able to rest easy that your handset will remain intact and secure.
Finally, this pack includes a screen protector and a foldable desk stand. The screen protector provides that extra bit of protection demanded by the large screens of the two Galaxy class devices, preventing scratches and other damage. The desk stand is also quite useful, supporting your phone in both landscape and portrait modes which is brilliant for watching films, playing games or using your phone as an alarm clock.
This case pack really ticks a lot of boxes. It provides a better solution over a bare pouch, as you'll still have some protection when you take the phone out of the Luxe XL case and you're able to see who's calling too.
If you're looking for a good starting pack for the Galaxy Note or Galaxy S III, then this has definitely got my recommendation. To find out more details and see additional images, then check out the product pages linked below – there are two colour options to match the S III and black for the Galaxy Note.
If you have any questions about these Galaxy Note and Samsung Galaxy SIII cases packs, then let me know by leaving a comment below or talking to me on Twitter @mobilefun.