Friday, July 11th, 2014
Case-Mate is most well known for their popular lines of protective phone cases, but that's hardly the only thing that they're producing right now. The company has also developed a couple of innovative wearable phone accessories. Today, we'd like to introduce the Case-Mate Page and Case-Mate Pair.
Let's have a look at the Case-Mate Page first. The Page is a stylish bracelet, made with 14 karat gold and mother of pearl. It's a glitzy look, and it doesn't look like a gadget at all. But of course, this is Case-Mate – so underneath the classy outward apearance, you'll find a very useful function indeed. The Page vibrates subtly, clueing you into notifications on your paired smartphone. These subtle vibrations won't be noticed by anyone else, so you're free to ignore them or attend to them without distracting from the conversation at hand.
Despite its inner circuitry, the Page remains quite hardy. It is water-resistant, fits comfortably and lasts for four weeks at a time, thanks to its use of Bluetooth Low Energy technology. If you're looking for a way to get notifications from your phone but a smartwatch is too far, this is a nice way of getting that essential functionality without sacrificing style or comfort.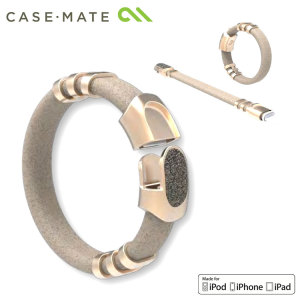 Next up is the Case-Mate Pair. Again, to a casual observer the Pair looks like a stylish bracelet – but inside, you'll find another burst of hidden utility. The Pair conceals a flexible Lightning charging cable, ensuring you're always able to charge your phone if you need to.
The cable is MiFi certified by Apple as well, a distinction that means full compatibility with the full Apple device ecosystem that uses Lightning connectors. The Pair is ideal for use with the iPhone 5S and other Lightning-enabled Apple devices like the iPad Air, iPad Mini and iPod Touch.
So there we have it – two stylish iPhone accessories from Case-Mate. Let us know what you think of the Pair and the Page in the comments below or on Twitter @mobilefun. Thanks for checking out the article and have a great weekend ahead of you!