Wednesday, July 16th, 2014
There are many methods to charge an iPhone 5. Let us count the ways.
The simplest method for charging your iPhone is the one that everyone will know: just hook your iPhone to your computer using a USB cable. That provides a small amount of power (500mA), so charging takes a while. Of course, the USB connection is also used to sync music, films and apps to your phone.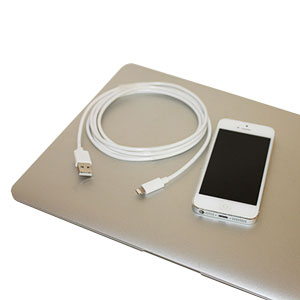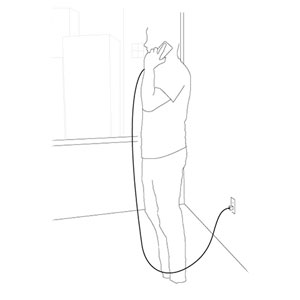 There are plenty of Lightning cables on the market, but I'm a fan of this extra-long two metre cable from iBoltz. It's convenient, inexpensive and still rolls up into a nicely portable loop for easy transport. If you're looking for something different, why not try a coloured Lightning cable or this reinforced version?
The next method that most people will know is to use an AC adapter that plugs into the wall. This gives you faster charging (1.1A, or 1100mA), letting your battery fill up more than twice as fast.
You can get wall chargers in both detachable and one-piece varieties, but I favour the flexibility of the detachable option. This example from Belkin is a good choice, with a sensibly long four foot cable, 2.1A output (for iPads too!) and a simple plug design. Belkin also do a line of coloured versions sans cables, in red, pink, blue and purple.
If you're on the road, then you've got access to another option for charging your iPhone. Using a car charger, you can plug your iPhone into the cigarette lighter / auxiliary power socket, letting you draw power at a rate equal to a wall socket (1.1A).
It's fairly likely that you'll have some other people in the car with you, so it can make sense to get a car charger with multiple USB inputs. The Kensington Powerbolt is my go-to option, with a reasonable 3.4A output spread across two USB ports. A cheaper Olixar car charger is also available if you're on a budget.
Another good specialised charging solution is a dock. These typically serve as a combination of desk stands and chargers, keeping your phone topped up while holding it at a convenient position to watch videos or see notifications. It's important to note that the dock has to be plugged into a power source, which'll determine the speed of your charging. Plugging directly into a PC will provide that familiar 500mA, while a wall charger should provide the faster 1.1A speed.
My thinking for desk docks is "the simpler, the better." That's why I favour this minimal Lightning charge and sync dock, which provides an upright position for the iPhone 5 with a simple Apple style in black or white. If you want to get fancier, why not go all the way and get a KitSound speaker dock with clock radio?
If you're away from sockets in buildings or cars, what options do you have for charging your phone? One good option is a portable battery pack, which you charge beforehand to have a large stockpile of energy ready when you need it. These battery packs typically pack at least one full recharge, and some can charge a phone half a dozen times or more.
There are two directions you can go here. One way is to get one extra full charge in the smallest and most convenient form factor possible. The Power Bank Portable Charger is a great example of this, with an integrated Lightning connector and a 2600mAh capacity in a tiny pocketable shell. On the other hand, if you're going to go big then you may as well do it properly – the Kit: High Power is a 15,000mAh portable battery pack that's significantly bigger, but will let you charge your iPhone 5 almost ten times, which is frankly insane.
The other option for charging wherever you are is to use a battery case. This is a simple marriage of a battery pack and a protective case, where the battery is constantly providing power to your phone. The bulk of the battery provides additional protection from impacts and scratches, although your phone will get noticeably thicker and heavier.
Once again, there's a choice to be made here – do you want to go all-out and get a much thicker but longer lasting phone case, or would you prefer a small boost that doesn't affect the shape of your iPhone 5 too much? The former is exemplified by the Kit Magnetic Battery Case, which adds 2800mAh of charge to your phone in a bulky but easily removable package. On the other hand, the Boostcase adds about half that – just 1500mAh – but comes in a much tidier package. The choice is yours.
Conclusion
That's all folks! I hope you've found this breakdown of iPhone 5 chargers helpful. For more information, please check out the links in the article above or ask us a question in the comments below or on Twitter @mobilefun. Thanks and have a great week!