Wednesday, July 23rd, 2014
Here are ten awesome Samsung Galaxy S5 accessories that you should check out!
Want a different coloured S5? No problem. Just pick up a replacement back cover and you can have any colour you like. There are four options – electric blue, charcoal black, shimmery white and copper gold. This is an official Samsung product as well, so you're assured of a perfect fit and finish.
The Galaxy S5′s internal speaker isn't brilliant, so if you want to play music at any reasonable volume then you'll need a better speaker. The BoomBrick from Olixar is a great choice, with a rich and powerful room-filling sound. You can connect over Bluetooth, where a built-in microphone and buttons will allow you to take calls too. An amazing piece of kit for the money that'll transform your standards for audio quality.
The Samsung Galaxy S5 doesn't come with Qi Wireless Charging out of the box, but that's easy enough to fix. You can buy this wireless charging cover, which replaces your original battery cover with one that has the necessary Qi charging circuits integrated within. From there, you just need to select a Qi wireless charger and you'll be golden.
Protecting the screen of any smartphone is an essential, and one of the most interesting developments as of late has been that of tempered glass screen protectors. These provide more and longer-lasting protection compared to plastic screen protectors. Spigen's example is one of our best sellers, with strong reviews as well.
The idea behind this case is very simple: marry a massive battery with a solid protective case. The result is the enCharge Power Jacket Flip, a surprisingly elegant case that can more than double your battery life. The charging system is well designed too, with an on-off switch and LED indicators to make it easy to choose when you're charging your phone. A flip cover protects the screen and an integrated kickstand will make it easy to watch videos or play games. A brilliant functional case.
This is perhaps the finest Galaxy S5 case available, with a dual-density ultra-rugged chassis made from premium materials. That includes a CNC machined aluminium back plate with a type 3 hard anodised finish, which feels incredible and can stand up to insane amounts of punishment. Other extras include a acoustic chamber that boosts volume levels, a combined belt clip and desk stand, plus a stealth privacy screen protector. This premium case costs more than its peers, but you really do so a significant increase in quality.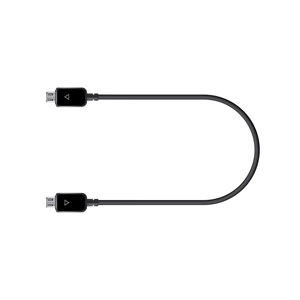 This inexpensive cable is brilliant, allowing you to share power between smartphones, tablets and accessories. The idea is that you can charge one smartphone from another, so you can give your friend a boost to get through the end of the day… or you can use your tablet's larger battery to top up your phone. It also works brilliantly for smartwatches, where you can easily charge their tiny internal reserves without reducing your phone's charge significantly.
The Galaxy S5 has a surprisingly good camera, but you can make it even better with a few accessories. This zoom telescope and tripod allow you to take telephoto shots; ideal for portrait photography or distant wildlife without the bulk of a traditional zoom lens camera. The whole package is quite compact too; you can keep your Galaxy S5 in one pocket and the telescope/tripod in the other.
This bumper is one of the most stylish available for the S5, with a distinct curved shape that instantly stands out. The bumper is made from CNC-milled aircraft-grade aluminium, providing impact protection and rigidity in equal measure. The case is available in many colours too, including blue, black, gold, red and silver.
The Gear Live is one of two Android Wear smartwatches to be released so far, and offers a convenient way of checking notifications on your wrist. The Gear Live's hardware is nice, with a sculpted metal band and a crisp 320×320 AMOLED display. The 22mm band is replaceable and there are plenty of watch faces on offer too, so it's easy to find a look that suits you. Smartwatches are the next big thing, and the Gear Live is one of the very best to be released so far.
Conclusion
I hope you've found these recommendations handy! You can find more of our favourite S5 accessories here. For more information or to ask a question, please visit the comments below or speak to us on Twitter @mobilefun.