Tuesday, July 22nd, 2014
Earlier this week we had a look at the best accessories for the Galaxy S2 and S3, and now we're back for the next Galaxy phone in the series: the Galaxy S4. So join us as we recommend five of the very best accessories available for the Galaxy S4!
5. Spigen Glas.t Nano Slim Tempered Glass Screen Protector
We begin with one of the most cost-effective phone accessories ever: the screen protector. This one from Spigen is on the cutting edge, offering a dramatically thin tempered glass that measures just 0.15mm. That glass has a shatter-resistant coating to prevent damage to your phone and is easy to apply – no air bubbles here!
4. Official Samsung Wireless Charging Pad with Cover
This pack includes everything you need to add wireless charging to your Galaxy S4. The first part is a replacement rear cover for the phone, which adds a wireless charging coil beneath the surface. The next is a Qi wireless charger, which you place your phone on to charge. It's a simple system, but the freedom you gain from ditching wires is fantastic.
If you want to keep your phone charged and easily visible while driving, then this car mount cradle is ideal. The cradle can be easily mounted to your dashboard with its suction cup, and then rotated to the perfect position. The cradle is built specifically for the S4, so you'll get a perfect fit. The cradle also has an integrated S4 car charger, ensuring that your phone will stay charged throughout your journey.
This clever desk dock from Samsung includes basically every connection you could ever need, while keeping your Galaxy S4 charged and in a perfect position. An HDMI output allows you to connect your phone to monitors, TVs and projectors – without the need for a separate MHL adapter. USB ports allow you to connect USB drives, keyboards, mice and gamepads. A 3.5mm stereo jack allows you to hook up external speakers. It's the easiest way to turn the Galaxy S4 into an Android workstation, and it works really well.
1. Spigen Slim Armor View Case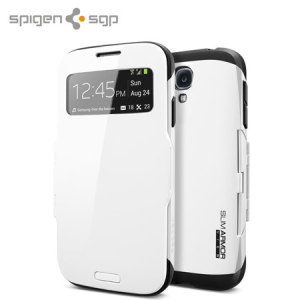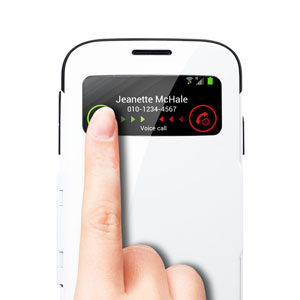 This Galaxy S4 case is one of the most popular we sell, thanks to its range of features and solid protection at a low price. The case includes a clear plastic window (like the Samsung S View cases), allowing you to see the time, incoming callers and other notifications. The cover protects the screen, and a a dual-layer design provides considerable protection against scratches and impacts. The case looks great too, whether in white or black.
Conclusion
That's all for now folks! Thanks for checking out the article and be sure to let us know what you think in the comments below. You can also reach us on Twitter @mobilefun.