Tuesday, November 25th, 2014
This article is for all of the Galaxy S4 owners out there – represent. Here are five great new cases for the Galaxy S4, hand-picked from our full lineup of S4 accessories - take a look, and let us know what you think in the comments below!
Our first case for the Galaxy S4 is the venerable FlexiShield, which provides nice and slim protection with an inexpensive and flexible gel material. This pack contains four such FlexiShield cases in a range of colours, allowing you to change up your Galaxy S4′s look to match your mood or outfit. The Four Pack is good value too, costing just £15.
The Bling My Thing Infinity Dots is a simple, high quality pouch for the Galaxy S4 (as well as the Galaxy S3 and S5). The Infinity Dots case is hand-crafted from the finest Napa premium leather, and lined with a soft microfibre material to ensure your phone gets the finest treatment. The Infinity Dots case also includes a hidden credit card slot inside, allowing you to keep your credit card, train tickets or ID card on-hand without exposing it to theft.
This stylish case from Encase provides the modern look of carbon fibre for your Galaxy S4, cloaking it in a symbol of wealth and high technology. The case is practical too, with the cover serving both as a bastion for credit cards and as a media stand for watching videos on the go. The case's full coverage is also great for protection, as it ensures your screen won't be scratched while it's in your pocket or bag.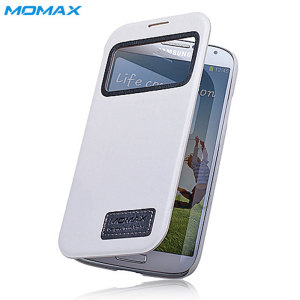 The Stand View Case from Momax is one of the most practical Galaxy S4 cover options on the market – let's count the ways. First, the cover protects your Galaxy S4′s screen from being scratched, obviating the need for an S4 screen protector. Next, the case's clear plastic window allows you full access to the time and notifications – you can even swipe through the window to accept or reject calls. Finally, you'll be able to stand your Galaxy S4 up in landscape orientation, making it easy to watch videos or play games without holding up your phone. That's three easy pieces to a clever case from Momax – to say nothing of the case's looks and protective abilities.
Our winning case today is the Ayano Kimura Orchid Case by Bling My Thing. This yellow case sports a beautiful green orchid design, transforming the rather dull Galaxy S4 into an eye-catching marvel. The case includes a few Swarovski Elements to enhance the sparkle factor, but the look doesn't go to over the top.
Conclusion
Thanks for checking out the article. I hope you've found some good suggestions here, and be sure to check out our past Galaxy S4 accessory articles too! Please leave your questions and comments below, or speak to us on Twitter @mobilefun.