Wednesday, February 18th, 2015
Today we're going to check in with the case situation for the iPhone 6 Plus, and recommend five new arrivals as the best iPhone 6 Plus cases on the market. Here are our suggestions!
5. Spigen Ultra Hybrid ID Bumper - Crystal Clear
This unusual case combines a completely transparent design with a handy ID slot, allowing you to keep your ID fully visible on the back of your phone at all times. If you're constantly having to show ID to get into work or school, this could be the perfect way to make that process as easy as possible. Of course, you could also use it to customise your case with your favourite photo – be creative! The case's bumper style and advanced shock absorption abilities should keep your iPhone 6 Plus safe from scratches and drops too.
I like the Thule Atmos because it reminds me of that guy from Warhammer 40K. Like that fictional hero, the Atmos provides stark and unyielding protection while also looking pretty bad-ass. The Atmos includes a shock-stop corner that protects from drops of up to two metres, with a lip that protects the screen from taking any hits. The snap-on design looks good too, with the blue / dark shadow or black / white colour schemes giving your iPhone 6 Plus a unique and stylish look.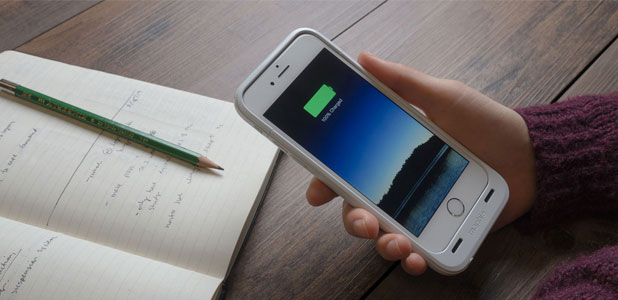 The Mophie Juice Pack is one of my favourite cases, providing much-needed extra battery life while also adding excellent drop and scratch protection. The Juice Pack includes a whopping 2600mAh of battery power, raising your total battery life by 60%. That's enough to reach two days easily, and three days at a stretch. If you find yourself often running dry, then the Juice Pack is the perfect answer. Available in white, black and gold, each option providing a surprisingly slim look.
2. Seidio Surface Combo Case - Blue, Black
The unique feature of the Seidio Surface Combo Case is its integrated kickstand and belt clip, which ensures your phone will always be within arm's reach. The case is pretty solid too, with a slimline design and a soft-touch feel. Available in blue and black colour options.
We conclude with a rather whimsical case, with a cool butterfly design. The partially transparent case allows your iPhone 6 Plus to show through, while overlaying the rather whimsical laser-etched butterflies. If you're looking for a case that has a bit of understated style, this is my pick.
Conclusion
Thanks for checking out the article and be sure to let us know what you think in the comments below! You can also check out more articles on the iPhone 6 Plus and iPhone 6. Thanks again and have a good week ahead!