Friday 25th July 2014 by William Judd in iPhone, Mobile Accessories.
Today we'll be looking at some of the best iPhone 5S cases available today. Let's get right into our selections and recommendations!
The Spigen SGP Touch Armor is our first case, offering considerable protection against a range of hazards including scratches, knocks and impacts. The Touch Armor uses a combination of TPU and Polycarbonate to produce a stellar defense, while maintaining a light weight and small dimensions. The case is available in many colourways too, including gold (shown above), black, slate, white and silver.
This case is quite unique, adding wireless charging to the iPhone 5S' list of capabilities. That means you're able to recharge your iPhone just by placing it on one our Qi wireless chargers, and you're free to say goodbye to the hassle of plugging and unplugging cables forever.
The Zenus Estime Diary is one of the most stylish cases we have, with a traditional leather design that looks as good in the bedroom as the boardroom. The Estime Diary has a smart design, with a flip cover protecting the vulnerable screen and obviating the need for iPhone 5S screen protectors. A series of credit card pockets and a secure fastening complete the picture.
This award-winning bumper for the iPhone 5S adds some tremendous curves to the device, made of aircraft-grade aluminium. The bumper provides considerable rigidity and impact protection, but unlike some other metal cases doesn't interfere with your iPhone's signal. A beautiful, classy case that should appeal to almost everyone.
The Moshi SenseCover is our winning case today, providing a unique way of answering incoming calls and seeing the time without opening the flip cover. This is achieved through a small cutout window, which shows the time and caller ID of your iPhone while keeping the screen protected. When you want to answer or reject the call, it's a simple case of swiping along the strip on the front of the cover. The case is stylish too, in steel black or brushed titanium.
Conclusion
Thanks for checking out the article and be sure to let us know what you think of the iPhone 5S covers we've selected in the comments below!
Thursday 24th July 2014 by William Judd in Android, Mobile Accessories.
Today LG unveiled the first games meant to be played entirely within the circular confines of their QuickCircle cases for the LG G3. The idea is that you don't even need to unlock your phone or open the cover to get started; you can just quickly pull up a game to pass the time.
The very first game is Puppy Pop, a simplistic puzzle game that has you drawing line through lines of identical puppies to score points. It's more a proof of concept than anything else, but it's a cute idea and may yet take off – although developing games for a small group of cases for a specific phone has got to be an incredibly niche market!
We put our heads together here at Mobile Fun HQ and came up with a list of games we'd and apps like to see on these QuickCircle cases. Take a look, then come up with your own suggestions!
QuickCircle Case game ideas

QuickCircle Case app ideas

Loyalty cards (Nectar, Starbucks)
Live sports scores
Oyster card
Flash light
TV + HiFi remote control
Those are our ideas, now let's hear yours! Talk to us in the comments below or reach us on Twitter @mobilefun!
Thursday 24th July 2014 by William Judd in Mobile Accessories, Windows Phone.
The Nokia Lumia 520 was the most popular Windows Phone ever, offering decent specifications and the fluid Windows Phone OS at a very attractive price point. This week Microsoft announced the successor to that phone, the Lumia 530, which will seek improve on that winning formula.
The phone will include a 4-inch 854 x 480 display, a quad-core Snapdragon 200 processor running at 1.2 GHz, half a gigabyte of RAM and 4 GB of internal storage, expandable via microSD. A 5-megapixel camera is on the back, but there's no front-facer. The software on board is the very latest from Microsoft, Windows Phone 8.1, which includes access to Cortana, the WordFlow swiping keyboard and improved Bluetooth low-energy support.
We'll be stocking the Lumia 530 here at Mobile Fun, completely SIM-free and unlocked.  To place your pre-order or view additional information about the phone, please visit the sim-free product page linked below.
You can also check out our full range of accessories for the phone. We're planning on adding cases, chargers, docks and all kinds of other accessories over the coming weeks, so stay tuned for more information on that front.
Thanks for checking out the article and be sure to let us know what you think of the phone in the comments below!
Wednesday 23rd July 2014 by William Judd in Mobile Accessories.
There are two types of phones in the world: phones with Qi wireless charging built in, and those without. Thankfully though, you can add wireless charging pretty easily. Just pick up a Qi wireless adapter that'll sit behind your phone, inside your case, and you'll get the benefits of wireless charging without needing a special case.
There are two different kinds of wireless charging adapters available, depending on the orientation of your phone's microUSB port. If your microUSB port has the wide side at the bottom and the narrow side at the top, you'll need the standard version. If it's the opposite – wide top, narrow bottom – then you'll need the inverted version.
The OnePlus One requires an inverted connector. Other phones compatible with the Type B include the Google Nexus 5, the HTC One M7 and M8, and almost every other HTC smartphone. For a full list, see the compatibility tab on the inverted version product page.
Almost all other phones use a standard orientation microUSB port, including nearly all Samsung, Sony, Motorola and LG phones. For the full list (and it's a long one!) see the compatibility tab on the Standard version product page.
To place your order and to see more information, please visit the product pages linked below:
Got any questions? Let us know in the comments below and we'll happy to help you out. You can also reach us on Twitter @mobilefun and on Facebook at Love Your  Mobile. Thanks for checking out the article and have a good week!
Wednesday 23rd July 2014 by William Judd in Android, Mobile Accessories.
Here are ten awesome Samsung Galaxy S5 accessories that you should check out!
Want a different coloured S5? No problem. Just pick up a replacement back cover and you can have any colour you like. There are four options – electric blue, charcoal black, shimmery white and copper gold. This is an official Samsung product as well, so you're assured of a perfect fit and finish.
The Galaxy S5′s internal speaker isn't brilliant, so if you want to play music at any reasonable volume then you'll need a better speaker. The BoomBrick from Olixar is a great choice, with a rich and powerful room-filling sound. You can connect over Bluetooth, where a built-in microphone and buttons will allow you to take calls too. An amazing piece of kit for the money that'll transform your standards for audio quality.
The Samsung Galaxy S5 doesn't come with Qi Wireless Charging out of the box, but that's easy enough to fix. You can buy this wireless charging cover, which replaces your original battery cover with one that has the necessary Qi charging circuits integrated within. From there, you just need to select a Qi wireless charger and you'll be golden.
Protecting the screen of any smartphone is an essential, and one of the most interesting developments as of late has been that of tempered glass screen protectors. These provide more and longer-lasting protection compared to plastic screen protectors. Spigen's example is one of our best sellers, with strong reviews as well.
The idea behind this case is very simple: marry a massive battery with a solid protective case. The result is the enCharge Power Jacket Flip, a surprisingly elegant case that can more than double your battery life. The charging system is well designed too, with an on-off switch and LED indicators to make it easy to choose when you're charging your phone. A flip cover protects the screen and an integrated kickstand will make it easy to watch videos or play games. A brilliant functional case.
This is perhaps the finest Galaxy S5 case available, with a dual-density ultra-rugged chassis made from premium materials. That includes a CNC machined aluminium back plate with a type 3 hard anodised finish, which feels incredible and can stand up to insane amounts of punishment. Other extras include a acoustic chamber that boosts volume levels, a combined belt clip and desk stand, plus a stealth privacy screen protector. This premium case costs more than its peers, but you really do so a significant increase in quality.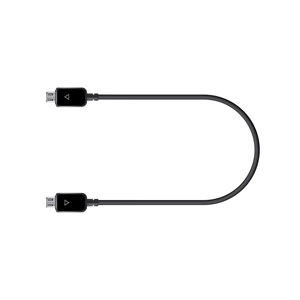 This inexpensive cable is brilliant, allowing you to share power between smartphones, tablets and accessories. The idea is that you can charge one smartphone from another, so you can give your friend a boost to get through the end of the day… or you can use your tablet's larger battery to top up your phone. It also works brilliantly for smartwatches, where you can easily charge their tiny internal reserves without reducing your phone's charge significantly.
The Galaxy S5 has a surprisingly good camera, but you can make it even better with a few accessories. This zoom telescope and tripod allow you to take telephoto shots; ideal for portrait photography or distant wildlife without the bulk of a traditional zoom lens camera. The whole package is quite compact too; you can keep your Galaxy S5 in one pocket and the telescope/tripod in the other.
This bumper is one of the most stylish available for the S5, with a distinct curved shape that instantly stands out. The bumper is made from CNC-milled aircraft-grade aluminium, providing impact protection and rigidity in equal measure. The case is available in many colours too, including blue, black, gold, red and silver.
The Gear Live is one of two Android Wear smartwatches to be released so far, and offers a convenient way of checking notifications on your wrist. The Gear Live's hardware is nice, with a sculpted metal band and a crisp 320×320 AMOLED display. The 22mm band is replaceable and there are plenty of watch faces on offer too, so it's easy to find a look that suits you. Smartwatches are the next big thing, and the Gear Live is one of the very best to be released so far.
Conclusion
I hope you've found these recommendations handy! You can find more of our favourite S5 accessories here. For more information or to ask a question, please visit the comments below or speak to us on Twitter @mobilefun.