Friday 21st November 2014 by William Judd in iPhone, Mobile Accessories.
In this article we're going to take a look at five awesome upcoming iPhone 6 cases that are coming soon to Mobile Fun. Let's get right into the recommendations!
Our first case is this beautiful one from Create and Case. The Book Case is adorned with your choice of two beautiful watercolour-like designs, printed using a specialised technique onto high quality leather-style material. These cases are practical too, with the flip cover providing screen protection, giving you a place to keep your cash and cards, and even turning over to form a flip cover. Whether you choose the Sunny Leo or the Warrior Owl, you'll be delighted with this eye-catching and gorgeously rendered case.
Next up is one of the most protective cases for the iPhone 6 on the market: the Seidio OBEX. This case is so well crafted that it's actually waterproof, allowing you to use your phone underwater or in the rain without worrying about potential damage. The case is striking too, with clean lines and a beautiful two-tone design in white or black.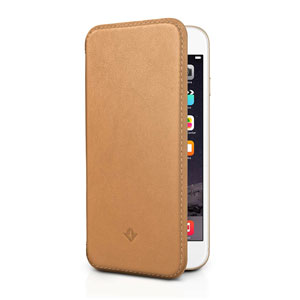 The TwelveSouth SurfacePad is a gorgeous real leather case for the iPhone 6. The case is slim and well-designed, manufactured with Napa leather and fine stitching. The SurfacePad folds to serve as a landscape stand for your phone, and also includes a pair of pockets in the front cover for your cash and cards. If you're looking for a slim and stylish case to protect your phone from day-to-day wear, then the SurfacePad should be near the top of your list. The case is available in camel (as seen above), black, red and white flavours.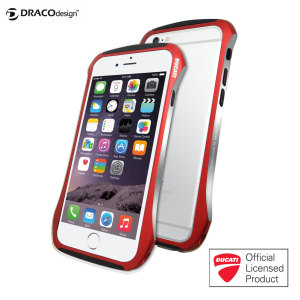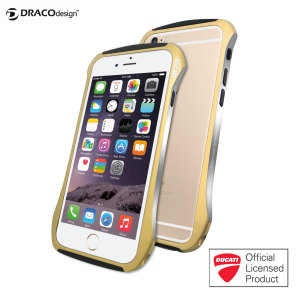 The Draco Ducati is a unique case: it is made almost entirely from aluminium, it has an unusual curved shape, and it is officially licensed by the Italian motorcycle company of the same name. The combination of the shape and the material makes it feel great in your hand; solid and unbreakable. The Ducati logo will be a nice touch for motorcycle fans, and isn't large enough to offend the eyes either. It's a top-notch premium metal case that provides excellent drop protection without affecting accessibility. Three colour variants are available: red, gold and grey.
This special edition of the Spigen Slim Armor includes a handy credit card slot on the back. It looks completely ordinary from the outside though, so you won't have to worry about opportunistic ne'er-do-wells. The case is a little thicker because of the storage area, but makes up for it with improved scratch and drop protection. With a range of colours (gunmetal, gold, white and mint) and a slick modern look, the Slim Armor CS is definitely a case to consider.
Conclusion
That's all for now folks! Be sure to check in with us again soon, and feel free to take a look at our other great iPhone 6 articles!
Thursday 20th November 2014 by William Judd in iPad, Mobile Accessories.
Twelve South produce some of the nicest premium cases for the iPhone and iPad. We recently unveiled the SurfacePad for the iPhone 6 and 6 Plus, and now it's time to turn our attention to the latest Apple tablet: the iPad Air 2!
The SurfacePad for the iPad Air 2 is quite possibly even nicer looking than the iPhone 6 version, if for no other reason that we see the same winning design and materials reproduced at a much larger scale. The premium, genuine leather feels fantastic in your hand, stretching out to cover the screen of your iPad Air 2 and protect it from scratches or knocks.
This leather iPad Air 2 case is one of the thinnest available too, adding just millimetres to the thickness of your iPad Air 2. The sides of your iPad are left fully accessible, allowing your speakers to stay loud, your buttons to be easily pressed and the camera to take those surprisingly great shots. The SurfacePad is sleep/wake-compatible, so you'll be able to open the cover to awaken the iPad and then send it slumbering again once the cover is closed. This saves you time and keeps your iPad going for longer.
The final beauteous feature of the SurfacePad is a multi-level, magnetic viewing stand. By flipping the cover to the rear of the tablet, you'll be able to prop up the iPad Air 2 in landscape mode. That's perfect for watching movies, surfing the web or having FaceTime chats with your family and friends. The tiny magnets that make the stand work also ensure that the cover doesn't need to clip or adhere to your shiny tablet in order to stay securely attached.
The SurfacePad is available in four colours for the iPad Air 2. To see more information or place your pre-order for any or all, please visit the pages below:
Thanks for checking out our coverage of the SurfacePad for the iPad Air 2, and be sure to let us know what you think of this case in the comments below!
Thursday 20th November 2014 by William Judd in Android, Mobile Accessories.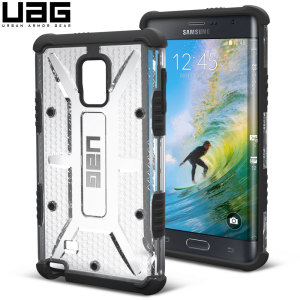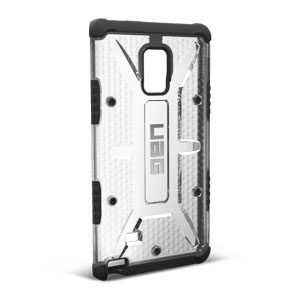 The Samsung Galaxy Note Edge is one of the most unique phones on the market, with its folded secondary display area on the right hand side of the phone. For a unique phone, you need a unique case – and that's the UAG Maverick.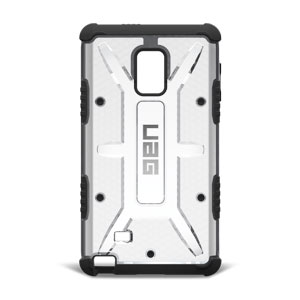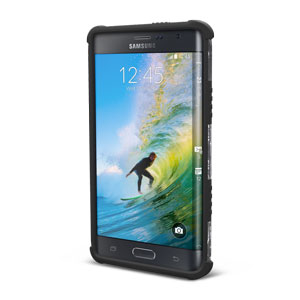 This Galaxy Note Edge case comes with a carefully crafted design that allows you to retain full access to the folded secondary display, while still protecting the edges of the Note Edge from damage. The clear design is also nice here, allowing you to see the full extend of the Note Edge's industrial design.
The strong TPU shell and soft silicone core, backed with an embossed metal insert and realistic Torx screws, are more than capable of preventing damage from scratches and knocks. In fact, the UAG Maverick is military drop-tested, and meets the MIL-STD 810G-516.6 standard.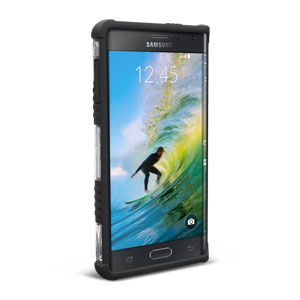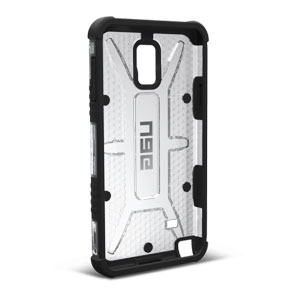 The UAG Maverick is a brilliant protective that is available for pre-order now, and will be in stock at Mobile Fun soon. For more information, to be alerted of stock availability or to place your order, please visit the product page linked below:
Thanks for checking out the article and be sure to let us know what you think in the comments below!
Thursday 20th November 2014 by Rebecca Harbot in Mobile Accessories.
Now that you've got used to having your iPhone 6 Plus, the run-up to Christmas is the perfect time to have a think about all those gadgets and accessories that would fit nicely into your day-to-day life.  Some are considered "technological staples", others are purely a "luxury" item – but could all play an equally important role in what your daily routine.
07:00
That alarm clock goes off, like it does every morning. Except in this scenario your iPhone 6 Plus, teamed with a Qi Wireless Charging Receiver, has been conveniently charging overnight, so it is completely full of power and ready to go – you can check the news updates, the traffic status, or even just your Facebook notifications – straight away! The Olixar Qi-tone Alarm Clock allows you to check the local temperature too, so you can figure out what you're going to wear for the day, before you even emerge from bed.
08:30
Time to head out for the day. Gear up with the essentials to keep your iPhone 6 Plus completely protected from those falls and scratches that are inevitable when you're "on-the-go".  With a case and a screen protector, you'll be good to go.
Whether you're travelling in a car, or out and about on the bus, you might want to give your smartphone that slight extra boost before you begin the day ahead, to make sure it doesn't run out of power and leave you stranded.  Well, this is the perfect time to get out your car charger, or indeed your portable power bank and give your iPhone 6 Plus that extra bit of juice.
12:00
Lunch time, and the perfect opportunity to catch up on personal emails, the news updates, or even watch an episode of your favourite programme! What you need is some sort of "prop-up" device. Whether you want a case that turns into a stand, a pocket-sized smartphone stand or a fully-fledged desk stand, Mobile Fun has got you covered.
The Miracase Starry iPhone 6 Plus Flip Case transforms from an all round protective case into a well-positioned stand for the optimum viewing position.
The Twelve South HiRise for the iPhone 6 Plus provides a stunningly simple way of propping up your device for easy viewing.  Simply plug your smartphone in and voilà, a stand for your device, that also charges it!
The StuckBuddy Universal suction Cup Stand attached to any device, and is so small it can simply be carried around in your pocket. You can stick it to your device and move it around as much as you like to get the best viewing angle for your needs.
17:00
Time to head out again, except in these Winter-y months the coldness draws in as the night comes, and you need to make sure you wrap up warm. BUT – this shouldn't stop you enjoying your iPhone 6 Plus and all it's features! Well, that's what Mobile Fun's accessories are for. With our KitSound Audio Beanie and Totes SmarTouch Gloves, you can stay totally wrapped up but still use all the great features of your phone.
18:00
So you've been home, you've let yourself unwind from the day and now it is time to head to the gym.  What better than to gear up with the top fitness accessories and get yourself one step closer to reaching your health goals?  Keep yourself in the zone by listening to some upbeat tunes on your headphones, make sure you device is kept safe and sound in a protective armband and keep track of your progress with an activity tracker band.
19:00
You're back from the gym, and you would really like that well-deserved "cuppa".  Why don't you pop your kettle on whilst your taking off your shoes, sorting out your gym bag and hanging your coat up? Can't multi-task? No worries – just tap away on your phone to remotely boil your iKettle, and you'll have the perfect cup of tea in no time at all.
19:10
Time to really chill out. You've ordered your take-away (that you earned by going to the gym!) and it will be with you in half an hour. Now you can throw yourself onto your sofa, turn on your lamp and enjoy the free-flowing music in your living room, thanks to the Olixar Light Beats Speaker Bulb. Controlled straight from your phone without any hassle or wires, it's completely stress-free.
Or perhaps you're the sort that enjoys a game or two? Maybe your way of relaxing is by winning on FIFA, building and driving a car or splashing out on a flying drone and spying on your family or housemates?  Well, we have just the things for you too!
Over & Out
So there you have it, the ultimate "must-have" accessories to really get the most out of your iPhone 6 Plus in your everyday life. Why not get that Christmas list started – who knows, it could be you boiling your iKettle, while you fly your drone around your house, controlled by your smartphone which is totally protected in a snazzy case and a glinting screen protector!
Let us know what you think about these products (and if you would add anything to the list!) in the comments below! You can also find us on Facebook at Love Your Mobile, or on Twitter @mobilefun.
Wednesday 19th November 2014 by William Judd in Android, iPhone, Mobile Accessories.
Thermodo is a tiny but awesome dongle that sends highly accurate temperature readings to your Android or iPhone.
So how does it work? Well, you plug the Thermodo dongle into your phone's headphone port. The app sends an audio signal to the dongle, the dongle attenuates the signal amplitude using your phone's microphone, and then the app calculates the correct temperature. It sounds complicated, but all you need to do is launch the app. The entire process is silent and near-instant, granting you easy access to the temperature whenever you want to see it.
When you're not using the Thermodo, you can keep it on your keyring with the included ring and holster, so your headphone port is free to be used. Even when wrapped in its tiny holster, Thermodo is less than an inch long and weighs almost nothing.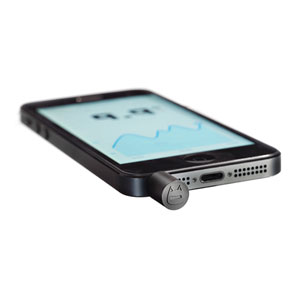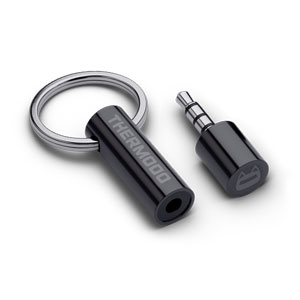 The Thermodo is a passive sensor, meaning it uses no power and doesn't require an internet connection to work. It's a massive improvement over relying on an internet weather service, which is delayed and only vaguely in the same area as you are. Instead, you get immediate and accurate results on demand – awesome.
The Thermodo was a massive Kickstarter success, raising ten times their $35,000 goal, so we hope you're equally excited. We're looking forward to getting the Thermodo in stock as soon as possible. To see more information or place your pre-order, please visit the product page linked below!
Be sure to let us know what you think of the Thermodo in the comments below.