Thursday 21st August 2014 by William Judd in Mobile Accessories.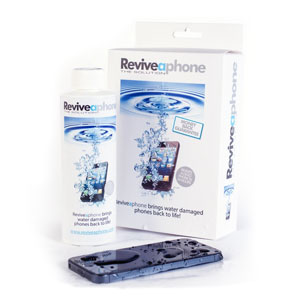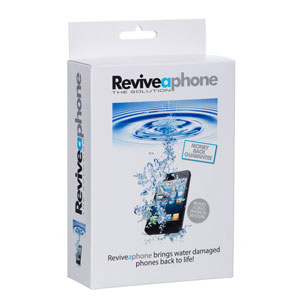 There's nothing worse than realising you've dropped your precious smartphone in water – whether that's in the sink, the pool or even the toilet. Unless you've bought a water resistant phone like the Galaxy S5 or Xperia Z2, you're looking at a costly repair that won't be covered by your warranty. Of course, it's also possible to attempt repairs yourself – and we've got just the kit for it… Introducing the Reviveaphone Water Damage Smartphone Rescue Kit.
The idea behind the Reviveaphone is that it gives you everything you need to rescue and repair a water-damaged smartphone in the comfort of your phone.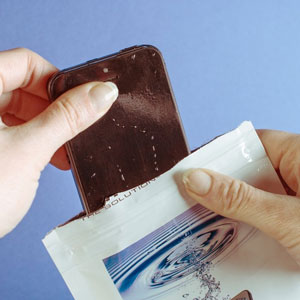 It's very easy to use, too, with five simple steps that should repair your phone in 24 hours. Your phone will be immersed in a solution that washes off corrosive minerals from your phone's circuitry, then placed in a moisture-absorbing tray to complete the repair. There's no need to take apart your phone or do anything else challenging – it's just a case of following the simple steps with the items provided.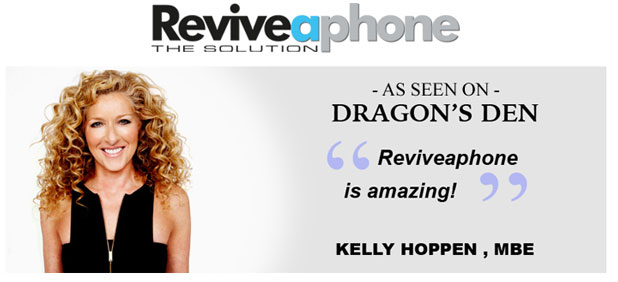 The Reviveaphone kit was on Dragon's Den and recommended by Kelly Hoppen MBE, so you know it's a proven solution. Of course, not all smartphones are recoverable, but with an estimated success rate of 90% this inexpensive kit is definitely worth a go.
To order your own Reviveaphone, please visit the product page linked below. You can also see more information on the kit and the specific steps that you'll be able to perform to recover your phone.
Thanks for checking out the article and be sure to let us know what you think in the comments below!
Wednesday 20th August 2014 by William Judd in Android, Coming Soon, Mobile Accessories, Mobile News.
Sony is one of many manufacturers planning to announce phones in early September. Their last flagship phone was the Xperia Z2, so it seems natural to expect an Xperia Z3 at their IFA press event on September 3rd. We'll also likely see a few variations on that theme, including a smaller phone called the Z3 Compact and a small tablet called the Z3 Tablet Compact. Let's take a closer look at what's expected.
Sony Xperia Z3
The Xperia Z3 will be the proper flagship of the group, and looks like it'll be quite similar to its predecessor, with the same 5.2-inch display and similar dimensions. The internals are also mostly the same, including 3GB RAM and 16GB internal storage plus microSD. What's changed is a faster Snapdragon 801 processor (to replace the slower and less efficient Snapdragon 800) and Android 4.4.4 on board. The design of the phone has changed too, with leaked pictures showing a simplified body that still adheres to Sony's distinctive design language.
Official accessories for the Xperia Z3 are already being added to our site. One of these is the Z3 Style Cover Stand Case, which should be available in four colours (silver green, copper, white and black). The case's big feature is a protective flip cover that can also turn into a folding stand.
Sony Xperia Z3 Compact
The Z3 Compact likewise is a straight upgrade over its predecessor, with a faster and more battery-efficient Snapdragon 801 processor replacing the Snapdragon 800 and 3GB RAM instead of 2GB. The screen gets bigger once again as well, to 4.6 inches across the diagonal, but smaller bezels ensure a minimally larger footprint.
Details on Xperia Z3 Compact cases have also been made available. Once again, we're looking at a Style Cover Stand Case, which should come in four colours (sunset orange, aqua green, black and white).
Sony Xperia Z3 Tablet Compact
The Z3 Tablet Compact is the least well leaked device, but we do know it exists thanks to a mention in a Sony support document. Specifications aren't confirmed, but a Snapdragon 801 processor, 3GB RAM and 7 or 8-inch display all would seem logical inclusions. A high-end rear-facing camera should be included as well, but it's unlikely that we'll see the full 20.7-megapixel units used on the Z3 and Z3 Compact.
No accessories have yet been leaked or announced for the tablet, but we'll add them to the site as soon as information about them appears.
Conclusion
So there you have it – three new Sony tablets, all likely to be announced at Sony's IFA press conference on September 3rd. Let us know what you think of the devices in the comments below, and remember to hold off on any smartphone purchases until after the glut of early September! Thanks for checking out the article and have a good one.
Wednesday 20th August 2014 by William Judd in Buyers Guides, Coming Soon, Mobile News, Mobile Phones.
The beginning of September is looking like a massively busy period, as the IFA trade show kicks off and almost every major mobile company has an event planned. Scores of smartphones and smartwatches will be announced here, and most will start shipping later in the month.
For this reason, right now is the worst possible time to buy a phone or smartwatch–wait until these releases are out of the way, and then reap the benefits of lower prices or newer devices on the market in late September and October.
Don't believe me? Just have a look at what's coming in September:
Smartphones*
Samsung are releasing the Galaxy Alpha and the Galaxy Note 4. Motorola are releasing the Moto X+1 and Moto G2. Sony are releasing the Xperia Z3, Z3 Compact and Z3 Tablet Compact. Nokia are releasing the Nokia Lumia 530, 730 and 830. HTC are releasing the One M8 with Windows and the J Butterfly. Chinese companies Meizu and Huawei are releasing the MX4 and Ascend Mate 7, respectively. Sharp are releasing the Aquous Crystal. Most importantly of all, Apple are releasing at least one new iPhone, the iPhone 6.
Smartwatches
September looks equally busy for smartwatches. Motorola are the biggest confirmed players here, with the eagerly anticipated Moto 360 set to launch. ASUS and LG have also teased new smartwatches for IFA, while Sony are rumoured to also be showing a watch at the event. Apple are the wildcard here–it's not known if they'll announce the iWatch at their September 9th event, but if they do then it'll be massive.
Press Events
Here's a breakdown of all announced or heavily rumoured events:
September 2nd
Meizu (MX4)
September 3rd
Samsung (Galaxy Note 4)
Sony (Xperia Z3, Z3 Compact, Z3 Tablet Compact, SmartWatch 3)
ASUS (smartwatch)
September 4th
Motorola (Moto X+1, G2, 360)
Nokia (Lumia 730, 830)
Huawei (Ascend Mate 7)
September 9th
Apple (iPhone 6, iPhone 6 Air)
Signing off
September is going to be an awesome time for mobile fans, and there's only one way to ruin it: by purchasing a smartphone or smartwatch just before its successor is announced. Wait if you can, and you'll find cheaper smartphones or newer models in a matter of weeks. My recommendation? iPhone 6 or Galaxy Note 4. But don't decide now – there will be a lot of excellent choices in the weeks to come!
*Not all of these phones will see European releases – the One M8 with Windows and Aquous Crystal have been announced for US markets. The J Butterfly and Aquous Crystal are launching in Japan. The MX4 and Ascend Mate 7 will launch in China. Still, it's possible to import these phones.
Wednesday 20th August 2014 by William Judd in Mobile Accessories.
The Seidio Capsa TouchView is an interesting new case for the Galaxy S5, with an integrated screen protector and military-standard drop protection. Join us as we go hands-on with the case!
The first thing you'll notice about the Capsa is its slick cover, which covers the screen of the S5 and clicks into position to provide constant protection. This is a nice alternative to a standard flip cover, as you retain full access to the phone inside and very little bulk is added. The screen protector is just 0.5mm thick, with a 5H hardness rating and a special oleophobic coating that resists fingerprints. Of course, you can still use your phone's touch screen as easily inside the case as out of it.
The rest of the Capsa case is impressive too. A dual-layer design is used to protect the body of your S5, with a thin and flexible silicone shell within a more rigid, impact-resistant TPU exoskeleton. The case is rated to exceed the MIL-STD-810G rating for drop protection, ensuring your phone survives tough knocks and falls. A soft-touch rubberised coating adds grip, thereby helping you not drop your phone in the first place!
On the back of the case, you'll find a metal kickstand. This flips out to work as a media stand for the phone, allowing you to easily watch films, play games and surf the web in a convenient landscape orientation. The stand is indispensable for small tray tables on trains and aeroplanes, where a tablet or laptop might not fit. Of course, it'll work equally well on your desk or nightstand as well.
The Capsa is a good looking case as well. The integrated screen protector makes it a lot thinner than flip cases, and the blue, red and black colour choices each look modern and professional – particularly with the black trim and silver kickstand.
The stylish and functional Capsa TouchView case for the Galaxy S5 is coming soon to Mobile Fun. Stay tuned on Twitter @mobilefun for the latest news on the Capsa's availability. In the meantime, check our full selection of Galaxy S5 covers!
Any questions or comments? Leave them below and we'll get back to you as soon as we can. Thanks for checking out the article and have a great week ahead.
Wednesday 20th August 2014 by William Judd in Mobile Accessories.
I'm loving the current trend for smarter homes. You can now get smarter thermostats, smarter smoke alarms and even smarter light bulbs. The Olixar Light Beats is a unique addition to that list: an LED light bulb with a built-in speaker. It's a cool way of adding some ambient noise or music to your room from an unexpected source, and of course it works well for providing light as well. Let's take a closer look.
A subtle speaker for ambient audio or room-filling sound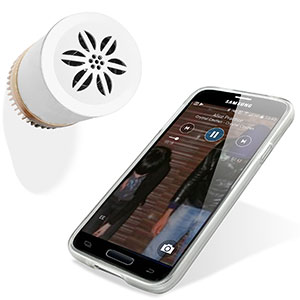 The Light Beats includes a speaker and amplifier built into its casing, allowing sound to project through the subtle flower design on the base of the bulb. With 3W of power at your disposal, you're able to get surprisingly rich and loud sound. You could add an ambient soundtrack to keep yourself working hard, or some brighter tunes to keep your party going. A 15 metre Bluetooth range means the connection is maintained while you're moving around the house.
Bright, energy efficient and easy to use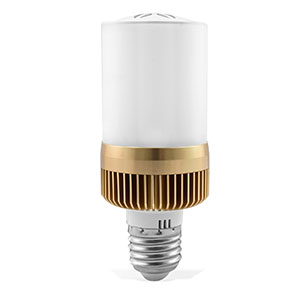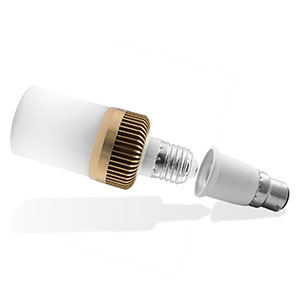 The 3W LED used in the Light Beats provides a clean, warm light – equivalent to a traditional 50W light bulb. The bulb comes with a screw socket and an adapter for bayonet fittings, allowing you to easily fit the Light Beats in all kinds of light fixtures, from lamps to ceilings.
Unlike other smart bulbs, there's no setup here – just screw in the bulb and hit the switch to enjoy your well lit room. When you want to listen to music, just pair the bulb with your phone and hit play. The pairing will be remembered even when the bulb is off, so next time you want to listen to music you'll be ready to go instantly.
Links to more information, our YouTube video and store page
That's the Olixar Light Beats – a unique combination of speaker and lightbulb that'll make your room much more pleasant. For more information, please visit the product page linked below:
Signing off
Thanks for checking out the article – be sure to let us know what you think in the comments below or speak to us on Twitter @mobilefun!