Monday 15th December 2014 by William Judd in Android, Mobile Accessories.
Today we're going to look at some of the very best cases available for the Google Nexus 6. The phone has only just been truly available in the UK, with stock persisting on the Google Play store and a range of online and physical retailers. If you've picked one up or know a friend or family member who has, then you'll want to see these selections that'll help you get the most of out of your phone – and keep it safe too.
This flexible gel case for the Nexus 6 is a good place to begin our tour. The case is very simple, with a full covering of the back and sides of your phone and not much else. That simplicity makes for a slim case though, and its flexible nature makes it easy to put on and take off of your phone. The FlexiShield is available in a nice range of colours too, making it easy to add a bit of your personal style to your Nexus 6.
4. UAG Maverick Protective Case - Clear
This unique clear case for the Nexus 6 adds a heavy dose of protection and style, while still allowing your colour of choice to shine through. Whether you've chosen the blue or white model, you'll like the contrasting black trim and rugged sensibility that the case adds. The UAG Maverick is also quite protective, boasting excellent drop protection and full scratch coverage too. The Maverick also comes with a free Nexus 6 screen protector, so you don't need to pick one up separately.
The Neo Hybrid is another strong case, with a surprisingly slim design that allows you to maintain the svelte signature of the Nexus 6. The case uses a hybrid design, with a combination of TPU and polycarbonate providing the requisite barrier against drops and scratches. The case's two-tone design looks great in each colour, but I prefer the neutral tones of the gun metal option shown above.
Our runner-up this time is the Obliq Flex Pro, a newcomer to our site. The case impresses with its combination of textures, with a smooth midsection and grippy caps top and bottom. Besides being easy and comfortable to hold, the case is also great when it comes to protection – the screen is protected by an extended lip, and the body is completely covered save for a few cutouts. There are a nice selection of colours available too, from the black and pink options shown above to the mint and grey options. A tip-top case that looks great with the Nexus 6.
1. Case-Mate Tough Naked Case - Clear
Our second clear case, and the winner today, is the Case-Mate Tough Naked. As well as being fun to say, the case shows off your Nexus 6 without exposing it to possible harm. The Tough Naked is made from impact-resistant plastic, with a kickstand embedded in the rear of the case and cutouts wherever necessary. The look provided by the fully transparent case is quite impressive, and combined with the case's protective credentials, makes it an easy choice for number 1.
Conclusion
Thanks for checking out the article! See our website for more Nexus 6 cases and covers, and feel free to leave a comment with your questions and feedback. Thanks again and have a good week ahead!
Friday 12th December 2014 by William Judd in Android, Mobile Accessories.
Got a Galaxy Note 4? Cool, me too. Let's take a look at some of the most stylish cases available for our favourite phablet!
5. Encase Wood Patterned Case  - Wood
This cool case for the Note 4 adds the look of real wood, without the weight and expense of the real deal. The case is lightweight and adds good protection, covering the back and sides while shielding the screen with a small lip. The effect is quite convincing, and makes for a good conversation piece.
Our next case is the Otterbox Symmetry, a multi-faceted case available in a range of colours and designs. The Eden Teal look we've highlighted above is pretty neat, with carefully drawn flowers taking over a teal case. You get trusted OtterBox protection no matter which design you choose, with good drop protection and a scratch-resistant shell.
3. Nillkin Armor Border Bumper Case - Orange, Blue, Red, Black
The Nillkin Armor Border is another cool case, with an eye-catching bumper design in orange, blue, red or black. The modern design leaves the front and rear panel of your Note 4 free, showing off the colour you've chosen and serving as a nice contrast to the bumper itself. The bumper adds anti-collision pads, which prevent damage when the phone is dropped on its back or front.
2. Encase Leather-Style Wallet Case - Tan / Black
Next up is the Encase Leather-Style Wallet Case, a lovely number in tan and black that gives a rather professional look. The case is made from high-quality synthetic materials, with space for three credit cards and a larger pocket in the front cover. The cover also prevents damage from scratches, keeping your screen in tip-top shape.
Our final and winning case this time around is the Obliq Skyline Pro, a case that mixes a cool modern look with a range of colours – from the ostentatious gold and reserved black and gunmetal to cooler pink and mint options. The case is dual-layered for extra protection, with a chamfered bezel that protects the screen and a built-in kickstand for easy viewing of videos and other media. A beautiful case, no matter which colour you choose it in.
Conclusion
Thanks for checking out our roundup of the best Galaxy Note 4 cases. Please let me know what you thought of my selections, either the comments below or Twitter @mobilefun!
Friday 12th December 2014 by William Judd in iPhone, Mobile Accessories.
Apple updated its Made for iPhone (MFi) guidelines this week, requiring manufacturers to meet new standards for licensed iPhone cases and accessories. The most notable addition is a drop protection requirement, which states that manufacturers must ensure their cases are able to protect iPhones from a one metre fall onto a hard surface from any orientation.
In addition, cases will also need to provide at least one millimetre of space between the screen and a flat surface, either by using a cover or including a lip that extends beyond the glass. Finally, environmentally unfriendly substances like formaldehyde and phthalates are also banned.
Of course, many iPhone 6 and 6 Plus cases already meet these steeper requirements. Take a look at six tough iPhone 6 and 6 Plus cases we've selected below, many of which can withstand drops from greater heights and protect your phone from other common hazards like water or dust.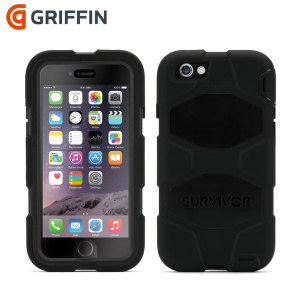 The Griffin Survivor is the original protect-from-anything case, providing unparalleled protection against drops, scratches, rain, snow, dirt and more. The case has starred in videos showcasing its longevity, surviving drops off bridges, being pulled behind a car and dunking in a tank of maple syrup. If you're looking for the ultimate protective force for your iPhone, this Survivor case is the best on the market.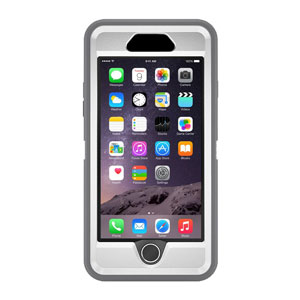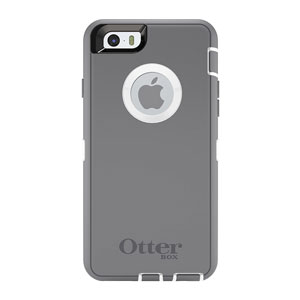 The Otterbox Defender is another great option for protecting the iPhone 6 and 6 Plus, with a two-layer system that resists drops and scratches. A built-in thermal-formed iPhone 6 screen protector and a lip around the screen protector adds to the protective ensemble. There's even an optional detachable belt clip holster, which also serves as a kickstand. The cases are available in glacier (above) and black.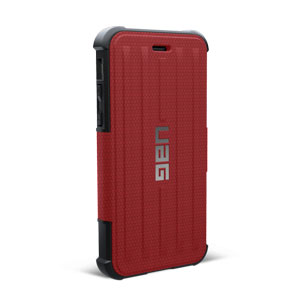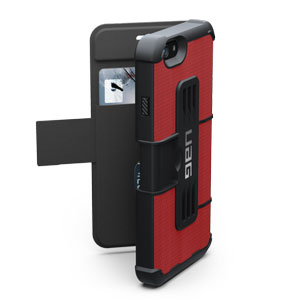 This attractive red case includes both a screen cover and reinforced corners, providing good protection against scratches, drops and knocks. The FrogSkin exterior also adds to the protective element, resisting water and dust ingress. A card slot on the inside of the cover provides space for cash or credit too. Finally, the soft rubberised texture of the Rogue makes it harder to drop in the first place.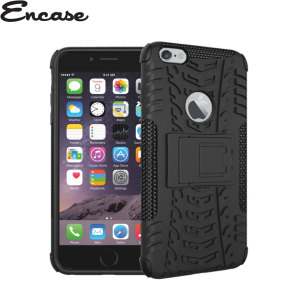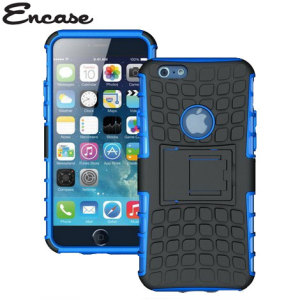 The ArmourDillo blends a lightweight TPU polymer with an impact-resistant polycarbonate exoskeleton, providing good drop protection. A lip around the front of the display prevents this from taking damage too, although a screen protector can still provide additional protection. The textured back also includes a media stand, letting you watch videos on the beautiful display of the iPhone 6 or 6 Plus.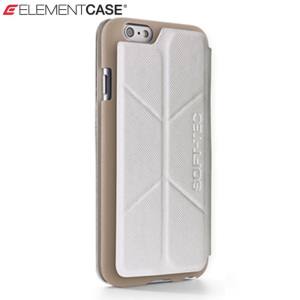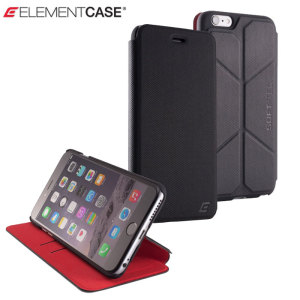 The ElementCase Soft-Tec Wallet is another great tough case with a much classier look than its fellows. The Soft-Tec Wallet features a textured Tech Grip material, which feels great in your hand but is also able to stand up to intense punishment when required. The soft touch inner lining is also nice, made from synthetic suede that protects your screen from scratches and is pleasant to the touch. Finally, the case can be folded to support your iPhone in a viewing stand mode and even includes space for a credit card or ID.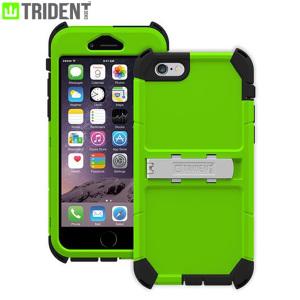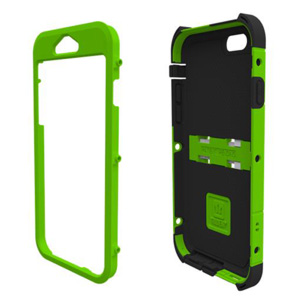 Our final case is one of our most popular tough cases for the iPhone 6: the Trident Kraken AMS. The Kraken AMS is a hybrid case built from a polycarbonate shell and silicone corners, providing considerable protection against scratches and drops. The Trident logo on the back doubles as a media stand, too. Finally, you get a screen protector in the box, and full compatibility with other Trident AMS accessories like bike clips, tripod mounts and clamps. The cases are available in green or black.
Conclusion
We hope you've found these selections helpful! For more information, please check out the product pages linked above or write to us in the comments below. You can also reach us on Twitter @mobilefun.
Thursday 11th December 2014 by William Judd in iPhone, Mobile Accessories.
Looking for a great iPhone 6 Plus case for yourself or that special someone? Check out our selection of hand-chosen cases and covers; I'm sure you'll find at least one case that'll be perfect for your needs.
We begin with one of the most classically beautiful cases in our collection, the Encase Genuine Leather Wallet. This case is made from the finest premium leather, offering the supple touch, warm smell and natural wearing that only leather can provide. The Leather Wallet is practical too, with room for your cash and cards plus a reliable snap closure. Also available in black.
Next up is another recent favourite of mine, the X-Doria Engage Plus. This slim, classy case is perfect for adding a touch of glamour to your iPhone 6 Plus while keeping it well protected from everyday wear and tear. The case features a lovely gold striped design that really suits the white version of the iPhone 6 Plus. Also available in silver (which is recommended for black iPhone 6 Plus models).
If you want top-notch protection, then the Otterbox Defender Series is a great bet. The tri-layer case provides considerable resistance to damage from a variety of sources; it absorbs impacts, deflects scratches and generally takes a beating so that your phone doesn't have to. Also available in black.
The Spigen Neo Hybrid is one of the most impressive cases we have, offering a strong blend of looks, protection and svelte dimensions. The case is available in a wide range of colours too, including champagne gold, reventon yellow, gunmetal, dante red, infinity white and metal slate.
Our winning case today is the incomparable Twelve South SurfacePad, which provides a beautiful leather cover in a very small amount of space. The ultra-thin design will protect well enough against everyday wear and tear, although you might consider a stronger and bigger case if you're particularly accident-prone. The case also comes with a media stand, which is brilliant for watching videos on the extra-large 5.5-inch display of the iPhone 6 Plus.
Conclusion
Thanks for checking out the article! If you have any questions, please leave them below. You can also reach us on Twitter @mobilefun or on Facebook at Love Your Mobile.
Thursday 11th December 2014 by William Judd in Android, iPhone, Mobile Accessories, Windows Phone.
Spigen are normally known for their quality cases and screen protectors, but the millennial South Korean company produces a wide array of phone accessories. Recently we've added two of these to our virtual shelves – a stylish set of aluminium earphones and a portable USB power bank. Let's take a closer look!
The Spigen TEKA are a beautiful set of in-ear headphones, with a stylish red cable and trim. The dynamic drivers inside provide clear and rich bass, on a level that's impressive for in-ear headphones. The modern look extends to the tangle-free flat cable, slim in-line remote control / mic and svelte carrying bag. You'll get three cup sizes with the headphones, so you should be able to find a comfortable fit for your ears. If you're looking for some premium headphones that look the part, then these should be near the top of your wishlist.
Our next accessory is equally practical: the Spigen F70Q, a portable charger that provides 7000mAh of power through two USB ports. You'll be able to charge a smartphone and a tablet simultaneously at full speed, thanks to one 2.1A port and one 1A port. The power bank is surprisingly slim and light for its capacity, and is well-built too. It can even resist drops, thanks to Air Cushion technology that Spigen have brought from their best-selling cases. It's a clever and complete charging package, offering some new and exciting in a field of boring black boxes.
Conclusion
Thanks for checking out the article! For more information, please visit the product pages linked above or write to us in the comments below. You can also tweet or follow us on Twitter @mobilefun. Thanks so much guys, and stay tuned for more sick Mobile Fun Blog posts!