Tuesday 26th August 2014 by William Judd in Android, Mobile Accessories.
LG announced their latest phone today, the G3 Stylus. The phone is a stylus-equipped version of their G3 flagship, meaning it should be quite good for drawing and taking down notes on the phone's large display. The stylus is thinner than most capacitive styli, with a small tip for precise writing.
While the screen remains at the same 5.5 inches as the G3, the resolution has dropped from 1440p to 540p – this is definitely a mid-range phone. Inside, there's a quad-core Snapdragon 400 processor at 1.3GHz, 1GB of RAM and 8GB of internal storage with microSD slot for expansion. This is all powered by a capacious 3,000mAh battery.
The phone will run Android 4.4.2 KitKat, with LG's usual customisation suite on board. That includes quick memo notes, tap-to-unlock, dual-window mode, touch-and-shoot, and gesture shot (for taking selfies by using a hand gesture).
We'll have a wide range of accessories for the new LG G3 Stylus, including both official and third-party options. A section for the phone is already live on our site, and we'll be looking to fill up these categories in the coming weeks with additional G3 Stylus cases, covers, chargers and more. The phone is scheduled to be released over the next month, so we'll be ready for that!
What do you think of the new G3 Stylus? If you're in the market for a stylus-equipped phone, would you rather have the cheaper but less powerful G3 Stylus or the forthcoming top-of-the-line Note 4 for a higher price? Let us know in the comments below or speak to us on Twitter @mobilefun.
Thanks for checking out the article and have a good week ahead!
Tuesday 26th August 2014 by William Judd in Android, Mobile Accessories.
The HTC One M8 introduced the Dot View case to the world; a unique flip cover with a grid of holes that let the screen beneath shine through. As well as looking awesome, the case shows the time and notifications – like incoming calls, weather, battery alerts and alarms. The case proved popular, and so HTC have made Dot View cases for many of their recent phones. The latest phone to get a Dot View case is the Desire 510.

If you haven't heard of the phone that isn't much of a surprise; it's an as-of-yet unannounced handset that should be the first to launch with a 64-bit processor. That processor is the Snapdragon 410, the latest from Qualcomm. It's not clear what advantages it'll hold over the current Snapdragon 400 mid-range option, but presumably there'll be some performance differential.
Other specifications for the Desire 510 have been listed by the Twitter account @upleaks, which has reported a 4.7″ 854 x 480 display, a 5-megapixel camera and Android 4.4.2 on board (with a hearty helping of HTC Sense 6).
We'll have more Desire 510 accessories in the coming weeks, as the phone is officially announced and third-party companies make their own announcements. The phone is likely to be revealed at the IFA 2014 conference in Berlin, which should also play host to new smartphones from Sony, Samsung, LG and many others.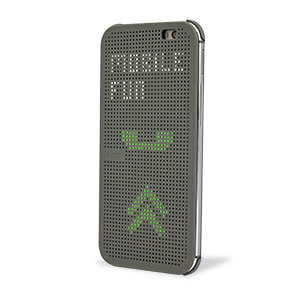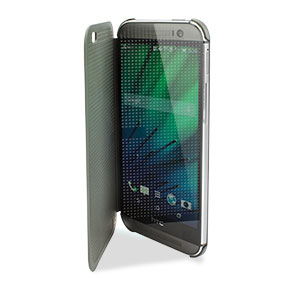 Above: Dot View cases for the HTC One M8.
For more information and to place your pre-order for these cases, please visit the product pages linked below. These include live pricing and availability information for the cases, which are of the time of writing just 1-2 weeks away from arriving in our warehouse.
Thanks for checking out the article and be sure to let us know what you think of the cases and the purported phone in the comments below or on Twitter @mobilefun!
Thursday 21st August 2014 by William Judd in Android, Mobile News, Mobile Phones.
This week LG added a couple new mid-range phones to their arsenal, the L Fino and the L Bello. The phones, which are set to be announced formally at IFA 2014 in Berlin, are intended as "first smartphones" for teenagers or those in emerging markets. They include some features which have proved popular on the LG G3, such as rear-mounted buttons and minimal front bezels. Some software elements have also made it over, most notably the "Knock Code" feature that allows you to unlock the phone by tapping your pattern on the screen, forgoing the need to tap the rear-mounted buttons to wake the phone.
In terms of specifications, both phones are pretty reasonable. The Fino is the smaller and less powerful of the two, with a 4.5-inch 480×800 display, 1.2GHz quad-core processor and 4 GB of internal storage. The Bello is marginally better equipped, with a 5-inch 480×854 screen, 1.3GHz quad-core processor and 8 GB of internal storage. Both phones share 1 GB of RAM, 8-megapixel rear-facing cameras, 3G connectivity and Android 4.4.2 on board.
The phones look to be well-supported with accessories as well. QuickCircle cases, like those for the LG G3, will be available. If you're not familiar with them, these are flip cases with a circular window cut into the front cover. The window allows you to touch and control the screen beneath, as well as let you read status and notifications without needing to open the cover. You can see the time, answer or reject calls, and even run QuickCircle-specific games in the window. We'll have more details on both LG L Fino and LG L Bello accessories and their availability in the days to come.
What do you think of the LG L Fino and L Bello? Let us know in the comments below. You can also reach us on Twitter @mobilefun. Thanks for checking out the article and have a good weekend!
Thursday 21st August 2014 by William Judd in Android, Mobile Accessories.
The HTC One E8 is a cut-price plastic version of the highly regarded One M8, offering the same powerful specifications in a less expensive package. The phone is expected to be released in Europe later this year, and we're already preparing accessories. Today we're announcing two official cases will be available at Mobile Fun, so let's take a look.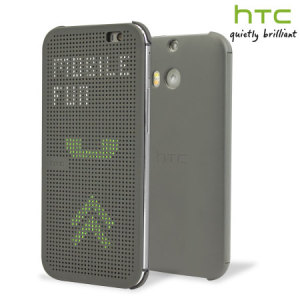 The first case is the Dot View Case that captured so much critical and public attention upon the debut of the One M8 earlier this year. The case's key feature is its front cover, which is ventilated with dozens of tiny dots. The screen can shine through these, showing the time and notifications like incoming calls, alarms and low battery warnings.

It's makes for a beautiful retro-style effect, and it's practical as well as it removes the need to open your case every time you get a notification. The One E8 Dot View cases will be available in four colours to start for the One E8: orange popsicle, grey, imperial blue and baton rouge.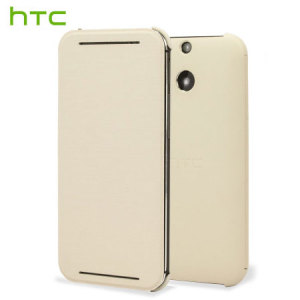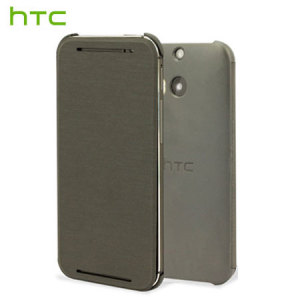 If you're not fussed about getting your notifications on your cover or you'd prefer a more affordable cover, then you can opt for the official flip cover. This is made from a nice synthetic material, with a flip cover that protects the screen from damage. As with the Dot View Case, you'll find there are four colours available: white, grey, pink and red.
Conclusion
So there you have it. We'll have many more One E8 cases and One E8 accessories in the future, so stay tuned!
To voice your comments and questions, please leave 'em below or speak to us on Twitter @mobilefun. Thanks for reading and have a good one!
Thursday 21st August 2014 by William Judd in Mobile Accessories.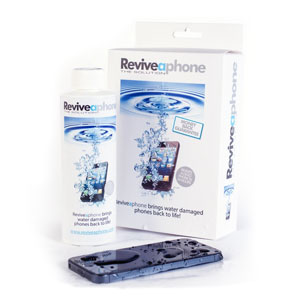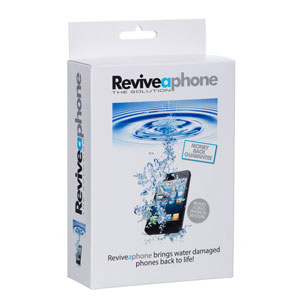 There's nothing worse than realising you've dropped your precious smartphone in water – whether that's in the sink, the pool or even the toilet. Unless you've bought a water resistant phone like the Galaxy S5 or Xperia Z2, you're looking at a costly repair that won't be covered by your warranty. Of course, it's also possible to attempt repairs yourself – and we've got just the kit for it… Introducing the Reviveaphone Water Damage Smartphone Rescue Kit.
The idea behind the Reviveaphone is that it gives you everything you need to rescue and repair a water-damaged smartphone in the comfort of your phone.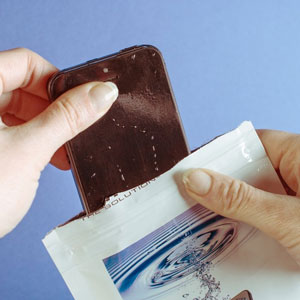 It's very easy to use, too, with five simple steps that should repair your phone in 24 hours. Your phone will be immersed in a solution that washes off corrosive minerals from your phone's circuitry, then placed in a moisture-absorbing tray to complete the repair. There's no need to take apart your phone or do anything else challenging – it's just a case of following the simple steps with the items provided.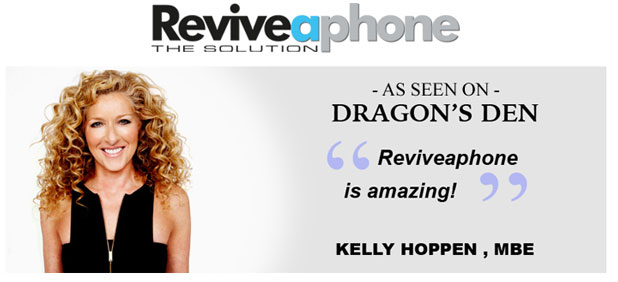 The Reviveaphone kit was on Dragon's Den and recommended by Kelly Hoppen MBE, so you know it's a proven solution. Of course, not all smartphones are recoverable, but with an estimated success rate of 90% this inexpensive kit is definitely worth a go.
To order your own Reviveaphone, please visit the product page linked below. You can also see more information on the kit and the specific steps that you'll be able to perform to recover your phone.
Thanks for checking out the article and be sure to let us know what you think in the comments below!