Monday 21st July 2014 by William Judd in Android, Mobile Accessories.
In this article, we'll recommend five of the best Samsung Galaxy S2 accessories on the market. Let's take a look!
A microSD card is always recommended for phones with a card slot, and that's no different for the Galaxy S2. This card comes from Samsung themselves, and is the cheapest and easiest way of adding storage to your phone. The 32 GB capacity doubles the phone's internal storage, and class 6 access speeds ensure that you can load apps from the card on top of music, pictures and movies.
This car pack includes two essential components: a car charger and a car holder. The car holder is a case-compatible unit, meaning it can be used with all but the very bulkiest Galaxy S2 cases with ease. The car charger provides enough power to keep your phone charged while you're using it for GPS navigation or other in-car tasks.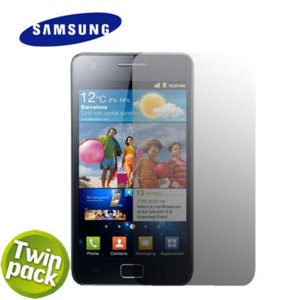 This official screen protector double pack ensures that your phone's screen remains clear from scratches and other damage. The pack comes direct from Samsung, so you'll find the fit just perfect.
This extended battery for the Galaxy S2 is a big improvement over the default battery, fitting 2,000mAh of charge into the same space as the original's 1650mAh. This means you get slightly longer battery life, and if you retain the original battery you'll be able to swap batteries whenever you run low. A great accessory to get the most out of your Galaxy S2. For more battery and charging options, check out our recent blog on the subject!
Our winning accessory this time is this genuine Samsung Mesh Vent Case. The case looks great, particularly in red, and adds a grippy texture to the phone. The vented design is built to ensure that the phone doesn't overheat, too. Of course, cutouts exist throughout for the buttons, ports and camera. A great looking case for a great looking phone.
Conclusion
Thanks for checking out the article and stay tuned for more accessory recommendations for the whole lineup of Samsung Galaxy S phones!
Monday 21st July 2014 by William Judd in Mobile Accessories.
There's nothing worse than running out of charge on your phone, particularly when you're away from a plug socket. Thankfully there's an easy solution – portable chargers! Power banks and Portable chargers are designed to offer power wherever you are, letting you recharge phones, tablets and accessories.
There are three important things to consider when choosing a portable charger: its size, its charging speed and its capacity. Size and weight determine how portable or bulky it will be; charging speed affects how long your device will take to recharge and is measured in Amps (A); capacity will allow you to charge for longer and is measured in milliAmp hours (mAh).
For more information about portable chargers, see our buying guide!
Now, let's move onto some of our most highly recommended portable chargers.
If portability isn't a concern, then it makes sense to go for the biggest battery you can find; it'll last longer between recharges and charge even large devices like tablets. The Kit High Power is available in several sizes, including this whopping 20,800 mAh variant. The portable charger provides two USB ports for charging too; one at 2.1A and one at 1A. That means you can charge a tablet and a smartphone simultaneously at full speed; pretty incredible.
The Pebble Smartstick is one of the most stylish portable chargers on the market, with a slick chromed finish and the signature of a Formula 1 racing legend. The charger provides 3,000mAh; enough to charge almost all smartphones fully. The only downside is the lower charging rate; at 0.5A you'll see similar speeds from a computer's USB port.
The Olixar enCharge is one of the most portable options that still offers a useful capacity. At 2,000 mAh, you'll be able to charge most smartphones fully. The case's small dimensions (71 x 35 x 20 mm), rounded edges and lanyard ensure its portability; you can also tuck this in your pocket for a little extra charge later on. 1A charging speed is ideal for phones too.
This is way more than a charger. The X-Power includes two other functions: a speaker and a media stand. The speaker here provides much better sound than you'll get from a smartphone's internal speakers, so you'll be glad of it. The stand is also handy, and is great for keeping an eye on notifications or watching a video. Finally, that 4,000 mAh and 1A charging rate should allow for a recharge and a half of most smartphones.
Our final portable item is this ultimate pack for Apple owners. The Ultimate Lightning Charging Pack includes an Olixar Power Bank (as seen above), a wall socket adapter and a car adapter. This means that you'll have a mobile power bank that's easily charged from wall plugs or cars whenever you encounter them. The pack also includes three Lightning charge and sync cables for the sake of convenience.
Conclusion
That's all for now! Remember to check out our portable charger buying guide for more information, and ask any questions you like in the comments below. You can also reach us on Twitter @mobilefun. Thanks again and have a good one!
Monday 21st July 2014 by William Judd in Android, Mobile Accessories.
Today we're going to have a look at some of the best replacement batteries and other charging solutions for the Galaxy S3 Mini, all designed to extend your battery life. Let's take a look.
1. Official Samsung Galaxy S3 Mini Battery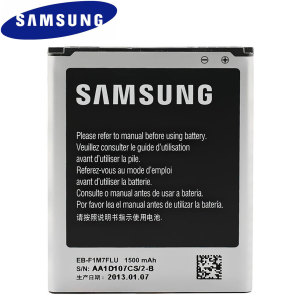 The official battery for the Galaxy S3 Mini is the ideal choice to replace your worn battery or to pick up a spare, granting you improved battery life and a longer-lasting phone. The official battery has a capacity of 1500mAh, precisely the same as the battery that came in the box originally. The battery is cheap too, at less than £20, ensuring you're able to pick up even a couple of spare batteries.
2. Power Jacket for Samsung Galaxy S3 Mini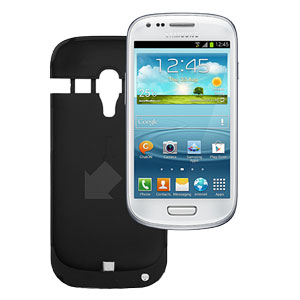 Our second option is the Power Jacket, a battery case for the Galaxy S3 Mini. This case adds a mighty 2000 mAh to the phone's power reserves, taking the combined total to 3500mAh. That means you'll get more than double the battery life on your phone, whether you're talking on the phone, watching videos or surfing the web. The Power Jacket does add some bulk to your phone, but it also adds a good amount of protection against scratches and knocks. A built-in kickstand is also included, which is perfect for watching videos and spending that battery life well!
3. Power Bank Portable Charger for MicroUSB
The final battery idea for the Galaxy S3 Mini is a portable charger. The Power Bank is one such portable charger, offering a convenient  2600mAh of battery power whenever you need it most. That's enough to get between two and three times the battery life of your phone, whilst keeping your phone slim and pocketable while it's not charging.
Conclusion
Thanks for checking out the article! For more ideas, please visit our Galaxy S3 Mini accessories page. You can leave feedback or questions in the comments below, or on Twitter @mobilefun. Thanks again and have a good one!
Friday 18th July 2014 by William Judd in Android, Mobile Accessories.
In this article, we'll recommend batteries and charging accessories for the Samsung Galaxy S4 – ideal for replacing older batteries and extending your battery life. Let's get right into the selections!
1. Official Samsung Galaxy S4 Standard Battery (2600mAh)
If your original Galaxy S4 battery is getting a bit long in the tooth, then a fresh battery can be a great choice to extend your battery life. This particular battery comes directly from Samsung, and is made to the same specifications as the battery that came in the box. That includes a capacity of 2600 mAh.
2. Mugen Samsung Galaxy S4 Extended Battery (2750mAh)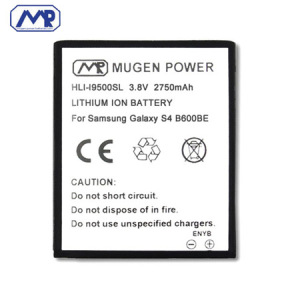 This extended battery packs more charge into the same space as the original battery, granting you an extra 150 mAh of battery power. The Mugen battery is guaranteed for a year and fits with the original Samsung Galaxy S4 cover, making it easy to install.
3. Mugen Samsung Extended Battery Pack (5500mAh)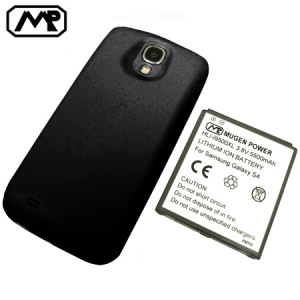 Our next battery adds a massive amount of power to your phone, more than doubling its original battery size. That means your battery life will more than double, at the cost of a little added thickness and a new battery cover.
4. Genuine Samsung Galaxy S4 Extra Battery Kit
If you're planning to pick up a spare battery for your S4, then this extra battery kit might be just what you need. The kit includes a genuine Galaxy S4 battery (like item #1) and a special battery charger, which allows you to charge your spare battery without needing it to be inside your phone. That means you can put your phone and your spare battery on to charge overnight, so in the morning you'll have both fully charged and ready to go.
5. Veho Aryton Senna Pebble Smartstick+ Portable Charger (3000mAh)
Want loads more battery life without adding a bulky case to your phone? This portable charger is ideal, allowing you to recharge up to 3000mAh in a small and easy-to-carry form factor. Keep it in your car or in your bag, and you'll have that extra power on tap whenever you need it.
Conclusion
I hope you've found these recommendations helpful! Be sure to let us know what you think in the comments below, and have a great day!
Friday 18th July 2014 by William Judd in Android, Mobile Accessories.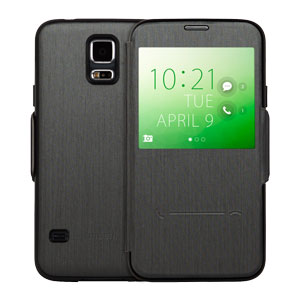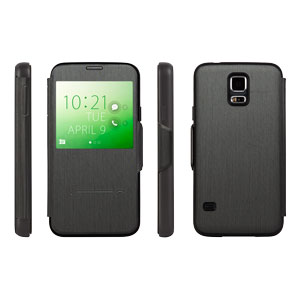 Today we're unveiling a new case for the Samsung Galaxy S5. It's from Moshi and it's called the SenseCover. Like Samsung's own brand of S View cases, the SenseCover has a transparent-windowed flip cover, allowing you to see incoming notifications while keeping your screen fully protected from scratches. Let's take a closer look.
Notification central
The cut-out window on the flip cover is a large square, allowing you to easily see the time, date and incoming calls – all at a glance. The plastic is touch-sensitive too, so you're still able to swipe to accept or reject calls (and dismiss alarms) without opening the cover. The Galaxy S5′s AMOLED display remains turned off beyond the window, so less power is used than when the entire screen is on.
Full screen protection without adding bulk
The SenseCover provides protection for the front, back and sides of the Galaxy S5. The cover clips to the back of the phone, minimising the case's footprint and ensuring excellent pocketability is retained. A magnetic clasp keeps the cover in position, ensuring that your screen remains protected at all times.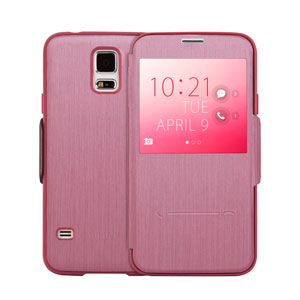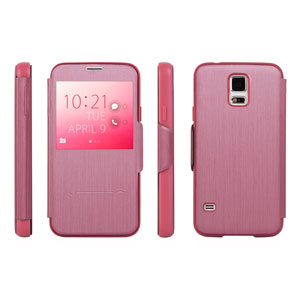 Durable construction
The Moshi SenseCover is made from high quality synthetic materials, allowing to stand up to day-to-day use without issues. The Galaxy S5 cover is available in two colours as well; black and pink. Both options are coming soon to Mobile Fun.
Signing off
For more information, including live pricing and availability data, please visit the relevant product pages via the links below:
Thanks for checking out the article! If you have any questions or feedback, please ask in the comments below. You can also reach us on Twitter @mobilefun or talk to us on Facebook at Love Your Mobile. Have a good weekend!