Monday 20th April 2015 by William Judd in How to Guides.
This guide attempts to provide generic advice to pairing Bluetooth devices.
N.B.: Generally, you'll be pairing a Bluetooth peripheral (a speaker, headset, gamepad, mouse, keyboard) with a computer or mobile device (whether that's a smartphone, tablet, laptop or desktop). For brevity, I'll refer to these simply as peripherals and computers.
1. Turn on your peripheral and computer, and ensure any Bluetooth / wireless switches are in the 'on' position. On your computer, trigger any option given to search for Bluetooth devices (often found in Bluetooth settings or a Bluetooth app).
2. Begin a pairing attempt on your peripheral. For many peripherals, this involves pressing down their multi-function button until a light flashes or the peripheral appears in a list of Bluetooth devices on the computer. Here are more specific hints for different types of Bluetooth peripherals:
Speakers, headsets, car kits, gamepads: Hold down their multi-function button until the peripheral beeps or flashes. If the first response you get doesn't seem to cause the device to enter pairing mode, try holding down the button for a longer period of time.
Keyboards, mice: Look for a pairing button, which may be a small hole pressed with a paperclip, a button on the back or side, or a combination of buttons marked with a Bluetooth or wireless symbol.
3. If your attempt was successful, you will see the Bluetooth peripheral listed on your computer. Click on the listed peripheral. You may be asked to confirm your pairing by entering or checking a code; do so. After this, your Bluetooth-enabled devices should be paired.
Questions? Comments?
I hope this generic guide helped you. If you need further guidance, try searching for a guide or help page on Google that is specific to your computer and/or peripheral. You can also contact your retailer or manufacturer for additional guidance.
Monday 20th April 2015 by William Judd in Android.
Sony announced their latest flagship phone today, the Xperia Z4, at an event in their home country of Japan. The phone mimics the Xperia Z4 Tablet, with an iterative design and improved specifications over last year's Z3.
The phone's rounded metal and glass body is thinner and lighter than last year's model, at 6.9mm and 144 grams. The Xperia Z4 is water and dustproof, with an IP68 rating, including a cap-less micro USB port. Screen size and resolution has remained fixed at 5.2 inches and 1920 x 1080p, which makes sense given the higher energy requirements and diminishing returns of moving to a 1440p display.
3GB of RAM and micro SD card support of up to 128GB is also the same as the Z3, but internal storage has doubled to 32GB on the cheapest model. The biggest difference is the new Snapdragon 810 octa-core chipset, which is also the first 64-bit processor to be used in a Sony flagship.
The rear-facing camera is a 20.7-megapixel unit, the same as last year's model, but the front-facing camera has been upgraded from 2.2 megapixels to a 5.1 megapixel unit with a wide-angle lens and digital image stabilisation.
The Xperia Z4 was the only phone announced at the event; it looks like Sony have no plans to introduce a corresponding Compact model as they did last year. No international release date or plans have yet been announced, but it seems logical that we'll see a European release of the Z4 or a similar Sony flagship sometime this summer. Of course, we'll be supporting the phone with a range of Xperia Z4 accessories.
What do you think of the new Xperia Z4 – are you keen to see it make an appearance in Europe? Let us know in the comments below, or write to us on Twitter @mobilefun!
Friday 17th April 2015 by William Judd in Mobile Accessories.
HTC recently released their flagship phone for 2015, the HTC One M9. From the outside the One M9 looks very similar to its predecessor, the One M8, but there's more here than meets the eye. Let's take a look at how these two phones stack up inside and out, in our HTC One M9 vs HTC One M8 comparison!
HTC One M9
HTC One M8
Display
5-inch 1080p IPS
5-inch 1080p IPS
Cameras
21 MP / 4 MP
Dual 4 MP / 5 MP
CPU
Snapdragon 810 Octa
Snapdragon 800 Quad
RAM
3GB
2GB
Storage
32GB + micro SD
16 / 32GB
Battery
2840 mAh (62 hr endurance)
2600 mAh (77 hr endurance)
Android
5.0 Lollipop + Sense
5.0 Lollipop + Sense
Design
Aluminium unibody
Gunmetal, gold on silver, gold
Aluminium unibody
Gray, silver, gold
Design
The One M9 continues the legacy of the One M8 and One M7, with its handsome aluminium unibody design and dual front-facing speakers. That makes for a rather tall phone, but it does feel solid in the hand and looks great. The only issue is that all the changes from One M7 to One M9 are incremental; to a casual observer the phones look and feel identical.
A few small changes have been made if you look closely though – the lock button has been relocated from the top of the phone to the right-hand side, which is definitely an improvement in ergonomics. The edges of the phone are also a bit sharper and the finish is shinier, which makes the phone a bit less slippery in the hand.
Design verdict: Small improvement
Hardware
When it comes to hardware, we see improvements across the board as we'd expect. The One M9 has Qualcomm's latest Snapdragon 810 octa-core processor, compared to the Snapdragon 801 quad-core that came in the One M8. Storage space has also doubled on the cheapest model, from 16 to 32GB, and micro SD card support remains.
The battery has also been increased in capacity, up to 2840mAh, although somehow battery life is lower. GSMArena report a total of 62 hours in their three-part endurance test, compared to 77 hours on the One M8. 3G talk time has gone way up, but web browsing and video playback have gone down – a surprising result given the 11% larger battery.
In one critical area, we've seen a regression: the display. While both phones include an IPS display that's five inches across and sits at 1920 x 1080 resolution, the quality control of the One M9 seems to be markedly worse. Many sites reported poorly calibrated displays, leading to worse colour accuracy and contrast figures. Viewing angles were also not as good as on the One M8.
Hardware verdict: A mixed bag
Camera
The One M9 has a massive 20.7-megapixel sensor, behind a f/2.2 aperture and with dual-tone LED flash. That's pretty much the opposite approach to the One M8, which came with a pair of 4-megapixel sensors and an f/2.0 aperture.
Moving from a pair of large sensors with a low megapixel rating to a single smaller sensor with a much higher megapixel count has changed the phone's camera capabilities considerably. The high megapixel count on the One M9 is better for well-lit subjects and landscapes, but the small sensor size means that low-light performance isn't as good. You also lose the unique capabilities provided by the dual lenses in the One M8, such as background blur and after-shot refocusing.
When it comes to the front-facing selfie cam, we also have differences. HTC's phone uses the 4-megapixel Ultrapixel sensor that was on the back of last year's model, while the One M9 comes with a higher resolution but less advanced 5-megapixel unit. In general, the new front-facing camera does produce better photos, particularly in low light.
Overall, the camera changes seem to make sense here. The One M8′s dual-sensor system was interesting, but never really produced stunning photos. Moving back to a high-megapixel sensor, and including whatever software innovations they've learned over the past couple of years, seems to have worked well for HTC.
Camera verdict: Big improvement
Software & features
The One M9 and One M8 both feature HTC's Sense interface, and both phones run Android 5 (the One M9 out of the box, and the One M8 after an OTA update). Consequently, there aren't too many massive differences here.
Blinkfeed has been upgraded in the new version; it now suggests nearby places to eat when you normally go for lunch or dinner. HTC also added themes to the new version of Sense, letting you easily customise the look of your phone right out of the box.
Generally, if you liked Sense on the One M8, you'll like it on the One M8 too.
Software and features verdict: Small improvement
Conclusion
The One M9 is a strong Android phone, with a few small upgrades here and there to differentiate it from its predecessor. The camera is probably the largest single difference, so if you take a lot of photos then you'll definitely want the One M9. The other differences are more minimal (and there are even some regressions), so if you can find the One M8 for a great price then it might be prudent to take it.
Would you rather have the One M9 or the One M8? Let us know in the comments below! You can also reach us on Twitter @mobilefun!
Friday 17th April 2015 by William Judd in Android, How to Guides.
An intro to USB 3
Most smartphones and tablets nowadays work using USB 2.0, but that's set to change. USB 3.0 has been used on computers since 2010 (you might remember the distinctive blue ports), and soon we'll see it on mobile devices too. The new standard boasts faster file transfers and charging, and a new connector that's made headlines recently.
Samsung experimented with using a full-size USB 3.0 connector on the Galaxy Note 3 and Galaxy S5 (shown to the right), but didn't return to it for their next generation devices.
USB Type-C
It looks like the first widescale adoption of USB 3 will be using the new USB Type-C connector, which was introduced with USB 3.1. This connector is high-speed, reversible, and can be used for data, power and video connections, so it can feasibly replace every other common connector. However, it's not backwards-compatible with previous connectors, so you'll need to use new USB Type-C cables any time you see the new connector.
Friday 17th April 2015 by William Judd in Android, How to Guides.
Running out of storage space on your Android phone or tablet is always a drag – suddenly you can't download new files, install new apps, and everything kind of grinds to a halt. But never fear – it's easy to set things right again, so let's see how.
Check out Settings > Storage
The first port of call is to visit Settings > Storage. This shows a nice breakdown of your phone's total storage space, divided into sections like Apps, Pictures / videos, Audio and Downloads. Remember you can click on each section to get a further breakdown or go to another relevant app.
Uninstall unneeded apps
The best way to get more space is to uninstall apps that you are not using. Large apps like games can take hundreds of megabytes (MB) or even gigabytes (GB) of space. Visit Settings > Apps, and you'll be able to see all of your installed apps, ordered by the space they are taking up. Uninstall any apps that you don't use often; you can always reinstall the app later if you need it again. If you want to ensure that your save games or other data is preserved, you can use backup apps like Helium to do so.
Use CCleaner
CCleaner is an app that removes old, unused files from your device to save space. These files are mostly old cached data from apps that you aren't using any more. Running the app is very simple, and after a few minutes you can reclaim gigabytes of space. Awesome.
Add a micro SD card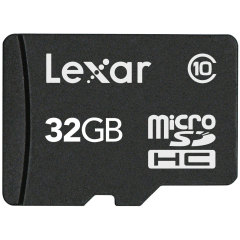 If your device supports it, then adding a micro SD card is one of the best ways of adding storage space cheaply. You can pick up a good micro SD card for less than £20, giving you room for thousands of additional songs, videos, apps and so forth. Once your SD card is installed, simply transfer the files – probably the easiest way to do this is to connect your phone to a computer (see below).
Copy media files to a computer
Your storage can also be used up by media files like videos, photos and music. If you take a lot of photos and videos on your device, you can quickly run low on space. We recommend copying your photos and videos from the DCIM and Camera folders on your phone's memory, onto your computer.
To do this, connect your Android device to your computer with a micro or mini USB cable. Your phone should show up as a removable drive*, and from here you can find and copy the Camera and DCIM folders to your computer. Once your media has been successfully copied to your computer, you can delete the original files on your phone.
* On Mac, you'll need to install the Android File Transfer app first.
Programs on Windows, Mac and Linux can often automate this process for you, copying new media files whenever they are connected. Dropbox is one such app that does this, alongside iPhoto, Windows Photo Viewer and Adobe Lightroom.
Copy media files to a cloud storage provider
You can also upload your media directly to cloud storage services, such as Dropbox, Google Photos or Microsoft OneDrive. Just install the relevant app on your phone, and then follow their instructions to enable automatic camera uploads. Once all your photos and videos have been uploaded successfully, you can delete them from your phone.
Use music streaming apps
If a lot of your space is dedicated to your music, then using a streaming service can be a good alternative. Spotify is a popular paid solution, and there are many other competitors to try too.
There are also free services like Google Music, which will allow you to upload your music from your PC to online servers, to be streamed to you whenever you need it. This approach uses more data, but does mean that you don't need to keep music on your phone. You can also manually choose songs, albums and playlists to keep downloaded onto your phone. Once you have a streaming music provider set up, you can delete the music from your phone and regain that space.
Clear your downloads folder
Another good way to free up space is to delete items from your Downloads folder. This folder can often get clogged with PDFs, images, app APKs and other files. You can use the built-in Downloads app to check through and delete files, or you can connect your phone to your computer and then delete files from there.
Use analysis tools like DiskUsage
Our final tip is to check out specialised disk usage apps like the appropriately named DiskUsage. This app will show you a breakdown of your storage space, making it easy to see where space is being taken up. If the standard Settings > Storage view is too unclear, then apps like DiskUsage can be very useful.
Conclusion
I hope you found these tips on regaining storage space helpful. Please let us know if they helped in the comments below, and let us know what we can do to improve this blog for the future.