Tuesday 16th September 2014 by William Judd in iPhone, Mobile Accessories.
The Moshi SenseCover proved a big hit for the iPhone 5S, and now we're happy to announce the case will be available for the iPhone 6 and iPhone 6 Plus too.
The case comes with a unique windowed flip cover design. Combined with a touch-sensitive strip further down the cover, you can see incoming callers and then reject or accept these calls. This saves you from opening the cover to check calls or the time, while maintaining full screen protection for your iPhone 6.
You can see a brief demonstration of this feature below. Please note that the iPhone 5 version of the case is shown, but of course the iPhone 6 and 6 Plus version will work identically.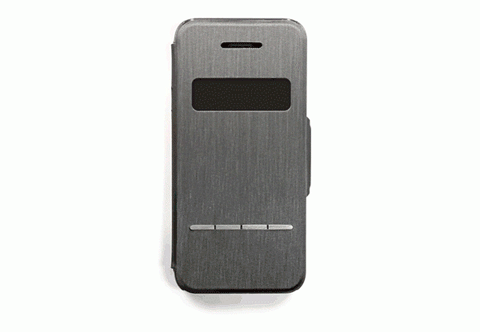 The SenseCover is made from high quality synthetic materials, providing lasting protection for your iPhone 6 or 6 Plus. The case is tough enough to withstand day-to-day punishment without blemishing, so it'll stay in good condition for a long time. With full coverage – including the back and sides – your iPhone 6 is in good hands.
Even the smallest details have been thought of here. The flip cover is secured with a magnetic clasp, preventing the screen from being exposed to any dust or scratches. This helps obviate the need for a dedicated iPhone 6 screen protector.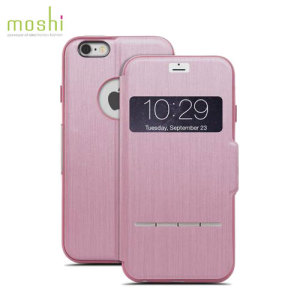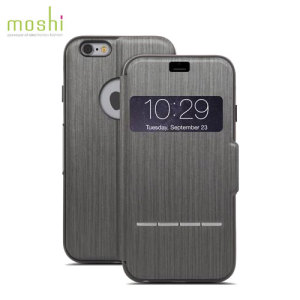 For more information on the Moshi SenseCover, please visit the appropriate product page below for the iPhone 6 or iPhone 6 Plus version in the colour of your choice.
Thanks for checking out the article! If you have any questions or comments, please write them in the appropriate section below or speak to us on social media. You can find us on Twitter @mobilefun and on Facebook as Love Your Mobile. Thanks again and have a great week ahead!
Tuesday 16th September 2014 by William Judd in Android, Mobile Accessories.
The Samsung Galaxy Note 4 is hitting stores next month, but we've already prepared a wide range of Note 4 cases and accessories that'll be arriving way before that. Let's take a look at the top 5 Note 4 covers on the market for September.
5. Encase FlexiShield Case - Frost White, Smoke Black, Purple, Blue
Our first case is the Encase FlexiShield, one of the most popular cases ever sold on Mobile Fun. This gel case combines flexibility with good scratch protection, allowing your Note 4 to avoid scratches and stay in good condition longer. The case is inexpensive too, allowing you to add protection and a splash of colour without a significant investment.
4. ArmourDillo Hybrid Protective Case - Black, Blue, Red, Green, Orange
Our next case is another classic budget option, but this time the focus is on heavier protection. The ArmourDillo has an armoured TPU exoskeleton, providing excellent scratch and impact protection. The case is available in several colours too, allowing you to customise the look of your Note 4. The ArmourDillo even includes a built-in kickstand, brilliant for watching videos or keeping an eye on incoming notifications.
3. Montblanc Meisterstuck Leather Case - Soft Grain, Black
Our third case is the precise opposite of the first two. The Meisterstuck is one of the most premium cases on the market, made by the famed designers Montblanc. The finest materials are used here, with the basis of the case wrought in full grain calf skin leather. The slim, padded design provides a good amount of protection as well. If you're looking for a classy case, there are few better options.
2. Spigen Tough Armor Case - Satin Silver, Red, Gunmetal, Metal Slate
The Spigen Tough Armor is a more moderate case, which combines good protection with a stylish look and reasonable price. The case uses a dual-material design, with both TPU and polycarbonate used to provide considerable impact and scratch protection. Air Cushion technology on all four corners and a 1.5mm lip around the screen enhance the case's impact protection credentials. The case even includes a flip-out stand.
1. Official Samsung S View Cover Case - White, Charcoal Black, Smooth Black, Gold, Pink, Plum, Mint
The S View Cover is one of the best official cases on the market, with that industry-leading windowed flip cover providing unparalleled utility. The plastic window allows you to see the time and notifications, while keeping your screen beneath fully protected. The S View Cover replaces your existing Note 4 battery, so you'll find that barely any thickness is added to your phone – and because this case is made by Samsung, it matches the Note 4′s style perfectly.
Bonus: Spigen Magnetic Clip for Official S-View Cover
If you're picking up the S View Cover, here's a helpful add-on: a magnetic clip, which helps the cover stay closed at all times. Without it, the cover has a tendency to be slightly open at rest. Of course, the addition of the Magnetic Clip doesn't interfere with the responsiveness or performance of your Note 4.
Conclusion
I hope you've found this roundup helpful! Be sure to let us know what you think of these selections in the comments below, and let us know if there are any cases that you'd like us to stock! Thanks for reading the article and have a good week ahead.
Monday 15th September 2014 by William Judd in iPhone, Mobile Accessories.
Today we're going to look at one of the most eye-catching bumpers for the iPhone 6 yet announced: the Nillkin Armor Border. The case is absolutely gorgeous, adding a distinctive armoured band to the edges of your iPhone 6 that provide considerable protection. The band, which is made of a combination of TPU and polycarbonate, with flexible buttons allowing full access to all of your phone's functions.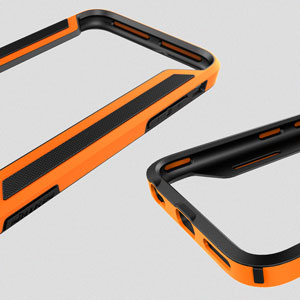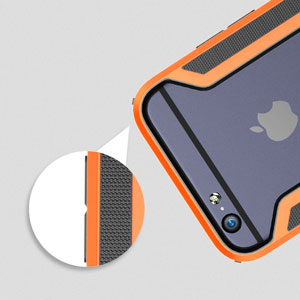 Of course, that band isn't just for looks. Because the edges and corners of your iPhone are covered, you'll find they're no longer the target for scratches and other damage that can eat away at the look and resale value of your phone. The bumpers also add a good amount of impact protection, taking the brunt of any drops and distributing the force evenly to prevent any damage. The anti-collision pads on the front ensure that even a frontal drop is still fully protected.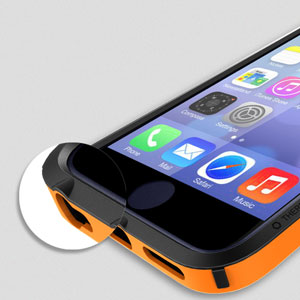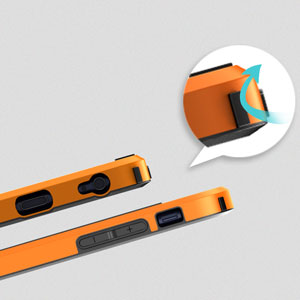 The advantage of the bumper compared to a traditional full-body case is that you minimise bulk and weight, keeping the iPhone 6 as light and slim as you bought it. Just 3.43mm is added to the iPhone's thickness – an impressive figure.

The case comes in four colours: blue, red, black and orange. Black is the solid choice if you're looking to add protection without drawing attention, with the other colours – particularly orange – adding a great deal of flair and individuality to your iPhone 6.

For more information on the case, please visit the relevant product page below:
Thanks for checking out the article and be sure to let us know what you think in the comments below! You can also reach us on Twitter @mobilefun or on Facebook at Love Your Mobile.
Monday 15th September 2014 by William Judd in iPhone, Mobile Accessories.
Case makers Zenus have hit the iPhone 6 at full force, launching no less than 10 distinct case designs for the new model. There are many great designs here, from classic cases to more modern interpretations – and all use the finest quality natural or synthetic materials. Let's take a look at the Zenus iPhone 6 cases on offer!
Our first case is the Alpala leather pouch, made from beautiful hand-crafted Italian leather. The pouch form factor ensures complete protection for your iPhone 6, with a soft lining preventing scratches to the screen.
The Vintage Diary is expected to be one of our most popular Zenus cases, with a beautiful combination of hand-made leather, a traditional folio design and space for your credit cards. The rugged design and button fastening closure ensure long-lasting security and protection.
The Metallic Diary Case offers a thoroughly modern design, but remains handmade from the finest materials. The case's metallic look and soft microfibre lining provide both style and protection, while a built-in viewing stand and credit cards slots add considerable utility.
This diary case is another favourite, with a stylish lettering design on both front and back. The case is made from high quality synthetic leather and includes storage for cash and credit.
This case is made from high quality Liberty Art Fabrics, with two beautiful designs available. These stylish cases come with a built-in credit card pocket, and a sleek design that ensures your iPhone 6 remains easy to pocket.
Note: The Zenus Avoc Ice Cube for the iPhone 5 is shown.
This case adds a cool ice cube effect around your phone, showing off the style and colour of your iPhone 6. Of course, you also get a considerable amount of protection for icing your iPhone, preventing costly damage from scratches and drops.
Our next case is the denim-clad Oxford Diary Case. The case is made from real denim with genuine leather corners, granting a perfect in-hand feel. The case includes a pocket to store your credit card and cutouts for all ports and features.
Our second denim case is this one, which comes in a cool retro paisley pattern. The case includes the same pocket and durable denim / leather construction as our previous case.
The Zenus Square Bar is an unusual case that combines complete coverage of the front edges of the phone with a tough synthetic material. This provides excellent protection, while the fine pattern makes for an eye-catching sight.
We conclude our top ten with the Zenus Tesoro, a case that epitomises the South Korean company's focus on both style and substance. The Tesoro is a beautiful hand-crafted leather case, with fine stitching and a perfect colour scheme. An internal pocket and perfectly placed cutouts complete the design.
Conclusion
Phew – so that's ten Zenus cases for the iPhone 6. Be sure to let us know your favourite in the comments below!
Monday 15th September 2014 by William Judd in iPhone, Mobile Accessories.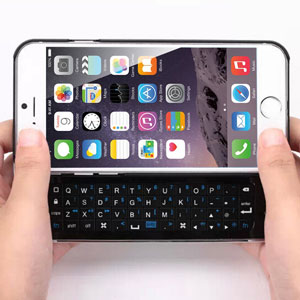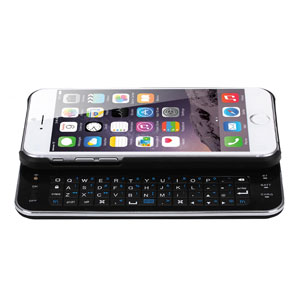 New phones are pretty awesome – they're bigger, faster and more useful. But one commonplace feature has fallen by the wayside: real QWERTY keyboards, which can you actually feel beneath your fingers and allow you to type quickly and accurately. This week, we're introducing an ultra-thin keyboard case for the iPhone 6 that restores this essential feature.
This iPhone 6 case clips to the back of your phone, with the keyboard sliding out below the screen whenever it's needed. Typing on the ultra-thin keyboard is incredible. Each key press provides tactile feedback, letting you type quickly and confidently – perfect for writing emails, documents or notes on your iPhone 6.
Here's one nice bonus feature too: as you're using the hardware keyboard, the normal on-screen keyboard disappears, giving you back the screen space it once used. That makes a big difference, particularly in landscape mode. Of course, this iPhone 6 case also provides a good amount of protection from scratches and drops, thanks to the keyboard covering the iPhone's rear panel.
The Ultra-Thin Keyboard Case works over Bluetooth, ensuring a seamless wireless connection at all times. The built-in rechargeable battery lasts for over 1000 hours of use, with 45 days of standby time. Energy saving features like a sleep mode and power management ensure that you don't waste power, either. When you eventually do need to recharge, you can do so over USB using the cable that's included.
If you'd like to recapture the fun and speed of typing on a hardware keyboard, then this Ultra-Thin Keyboard Case is a must-have iPhone 6 accessory.
What do you think of the keyboard case? Let us know in the comments below, or speak to us on Twitter @mobilefun or on Facebook at Love Your Mobile.