Tuesday 29th July 2014 by William Judd in Smartwatches, Wearables.
The LG G Watch is one of the first smartwatches on Google's new Android Wear platform. The G Watch offers a fluid new interface, Google Now integration and a powerful hardware specification. With the Moto 360 and the iWatch still to come this year, is the G Watch worth it for anyone else than an early adopter? Let's find out together.
Pros
Rapidly expanding watch face & app ecosystem
Sensible interface for seeing and responding to notifications
Google Now provides timely, often accurate information
Good performance with horsepower to spare
Water-resistant and rugged design (including charger)
Cons
Requires recharging with your smartphone each day or two
Sunlight visibility is poor compared to real watches
Voice commands are still socially questionable and not always understood in real-life situations
Summary
The LG G Watch is one of the best smartwatches to be released to date, thanks to a sensible interface, a strong developer community and the eery prescience of Google Now. That said, the form factor is still immature and the G Watch stumbles into many of the same pitfalls as its peers, namely poor sunlight visibility and limited battery life.
Hardware
The G Watch sports a square 280×280 1.65-inch display that monopolises your attention, with the black bezel and standard 22mm watch strap fading into the background. The three layer main body – black plastic, metal band, white plastic – is sealed for IP67 water resistance and feels solid in the hand.
There are two colour options available: black (with silver-coloured metal) and white (with gold-coloured metal). The white strap is a little more eye-catching than the standard black colour, but both are thoroughly ordinary. If you'd prefer something a little more interesting, then it's simple to swap in a different 22mm band of leather, plastic or metal.
Inside, there's a Snapdragon 400 quad-core processor running at 1.2GHz, half a gigabyte of RAM, 4 GB of internal storage and a few sensors – compass, gyro and accelerometer. That package is better than some mid-range phones on the market, an impressive feat for a watch.
Connectivity is limited to microUSB (via a rectangular dock connected with pogo pins on the bottom of the watch) and Bluetooth 4; there's no built-in GPS, WiFi or cell connectivity here, so the watch relies on its connection to your phone.
In terms of hardware, the G Watch sits between the minimal (but long-lasting) Pebble and the feature-filled (but complex and short-lived) Gear 2. It feels like a fitting place to be, providing a nice platform for Android Wear to perform at its best.
Setup
Google have done really well to craft a painless setup procedure which gets your watch connected quickly. Installation is just a case of installing the Android Wear app from the Play Store on your phone, turning on Bluetooth and running the app. The only way the process could be improved is through NFC in the watch; then you could just tap it to your phone to perform the whole pairing process.
After pairing, you're shown how to navigate the watch's touch interface with a few easy examples. After that, you're left to swipe and perform voice commands at your own pace – and even if you're new to smartwatches, you'll pick things up fast.
Software
Android-based smartwatches have been fairly disappointing in the past (e.g. Samsung Gear, Sony SmartWatch 2), so it's great to see Google step up to provide its own vision: Android Wear, a custom version of Android 4.4 with a card-based interface and voice controls.
The new OS is based around Google Now, the Californian company's personal assistant on Android. Google Now scans your email and monitors your web searches to provide well-timed and unusually accurate information as you go about your day. You'll find directions to the restaurant you searched for, reminders to leave in time for appointments on your calendar, traffic information,  fitness tracking, local weather reports and even shipping despatches for items you've ordered online. If you're willing to trust Google with your information, you'll be rewarded with a genuinely useful personal assistant.
As well as Google Now items, you'll also find that notifications from your phone appear on your watch as well. Many apps also allow you to act on these notifications immediately – you can dictate responses to text messages received, favourite or retweet your mentions on Twitter and accept or reject incoming calls. The practical benefit to all this is simple: 90% of the time, you can keep your phone in your pocket, dealing with notifications without breaking the flow of conversation or your own concentration.
You don't have to just use your G Watch reactively, either. You can also use voice commands or a few swipes to send messages, set alarms or mark down reminders. Android Wear can even run full-blown apps, which range from practical (compass, Tinder, Evernote) to amusingly impractical (Flappy Bird). Apps are being written at a considerable rate, which is an encouraging sign for the platform.
When it comes to software, Google's Android Wear platform is the best we've seen on a smartwatch to date, with an intuitive interface, good performance and sensible data sources.
Watch
As well as being a smart device, the G Watch is also supposed to be an actual replacement for your watch. Compared to a traditional watch though, the G Watch suffers from many of the same issues as other smartwatches.
Battery life is probably the most important. At 36 hours from the 400mAh battery, you'll be charging the G Watch at least every couple of days. That's terrible compared to the months or years of life you get out of most watches, and two or three times worse than the popular Pebble smartwatch… but it's also an inevitability if you want a watch with an LCD display. It's not a design issue, but it is something you should be aware of.
Sunlight visibility is the other bugbear. The G Watch's LCD seems a bit easier to read in sunlight compared to the Gear Live's AMOLED, but it's still awful compared to the Sony SmartWatch's transflective display, Pebble's e-ink screen and actual watches.
Style is the remaining consideration, and it's another area of weakness for the G Watch. The watch doesn't look bad per se, but it's incredibly bland compared to the designs that have been produced from the long-running watch industry. Replaceable bands help somewhat, but even with the most stylish band in the world you'll still have a boring piece of metal and plastic as the centrepiece.
Apart from these limitations, the G Watch performs well. The display remains on throughout the day and activates easily when you tilt your wrist, and there are plenty of analogue and digital watch faces to choose from. If you spend most days indoors and you already charge a smartphone every night, then you won't run into many deal-breakers here.
Wrap-up
The LG G Watch serves its purpose: showcasing the Android Wear platform that Google has been developing for the past two years. The G Watch is powerful enough, simple to set up and provides willing early adopters with practical benefits: convenient access to notifications, the ability to send short responses, and it tells the time. If you want to buy a smartwatch now, then the G Watch is a great choice.
Of course, there's sense in waiting too; smartwatches are still an immature form factor, and rapid improvements may be made over the next year. Motorola's Moto 360 and Apple's iWatch are the next big smartwatches on the horizon, and initial indications are that style, sunlight visibility and battery life will all be improved. For that reason, you may want to put off your smartwatch purchase until these two anticipated models – and no doubt dozens of other contenders – are released in the latter half of 2014.
Monday 28th July 2014 by William Judd in Android, Mobile Accessories.
The LG QuickCircle Qi Wireless Charging Cover is arriving in stock in white today! The case is one of the very best available for the LG G3. Let's take a closer look at what makes this case so special.
QuickCircle window
The QuickCircle window on the front of the case is quite useful, as it gives you a window through which you can see the screen below without exposing it to scratches. The window shows the time and date by default, but you'll also find it shows incoming notifications and calls too.
The window is touch-sensitive, so you're still able to control your phone. In fact, you can launch special QuickCircle apps which run entirely within the bounds of the window, from games to apps for music, fitness and more.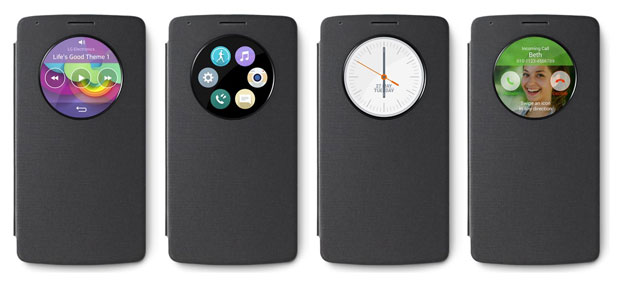 Qi wireless charging
The thing that sets this case apart from other QuickCircle cases for the LG G3 is the inclusion of wireless charging tech. The cover has a wireless charging coil embedded, which hooks up to the battery within and allows you to use Qi charging pads like this official LG G3 wireless charger. These are the most convenient way to charge your G3, without the hassle of constantly plugging and unplugging wires. And as the case operates on the Qi standard, there's a wide range of charging pad options on the market to suit your requirements.
LG style
Of course, this official LG G3 case also looks great. The branding, style and dimensions all fit the G3 perfectly, offering a nice way of maintaining the look of your G3 while still adding a good amount of protection. The case is slim too, as it replaces the original rear cover instead of clipping on top of it.
Conclusion
The LG QuickCircle Qi Wireless Charging Case is a brilliant choice for the LG G3, and I'm sure you'll be very happy with it. For more information, please see the product pages listed below:
Thanks for checking out the article. Feel free to see more QuickCircle cases for the LG G3 here or to leave a comment below. Thanks again and have a good week!
Monday 28th July 2014 by William Judd in Mobile Accessories, Windows Phone.
Today we're going to look at some of the most important Lumia 630 accessories: the top 5 cases available for the new Nokia handset. Let's get started!
The Krusell Boden is our first Lumia 630 case today. This is a slim flip cover made from synthetic materials available in three colours: white, black, yellow. The case's cover protects the screen beneath, but cutouts around the earpiece ensure that you can maintain a conversation with the cover in place.
The FlexiShield is once again a top choice for the Lumia 630, offering a good mixture of flexibility, scratch protection and minimal expense. The case is made from a flexible gel material, which is easy to install and remove as necessary. The FlexiShield is also available in five colours: clear, black, pink, purple and smoke black.
3. Adarga Genuine Leather Wallet Case
The Adarga is our second flip case, and this one is a little more practical. That's because it is a wallet case, with a selection of pockets for cash and credit. The Adarga closes with a magnetic fastening, keeping the screen protected at all times. The case is made from genuine leather, so you'll get a perfect in-hand feel.
Sometimes it's just better to go for the simple option, and that's exactly what the ToughGuard offers. The rubberised case provides both grip and protection, while keeping both bulk and price at a minimum. It's a winning combination, and a trio of nice colours make the ToughGuard a strong choice.
1. Official Nokia Lumia 630 Shell
Once again we conclude a top 5 cases article with an official case in the top spot. The Official Shell adds both style and protection to the phone, with strong polycarbonate in a range of bright colours. The case adds decent impact protection and a strong barrier against scratches, while minimal bulk and optimum cutouts ensure there are few drawbacks. A great case for the Lumia 630.
Conclusion
That's all for now folks! Let us know what you thought of the recommendations in the comments below, or speak to us on Twitter @mobilefun.
Monday 28th July 2014 by William Judd in Android, Mobile Accessories.
Today we're going to have a look at five of the best Motorola Moto G cases on the market. Let's get started!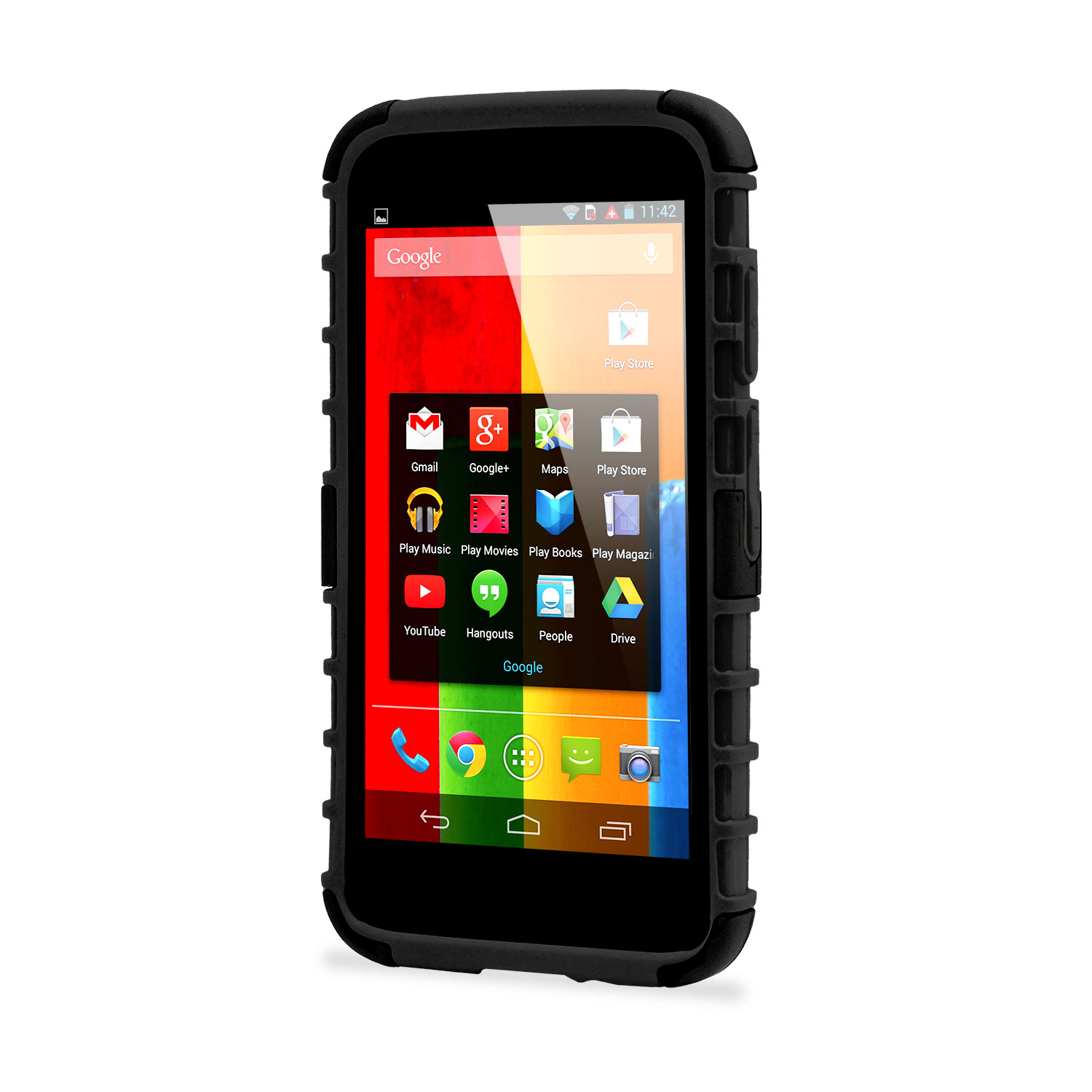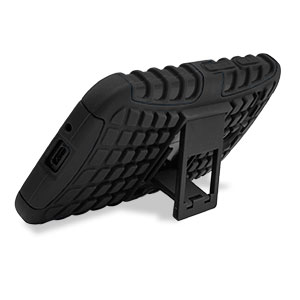 We begin today with the Armourdillo, a protective case boasting a hybrid design. The case uses a lightweight TPU polymer internally, with a polycarbonate exterior. That combination adds some bulk, but it also allows for considerable scratch and impact protection. The case is available in three colours as well – black, red and blue.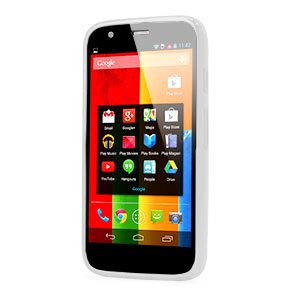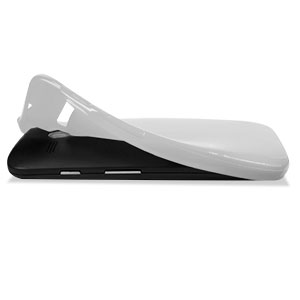 Our next case is one of the most popular on our site, the FlexiShield. This low-cost case is made from a gel material that provides flexibility and grip, along with decent protection from scratches and impacts. The FlexiShield is one of the most common cases, with many many colours: black, white, purple, red, teal, black and yellow.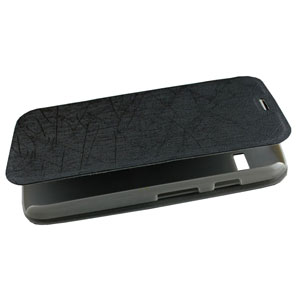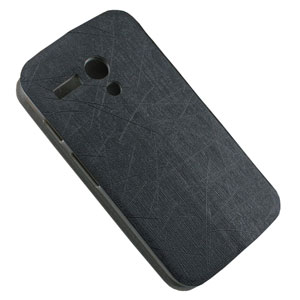 The Pudini Book Flip is one of the best looking cases I've seen for the Moto G, with a subtle textured design that looks fantastic in black (and great in other colours too. The case has a slim design, with a folding cover that acts as both screen protection and as an impromptu kickstand. The case is also notable for raising the camera lens off any surface the Pudini is placed on, ensuring it doesn't become scratched.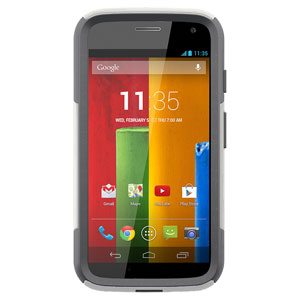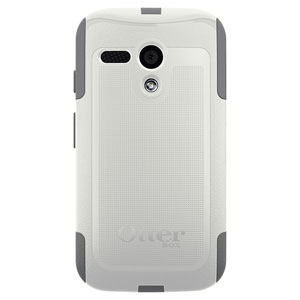 The OtterBox Commuter is another classic case, sitting at a mid-range price point and offering a good blend of style, protection and favourable dimensions. The case adds very little bulk overall, but still maintains a good amount of protection from impacts. The OtterBox Commuter  includes silicone plugs to prevent water or dust ingress, which is a nice extra for a mid-range case such as this. Another useful extra is an included Moto G screen protector, so you'll get everything you need to protect your phone right in that box.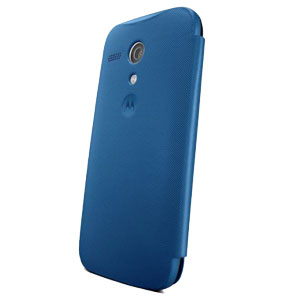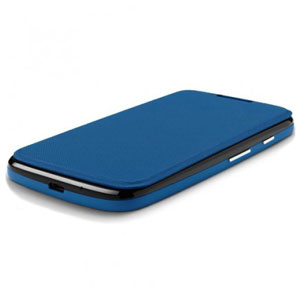 Our winning case this time is the official option, the Motorola Flip Cover. As this is a genuine case, you'll find that it fits the Moto G's size and style perfectly. The case is also incredibly slim, as it replaces the back cover instead of fitting on top of it. Another point in the case's favour is the wide range of colours available; you'll find seven in all, with many bold colours on top of the standard black and white.
Conclusion
Thanks for checking out the article, and be sure to let us know what you think of the recommendations in the comments below!
Friday 25th July 2014 by William Judd in Android, Mobile Accessories.
The Amazon Fire Phone was released in the United States today, marking the first time that the American retail giant has produced a smartphone of their own. The phone has launched to middling reviews, which praise its hardware and Firefly recognition software, but generally downplay its interface and the utility of its tilt-sensitive features.
If you've decided to pick up the Fire Phone, then have a look at some of the cases and Fire Phone accessories that we've prepared for the phone so far!
The first Fire Phone case is the Spigen Ultra Hybrid, a case that offers a good blend of protection, size and style at a reasonably low price. The Ultra Hybrid is constructed from a combination of TPU and polycarbonate, with a transparent back panel that shows off the Fire Phone will protecting it from scratches and other dangers. The case is available in four colours: mint, black, gunmetal and metal slate. If you're looking for a way to add protection without unduly affecting the phone's dimensions, the Ultra Hybrid is a great choice.
The Spigen Full Body Screen Protector includes protection for both the front and back of the Fire Phone, preventing scratches will adding absolutely minimal bulk and weight. The plastic is rated with a surface hardness of 3H, ensuring they'll not take damage from common hazards. Four layers provide an effective barrier against scratches and scrapes.
OtterBox have recently released a new case series called Symmetry, which provides the same trusted OtterBox dual-layer protection in a new, fresher design. There's a raised beveled edge which protects the screen in the case of impact. The case series includes a great many styles and textures, wrapping your Fire Phone in style and grip. We'll have more information and the first photos of this device in the weeks ahead!
Conclusion
That's all for now! Let me know what you think of these first accessories for the Fire Phone in the comments below, and let us know whether you'll pick up the Fire Phone if it gets a UK launch too.