Friday 23rd January 2015 by William Judd in iPad, Mobile Accessories.

Here's something pretty cool: a magnetic premium keyboard case for the iPad Air 2. It's called the Zagg Rugged Book Magnetic Keyboard Case, and it's quite a unique proposition, providing both productivity gains and impressive protection. Let's take a closer look.
We'll start with the Rugged Book's protective potential. This is provided by a combination of a tough polycarbonate shell and a soft silicone cover, working together to deaden impacts, block scratches and generally protect your iPad Air 2. The significant thickness of each layer means your Air 2 will become more bulky, but it also ensures that you'll get far better protection than you would from a thinner case.


The next part of the equation is the keyboard, which uses backlit keys to allow use at all times of day. The keys feel tactile and responsive under your fingers, with sufficient key travel and key spacing to allow you to write quickly and accurately. The feel is very similar to a high-end laptop keyboard, and you'll definitely notice a boost in productivity when you're typing on this instead of the software keyboard. That boost will be a long-lasting one too, thanks to an epic battery life of over two years between recharges.


The overall effect is that of an armoured ultra-rugged laptop, with the Rugged Book propping up the display at a convenient angle when the Air 2 is in use, and then folding together to protect the screen when you're on the move. An incredible magnetic hinge ensures that you can keep your Air 2 at a convenient angle at all times, and that the case closes securely too. As the connection is magnetic, you can also separate the two pieces quickly and easily when needed.
The Zagg Rugged Book Keyboard Case really is something, huh? For more information or to place your pre-order of this impressive iPad Air 2 case, please check out the product page linked below.
Thanks for checking out the article, and be sure to let us know what you think in the comments! You can also find us on Twitter @mobilefun, at Facebook at Love Your Mobile, or even on Google+ at +MobileFun. Have a great weekend ahead!
Friday 23rd January 2015 by William Judd in Android, Coming Soon, iPhone, Mobile Accessories, Mobile News, Smartwatches, Wearables.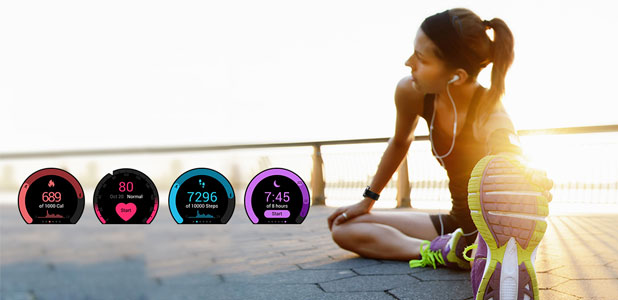 We first covered the Alcatel Smartwatch when it was announced at CES earlier this month, but now we've got our first piece of solid information about the product: We are expecting stock at the end of March. That's still two months away of course, but it's an encouraging sign for a smartwatch that looks like a strong early contender for 2015 smartwatch of the year. Let's take a look at what makes the Alcatel Smartwatch so special (because it sure isn't that unique name!).
The first thing is the price. This smartwatch is being sold for only £100, making it about half the price of similar smartwatches like the Moto 360 and LG G Watch R.
The Alcatel Smartwatch also works on both iPhone and Android phones, which is a rare commodity in a smartwatch market currently dominated by Samsung and Google. While the Apple Watch is coming later this year, it's sure to be way more expensive than the Alcatel Smartwatch.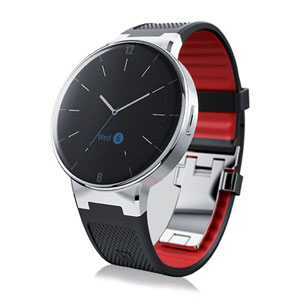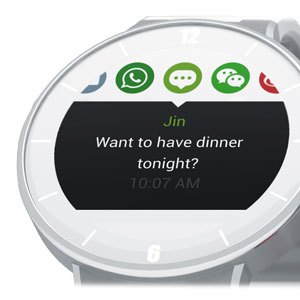 Battery life is another big advantage for the Alcatel Smartwatch. The wearable is said to last between two and five days, which is very impressive for a smartwatch with an LCD display. While you'll probably need to turn off the always-on display mode to reach those figures, it makes the Smartwatch a way better choice for those that primarily want a wearable for fitness tracking.
Otherwise, the Alcatel Smartwatch is essentially a better but less expensive version of the Motorola Moto 360 which proved so popular last year (and remains on my wrist to this day!). The most notable similarity is the almost-round display, with a flat spot at the bottom of the circle for the watch's display driver and other circuitry to be kept.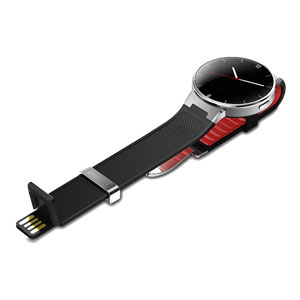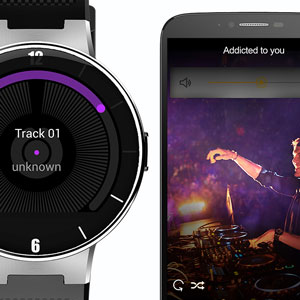 The Alcatel Smartwatch is coming to Mobile Fun at the end of March, and is available for pre-order right now. Please visit the link below to see more information, be notified of stock availability or place your order!
Thanks for checking out the article, and be sure to let us know what you think of the Smartwatch in the comments below!
Friday 23rd January 2015 by William Judd in Android, Mobile Accessories, Mobile News.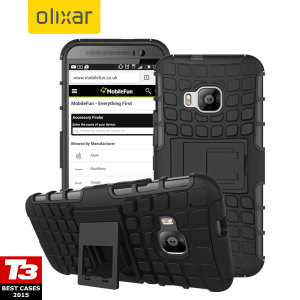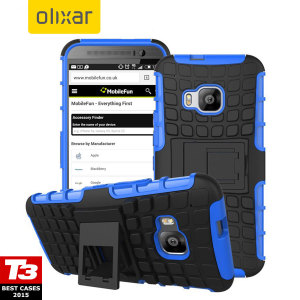 We're happy to announce that we've added the very first cases for the HTC One M9 (codenamed Hima) to our site. The Encase Armourdillo is a strong protective case, with a fortified rear section and a plated design that ensures good grip.
The case is constructed from two layers, with a lightweight TPU polymer inner layer and an impact-resistant plastic exoskeleton. The combination provides excellent protection at a low price point, making it an ideal choice if you want to ensure your One M9 remains in good condition long after you've bought it.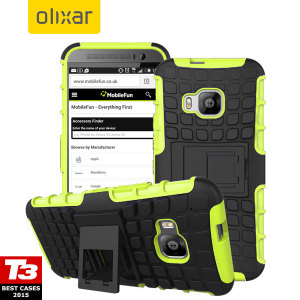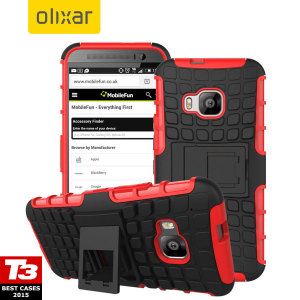 The case also includes a helpful feature that'll work well with the One M9′s gorgeous five-inch 1080p display: a media stand. This is embedded into the rear of the case, and can be kicked out whenever you want to rest your One M9 in landscape mode to watch videos, play games or even to serve as a bedside alarm.
The Encase Armourdillo will be available in four colours, and is available for pre-order now. To see more information or to place your pre-order, please visit the product pages linked below:
The phone itself is expected to be released at MWC later this year, so we're not too far away from an announcement – think early March. Of course, we'll have loads of HTC One M9 accessories ready by the time the handset launches.
Thanks for checking out the article! Are you looking forward to the HTC One M9? Let us know in the comments below, or write to us on Twitter @mobilefun!
Thursday 22nd January 2015 by William Judd in Android, How to Guides.
If you've got a Samsung smartphone or tablet, chances are you can use a technology called MHL to connect your phone or tablet to your TV using a special adapter.
Here's how it works
These special adapters are normally called HDMI or MHL adapters, and they're quite simple.
One end of the adapter plugs into your phone's micro USB port.
An HDMI cable connects another end of the adapter with your TV, projector or monitor.
Finally, a USB cable connects the adapter and a power source – typically a USB AC adapter, or a USB port on a TV or computer. If your TV has a special MHL HDMI port, then this isn't needed.
Once you have everything connected, your screen will automatically be mirrored onto your TV. Then you can play music, play a video from YouTube or Netflix, or just surf the web. Everything that is on your screen will also be shown on your TV.
Which MHL adapter should I choose?
There are a couple of Samsung HDMI adapters on the market. The newer adapters are backwards-compatible with earlier models, so your decision is down to this – do you need 4K support and faster charging?
If you do, then the most recent Samsung MHL 3.0 adapter is ideal, providing full 4K (3840 x 2160p at 30Hz) support and up to 10 watts of charging power. If you're not using a 4K TV, you'll still be able to use 1080p and 720p output modes.
Otherwise, the cheaper Samsung MHL 2.0 adapter will meet your needs, topping out at 1080p (1920 x 1080 at 60Hz) and up to 5V of charging power.
Any questions?
If there's anything we haven't answered for you, let us know! You can leave a question in the comments below, or speak to us on Twitter @mobilefun.
Wednesday 21st January 2015 by William Judd in Android, iPhone, Mobile Accessories, Wearables.
Are you ready? Smartphone virtual reality is here. The Zeiss VR ONE is in stock now, and could be yours tomorrow. Here's what you can do with it.
Watch HD videos in full 360 degree 3D
The leading-edge optical design and Zeiss lenses of the VR ONE allow you to experience stunning videos, in high definition and with 360 degree full 3D. The effect is extraordinary. You can also watch downloaded movies (or videos that you've shot yourself), whether in 2D or side-by-side 3D.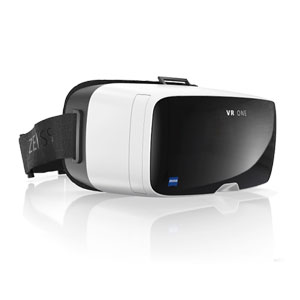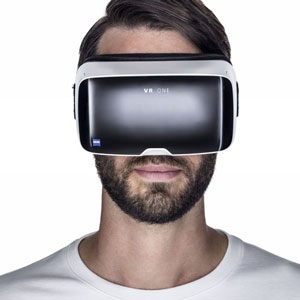 Show your mom (or grandpa) what Virtual Reality is
Want to become a VR evangelist? The Zeiss VR ONE makes for a convincing demonstration of the current state of VR, and is sure to impress your friends and family. You can even wear eyeglasses while using the VR ONE, which will be a big feature to anyone that relies on corrected vision.
Experience augmented reality
One of the best features of the VR One is augmented reality. By using your smartphone's rear camera, you can get a real-time view of your surroundings that can be overlaid with graphics to play games or just explore.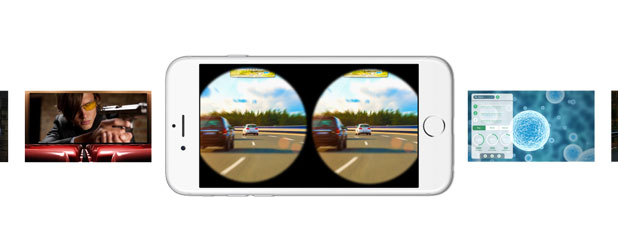 Try new VR apps and games as they're released
Zeiss have provided a developer API and materials that should make it easy to develop new apps for the device. The Zeiss VR One Media Launcher makes it easy to find new apps as they're released, and discover more apps compatible with your VR ONE headset.
Use with iPhone 6 and Galaxy S5
The Zeiss VR ONE supports two of the most popular smartphones of the year: the Samsung Galaxy S5 and the iPhone 6. More smartphones will be supported in the future, with the Nexus 5 and Galaxy S4 being options most requested by users. If you've got either phone, order your Zeiss VR ONE below:
Thanks for checking out the article! Be sure to let us know what you think of the headset (and VR in general) in the comments below, or write to us on Twitter @mobilefun!