Wednesday 23rd July 2014 by William Judd in Android, Mobile Accessories.
Here are ten awesome Samsung Galaxy S5 accessories that you should check out!
Want a different coloured S5? No problem. Just pick up a replacement back cover and you can have any colour you like. There are four options – electric blue, charcoal black, shimmery white and copper gold. This is an official Samsung product as well, so you're assured of a perfect fit and finish.
The Galaxy S5′s internal speaker isn't brilliant, so if you want to play music at any reasonable volume then you'll need a better speaker. The BoomBrick from Olixar is a great choice, with a rich and powerful room-filling sound. You can connect over Bluetooth, where a built-in microphone and buttons will allow you to take calls too. An amazing piece of kit for the money that'll transform your standards for audio quality.
The Samsung Galaxy S5 doesn't come with Qi Wireless Charging out of the box, but that's easy enough to fix. You can buy this wireless charging cover, which replaces your original battery cover with one that has the necessary Qi charging circuits integrated within. From there, you just need to select a Qi wireless charger and you'll be golden.
Protecting the screen of any smartphone is an essential, and one of the most interesting developments as of late has been that of tempered glass screen protectors. These provide more and longer-lasting protection compared to plastic screen protectors. Spigen's example is one of our best sellers, with strong reviews as well.
The idea behind this case is very simple: marry a massive battery with a solid protective case. The result is the enCharge Power Jacket Flip, a surprisingly elegant case that can more than double your battery life. The charging system is well designed too, with an on-off switch and LED indicators to make it easy to choose when you're charging your phone. A flip cover protects the screen and an integrated kickstand will make it easy to watch videos or play games. A brilliant functional case.
This is perhaps the finest Galaxy S5 case available, with a dual-density ultra-rugged chassis made from premium materials. That includes a CNC machined aluminium back plate with a type 3 hard anodised finish, which feels incredible and can stand up to insane amounts of punishment. Other extras include a acoustic chamber that boosts volume levels, a combined belt clip and desk stand, plus a stealth privacy screen protector. This premium case costs more than its peers, but you really do so a significant increase in quality.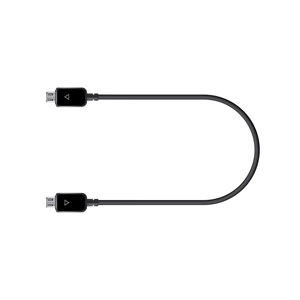 This inexpensive cable is brilliant, allowing you to share power between smartphones, tablets and accessories. The idea is that you can charge one smartphone from another, so you can give your friend a boost to get through the end of the day… or you can use your tablet's larger battery to top up your phone. It also works brilliantly for smartwatches, where you can easily charge their tiny internal reserves without reducing your phone's charge significantly.
The Galaxy S5 has a surprisingly good camera, but you can make it even better with a few accessories. This zoom telescope and tripod allow you to take telephoto shots; ideal for portrait photography or distant wildlife without the bulk of a traditional zoom lens camera. The whole package is quite compact too; you can keep your Galaxy S5 in one pocket and the telescope/tripod in the other.
This bumper is one of the most stylish available for the S5, with a distinct curved shape that instantly stands out. The bumper is made from CNC-milled aircraft-grade aluminium, providing impact protection and rigidity in equal measure. The case is available in many colours too, including blue, black, gold, red and silver.
The Gear Live is one of two Android Wear smartwatches to be released so far, and offers a convenient way of checking notifications on your wrist. The Gear Live's hardware is nice, with a sculpted metal band and a crisp 320×320 AMOLED display. The 22mm band is replaceable and there are plenty of watch faces on offer too, so it's easy to find a look that suits you. Smartwatches are the next big thing, and the Gear Live is one of the very best to be released so far.
Conclusion
I hope you've found these recommendations handy! You can find more of our favourite S5 accessories here. For more information or to ask a question, please visit the comments below or speak to us on Twitter @mobilefun.
Wednesday 23rd July 2014 by William Judd in Tablets, Windows.
If you've got a Surface Pro 3, you already know how productive you can be on this tablet / laptop hybrid. But if you want to really maximise its capabilities, then you can turn it into a workstation with this official docking station!
The docking station makes it easy to use the Surface Pro 3 on your desk, by adding easy-to-access ports that allow you to connect many more peripherals and devices. You'll have more USB ports (6 in total!) than many desktop computers, allowing you to connect hard drives, mice, keyboards, gamepads, CD drives and printers.
Connecting multiple monitors is possible too – you can have three displays in total, including the Surface's own screen, which is fantastic for having multiple windows open at once. For example, you might have Word open on the built-in display, while you look at a reference webpage on a monitor.
There's even an ethernet port to provide the fastest possible network access with minimal lag and no risk of poor wireless performance.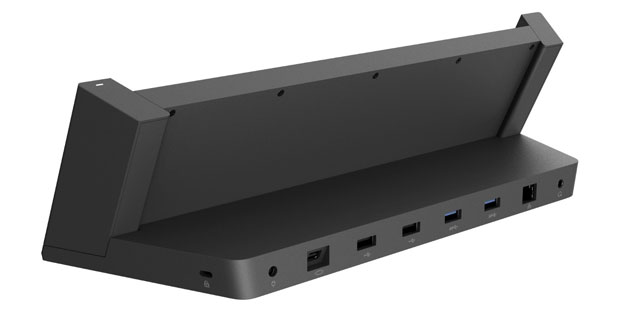 As well as adding ports, you'll also find that the Docking Station is a great home for your Surface. You'll benefit from a convenient upright viewing angle that's perfect for work or play. Your Surface will also charge while it's in the dock, ensuring that your battery will always be topped up when you're ready to hit the road.
The Microsoft Surface Pro 3 Docking Station is the ultimate upgrade for your Surface. For more information, including live pricing and availability data, please visit the product page linked below. You can also see more accessories in the relevant category, also linked below:
Thanks for checking out the article and be sure to let us know what you think of the accessory in the comments below. You can also reach us on Twitter @mobilefun, so feel free to chat to us on there too!
Wednesday 23rd July 2014 by William Judd in Mobile Accessories, Windows Phone.
Today we're going to have a look at five of the best cases for the Nokia Lumia 930. Let's get right into the recommendations.
5. ArmourDillo Hybrid Nokia Lumia 930 Protective Case
If you're looking for a strong protective case for your 930, then this one from ArmourDillo is recommended. The case has a thick rigid shell which provides considerable drop and scratch protection. The case has a stand built into its back, perfect for watching videos or playing games.
4. Adarga Nokia Lumia 930 Wallet Case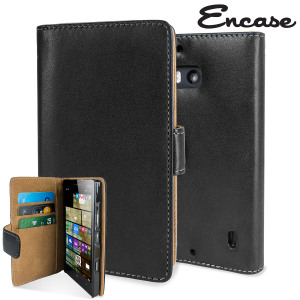 This Adarga Wallet Case is a stylish option, which allows you to keep your cash and cards with your phone in one easy package. This wallet case is made from synthetic materials and has a thin design, so you can still easily fit the phone in your pocket.
The Defender is a higher class of protective cover for the Nokia Lumia 930, providing three layers of protection. A two-piece polycarbonate interior provides rigidity and strength, while an outer rubber cover adds shock and impact protection. There's also a built-in thermal formed screen protector with a fingerprint resistant coating. A great choice if you're looking for a premium hard case.
2. Official Nokia Lumia 930 Cover Case
Your Lumia 930 will be well covered with this Official Cover Case, made by Nokia themselves. The case has a simple but stylish design, with a solidly coloured front cover protecting your screen and similar coverage on the back, save for a circular camera cutout. The case is available in three colours: orange, black and green.
Our winner today is the humble FlexiShield, a case that we've been recommending for some time and is one of the leading sellers at Mobile Fun. The case has a simple and effective design, with a gel material providing flexibility, grip and moderate protection from scratches and knocks. The case is highly affordable and available in four colours: smoke black, black, hot pink and purple.
Conclusion
That's all for now folks! Be sure to let me know what you think of these suggestions in the comments below, and if you have any questions you can reach us on Twitter @mobilefun. Thanks and have a good one!
Tuesday 22nd July 2014 by William Judd in Android, Mobile Accessories.
Earlier this week we had a look at the best accessories for the Galaxy S2 and S3, and now we're back for the next Galaxy phone in the series: the Galaxy S4. So join us as we recommend five of the very best accessories available for the Galaxy S4!
5. Spigen Glas.t Nano Slim Tempered Glass Screen Protector
We begin with one of the most cost-effective phone accessories ever: the screen protector. This one from Spigen is on the cutting edge, offering a dramatically thin tempered glass that measures just 0.15mm. That glass has a shatter-resistant coating to prevent damage to your phone and is easy to apply – no air bubbles here!
4. Official Samsung Wireless Charging Pad with Cover
This pack includes everything you need to add wireless charging to your Galaxy S4. The first part is a replacement rear cover for the phone, which adds a wireless charging coil beneath the surface. The next is a Qi wireless charger, which you place your phone on to charge. It's a simple system, but the freedom you gain from ditching wires is fantastic.
If you want to keep your phone charged and easily visible while driving, then this car mount cradle is ideal. The cradle can be easily mounted to your dashboard with its suction cup, and then rotated to the perfect position. The cradle is built specifically for the S4, so you'll get a perfect fit. The cradle also has an integrated S4 car charger, ensuring that your phone will stay charged throughout your journey.
This clever desk dock from Samsung includes basically every connection you could ever need, while keeping your Galaxy S4 charged and in a perfect position. An HDMI output allows you to connect your phone to monitors, TVs and projectors – without the need for a separate MHL adapter. USB ports allow you to connect USB drives, keyboards, mice and gamepads. A 3.5mm stereo jack allows you to hook up external speakers. It's the easiest way to turn the Galaxy S4 into an Android workstation, and it works really well.
1. Spigen Slim Armor View Case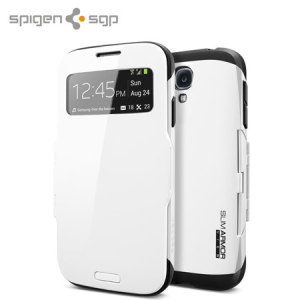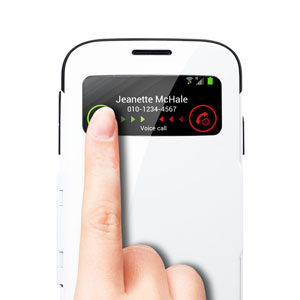 This Galaxy S4 case is one of the most popular we sell, thanks to its range of features and solid protection at a low price. The case includes a clear plastic window (like the Samsung S View cases), allowing you to see the time, incoming callers and other notifications. The cover protects the screen, and a a dual-layer design provides considerable protection against scratches and impacts. The case looks great too, whether in white or black.
Conclusion
That's all for now folks! Thanks for checking out the article and be sure to let us know what you think in the comments below. You can also reach us on Twitter @mobilefun.
Tuesday 22nd July 2014 by William Judd in Android, Mobile Accessories.
Today we're going to highlight some of the very best accessories available for the Samsung Galaxy S3. If you're ready, move your eyes onto the next line and let's begin!
5. Mugen Extended Battery – 2300mAh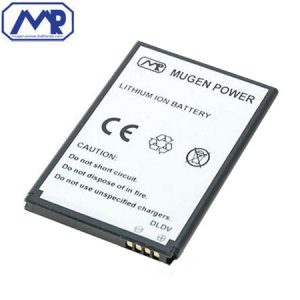 If you're looking for an easy way to replace your worn out battery or double your battery life, then a Mugen Extended Battery may be just what you need. The battery is exactly the same physical size as the original, but packs in an extra 200mAh of charge and is cheaper as well. For more Galaxy S3 batteries, check out our recent blog post on the subject!
The headphones that come  with the Galaxy S3 aren't brilliant – they block out noise, but the sound reproduction is pretty mediocre. If you listen to music on your phone, then it makes sense to upgrade to some proper headphones. These ones from a-Jays are some of the most popular. They sound great thanks to 8.6mm dynamic drivers, and are well backed with a tangle-free flat cable and a helpful Android app.
3. Samsung 64GB UHS-1 Grade 1 MicroSDXC Pro – Class 10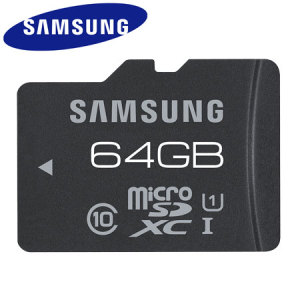 The Galaxy S3 retains the microSD card slot of its predecessor, and newly supports 64 GB cards. Take full advantage by picking up a 64GB card; this one from Samsung fits well and boasts the fastest possible speed rating too.
2. Qi Internal Wireless Charging Adapter
We've already seen how the Galaxy S3′s back cover lets it take microSD cards and replacement batteries – now here's something even more useful. This wireless charging adapter fits into the back of the phone, below the back cover, and will give the phone full wireless charging capabilities. Just pick up this and a Qi wireless charger and you're good to go.
The OtterBox Commuter is one of the most popular cases for any phone, and for good reason – the case design includes good protection, minimal bulk and a simply stylish look. The Commuter's two layer construction allows it to resist both scratches and knocks, although thicker cases can provide better protection against bigger impacts. For the money, the Commuter is a brilliant case.
Conclusion
Thanks for checking out the article and be sure to let us know what you think in the comments below! You can also reach us on Twitter @mobilefun. Thanks again and have a good week!