Wednesday 20th August 2014 by William Judd in Mobile Accessories.
The Seidio Capsa TouchView is an interesting new case for the Galaxy S5, with an integrated screen protector and military-standard drop protection. Join us as we go hands-on with the case!
The first thing you'll notice about the Capsa is its slick cover, which covers the screen of the S5 and clicks into position to provide constant protection. This is a nice alternative to a standard flip cover, as you retain full access to the phone inside and very little bulk is added. The screen protector is just 0.5mm thick, with a 5H hardness rating and a special oleophobic coating that resists fingerprints. Of course, you can still use your phone's touch screen as easily inside the case as out of it.
The rest of the Capsa case is impressive too. A dual-layer design is used to protect the body of your S5, with a thin and flexible silicone shell within a more rigid, impact-resistant TPU exoskeleton. The case is rated to exceed the MIL-STD-810G rating for drop protection, ensuring your phone survives tough knocks and falls. A soft-touch rubberised coating adds grip, thereby helping you not drop your phone in the first place!
On the back of the case, you'll find a metal kickstand. This flips out to work as a media stand for the phone, allowing you to easily watch films, play games and surf the web in a convenient landscape orientation. The stand is indispensable for small tray tables on trains and aeroplanes, where a tablet or laptop might not fit. Of course, it'll work equally well on your desk or nightstand as well.
The Capsa is a good looking case as well. The integrated screen protector makes it a lot thinner than flip cases, and the blue, red and black colour choices each look modern and professional – particularly with the black trim and silver kickstand.
The stylish and functional Capsa TouchView case for the Galaxy S5 is coming soon to Mobile Fun. Stay tuned on Twitter @mobilefun for the latest news on the Capsa's availability. In the meantime, check our full selection of Galaxy S5 covers!
Any questions or comments? Leave them below and we'll get back to you as soon as we can. Thanks for checking out the article and have a great week ahead.
Wednesday 20th August 2014 by William Judd in Mobile Accessories.
I'm loving the current trend for smarter homes. You can now get smarter thermostats, smarter smoke alarms and even smarter light bulbs. The Olixar Light Beats is a unique addition to that list: an LED light bulb with a built-in speaker. It's a cool way of adding some ambient noise or music to your room from an unexpected source, and of course it works well for providing light as well. Let's take a closer look.
A subtle speaker for ambient audio or room-filling sound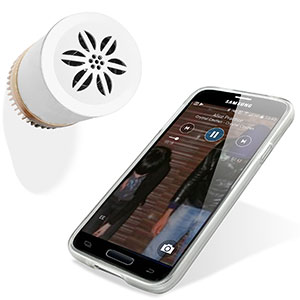 The Light Beats includes a speaker and amplifier built into its casing, allowing sound to project through the subtle flower design on the base of the bulb. With 3W of power at your disposal, you're able to get surprisingly rich and loud sound. You could add an ambient soundtrack to keep yourself working hard, or some brighter tunes to keep your party going. A 15 metre Bluetooth range means the connection is maintained while you're moving around the house.
Bright, energy efficient and easy to use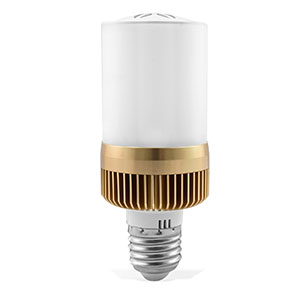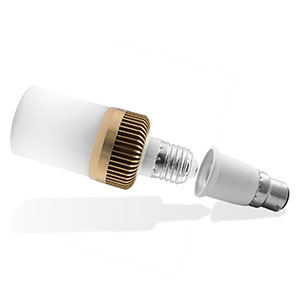 The 3W LED used in the Light Beats provides a clean, warm light – equivalent to a traditional 50W light bulb. The bulb comes with a screw socket and an adapter for bayonet fittings, allowing you to easily fit the Light Beats in all kinds of light fixtures, from lamps to ceilings.
Unlike other smart bulbs, there's no setup here – just screw in the bulb and hit the switch to enjoy your well lit room. When you want to listen to music, just pair the bulb with your phone and hit play. The pairing will be remembered even when the bulb is off, so next time you want to listen to music you'll be ready to go instantly.
Links to more information, our YouTube video and store page
That's the Olixar Light Beats – a unique combination of speaker and lightbulb that'll make your room much more pleasant. For more information, please visit the product page linked below:
Signing off
Thanks for checking out the article – be sure to let us know what you think in the comments below or speak to us on Twitter @mobilefun!
Tuesday 19th August 2014 by William Judd in Infographic.
Our gadget geeks at Mobile Fun HQ have created this infographic to show the most popular phones in 17 different UK cities. The data's based on accessory sales in each area, and shows a varied nation with some interesting trends.
7/17 cities had an iPhone as their most popular, with Android making up the other 10
The HTC One M8 was most popular in Scotland, with victories in Aberdeen and Edinburgh
The Galaxy S5 gets the nod in the nation's capital, plus Manchester, Norwich and Bristol
Birmingham was the city most behind the times, with the oldest phone on the chart – the iPhone 4S
Only four manufacturers were represented: Apple (7), Samsung (6), HTC (2) and Sony (2)
The iPhone 5C and Galaxy S5 were each chosen 4 times, more than any other phone
See the full infographic below – and click to make it full size!
Tuesday 19th August 2014 by William Judd in Mobile Accessories, Windows Phone.
Today we're going to have a look at some of the best cases for Nokia's phablet, the king-sized Lumia 1520. Let's get started!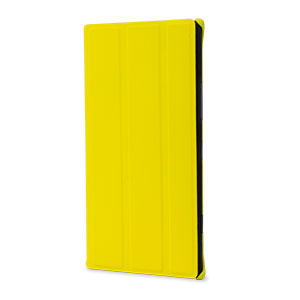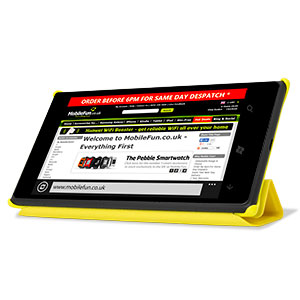 We begin with Nokia's own case for the Lumia 1520, the Protective Cover. This case protects the phone's screen with a flip cover, which can be folded back to serve as a handy media stand. The case also protects the corners of your device, granting a good amount of impact protection without affecting accessibility. It's a strong case that is one of our top recommendations for the Lumia 1520.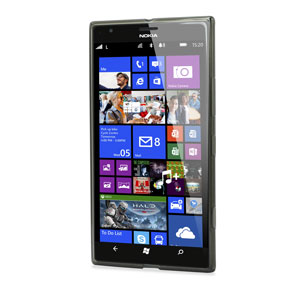 A nice, cheaper alternative is the FlexiShield case. This case is less than a tenner, but its gel material still provides both grip and protection. It's also one of the slimmer cases we have for the Lumia 1520, ensuring that you have the best possible chance of fitting the phone into your pocket.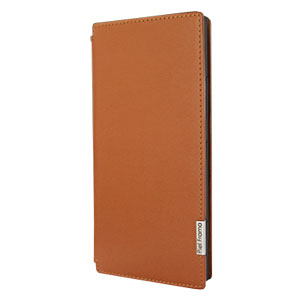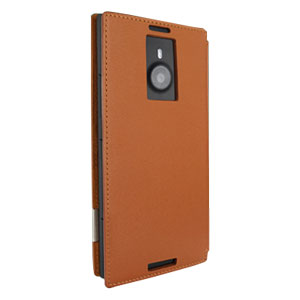 The Piel Frama FramaSlim is our high-end case option, and it's an absolute beauty. The case is handcrafted by leather artisans and carefully monitored for fit and finish, resulting in a perfect product. The FramaSlim is a skinnier version of the critically acclaimed Frama series of cases, which uses microscopic suction cups to secure your Lumia 1520 inside the case. It's a daring concept, but it's well realised to make a surprisingly slim leather case.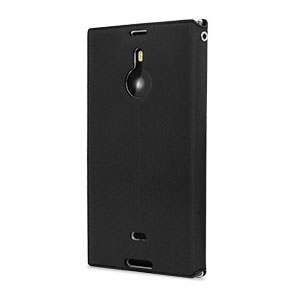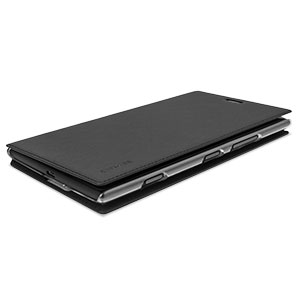 The Capdase Sider Baco is a more affordable case, with a similar folio form factor but with synthetic materials used instead of leather. The case has a flip cover that can also serve as a media stand and has space for cash and cards.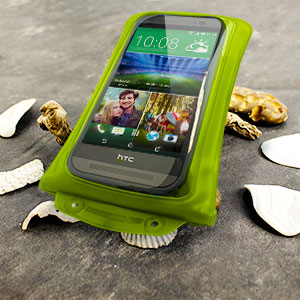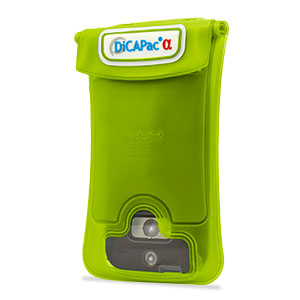 Our final case is a universal option that fits the Lumia 1520 well, the DiCAPac. This case is entirely waterproof, allowing you to use your phone underwater or in other wet environments. The case even includes a space for your camera, so you're able to take stunning underwater shots.
Conclusion
That's all for now folks! Let us know what you think of these Lumia 1520 cases, and if you have any questions then let us have 'em. Thanks for checking out the article and have a good week ahead.
Thursday 14th August 2014 by William Judd in Android, Coming Soon, Mobile Phones.
The Galaxy Alpha is the latest Samsung handset, and the very first to use their new metal design language. We'll have the handset in stock, sim-free and unlocked, very soon. In the meantime, let's take a closer look at the next big thing from Samsung.
Design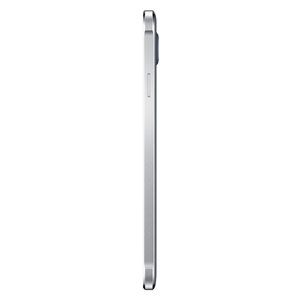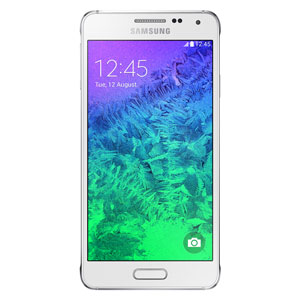 The Galaxy Alpha sports an interesting look, with a chamfered metal frame with Samsung's typical plastic front and back. The back cover feels similar to the Galaxy S5, with that dimpled look. The overall look is somewhere between the Galaxy S5 and the iPhone 5S, and it's a huge improvement over the purely plastic designs we've seen from Samsung in the past.
The phone is incredibly skinny too, measuring just 6.7mm – about a millimetre thinner than the iPhone 5S – and weighs about the same, despite a much larger 4.7-inch 720p display.
The phone comes in four colour variations: dazzling white, charcoal black, sleek silver and frosted gold and scuba blue. Knowing Samsung, we'll see additional colours if the phone proves a success.
Hardware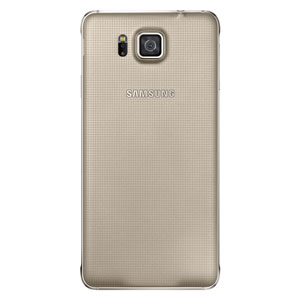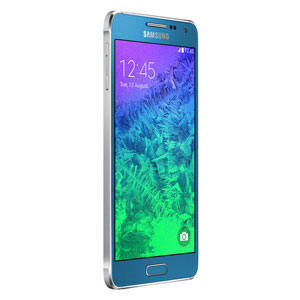 The Samsung Galaxy Alpha with a nice hardware specification; not quite at the top of the pile like the Galaxy S5, but still perfectly respectable for a mid to high-end device.
The heart of the phone is its Exynos 5430 octa-core processor, which is the first mobile SoC built on a 20nm process. The CPU uses around 25% less power than before, while also including a new audio co-processor. The new CPU is powerful too, scoring higher marks than the Galaxy S5 or HTC One M8 in the AnTuTu benchmark.
The CPU is backed with 2 GB of RAM and 32 GB of internal storage, although there's no microSD card slot to add more. A 12-megapixel rear camera and 2.1-megapixel front-facer are also included. Everything runs off a 1860mAh battery, thanks to the more efficient CPU.
Software
The Galaxy Alpha will come with the latest version of Android to be fully released, which is 4.4 KitKat. An upgrade to Android 4.5 L seems a given, judging by Samsung's past record in upgrading their mid-range and high-end handsets.
The phone will run the same TouchWiz UI as the Galaxy S5, with a number of nifty features added on top of the stock Android experience. You'll get the ability to run two apps side-by-side, a comprehensive camera app loaded with modes and more Samsung apps than you can shake a stick at. The built-in fingerprint sensor is another nice feature, allowing you to sign into your phone with a (careful) touch of your finger.
It's a strong selection, and while some might prefer a cleaner experience, if you're looking for features then you can't do much better than Samsung's latest.
Summary
The Galaxy Alpha looks to be a surprisingly capable phone, and one of the best looking handsets that Samsung have ever released.
Links
Signing off
Thanks for checking out the article and the phone! Be sure to let us know if you're going to pick up the Galaxy Alpha, or tell us why not! You can reach us in the comments below, or on Twitter @mobilefun.