Wednesday, October 8th, 2014
The Samsung Gear S is one of the most interesting smartwatches of the year, thanks to its integrated SIM card that let it work without being paired to a phone. Today, we're announcing a confirmed UK price for the Gear S; the official Samsung RRP. That figure is £329.99.
The Gear S is one of the most expensive smartwatches then, but it's not unjustified. The smartwatch can make and take calls, texts and emails using its standalone 3G connection. You'll also get smartwatch staples: seeing notifications from your phone, tracking your fitness & activity and even seeing what time it is.
The Gear S has a new design too, with a gently curved display that wraps naturally around your wrist. The watch is rated IP67 for water and dust resistance, ensuring its survival in rain showers, splashes of water and dusty environments.
Internally, the Gear S is pretty impressive. You've got a 1GHz dual-core processor, 512MB RAM, a 3G modem, Bluetooth 4.1, WiFi N and GPS. There's also 4GB of internal storage, allowing you to keep music on your watch and listen on Bluetooth headphones. The 300mA battery is capable of about two days of use, so you'll charge it with your smartphone most nights.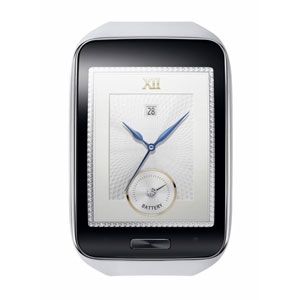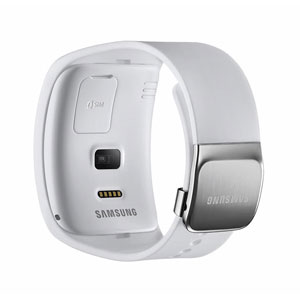 The Gear S is compatible with a wide range of Galaxy smartphones and tablets including the Note 4, Note 3, Galaxy S5, S5 Mini, S4 Mini, S4 Active, Mega 5.8, Mega 6.3 and Galaxy S4 Zoom. The Galaxy S4, S3 and Note 2 are also compatible if they've received the Android 4.3 update.
The Samsung Gear S is coming soon to Mobile Fun; current projections suggest we'll see the Gear S in stock in the next two or three weeks. For more information and live availability data, please visit the product page linked below:
Thanks for checking out the article, and be sure to let us know what you think of the Gear S and its price in the comments below!