Thursday, January 29th, 2015
No, the iPhone 6 doesn't have wireless charging. Or at least, not at of the box – but it's possible to add wireless charging to the iPhone 6 using a special wireless charging case or a slim wireless charging adapter. Once installed, you'll be able to charge your iPhone just by placing it on a special wireless charging pad. It's the most convenient way to charge your iPhone 6, whether you're using your own charging pad at home or work, or using one installed in restaurants and airports across the world.
Charging the iPhone 6 wirelessly with a Qi case
There are a couple of wireless charging cases on the market for the iPhone 6. The FlexiShield Qi Wireless Charging Case is one of the most popular, and is available in black and white. The case combines the protection and low price of a Flexishield Gel Case with the coils needed for wireless charging. These cases use the Qi standard, which is the most widely adopted worldwide.
If you'd prefer a gold charging case for the iPhone 6, you can get the Qi Charging Case in gold. This is of course the perfect complement to the gold iPhone 6.
Add wireless charging to (almost) any iPhone 6 case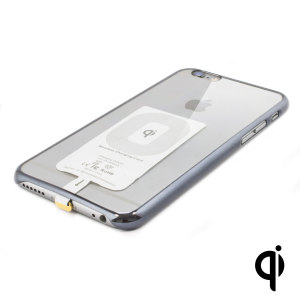 You can also add wireless charging to the iPhone without using a new case. Instead, pick up a Qi Case Compatible Wireless Charging Adapter. It's a long name for a very simple product – a small, thin pad that tucks into the back of your iPhone's case and adds wireless charging. If you'd prefer to keep your existing iPhone 6 case but still want wireless charging, then this is the best way to do it.
Anything we missed?
Thanks for checking out the article. If you have any questions that we didn't answer or you're confused about something, let us know. You can reach us by the comments below, or talk to us on Twitter @mobilefun.