Thursday, November 29th, 2012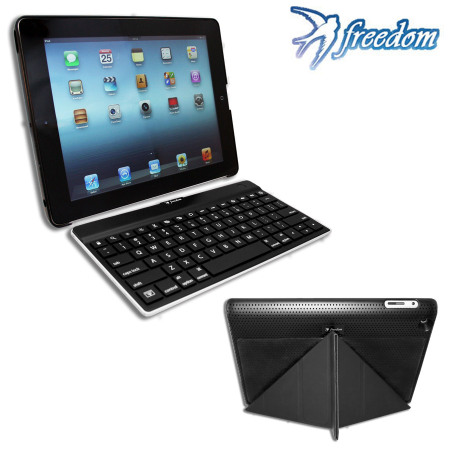 Tablets are the new generation replacing laptops and net books; they are increasingly being used for business purposes as well as personal.  They allow you to switch from daytime business to night time social, either way we have the perfect solution and only iPad case of its kind to integrate Apple's smart cover.
Freedom i-Connex Combi is a brilliant piece of kit that lets you maximise your iPad 2/3/4 to its fullest potential.  The unique design, comfortable fit and multi-purpose use will provide everything you need for your iPad. With three different aspects being the case, the stand, and the slick hide away keyboard this design is truly original.
The Case
For those who travel to and from work, to commuters as part of their job, a robust case is essential when carrying your iPad. This product has a hard shell case with a perforated texture to ensure your tablet doesn't over heat whilst you're working away. However you can rest assured that the case is also highly durable to protect your tablet too, with specific slots to access the volume, power button and also use the camera whilst in the case.That's not all, there is also a soft cushion surface on the inside to safeguard the statement aluminium finish of your iPad, to protect it from any knocks or scratches.
To finish off the case there is a slim line yet strong cover to protect the screen, which puts the tablet into sleep mode when covered and then awakens it when exposed.
The Stand
The front cover has a multi-purpose use whilst it protects the screen, it also works as a stand when pulled back. Simply push the cover into a triangle shape which is outlined on the case and there you have it, a reliable stand that can work both portrait and landscape, and is easily detached via a velcro strip. A perfect way to show presentations and work on documents whilst at your desk.
The Bluetooth Keyboard
Arguably the best part of the i-Connex Combi is the discrete Bluetooth keyboard, hidden away into the shell of the case. Although the iPad does have a virtual keyboard on screen, it tends to  take up most of the screen, which isn't the most useful when working on your tablet for lengthy periods.
This Bluetooth keyboard has a small slot to lift it out of the case, and a magnetic strip to hold it into place whilst in use. Whilst most other Bluetooth keyboards are quite bulky, this case clearly stands apart from the competition with its tidy and compact case. The keyboard also includes unique buttons specifically created to navigate around your iPad, with an impressive 12 days (300 hours) stand by time and 4 days (100 hours) full usage. Finally after initially pairing your device to the keyboard you won't have the hassle of having to pair it every time, simply switch the keyboard on via the top button and you're ready to type.
There are many Bluetooth keyboards on the market but this product clearly stands out from the rest with a reliable battery, compact case as well as a portable stand.  This innovative product is certainly value for money retailing at £66.63 excluding vat, so maximise your iPad's potential and keep it protected with the Freedom i-Connex Combi iPad 4 / 3 / 2 Keyboard Case and Stand.