Monday, July 28th, 2014
The LG QuickCircle Qi Wireless Charging Cover is arriving in stock in white today! The case is one of the very best available for the LG G3. Let's take a closer look at what makes this case so special.
QuickCircle window
The QuickCircle window on the front of the case is quite useful, as it gives you a window through which you can see the screen below without exposing it to scratches. The window shows the time and date by default, but you'll also find it shows incoming notifications and calls too.
The window is touch-sensitive, so you're still able to control your phone. In fact, you can launch special QuickCircle apps which run entirely within the bounds of the window, from games to apps for music, fitness and more.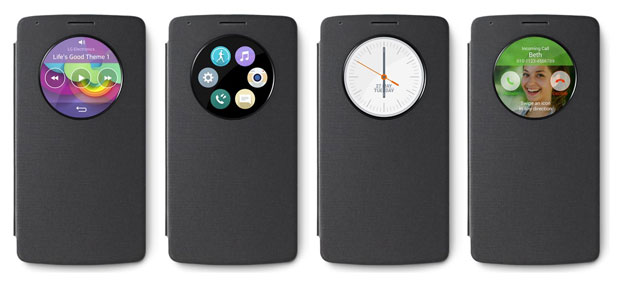 Qi wireless charging
The thing that sets this case apart from other QuickCircle cases for the LG G3 is the inclusion of wireless charging tech. The cover has a wireless charging coil embedded, which hooks up to the battery within and allows you to use Qi charging pads like this official LG G3 wireless charger. These are the most convenient way to charge your G3, without the hassle of constantly plugging and unplugging wires. And as the case operates on the Qi standard, there's a wide range of charging pad options on the market to suit your requirements.
LG style
Of course, this official LG G3 case also looks great. The branding, style and dimensions all fit the G3 perfectly, offering a nice way of maintaining the look of your G3 while still adding a good amount of protection. The case is slim too, as it replaces the original rear cover instead of clipping on top of it.
Conclusion
The LG QuickCircle Qi Wireless Charging Case is a brilliant choice for the LG G3, and I'm sure you'll be very happy with it. For more information, please see the product pages listed below:
Thanks for checking out the article. Feel free to see more QuickCircle cases for the LG G3 here or to leave a comment below. Thanks again and have a good week!